The admission committee of MBA program is very particular in recognizing and knowing your career plans. Therefore it is a most significant approach to affirm your admission in the dream b-schools. They look for the strong reasons which could align your future career endeavor. You should be very precise, clear and accurate while writing for the career plans.
The admission officer upholds your career goals essays by shedding off the clouds of doubts and show their believe that candidates who have a clear career vision will be able to make the most of their time in graduate business school. They look for the genuine need for MBA in your career. It reflects what are the career perspectives you may lead to meet new aims.
The first step needs to be taken towards acing the career goals essay is to adjust your approach. If you want to be a part of the desired b-school you should portray yourself in a very unique way to stand out the queue. The first and foremost thing to consider that you should be able to differentiate between the long term and short term goals.
While writing the career goals outline your essay on these three parameters undermentioned:
Career Purpose

Career Goals

Career Action Plan
Once you incept writing articulate your essay in a way so that it could illustrate the answers of the questions like:
Q1.  "What are your short-term and long-term career goals?"
Q2.  "What are your professional objectives?"
Q3. "Elaborate on your future career plans and your motivation for pursuing an MBA."
Q4.  "What do you want to do—REALLY?"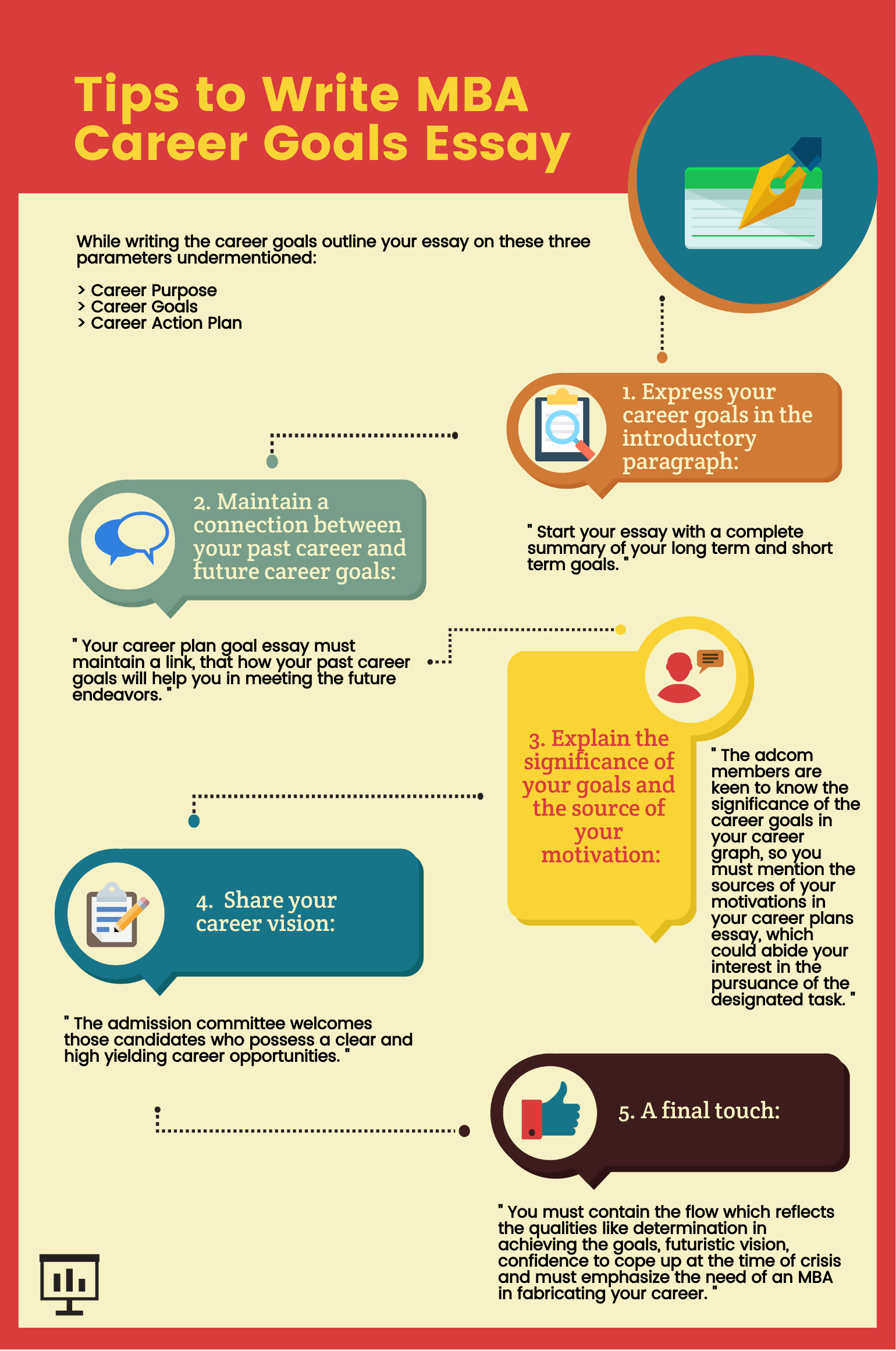 Here are a few tips to make your MBA career plan essay more effective and attractive:
 1. Express your career goals in the introductory paragraph:
To hit the ball hard towards its goal, start your essay with a complete summary of your long term and short term goals. It gives a clear idea to the readers to evaluate your future plans. Be precise and don't exaggerate the points.
2. Maintain a connection between your past career and future career goals:
Through this career plan goal essay you're supposed to portray your career aspirations in a realistic form. It must maintain a link that how your past career goals will help you in meeting the future endeavors. To reflect strong career determinations, you should be brief in your descriptions. It should not be a jargon of words which describes the floating career objectives.
3. Explain the significance of your goals and the source of your motivation:
The adcom members will be keen to know the significance of the career goals in your career graph. How it can elevate your career graph and how much sure are you about to attain the achievements? Your career plans essay must mention the sources of your motivations which could abide your interest in the pursuance of the designated task.
4.  Share your career vision:
Your  MBA career goals essay must exhibit a strong career vision. The admission committee welcomes those candidates who possess a clear and high yielding career opportunities.
5. A final touch:
While concluding, you must contain the flow which reflects the qualities like determination in achieving the goals, futuristic vision, confidence to cope up at the time of crisis and most emphasized the need of an MBA in fabricating the career.
Check out
the GMAT Eligibility Criteria for 2019
Share your views by posting your comment below. You can ask for any assistance related to GMAT and MBA from us by calling us at +918884544444. You can write to us at gmat@byjus.com.