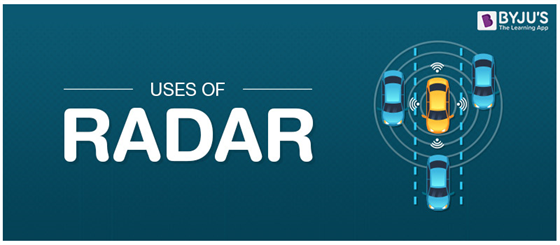 We know that one of the core uses of Radar is to send and receive valuable information in the form of waves. RADAR is helpful in detecting incoming signals during war and also used by a geologist for earthquake detection. Archaeologists use this technology for detection of buried artifacts. It is also used to understand the environment and climatic changes.
Applications And Uses of RADAR
Applications and uses of Radar are given below:
Military
Law enforcement
Space
Remote sensing of environment
Aircraft navigation
Ship Navigation
Air Traffic Controller
RADARs Used In Military
RADARs have a wide range of usage in military operations. They are used in Naval, Ground as well as Air defence
purposes. They are used for detection, tracking and surveillance purposes also. Weapon control and missile guidance often use various types of RADARs.
RADARs Used In Law Enforcement
Law enforcement, especially highway police, has extensive use of RADARs during a pursuit to measure the speed of a vehicle. Due to bad weather conditions, when the satellite cannot get a clear image of traffic and barricades, RADARs are used to get the desired results.
RADARs Used In Space
RADARs in satellites are used for remote sensing. RADARs are used to track and detect satellites and spacecraft. They are also used for safely landing and docking spacecraft.
RADARs Used For Remote Sensing of Environment
Just like various types of waves are received by an antenna, this technology is also used to detect weather conditions of the atmosphere. It is also used for tracking the motions of planets, asteroids and other celestial bodies in the solar system.