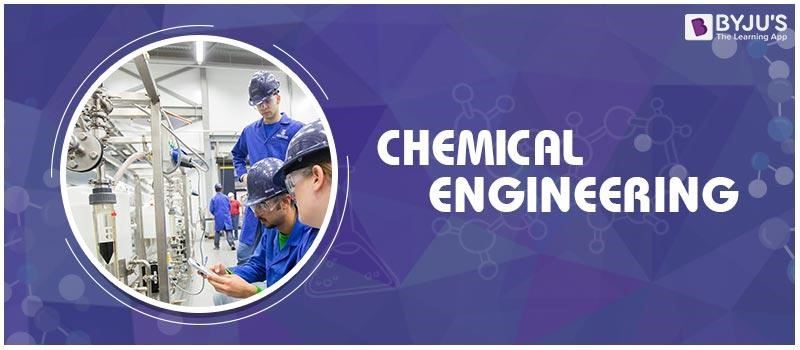 In our current day of scientific innovations, there are plenty of fields wherein one can get acquainted. Engineering is one of the most sought-after owing to man's innate nature of discovering new and fixing old objects. Engineering is the application of maths and science to bring forth innovations in design, operation and other aspects of technology. The different branches of engineering range from mechanical engineering, electrical engineering, computer science engineering, chemical engineering and more. Let us discuss chemical engineering a bit in detail.
What is Chemical Engineering?
Chemical engineering is a branch of engineering in which the principles of chemistry, applied mathematics, biochemistry, microbiology, economics, and applied physics to efficiently use and transform chemicals, matter, and energy. These are just some of the basics of chemical engineering. The role of a chemical engineer would be to design and maintain projects by which raw materials and organic matter can be converted to other useful chemical substances.
Key Skill Requirements
To become a chemical engineer, there are certain skills that are anticipated from the ideal candidate.
Have a proper understanding of Mass Transfer because this is the heart of Chemical engineering. If you want to become a design engineer in the field, it is mandatory to know the basics of equipment design.
Have a proper understanding of topics of mathematics like Laplace Transforms which will come in handy when working on the designing and functioning of control systems.
If you wanna get into operations learn topics like Chemical Process Technology, Fertilizer Technology.
There are certain derivations of topics like Reynolds Transport Equation, McCabe Thiele Diagram, Kremser- Brown Equation, Navier-Stokes which are expected to be known by a chemical engineer.
Learn the periodic table well and also the chemical valencies of elements which will come in handy when at work.
Be thorough with how a pump functions and also topics like Distillation, Drying, and Diffusion.
Remember all the Dimensionless constants like Nusselt numbers & the equivalent of it in Mass Transfer ).
A chemical engineer must be well accustomed to the units of the different physical quantities which come under topics like Heat Transfer and Mass Transfer, Fluid Flow and Measurement and Thermodynamics.
In this age of computers, all the above knowledge and if hoping for a future in the field with higher studies having some knowledge of programming would be optimal.
Types of Chemical Engineering Jobs
With chemical engineering being a diverse field in itself, there are many options for an aspirant to find out which exact job would suit their fancy.
Jobs that are directly relevant to a chemical engineering degree are:
Product/process development scientist
Petroleum engineer
Nuclear engineer
Chemical engineer
Energy engineer
There are also certain other fields where you can apply your knowledge. Some of them are:
Quality manager
Production manager
Mining engineer
Materials engineer
Manufacturing engineer
Energy manager
Analytical chemist
Chemical Engineering Scope
With problems of global warming and pollution being a major concern, the Chemical engineering scope has never been higher. The world awaits chemical engineers who can bring forth new environment-friendly materials which reduce the impact of our actions on our planet. Also, there is always that race going on to improve the standard of living and technological innovations, which can always be aided by a chemical engineer.
Chemical Engineering Colleges
To be properly valued as a chemical engineer one must get into a good college and complete their engineering degree. Thus, here below are listed some of the best colleges in India offering chemical engineering courses.
Indian Institute of Technology, Bombay
Indian Institute of Technology, Delhi
Indian Institute of Technology, Kharagpur
Indian Institute of Technology, Kanpur
Indian Institute of Technology, Madras
Birla Institute of Technology and Science
Indian Institute of Technology, Roorkee
Indian Institute of Technology, Guwahati
Delhi Technological University
Indian Institute of Technology, Varanasi
Future of Chemical Engineering
For a person who has figured out their interest lie in the chemical engineering field, it is easy to say that they should do their masters in chemical engineering and specialize in a particular field. This will allow the person to work on more in-depth R&D of the topic at hand and make a more significant contribution to it.
For help with learning topics of chemistry like organic chemistry and more, register with BYJU'S.