In Karnataka, higher secondary education is known as Pre-University Course (PUC). The course lasts 2 years, the first year or Class 11 is known as 1st PUC while the second year or Class 12 is called 2nd PUC. Passing the 2nd PUC Board Exam is crucial for students to secure admission in a university for higher education. The Department of Pre-University Education, Karnataka conducts the board exams for students in 1st and 2nd PUC in affiliated colleges and schools across the state.
Table of Contents
Latest Updates
The Karnataka Board has announced the results for the 2022 2nd PUC Board exams. Students can check their results on the DPUE's official website.

The Karnataka PU Board has released the final timetable for the 2022 2nd PUC exams. Check the

KSEEB Class 10 and Class 12 Time Table

to know more.

The dates for the 2022 2nd PUC board exam have been announced by the DPUE. The exam will begin on 22nd April 2022 and end on 11th May 2022. Students will have to appear for the exam, which is in offline mode, from 10:30 am to 1:30 pm.

The PU Board has extended the date for fee payment enrollment for repeaters and private candidates appearing for the 2022 II PUC examination.
Pre-University Karnataka Board 2nd Year Exams
Karnataka Board 2nd PUC exams are very crucial as the marks obtained in these exams are solely considered for admission to universities, technical and medical courses. We have put together a list of study materials to help students prepare for the exam.
Syllabus

Question papers from previous exams

Names of leading and popular textbook publishers

Time table and exam schedule

Sample question papers
We understand that among all the streams of Karnataka PU board, Science and Maths are the most competitive and students need all the help they can get to prepare well for these exams. Therefore, we have dedicated separate pages for these subjects and hope that students will find them useful to ace the Karnataka Pre-University Board exams.
Karnataka Board 2nd PU Exam Resources
The 2nd PUC Board examination plays an important role in a student's education. Passing this certification examination is necessary for students to gain admission for higher education in an institution of higher learning. So, we've put together the Karnataka Board 2nd PU Exam Resources to help students prepare for the 12th board exam. These exam resources include a list of subjects, syllabus, textbooks, model question papers etc to help students in preparing for the exam.
KSEEB Class 12 Subjects
Karnataka 2nd PUC Board covers a wide range of subjects beginning with Languages, History, Geography, Economics, Music, Sociology, Political Science, Business Studies, Maths, Science and so on. Find the list of subjects covered under the Karnataka PUC Board syllabus from the table below.
| | | | |
| --- | --- | --- | --- |
| 1 | KANNADA | 18 | HINDUSTANI MUSIC |
| 2 | ENGLISH | 19 | BUSINESS STUDIES |
| 3 | HINDI | 20 | SOCIOLOGY |
| 4 | TAMIL | 21 | POLITICAL SCIENCE |
| 5 | TELUGU | 22 | ACCOUNTANCY |
| 6 | MALAYALAM | 23 | STATISTICS |
| 7 | MARATHI | 24 | PSYCHOLOGY |
| 8 | URDU | 25 | PHYSICS |
| 9 | SANSKRIT | 26 | CHEMISTRY |
| 10 | ARABIC | 27 | MATHEMATICS |
| 11 | FRENCH | 28 | BIOLOGY |
| 12 | OPT-KANNADA | 29 | GEOLOGY |
| 13 | HISTORY | 30 | ELECTRONICS |
| 14 | ECONOMICS | 31 | COMPUTER SCIENCE |
| 15 | LOGIC | 32 | EDUCATION |
| 16 | GEOGRAPHY | 33 | HOME SCIENCE |
| 17 | KARNATAKA MUSIC | 34 | BASIC MATHS |
Here is the latest syllabus for the Science stream as per the Karnataka PU board. The syllabus covers the entire course structure, along with marking scheme of the Karnataka board exam, projects, etc.
KSEEB Class 12 Books are designed as per the syllabus set by the Karnataka Board. These books are valuable tools for the students to do their assignments and prepare for the examinations. Here is the list of textbooks for Physics, Chemistry, Maths and Biology. Click on the link to access each textbook.
KSEEB 2nd PUC previous year question papers are a valuable learning tool for students to prepare for their Class 12 board exams. Practising on these previous year question papers helps students understand the exam pattern, key topics that appear in the question paper etc. Additionally, it also helps them pace themselves so that they can finish answering the questions within the exam duration. Here are some question papers from the past few years for students to practice on:
Karnataka PU Board Class 12 Maths
Karnataka PU Board Class 12 Physics
Karnataka PU Board Class 12 Chemistry
Karnataka PU Board Class 12 Biology
Karnataka PU Board Class 12 History
Karnataka PU Board Class 12 Geography
Karnataka PU Board Class 12 Political Science
Karnataka PU Board Class 12 Economics
Here is a list of some important questions that students need to focus on learning to ace the 2nd PU board exam. Learning to answer these questions correctly can help students score better marks in the exam.
Here are additional resources of the Karnataka PUC Board to help Class 12 students studying under the PU board in Karnataka. Check the links below for more information:
Karnataka Board 2nd PUC Maths and Science Marking Scheme
Here is a brief analysis of the marking scheme and the pattern of the question paper for Science and Maths subjects. The 2nd PUC Karnataka board places significant emphasis on objective type, short and long answer type, as well as numerical problems. The Karnataka PUC board also lays down clear and unambiguous guidelines for selecting each type of question from specific chapters (or topics) from the syllabus. For example, in Physics, the chapter on Current Electricity is allocated 13 marks. Furthermore, the chapter has been allocated one question from objective type, one question from short answer type worth 2 marks, one question from long answer type worth 5 marks, and one numerical problem worth 5 marks.
This knowledge gives students a clear understanding of the weightage of each chapter, key topics to focus on and the type of questions that can be expected. Click on the links below for more information:
Students can get notified with updates about the Karnataka state PUC Board. Other resources found here include Pre-University Question Papers Karnataka Board and textbooks.
Karnataka 2nd PUC Result Analysis
KSEEB 2nd PUC Year-wise Comparison
Total Number of Students:

The KSEEB 2nd Year PUC has from 5.5-6.5 lakh students appearing every year. The numbers dipped low in 2017, when

5,43,443

students appeared for their Class 12 Karnataka Board exams. In 2021, as many as

6,66,497

students had registered, out of which, all were declared successful. This year, 6,84,255 students appeared for the 2nd PUC exam and 61.88% of the students cleared the Board exam.
Here is a quick comparison of the total number of students appearing over the years for the Karnataka Board 2nd PUC Examinations.
| | |
| --- | --- |
| Exam Year | Total Students Appeared |
| 2022 | 6,84,255 |
| 2021 | 6,66,497 |
| 2020 | 5,56,267 |
| 2019 | 6,71,653 |
| 2018 | 6,85,713 |
| 2017 | 5,43,443 |
| 2016 | 6,45,933 |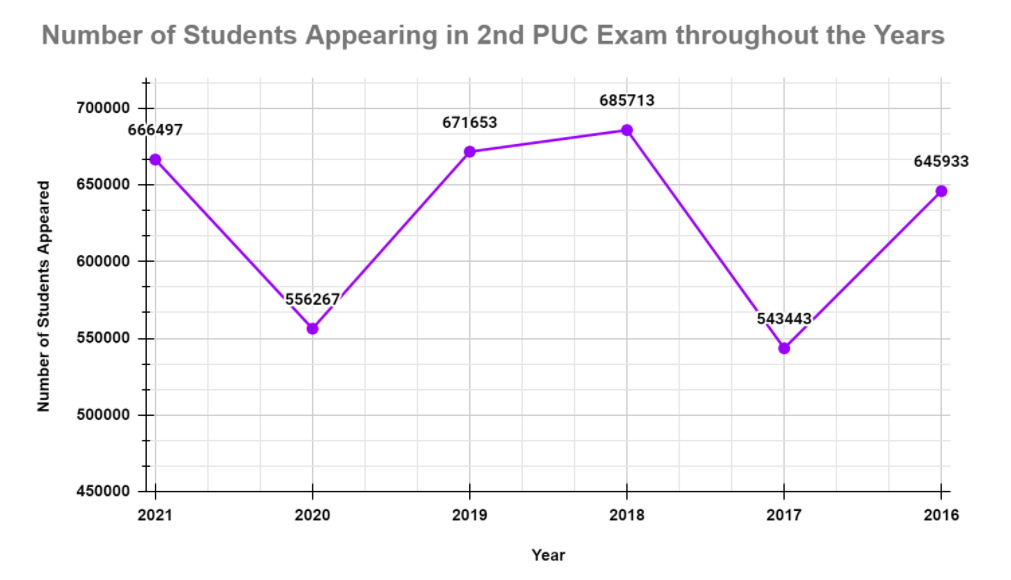 Overall Pass Percent:

The Karnataka board 2nd Year PUC Exams record a pass percentage of around 60% every year. For the past few years, the girls have performed better than the boys. In 2020, the overall pass percentage was 69.2%, with 68.73% girls and 54.73% boys qualifying their 12th Board KSEEB PUC Exams. Below is a detailed comparison of the year-wise results. The overall pass percentage shows a slight decline this year when compared to the past few years. The Board announced that 61.88% of the students who appeared for the exams passed.
| | | | |
| --- | --- | --- | --- |
| Exam Year | Overall Pass % | Pass % for Boys | Pass % for Girls |
| 2022 | 61.88 | 55.22 | 68.72 |
| 2021 | 100 | 100 | 100 |
| 2020 | 69.2 | 54.73 | 68.73 |
| 2019 | 61.73 | 55.29 | 68.24 |
| 2018 | 59.56 | 52.3 | 67.11 |
| 2017 | 52.38 | 44.74 | 60.28 |
| 2016 | 57.2 | 50.02 | 64.78 |
Students can also access more notes or questions from Karnataka Board class 10 science from the 10th Science Notes of State Board Karnataka. Stay tuned for more information about PUC Board Karnataka, as well. 
Frequently Asked Questions on Karnataka Board 2nd PUC
What is 2nd PUC?
Class 12 is called 2nd PUC according to the Department of Pre-university Education, Karnataka.
What is the eligibility criteria for students to appear in the 2nd PUC exam
The student should have passed Karnataka Board's 1st PUC exam or equivalent examination from other state boards. The student should be enrolled in a school or college that is affiliated to the Department of Pre-university Education, Karnataka. And the student should have at least 75% attendance to get the hall ticket to write the exam.
What are the dates for the 2nd PUC exam in 2021-2022?
The 2nd PUC board exam is scheduled to begin on 22nd April 2022 and end on 11th May 2022.
Will the Karnataka Board 2nd PUC exams be online?
The 2022 2nd PU board exam will be conducted in offline mode in the morning session.