In Physics, the sound is characterized based on the pitch, frequency, loudness, and timbre. Timbre is one of the characteristics exhibited by the sound wave and is used for differentiating characteristics of a tone. According to experts, the change in timbre is observed when there is 4dB change either in mid or high harmonics and for low harmonics, 10dB change is required.
What is Timbre?
Timbre is a quality of a musical sound which is used for differentiating two sounds when they are in the same frequency. Every sound that we hear is dependent on its source. Sound timbre is defined by the characteristic sound waveform which is dependent on the material through which it is produced.
Below is a picture explaining the different types of waveforms that give an idea of how timbre appears.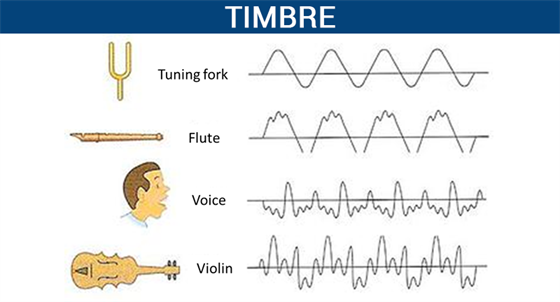 What is Theory of Timbre?
Any sound consists of more than one frequencies and most of these additional frequencies are known as harmonics. The fundamental frequency is the lowest frequency waveform which is known as pitch of the note in music. For any sound to possess timbre, it must have one fundamental frequency and seven or more additional harmonics.
For any sound to be identifiable, the sound must have one fundamental frequency and seven additional harmonics and if any sound which doesn't possess these, won't be identified by the human ear.
What are Timbre Characteristics?
Following are the characteristics of timbre:
| | |
| --- | --- |
| Dull | Thin |
| Cold | Heavy |
| Rich | Clean |
| Delicate | Nasal |
| Thick | Light |