The terms cyclone and hurricane refer to the same tropical storms. They are named differently, depending on the region they occur in. In the North Atlantic Ocean and the Northeast Pacific Ocean, these storms are called Hurricanes, whereas they are called tropical cyclones in the South Pacific and the Indian Ocean.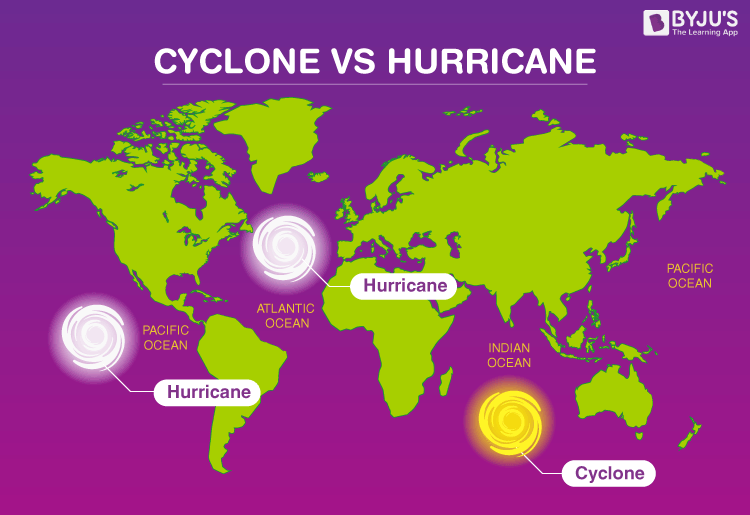 What is a Cyclone?
A cyclone is a broad term used for a weather system in which winds rotate inwardly to an area of low atmospheric pressure. Tropical cyclones, extratropical cyclones and tornadoes are the different types of cyclones.
What is a Hurricane?
A hurricane is a storm system rotating around low pressure, producing strong winds and heavy rain. A tropical storm is called a hurricane when its wind speed exceeds 74 miles per hour. The hurricane's centre is usually the area containing the lowest pressure; this is termed the 'eye' of the hurricane.
Tropical Cyclones vs Hurricane
The main factors that differentiate tropical cyclones from hurricanes are the geographical location in which they occur, and slightly different wind speeds.
| | |
| --- | --- |
| Tropical Cyclones | Hurricanes |
| A tropical cyclone is a rapidly circulating storm that develops over warm tropical oceans characterised by high winds, heavy rain and low atmospheric pressure. | Hurricanes are a type of tropical cyclone that are large swirling storms that originate over warm ocean waters. |
| They occur in the Southeastern Indian Ocean and the Southwestern Pacific ocean | They occur in the North Atlantic Ocean and the Northeast Pacific Ocean |
| Regions most affected by the tropical cyclones are India, North-west Australia, Bangladesh, the Indian Ocean islands, such as Mauritius and Madagascar. | The Caribbean Sea Region is most affected by hurricanes. |
| Tropical cyclones with surface winds less than 39 mph are known as tropical depressions, and those with maximum sustained winds of 39 mph or higher are called tropical storms. | Hurricane's maximum sustained wind speed reaches more than 74 mph |
| Its rotation is clockwise in the Southern hemisphere and anticlockwise in the Northern hemisphere | Its rotation is clockwise in the Southern hemisphere and anticlockwise in the Northern hemisphere |