The hydrostatic pressure is the pressure exerted by a fluid at equilibrium at any point of time due to force of gravity. Firstly solid objects do not change their shape on the application of pressure which is obviously not the case with fluids. Fluid pressure can be caused by gravity, acceleration or forces when in a closed container. If we consider the layer of water on the top of a bottle, the pressure exerted by the layer of water acts on the container at the sides, the surface of air on top and the layer of water at the bottom. As we move down from the top of the bottle to the bottom, the pressure exerted by the top layer on the bottom adds up.  Due to this phenomenon, the fluid at the bottom of the container experiences more pressure that the fluid which is above it.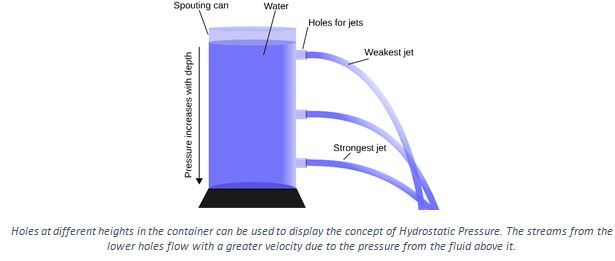 Atmospheric Pressure
Atmospheric Pressure is the pressure exerted by the weight of air in the atmosphere of Earth whereas, hydrostatic pressure is the force exerted by fluids. Our atmosphere extends to almost a hundred kilometres into space. This means that if you stand out in the open, there is a column of air on our heads that extends as far as our atmosphere. Although gases are light, this extremely large volume of atmosphere above your head has a considerable mass. Just like the pressure of water is at its highest level at the bottom of the ocean, air pressure is at its peak at the surface of Earth —which could be termed as the bottom of an "ocean" of air. Air and water pressure together are examples of hydrostatic pressure—the pressure that is contained in any part in a body of fluid due to the weight of the fluid above. Regarding  air pressure, air is pulled downward by the Earth's gravitation force and air along the surface has greater pressure due to the weight (a function of gravity) of the air above it. At the topmost levels of Earth's surface, by all ways, the gravitational force is at a lower intensity, and, hence, the air pressure would be quiet small. On average, a column of air one square centimetre in cross-section, measured from sea level to the top of the atmosphere, has a mass of about 1.03 kg and weight of about 10.1 N. The pressure at a point increases as the weight of the gases above it increases.
Unlike the hydrostatic pressure which increases in proportion to depth measured from a surface, the atmospheric pressure above us becomes clear whenever we use a vacuum cup. Stick a vacuum sucker to a smooth surface and see if you can pull it out. Can you? When you stick this vacuum sucker to a smooth surface, all the air inside the rubber cup is expelled and the no gas is allowed to enter to replace the removed air. Where you would usually have two forces balancing each other, we now have entire weight of the atmosphere acting on the rubber sucker since the pressure between the sucker and the surface is almost zero due to the vacuum. The effect of atmospheric pressure can be seen in this one experiment;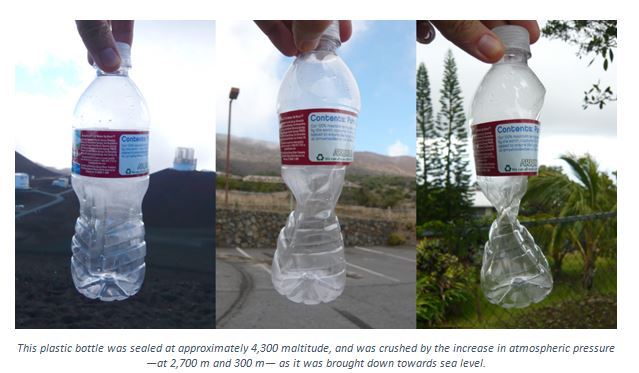 In a common cases, a person's body is exposed to quiet a huge amount of pressure. Provided the atmospheric pressure value which we had discussed, if one places his/her  hand—with an assumption that the surface area for humans is  about 0.1 m2 the force of the air resting on it is nearly one tonne,1000 kg! Why are humans not quashed by all the surrounding air pressure? The reason is that the human body itself is under pressure, and that the interior of the body exerts a pressure equal to that of the air and hence cancels out the weight of the atmosphere. You can find out more about your internal and hydrostatic pressure by visiting BYJUs.com