Chemistry is an important part of our daily lives. Chemistry can be found in the foods we eat, the air we breathe, cleaning chemicals, our emotions, and literally everything we can see or touch. Some chemistry is obvious, but others may surprise us. Our bodies are made up of chemical compounds, which are elemental combinations. Chemical messengers, primarily neurotransmitters, are responsible for your emotions.
Download Class 12 Chemistry Worksheet on Chapter 16 Chemistry in Everyday life PDF – Set 4
👇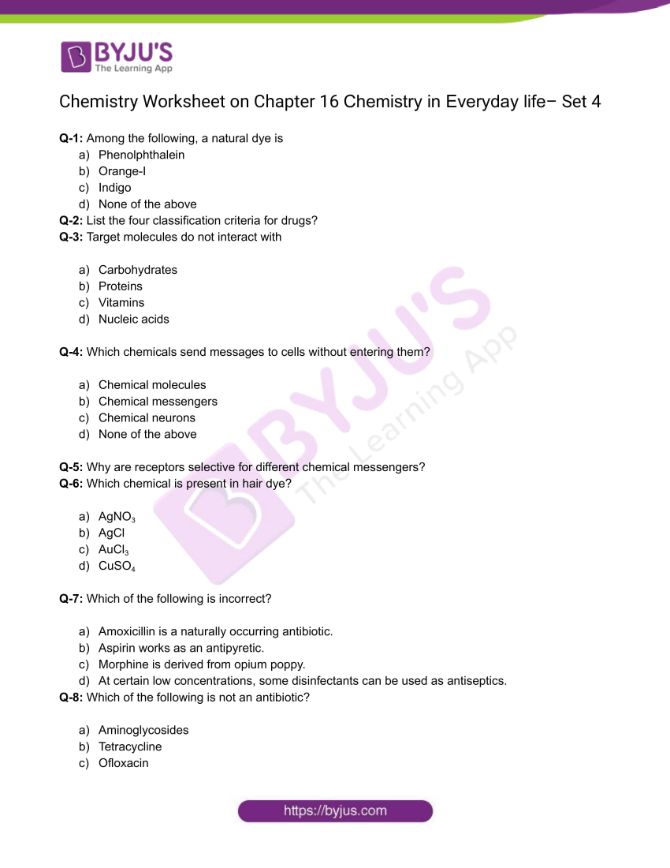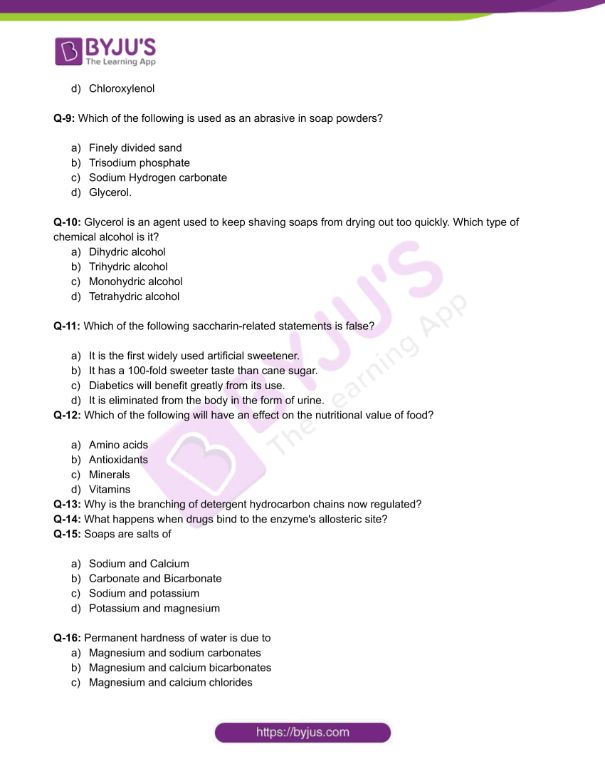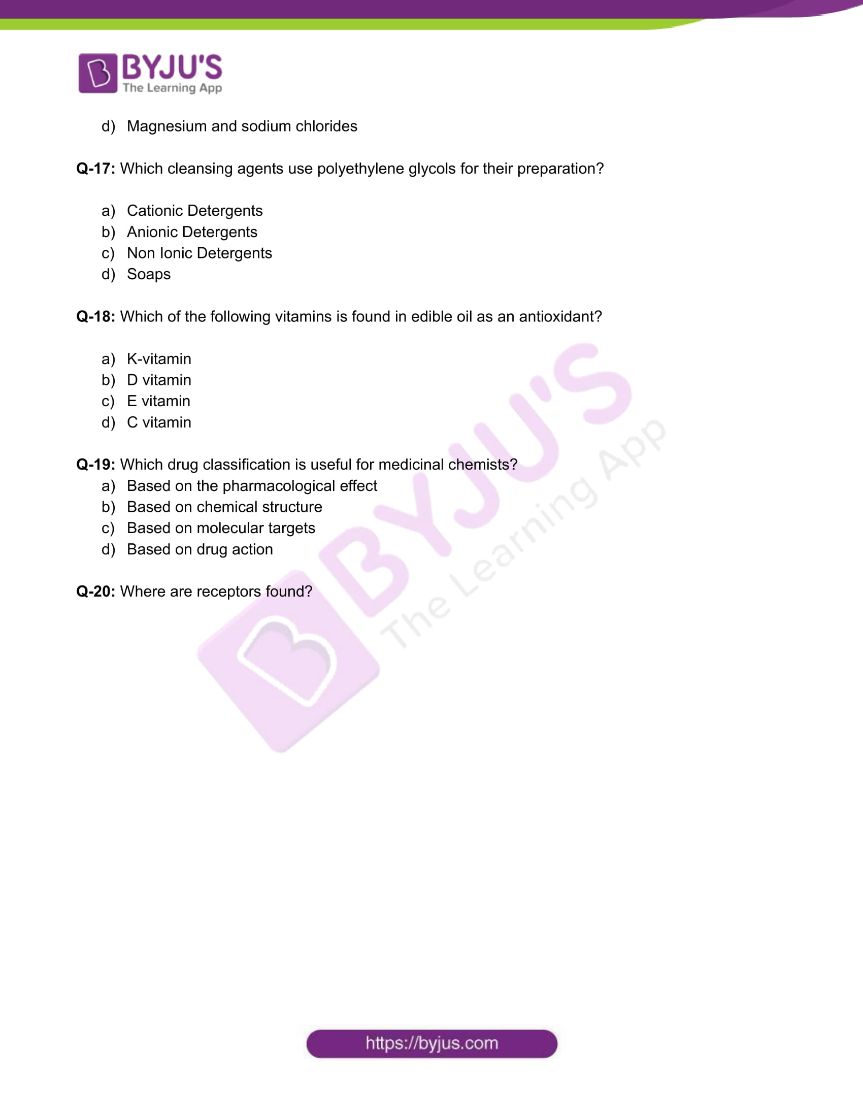 CBSE Class 12 Chemistry Chapter 16 Chemistry in Everyday life Worksheet – Set 4
Q-1: Among the following, a natural dye is
Phenolphthalein
Orange-I
Indigo
None of the above
Q-2: List the four classification criteria for drugs?
Q-3: Target molecules do not interact with
Carbohydrates
Proteins
Vitamins
Nucleic acids
Q-4: Which chemicals send messages to cells without entering them?
Chemical molecules
Chemical messengers
Chemical neurons
None of the above
Q-5: Why are receptors selective for different chemical messengers?
Q-6: Which chemical is present in hair dye?
AgNO3
AgCl
AuCl3
CuSO4
Q-7: Which of the following is incorrect?
Amoxicillin is a naturally occurring antibiotic.
Aspirin works as an antipyretic.
Morphine is derived from opium poppy.
At certain low concentrations, some disinfectants can be used as antiseptics.
Q-8: Which of the following is not an antibiotic?
Aminoglycosides
Tetracycline
Ofloxacin
Chloroxylenol
Q-9: Which of the following is used as an abrasive in soap powders?
Finely divided sand
Trisodium phosphate
Sodium Hydrogen carbonate
Glycerol.
Q-10: Glycerol is an agent used to keep shaving soaps from drying out too quickly. Which type of chemical alcohol is it?
Dihydric alcohol
Trihydric alcohol
Monohydric alcohol
Tetrahydric alcohol
Q-11: Which of the following saccharin-related statements is false?
It is the first widely used artificial sweetener.
It has a 100-fold sweeter taste than cane sugar.
Diabetics will benefit greatly from its use.
It is eliminated from the body in the form of urine.
Q-12: Which of the following will have an effect on the nutritional value of food?
Amino acids
Antioxidants
Minerals
Vitamins
Q-13: Why is the branching of detergent hydrocarbon chains now regulated?
Q-14: What happens when drugs bind to the enzyme's allosteric site?
Q-15: Soaps are salts of
Sodium and Calcium
Carbonate and Bicarbonate
Sodium and potassium
Potassium and magnesium
Q-16: Permanent hardness of water is due to
Magnesium and sodium carbonates
Magnesium and calcium bicarbonates
Magnesium and calcium chlorides
Magnesium and sodium chlorides
Q-17: Which cleansing agents use polyethylene glycols for their preparation?
Cationic Detergents
Anionic Detergents
Non Ionic Detergents
Soaps
Q-18: Which of the following vitamins is found in edible oil as an antioxidant?
K-vitamin
D vitamin
E vitamin
C vitamin
Q-19: Which drug classification is useful for medicinal chemists?
Based on the pharmacological effect
Based on chemical structure
Based on molecular targets
Based on drug action
Q-20: Where are receptors found?
Download the PDF to access answers to the Chemistry Worksheet for Class 12 Chemistry Chapter 16 Chemistry in Everyday life Set -4.
Download PDF
Read Also: