Even though there is a difference between air conditioning and refrigeration, the main concept behind it is to lower the temperature of a particular area compared to the surroundings. These phenomena can be seen in domestic and industrial appliances such as ACs and Refrigerators etc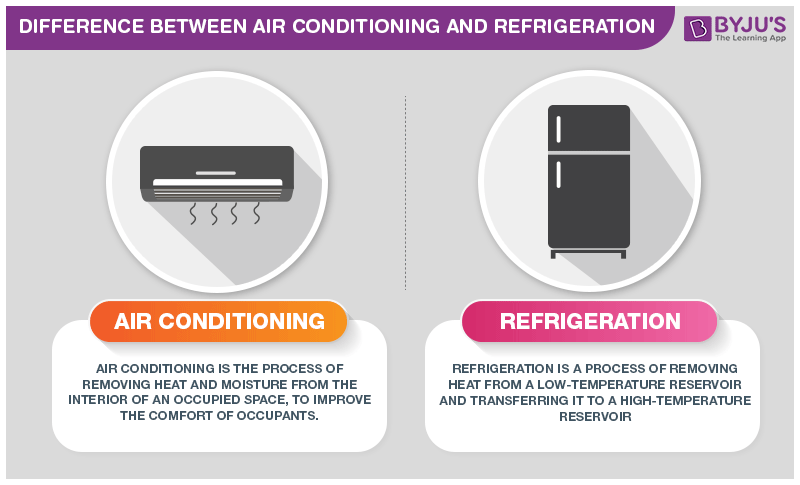 Difference Between Air Conditioning and Refrigeration
In refrigeration, the apparatus supplies thermal energy from one place to a place of higher temperature whereas in air conditioning, the thermal energy is taken from the air in order to cool the air. Naturally, thermal energy can be seen flowing from higher temperature bearing place to lower temperature bearing place.
The use of heat pump and refrigerator applications can be seen in all these type of appliances.
An AC has an indoor and outdoor unit connected with a pipe, the air is heated, compressed,condensed and then liquifies, then the liquid gas evaporates and then cooled with the help of condenser to give the cooled air which we experience.
Difference Between Air Conditioning and Refrigeration

Air Conditioning

Refrigeration

Thermal energy is taken away from the place to keep the air cooler

Thermal energy is transferred from one place to a place of higher temperature

It is a type of refrigeration used to cool large area

Helps to flow thermal energy against the natural flow of heat

It deals with maintaining the temperature of a certain volume of air and also maintaining the purity and humidity

It deals only with regulating the temperature of air such as cooling and freezing of products

The compressor and condenser are a separate unit from the evaporator

The appliance has a condenser, compressor, and evaporator in one set unit

The mechanism is supplied with gas from the tubes

Internal chemicals and even air is supplied from the environment

Cold air is pushed away from the unit

Cold air is kept inside the unit
These were some difference between air conditioning and refrigeration. If you wish to find out more, download BYJU'S The Learning App.
For Better Understanding on Cooling