Carbon is a non-metal that belongs to the fourteenth group in the modern periodic table. Learn more about it from AP Class 10 Physical Science Chapter 14 Carbon and its Compounds.
Carbon has four electrons in the valence shell.
The atomic number of carbon is 6.
Electronic configuration of carbon (ground state) 6 C: 1s2 2s2 2p2.
The electronegativity of carbon is only 2.5 and its nucleus has only six protons.
Carbon forms covalent bonds with its own atoms and atoms of other elements such as hydrogen, oxygen, sulphur, nitrogen and chlorine.
The possibility of bond formation by a carbon atom is as follows: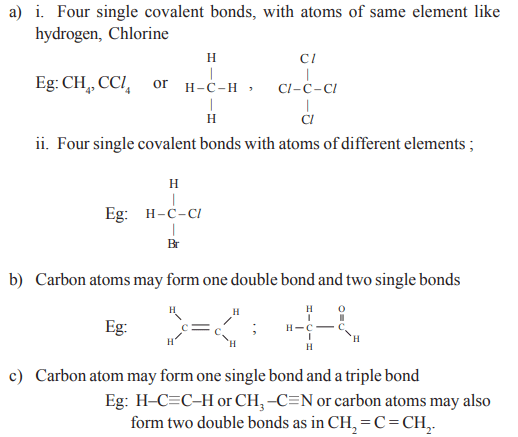 Class 10 Physical Science Chapter 14 Questions
Name the simplest hydrocarbon.
A mixture of oxygen and ethyne is burnt for welding; can you tell why a mixture of ethyne and air is not used?
Give an example for the esterification reaction
Define homologous series of carbon compounds; Mention any two characteristics of homologous series.
How do you appreciate the role of esters in everyday life?
Stay tuned to BYJU'S to get the latest notification on SSC exams along with AP SSC model papers, exam pattern, marking scheme and more.