Alkanes are the organic compounds that consist of single-bonded carbon and hydrogen atoms. The formula for Alkanes is CnH2n+2CnH2n+2, subdivided into three groups – chain alkanes, cycloalkanes, and the branched alkanes.These are comprised of a series of compounds that contain carbon and hydrogen atoms with single covalent bonds.This group of compounds consists of carbon and hydrogen atoms with single covalent bonds. Also, comprises of a homologous series having a molecular formula of C n H 2 n+2
Read about Physical Properties of Alkanes Group.
The simple alkane methane contains one carbon atom and CH 4 as its molecular formula. As this compound have just single covalent bonds only, therefore, its structural formula is

In a long chain alkane molecule, additional carbon atoms are attached to each other with the help of a single covalent bond. Each atom is attached to the sufficient hydrogen atoms to develop a total of four single covalent bonds. This long chain structure is known as octane. An eight-carbon alkane has a molecular formula – C 8H 18 and structural formula-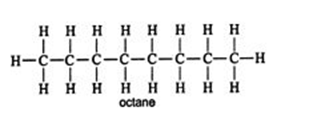 Alkyl Groups
When a substituent like halogen bonds to an alkane molecule, one carbon-hydrogen bond of the molecule gets converted to carbon-substituent bond. It can be understood with an example- A new compound known as chloromethane is formed when methane reacts with chlorine. The new compound is composed of CH 3 group that is bonded to a chlorine atom.

When an alkane having hydrogen is removed from one bond, it is called an alkyl group. This Alkyl group is often denoted by the letter R same as halogens represent by the letter X. Here is  methane‐chlorine reaction that can be generalized as