Astatine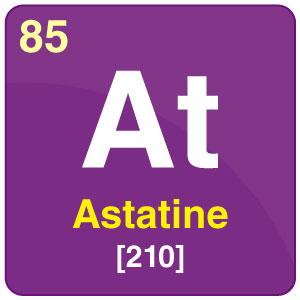 | | |
| --- | --- |
| Symbol | At |
| Atomic Number | 85 |
| Atomic Mass | [210] |
| Discovered by | Astatine was discovered by Dale R. Corson, Kenneth Ross MacKenzie, Emilio Segrè |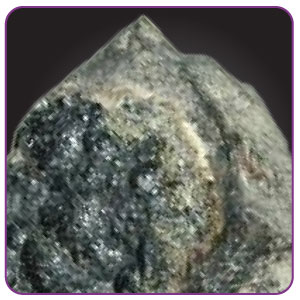 What is Astatine?
Astatine is the 85th element of the periodic table with a symbol 'At'.
It is a radioactive element and is said to be the most heavier among the halogens. This element exhibits similar chemical properties that of the element iodine.
The isotopes of astatine have a short life of about 8.1 hours, and some isotopes are said to be unstable. It has about seven isotopes. This element appears as a black solid with a metallic look.
It is considered as one of the rarest occurring natural element. About 2.36 × 1025 grams of the earth's crust comprises of astatine which measures about lesser than 1 gram. Astatine is mainly formed by the decay of thorium and uranium.
Chemical Properties of Astatine
Group
17
Melting point
300°C, 572°F, 573 K
Period
6
Boiling point
350°C, 662°F, 623 K
Block
p
Density (g cm−3)
Unknown
Atomic number
85
Relative atomic mass
[210]
State at 20°C
Solid
Key isotopes
210At, 211At
Electron configuration
[Xe] 4f14 5d10 6s2 6p5
Uses of Astatine
As astatine behaves similarly as iodine, it gets secreted in the thyroid gland. Hence it is used for treating diseases related to the thyroid.
The isotope called Astatine-211 is utilized in the process of radiotherapy. It is also employed in the treatment of cancer as it is known to destroy cancer-causing cells.