GATE 2023 Registration began on August 30, 2022. All eligible candidates can fill GATE 2023 Application Form through GOAPS Portal (GATE Login) on the GATE official website. Applications will be accepted until September 30, 2022 (without late fee). IIT Kanpur also released the GATE 2023 Exam notification. The organising institute has published the notification PDF containing all the required details of the GATE Exam. IIT Kanpur has announced the GATE 2023 exam dates. GATE 2023 Exam notifications are updated here as per the GATE official website. Meanwhile, candidates can check the Exam Dates, Registration Fee, Exam Date, Exam Pattern, updated Syllabus and Two-Paper Combination.
GATE 2023, or Graduate Aptitude Test in Engineering, is an upcoming national-level examination conducted jointly by the seven IITs (Bombay, Delhi, Guwahati, Kanpur, Kharagpur, Madras, and Roorkee) and the Indian Institute of Science (IISc), Bangalore. IIT Kanpur will conduct GATE 2023. The GATE 2023 Exam Notification is expected to be released in the first week of September 2022, along with the official brochure, exam date, and application form link.
GATE 2023 is based on a comprehensive understanding of the respective subjects. GATE 2023 will be conducted on 29 subjects tentatively by February 2023. GATE exam will be conducted across India in different cities listed below. It will be a Computed Based Test (CBT) online mode of examination.
In this Article:
GATE 2023 NotificationGATE 2023 Latest NewsGATE 2023 HighlightsGATE 2023 Important DatesVideo on GATE 2023 Complete ScheduleGATE 2023 ResourcesGATE 2023 RegistrationGATE 2023 Application Fee (Per Subject Paper)GATE 2023 Online ApplicationGATE 2023 Admit CardGATE 2023 Exam PatternGATE 2023 List of Subject CodesGATE 2023 Examination CitiesFrequently Asked Questions on GATE 2023
Qualifying GATE 2023 will make you eligible for higher studies or financial assistance for Master's and Doctoral programs. Note that it does not ensure admission, scholarship, or jobs at PSUs. It entirely depends on the Institute's admission criteria, which is also similar for PSU jobs. Explore Benefits of GATE Exam to know more in detail.

GATE 2023 Notification
Candidates can check the GATE Brochure to check and have a fair idea about the regular schedule and related information of the GATE Exam.
GATE 2023 Latest News:
The authorities have extended the Regular Registration date till 7th October, 2022. Registration with late fees is extended till 16th October, 2022.

A new exam centre is added at Ludhiana in the IIT Roorkee zone, and Puttur is removed from the IISc Bangalore zone.

GATE 2023 online application is open for registration now. Check

GATE 2023 Application Form

for more details.

IIT Kanpur has added 23 new cities/towns to the list of GATE exam centres. Check the list below.

GATE 2023 Brochure, along with the latest GATE 2023 Syllabus, Notifications, and GATE 2023 Important dates, has gone live on the official website.

IIT Kanpur has increased the GATE 2023 registration fee. The fee has been increased by 100 INR for female and ST/SC/PWD candidates and 200 INR for all other candidates, including foreigners. Check the details below.

GATE 2023 will be held on 4th, 5th, 11th, and 12th February, 2023.

In 2022, the authority has also added two new papers for GATE exams. Marine Engineering and Naval Architecture, as well as Geomatics Engineering, are the two new papers, thus making it 29 subjects for the

GATE Exam

.

GATE 2023 eligibility criteria have been extended to include any candidate who has already completed any government-approved degree program in Engineering / Technology / Architecture / Science / Commerce / Arts. Explore

GATE Eligibility Criteria

to know more.
GATE 2023 Highlights:
| | |
| --- | --- |
| Particulars | Details |
| Full Form | Graduate Aptitude Test in Engineering |
| Organising Body | IIT Kanpur |
| Mode of Application | Online  |
| Mode of Examination | Computer-based Test (Online) |
| Exam Frequency | Once a year |
| Exam Duration | 3 hours (180 minutes) |
| Number of Subject Papers | 29 |
| Number of Questions | 10 (General Aptitude) + 55 (Subject)= 65  |
| Question Type | MCQ, NAT, MSQ |
| Applications Per Year | Around 9 Lakhs |
| Official Website | https://gate.iitk.ac.in/ |
GATE 2023 Important Dates:
Activity
Day
Date

Online Application Process Opens 

Tuesday

30th August, 2022

Closing Date of REGULAR online registration/ application process

Friday

30th September, 2022

4th October, 2022

7th October, 2022

Closing Date of EXTENDED online registration/ application process

Friday

7th October, 2022

14th October, 2022

16th October, 2022

Modifications in GATE 2023 Application

Friday to Friday

4th to 11th November, 2022

Availability of GATE Admit cards for download

Tuesday

3rd January, 2023

GATE 2023 Examinations

Saturday & Sunday

4th, 5th and 11th, 12th February, 2023

Candidate's response available in Application portal

Wednesday

15th February, 2023

Answer keys available on Application portal

Tuesday

21st February, 2023

Submission of challenges by candidates on Answer Keys

Wednesday to Saturday

22nd to 25th February, 2023

Announcement of Results for GATE 2023

Thursday

16th March, 2023

Availability of Score Card for download by candidates

Tuesday

21st March, 2023
Video on GATE 2023 Complete Schedule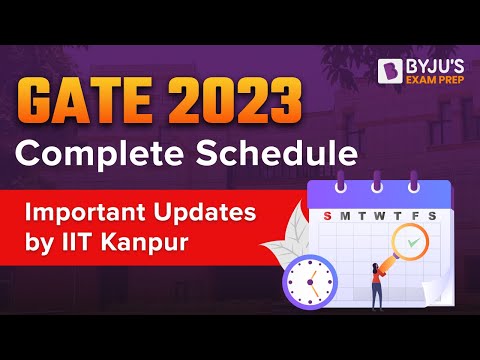 GATE 2023 Resources
Here we have provided the GATE 2023 resources. Candidates can directly access it by clicking on the links below.
GATE Exam 2023 Registration
Registration for GATE 2023 has already begun on 30th August 2022. The registration is purely online. The last date for the online registration/application process was till the 30th of September (without late fee). However, the authorities have extended the regular registration date till 4th October, 2022. Candidates will also be allowed to apply for an extended period (7th October) by paying a late fee.
The following steps will walk you through the registration process.
Go to GOAPS Portal
Fill in the candidate's name (as per valid ID proof)
Valid email ID
Country of residence
Mobile number
Password
Once your registration is successfully done, you will be provided with an enrolment ID. Note that verification of either your mobile number or the email ID is required to pay the application fees. The verification is done by sending OTP (One Time Password) to your email ID and mobile number.
GATE 2023 Application Fee (Per Subject Paper)
For Examination Centres in India
| | | |
| --- | --- | --- |
| For Examination Centres in India | Regular Period (30th Aug to 7th Oct 2022) | During the Extended Period (7th Oct to 14th Oct 2022) |
| Female candidates (per paper) | ₹ 850 | ₹ 1350 |
| SC / ST / PwD* category candidates (per paper) | ₹ 850 | ₹ 1350 |
| All other candidates (per paper) | ₹ 1700 | ₹ 2200 |
For Examination Centres outside India
For Examination Centres outside India
Candidate Category
Regular Period (30th Aug to 7th Oct 2022)
During the Extended Period (7th Oct to 14th Oct 2022)

Group-1: Dhaka and Kahtmandu

All candidates

including Female and SC/ST/ PwD

USD 100

USD 150

Group-2: Dubai and Singapore

USD 200

USD 250
GATE 2023 Online Application
After completing the registration, the candidate must fill in the following details on the Application Form.
Candidates need to fill in the address for communication (including PIN code)
Eligibility degree details are required to be mentioned
College name and address of the institution with PIN code
GATE paper(s) (subject)
Choice(s) of GATE examination cities
A high-quality image of the candidate's photograph
Good quality image of candidate's signature
Scanned copy of valid photo Identity Document (ID), which you MUST carry to the examination hall
Scanned copy of Category (SC / ST) Certificate in pdf format to be uploaded (if applicable)
Scanned copy of PwD Certificate in pdf format (if applicable)
Scanned copy of Dyslexic Certificate in pdf format (if applicable)
Fee payment can be made through net-banking / debit card/credit card/wallet details
GATE 2023 Admit Card
GATE Admit Card will be available to download on the GATE 2023 official website on 3rd January 2023. Admit Cards will not be sent to your email ID or by post. Candidates must bring a printout of the downloaded Admit Card on the day of examination to their respective centres for verification purposes, along with their photo identity document (NO photocopy / scanned copy / NOT an expired document).
The candidate's photograph and signature images must be clear and legible. The photograph in the Admit Card and photo Identity document should match the candidate's appearance.
GATE 2023 Exam Pattern
IIT Kanpur will publish the GATE 2023 exam pattern very soon. All the particulars and details are given below.
Particulars
Details
Examination Mode
Computer Based Test (CBT)
Duration
3 Hours
Number of Subjects (Papers)
29
Sections
General Aptitude (GA) +

Candidate's Selected Subject

Type of Questions
(a) Multiple-Choice Questions (MCQ)

(b) Multiple-Select Questions (MSQ) and/or

Numerical Answer Type (NAT) Questions

Questions for testing these abilities
Recall

Comprehension

Application

Analysis & Synthesis

Number of Questions
10 (GA) + 55 (subject) = 65 Questions
Distribution of Marks in all Papers

EXCEPT papers AR, CY, EY, GG, MA, PH,

XH and XL

General Aptitude: 15 Marks +

Engineering Mathematics: 13 Marks +

Subject Questions: 72 Marks =

Total: 100 Marks

Distribution of Marks in papers AR, CY,

EY, GG, MA, PH, XH and XL

General Aptitude: 15 Marks +

Subject Questions: 85 Marks =

Total: 100 Marks

Marking Scheme
Questions carry 1 mark and 2 marks
Negative Marking
For a wrong answer chosen in a MCQ, there will

be negative marking. For a 1-mark MCQ, 1/3 mark

will be deducted for a wrong answer. Likewise,

for a 2-mark MCQ, 2/3 mark will be deducted for a

wrong answer
GATE 2023 Marking Scheme
Paper Code

General

Aptitude

(GA)

Marks

Subject

Marks

Total

Marks

Total

Time

(Minutes)

AE, AG, BM, BT, CE, CH, CS, CY, EC, EE,

ES, EY, IN, MA, ME, MN, MT, NM, PE, PH,

PI, TF, ST

15
85
100
180
AR [Part A + Part B1 or B2

(B1: Architecture or B2: Planning)]

15
60 + 25
100
180
GE [Part A + Part B (Section I or Section II)]
15
55 + 30
100
180
GG [Part A + Part B (Section 1: Geology or

Section 2: Geophysics)]

15
25 + 60
100
180
XE (Section A + Any TWO Sections)
15
15 + (2 x 35)
100
180
XH (Section B1 + Any ONE Section)
15
25 + 60
100
180
XL (Section P + Any TWO Sections)
15
25 + (2 x 30)
100
180
GATE 2023 List of Subject Codes:
GATE 2023 will be conducted in 29 different subjects listed below.
GATE Paper
Code
GATE Paper
Code
Aerospace Engineering
AE
Instrumentation Engineering
IN
Agricultural Engineering
AG
Mathematics
MA
Architecture and Planning
AR
Mechanical Engineering
ME
Biomedical Engineering
BM
Mining Engineering
MN
Biotechnology
BT
Metallurgical Engineering
MT
Civil Engineering
CE
Naval Architecture and Marine

Engineering

NM
Chemical Engineering
CH
Petroleum Engineering
PE
Computer Science and Information

Technology

CS
Physics
PH
Chemistry
CY
Production and Industrial

Engineering

PI
Electronics and Communication

Engineering

EC
Statistics
ST
Electrical Engineering
EE
Textile Engineering and

Fibre Science

TF
Environmental Science &

Engineering

ES
Engineering Sciences
XE*
Ecology and Evolution
EY
Humanities & Social Sciences
XH**
Geomatics Engineering
GE
Life Sciences
XL***
Geology and Geophysics
GG
Generally, GATE papers have a format of 15 marks for General Aptitude and 85 marks for the particular Subject. XE* (Engineering Sciences), XH** (Humanities & Social Sciences), XL*** (Life Sciences) have multiple optional sections, which are listed below.
XE* Paper Sections

Code

XH** Paper

Sections

Code

XL*** Paper

Sections

Code

Engineering Mathematics

(Compulsory) (15 marks)

A
Reasoning and

Comprehension (Compulsory)

(25 marks)

B1
Chemistry

(Compulsory)

(25 marks)

P
Any TWO optional

Sections (2 x 35 = 70 marks)

Any ONE optional

Section (60 marks)

Any TWO optional

Sections (2 x 30 = 60

marks)

Fluid Mechanics
B
Economics
C1
Biochemistry
Q
Materials Science
C
English
C2
Botany
R
Solid Mechanics
D
Linguistics
C3
Microbiology
S
Thermodynamics
E
Philosophy
C4
Zoology
T
Polymer Science and

Engineering

F
Psychology
C5
Food

Technology

U
Food Technology
G
Sociology
C6
Atmospheric and

Oceanic Sciences

H
Explore GATE Exam Subjects to know more in detail.
GATE 2023 Examination Cities
GATE 2023 has divided exam cities zone-wise. A candidate is allowed to choose THREE cities from the list of examination cities. If a candidate chooses a particular city, the other two options must be only from the same GATE 2023 zone.
Video on GATE Exam Centres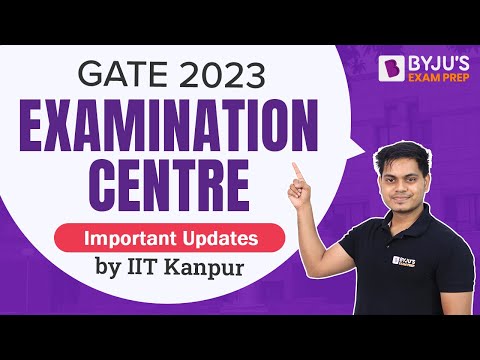 Tentative List of Zone-Wise GATE 2023 Examination Cities are given below:
Zonal GATE Office
No. of Cities
Tentative List of Exam Cities
IISc Bangalore
26
Andhra Pradesh: Ananthapuramu, Kurnool

Kerala: Angamaly, Kannur, Kasaragod, Kozhikode, Malappuram, Palakkad, Pathanamthitta, Payyanur, Thrissur, Vatakara, Wayanad

Karnataka: Bagalkot, Ballari (Bellary), Belagavi (Belgaum), Bengaluru North, Bengaluru South, Bidar, Chikkballapur, Chikkamagaluru, Davanagere, Hassan, Hubballi (Hubli)/Dharwad, Kalaburagi (Gulbarga), Kolar, Mandya , Mangaluru, Manipal, Mysuru (Mysore), Shivamogga (Shimoga), Tumakuru

Telangana: Hyderabad, Medak, Nalgonda

Andaman and Nicobar: Port Blair

IIT Bombay
30
Gujarat: Ahmedabad, Anand, Bhavnagar, Bhuj, Gandhinagar, Jamnagar , Mehsana, Rajkot, Surat, Vadodara, Vapi

Maharashtra: Ahmednagar, Akola, Ambajogai, Amravati, Aurangabad, Baramati, Bhusawal, Dhule, Jalgaon, Kolhapur, Latur, Mumbai, Nagpur, Nanded, Nashik, Navi-Mumbai-Thane, Panvel-Raigad, Pune, Ratnagiri, Sangamner-Loni-Shirdi, Sangli, Satara, Solapur, Vasai-Palghar, Wardha, Yavatmal

Goa: Goa

IIT Delhi
17
Haryana: Faridabad, Gurugram, Hisar

Jammu and Kashmir: Jammu-Samba, Srinagar

Ladakh: Leh

Madhya Pradesh: Indore, Ujjain

New Delhi: New Delhi

Rajasthan: Ajmer, Bikaner, Jaipur, Jodhpur, Kota, Sikar, Udaipur

Uttar Pradesh: Greater NOIDA, Mathura

IIT Guwahati
18
Arunachal Pradesh: Itanagar

Assam: Dibrugarh, Guwahati, Jorhat, Silchar, Tezpur

Bihar: Bhagalpur, Muzaffarpur, Patna, Purnea

Jharkhand: Bokaro Steel City, Dhanbad

Manipur: Imphal

Meghalaya: Shillong

Mizoram: Aizawl

Nagaland: Dimapur-Kohima

Sikkim: Gangtok

Tripura: Agartala

West Bengal: Asansol-Durgapur, Burdwan, Kalyani, Siliguri

IIT Kanpur
12
Madhya Pradesh: Bhopal, Gwalior, Jabalpur, Sagar, Satna

Uttar Pradesh: Agra, Aligarh, Allahabad, Ayodhya, Bareilly, Gorakhpur, Jhansi, Kanpur, Lucknow, Varanasi

IIT Kharagpur
24
Andhra Pradesh: Eluru, Kakinada, Rajamahendravaram (Rajahmundry), Srikakulam, Tadepalligudem, Vijayawada, Visakhapatnam, Vizianagaram

Chhattisgarh: Bhilai, Bilaspur, Raipur

Jharkhand: Hazaribag, Jamshedpur, Ranchi

Odisha: Balasore, Berhampur, Bhubaneswar, Cuttack, Puri, Rourkela, Sambalpur

West Bengal: Baharampur-Murshidabad, Bankura, Howrah, Hooghly, Kharagpur, Kolaghat, Kolkata

IIT Madras
34
Andhra Pradesh: Chirala, Chittoor, Gudur, Guntur, Kadapa, Nellore, Ongole, Tirupati

Kerala: Alappuzha, Aluva-Ernakulam, Attingal, Chengannur, Kanjirapally, Kollam, Kothamangalam, Kottayam, Muvattupuzha, Thiruvananthapuram

Pondicherry: Puducherry

Tamilnadu: Chennai South, Chennai West, Coimbatore, Cuddalore, Dindigul, Kanyakumari-Nagercoil, Madurai, Namakkal, Salem, Thanjavur, Thoothukudi, Tiruchirapalli, Tirunelveli, Vellore, Virudhunagar

Telangana: Adilabad, Karimnagar, Khammam, Kodad, Kothagudem, Nizamabad, Suryapet, Warangal

IIT Roorkee
15
Haryana: Ambala, Kurukshetra

Himachal Pradesh: Bilaspur, Hamirpur, Kangra, Shimla, Solan

Punjab: Amritsar, Bathinda, Jalandhar, Ludhiana, Mohali-Chandigarh, Patiala

Uttar Pradesh: Ghaziabad, Meerut, Moradabad, Muzaffarnagar, NOIDA

Uttarakhand: Dehradun, Haldwani, Roorkee

International Centres
4
Bangladesh: Dhaka

UAE: Dubai

Nepal: Kathmandu

Malaysia: Kuala Lumpur

Maldives: Male

Mauritius: Port Louis

Singapore: Singapore

Bhutan: Thimphu
Frequently Asked Questions on GATE 2023
When should I apply for GATE 2023??
IIT Kapur will begin the GATE 2023 registration on 30th August.
What are the changes in GATE 2023?
Application fees for both national and international students have been increased. GATE 2023 will be conducted at four international exam centres: Dhaka, Kathmandu, Dubai, and Singapore.
Is there any age limit to appear in GATE 2023?
No, there is no age limit to appear in GATE 2023.
Can I appear for any GATE 2023 paper?
Yes, but the candidate must select subjects appropriate to their qualifying degree.
Can I use one email to fill up multiple application forms?
No, you can fill up only one application form with a single email.