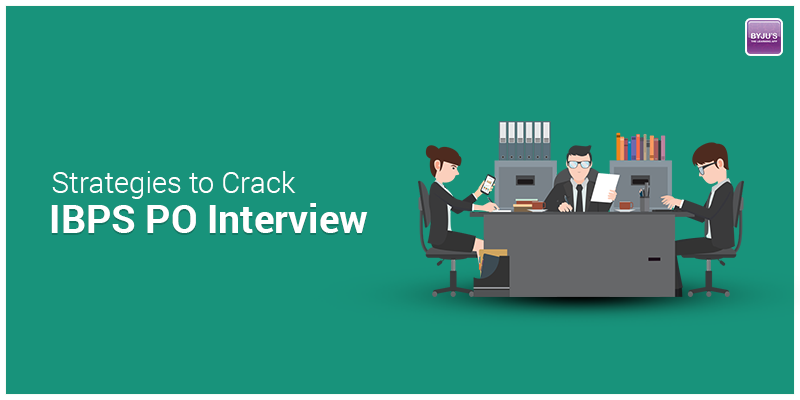 Candidates when appearing for the IBPS interview get nervous  because a question often arises in their mind, 'What if I am not able to clear this Interview?'
This article will walk you through several interview preparation tips and strategies that you can follow while preparing for IBPS Interview.
Know more about other IBPS exams at the linked article.
The final stage in the recruiting process of IBPS PO exam is the interview. The candidates clearing the Mains exam will be called for the interview.
This is a very crucial stage since the candidates are not only judged based on their knowledge but are also judged based on their personality and etiquette.
Here some strategies to crack the IBPS PO interview are mentioned to help the aspirants clear the interview with ease.
Be punctual and well-dressed:It is very important for any aspirant to be on time for the interview. It is better to be early than late. Also, do dress properly in well-ironed formals and properly polished shoes.
Be polite, confident and grateful: Greet the panelists with a proper handshake and be extremely polite while conversing. Be confident while speaking and keep the conversation engaging.
Never lie: The bio-data should only contain the truth. The panelists can easily identify the lies while conversing and that is really a bad impression.
Stay updated: The panelists often ask about the new reforms and modifications about various banking and finance-related topics. Also knowing about various banks and other related issues, acts and terms are a must.
Revise the main subjects of your UG/PG: You may not have read about banking in your college so the questions from banking can be bypassed. But you must have read at least your subjects of UG, so the interviewers judge your sincerity from the answers you throw from your UG or PG.
Think before speaking: It is always good to take a moment to pause and think before jumping to any unnecessary statements. Never give any controversial religious or social statement. Never discuss any personal issues too. Just make sure to keep a short pause and not a long awkward silence.
Be what you are: This is what the interviewers try to look for in a candidate. Never say a thing that you don't know this can lead you to a never-ending and trouble discussion
Don't hesitate to say "NO": It is not possible for everyone to know everything if you don't know the answers of some questions, don't try to answer them, answering those questions makes it worse, so in a polite way just say NO.
Maintain proper body posture: Maintaining a good body posture is very crucial during the interview. Sit straight and avoid leaning.
The interview is the last stage of the selection process in the IBPS PO exam. Before reaching the interview level candidates need to qualify the prelims and mains examination. Given below are links that may prove to ve helpful for candidates:
It is always advisable to carry a pen during the interview and be calm and composed while speaking. These things are all that is required to clear the interview and get one of the most sought after bank jobs. IBPS interview is the golden ticket for you because you are only one step from the final step. Follow the essential points mentioned-above while preparing for IBPS Interview.
For more such tips on bank exams, visit BYJU'S.