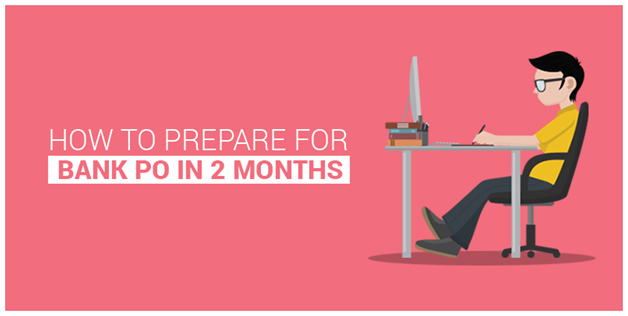 In this article, we shall take you through how to prepare for bank PO exam in 2 months.
Every year SBI and IBPS conduct recruitment for various Probationary Officers (PO) bank vacancies. As a result, if you wish to take the exam, you need to hurry up and start your preparation when you just have two months left for the Bank PO examination.
For scoring maximum marks, you have to study hard and give a lot of effort. To be in the final merit list of the Bank, you need to work hard and the most important thing is increasing your efficiency and accuracy. This can be achieved only through practice for the next 2 months for Probationary Officer (PO) Examination.
Banking sectors are recruiting personnel in a prospective manner and every year the examination is getting tougher and the bank PO exam pattern continues to change. So, those candidates thinking that preparation can be done in the last 15 to 20 days or a night before the exam to crack the Bank PO exam need to understand that it's not going to work that way.
To know more about SBI PO exam pattern, check at the linked article.
If you are aiming to crack the Bank PO examination this is the time to buckle up. Here are a few things to keep in mind:
Don't think about the cutoff level which is decided by the bank. Yes, the cutoff is high.
When we talk about conversion rate, only 10% of the applicants are being selected for the bank PO position.
The reason is to be analysed why only certain candidates stand out from the rest and get selected for the post of PO.
Learn more about SBI PO Preparation at the linked article.
Here is the answer to that WHY?
They know where they are lacking, what they have to prepare for, what are their weak areas.
You can also be the one to know about all these and be the one who had a perfect preparation for Bank PO exam and the only way was through practice.
Bank PO Preparation Tips & Strategies
Here are some tips and tricks that will help the candidates prepare and improve their confidence during the two months:
The strategies are the most important part of Bank PO examination. The strategy in which the paper is attempted is not only important but also the strategy used during the preparation process. This may differ from person to person based on what strategy that suits the candidate best, should be adopted.
Reasoning and Quantitative are the parts that take a lot of time in the examination paper, these sections have less cut-off than the other sections. But one has to qualify in all the sections separately, the questions in these parts are lengthy and it takes a lot of time for the candidate to complete a single question. So, do not waste much time on these sections.
Try to just clear the sectional cutoff of difficult sections, as it is the toughest part of the examination. These sections are made tricky to check the accuracy of the candidates. Finally one can achieve it through practising and it can be done easily, by just giving time to the Quantitative and Reasoning part.
To know more about bank exams preparation, check at the linked article.
For the first week just to start preparation give 3 to 4 hours to Quantitative topics like Numerical ability and Simplification, likewise increase your time for quantitative week by week as you have only 2 months left in your hand, and at the end of one month, you will be able to see the difference in your preparation level.
For the first week give reasoning a composite 13 to 14 hours of time as it is the trickiest part of the examination it needs much preparation and much time of yours.
Read comprehension daily at least for 20 minutes, then after 3 weeks jump to grammar preparation and sentence correction, fill in the blanks etc.
Read the news every day to be updated about the facts that are going on throughout the whole world.
Now, as you have taken preparation for all of the sections it's time to test yourself through Mock tests and bank exams question papers. From week 6, start taking full-length mock tests such that at the end of 2 months, you have completed 9 to 10 mock tests and with analysis, it will take a composite time of 25 to 30 hours. Each mock test will take 1 hour and 30 minutes of analysis.
To learn how to prepare for bank exams in 1 month, check at the linked article.
Important Bank Information:
Top Magical Tips to Master your Preparation
Here are some tips and tricks that will help you to speed up your preparation level:
Master your Quant skills: A candidate can do this by making his/her basics strong. In the Quantitative Aptitude section, the questions are based on simple concepts, and if one knows the basics, they just need to practice a lot for being accurate with time.
Master your Reasoning section: Candidates have this question in their mind that there is no use of Reasoning further in a Bank PO job, then why is it the most important part of the examination, this is only because of the reason that it examines one's ability to deal with tough situations. This section can be accurately done only through practice.
Master your General Awareness section: The preparation for the part has no end and this has a very vital role in the examination. A candidate can score 100% in this section if he/she is aware of regular and current affairs. For this reason, certain habits like reading the newspaper daily should be developed, as it will keep you updated with the current affairs of your country.
You can check the Current Affairs page for daily, weekly and monthly updates.
To explore more about SBI PO Recruitment, check at the linked article.
From the above-given tips and strategies, the aspiring candidates will be able to prepare for this bank exam in a structured manner in two months. Dedication and hard work are needed to crack this exam. Meanwhile, candidates can also opt to join the BYJU'S Bank Exam Learning Program which will provide guidance and effective tips to crack the exam and secure a bank PO job.