Bank PO and IT Industry are two of India's largest employment generating Industries. And for people who are looking for a job, this has been a dilemma as to which one to choose as a career option. 
Now working as a Probationary Officers in a bank or in the IT industry has its own downsides and perks. And add to it varying fields of interest, that being said so it is not necessary that either Bank PO or IT job will be to their liking
The job profile for the two streams is completely different and both come with their own perks and disadvantages. 
While Bank PO is the post of a Probationary Officer, one of the highest entry-level job profiles in the banking sector and the IT Industry is predominantly led by Engineers but new career options coming up in this industry as well.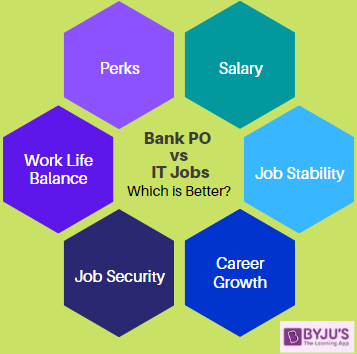 In this article, we shall further discuss the difference between Bank PO and IT Industry employees and help you figure out which career option among the two is more suitable as a job option.
Also, check the difference between Bank PO and Bank Clerk at the linked article.
Related Links:

Difference Between Bank PO and IT Industry
Every year lakhs of aspirants look forward to various Banking Organisations to release notifications for the recruitment and lakhs of IT students start looking for a job in the Information Technology sector and departments.
The table below gives a basic difference between the Bank PO job and an IT employee's job in brief:
Difference Between Bank PO & IT Industry
Bank PO
IT Job
Job Profile:

The Bank Probationary Officer job is a customer-oriented and paperwork job. They do not just have to maintain the financial files and documents but also have to assist the customers with the facilities provided by the bank

Job Profile:

It is a desk job and mostly involves technical jobs like coding, bugging, etc. The work may sound monotonous but there is the scope of promotions 

Salary:

The

Bank PO salary

mostly ranges between Rs. 7 lacs to Rs. 10 lacs per annum for a Public Sector Bank and Rs.4 lacs to Rs.7 lacs per annum for a Private Sector Bank in the initial years

Salary:

The entry-level salary of an IT employee mostly varies between Rs. 2.5 lacs to Rs. 3 lacs per annum. The salary becomes equivalent to that of a Bank PO almost after 5-6 years of experience

Job Security:

Bank PO job in a PSB is a permanent job

Job Security:

IT job is not permanent

Perks:

Apart from the salary, perks like HRA, Medical Allowance, Travel Expenses, Pensions, etc. are provided

Perks:

Expenses like HRA and other benefits are all included in the salary itself. So, no extra perks are provided

Work-Life Balance:

There are 6 working days in a week and two Saturdays off in a month which leaves less time for personal commitment

Work-Life Balance:

This is an advantage with IT companies as mostly all of them offer 5 working days a week

Career Growth:

Internal Exams and Interviews are conducted at regular intervals of time and there is a much higher scope of growth

Career Growth:

Growth may depend on your performance and it may take years to get promoted to a higher post
Aspirants can also check the salary range of bank employees at the linked article.
Comparative Analysis: Bank PO vs IT Jobs
Career option is one aspect where the person has the complete choice of what they want to do. There are many differences between a Bank PO and IT employees but the final call must be taken based on the interest of the candidate.
One must go through the comparative analysis between the two posts and sectors as given above and then make a wise decision.

Frequently Asked Question about preparing for Bank PO vs IT
Q1
Who earns better: IT sector or bank PO?
An IT professional starting his/her career at the same time as a Bank PO can earn exponentially better than them. Private banking employees could still, compete to some extent in terms of salaries by changing banks, but not the people employed in a government bank.
Q2
Which is more stressful IT or banking?
In India, banking, finance and IT sectors have gruelling work environments but banking trumps the list.
Q3
Are all IT jobs stressful?
The increased stress level of IT work is based on four years of data from GFI Software, which commissioned an independent survey on this topic. The survey, which started in 2012, just released its 2015 report, and found that of 78% of the IT workers surveyed consider their job stressful.
Q4
What is the main bone of contention for banking and IT Jobs
The main bone of contention among all employees is salary, and entry-level IT job vacancies would provide you with a salary of Rs 5-6 lakh per annum. The IT industry has multiple department where one would get employed and gets a decent salary by the course of time.
Also, check the below links for any other assistance: