In this article, we shall look into a complete comparison of why Bank or SSC jobs are preferred over an MBA degree.
According to the latest statistical report, there are people who aspire to join the banking sector or appear for SSC exams. While on the other hand, there are candidates who are interested to do higher studies, pursuing an MBA degree guarantees a lucrative job opportunity.
Preparing for Bank & SSC exams 2020??
Test your preparation with the Free Online Mock Test Series  Series.
Also, refer to the links given below and ace the upcoming SSC exams:
However, the latest research shows that maximum candidates are ready to give a try to SSC or bank exams.
As the job market is becoming more competitive day-by-day. pursuing an MBA from a B-School has become a costly affair.
There are five major SSC exams which are conducted in the country. These include:
Candidates can pick a perfect career option among the above mentioned SSC exams as per their eligibility and get a job in the Government sector, which is unlikely to happen if a candidate pursues MBA.
In India, there are millions of aspirants who wish to study MBA for higher education, but due to its high cost, it has become difficult for aspirants to afford the high fee.
The consumption of time is another factor why people do not want to lose their 2 years of peak time. Instead, they prefer to utilise the time in gearing up for Govt or bank exam preparation to join the banking or SSC sector.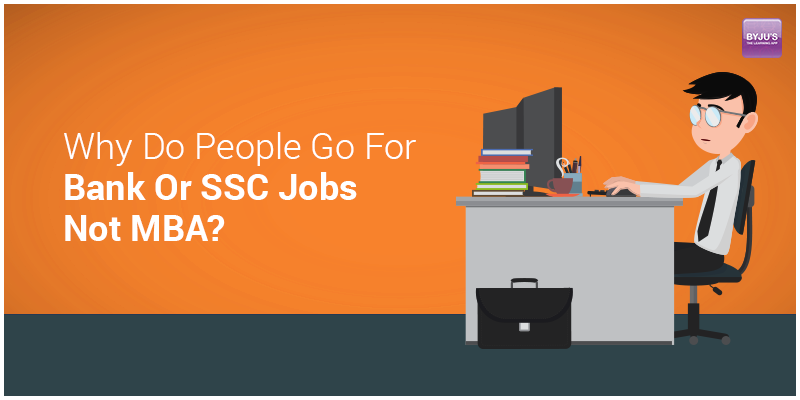 As for bank exams, there are two major posts for which bank exams are conducted. These include:
To explore about SBI Exams, check at the linked article.
Given below are some of the main reasons why people are interested in banks or SSC jobs and drop their interest to go for higher education:
To be precise, MBA is a kind of investment for some people as they get a bright future later but placement depends on their performance.
Even if they perform better, the students are placed in some private sector companies where they do not get job security and other facilities which they look forward to.
To explore different IBPS Exams, check at the linked article.
On the contrary, Bank or SSC jobs assure a secured career for candidates who are able to crack the exams. For instance, the salary range for the various bank or SSC jobs is pretty decent.

Main Reasons Why Bank Or SSC Jobs Are Preferred Over MBA
Here are a few key reasons why people choose Bank/SSC Jobs over MBA degree:
Decent salary: There is a decent salary in bank or SSC jobs, which is guaranteed every month on time. For example, the bank PO salary of a banker is pretty high in comparison to the salary of an MBA student upon placement. In the private sector, the salary depends upon the performance and the company's profit. But in public sector jobs, there is a fixed handsome amount which gets credited at the end of every month.
Pension policy: There is a complete assurance where after retirement a pension policy prevails until death. The retired person gets a good amount to secure his future. Nevertheless, in the private sector, there are no such pension policies as in the bank or SSC jobs.
Less workload: The workload in the public sector is less in comparison to private sector jobs. People in public sector jobs have fixed working hours, whereas candidates in the private sector do not have any fixed working hours and they need to fulfil all the targets and assignments on or before the set deadline.
Less assessment: Once the candidate gets into bank or SSC jobs, he/she gets sufficient time to complete a task and not monitored on the basis of assessment. On the other hand, a person in the private sector is judged based on assessment.
Housing facility: The housing allowance is provided to every employee of the public sector where either one can avail quarters or is paid the housing allowance every month. On the contrary, people working in the private are not eligible for this benefit.
Other allowances including health: There is a facility of free healthcare for all the employees along with their family. The other allowances include travelling allowance, dearness allowance, bonus, etc. The government takes up the extra expenditure from grocery to every minimum thing. Private sector employees need to invest separately in health insurance to derive a benefit during an emergency.
Total security: The monthly decent salary, pension facility, medical and other facilities together provide total security to the public sector employees. The private sector employees suffer from a sense of insecurity, as they are chances of losing their jobs in case of under or non-performance of assigned duties.
Candidates can check the salary structure of a bank of SSC employee in the articles give below. There are multiple perks and benefits which are given to every employee in these two sectors:
After looking into all these reasons, candidates feel the demand for bank or SSC jobs is increasing every day at an exponential rate.
Since the number of candidates appearing for the bank exams every year is ever-increasing, these exams have become very competitive in nature. Hence with strong determination and hard work, an aspiring candidate can secure a Govt/Bank job in the public sector.
To learn more about bank exam preparation, check at the linked article.
To learn more about which exam is the right choice for your career, you can check BYJU'S website for updated content.

Important Bank Exams Information: