UPSC mains English compulsory paper/UPSC mains English compulsory paper syllabus
The UPSC civil services main exam consists of 9 papers out of which one is the English language paper. This paper is compulsory and is of qualifying nature. The marks obtained in this paper will not be counted for your final ranking.
The main objectives of the English paper are:
To assess a candidate's ability to read and understand serious descriptive prose.
To assess a candidate's ability to express his/her ideas correctly and clearly.
A lot of candidates (who don't fancy themselves as having good English) worry unnecessarily for this paper. Remember that you don't have to speak or know the Queen's English to clear this paper. The questions asked in this paper will be of matriculation or equivalent standard. Just brush up on your grammar and make it a practice to read regularly. That will help you gather a good vocabulary and help you score at least the minimum required to pass this exam which is 75 out of a total of 300. Given below is the English question paper pattern for the UPSC civil services main exam along with sample questions:
UPSC mains English compulsory paper syllabus: As per the UPSC notification, the syllabus for the English language paper will be of matriculation or equivalent standard.
Q1. Essay question (100 marks)

This essay is general and different from the essay that you would write in the UPSC mains essay paper. Here, UPSC wants to test your ability to write lucidly on any topic. In the English paper, you should write an essay more along the lines of the essays that you wrote in your school and college days.
Tips for writing a good general essay:
Choose your topic wisely.
Read more essays to get more ideas.
Have a proper structure for your essay. There should be an introduction, body and conclusion.
Use active voice rather than passive wherever possible. This makes your essay more gripping.
Use diverse vocabulary and avoid repeating words.
Have a positive and pleasing tone.
Use appropriate quotes as it shows your erudition.
Click here to get tips for writing the essay paper in UPSC mains.
Q2. Comprehension (75 marks)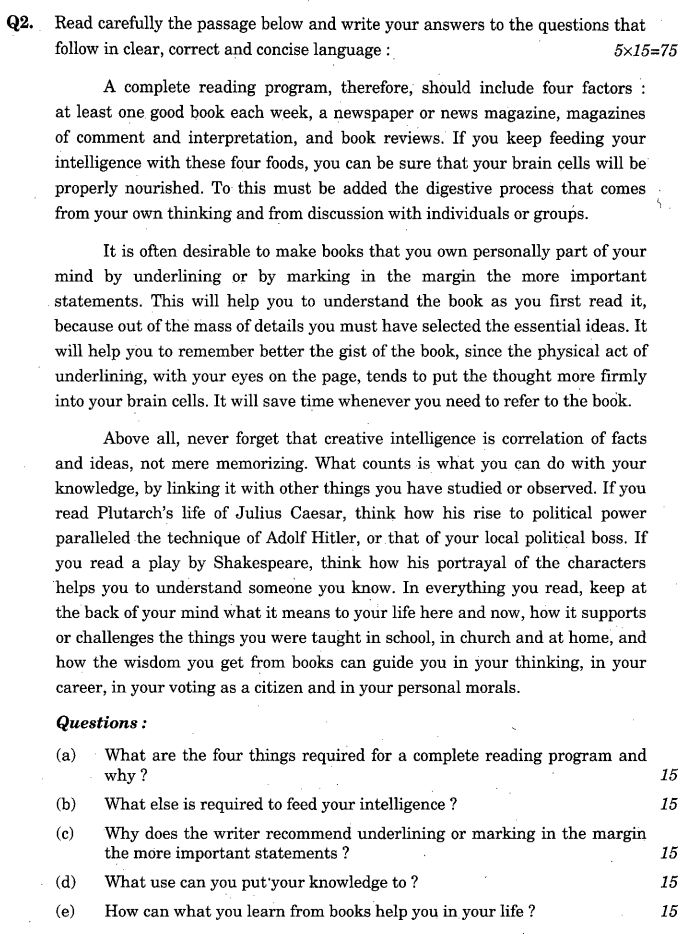 Tips for answering the comprehension question:
You don't have to understand everything written in the passage; just the gist would do.
Read the question well and look for the answer.
Underline keywords while you read the passage.
Stick to answers which you can find in the passage. Do not infer your conclusion from the passage.
The importance of increasing your vocabulary cannot be stressed enough. So, improve your vocabulary and up your chances of understanding the passage better.
Practice solving comprehension passages as practice makes perfect.
Q3. Précis Writing (75 Marks)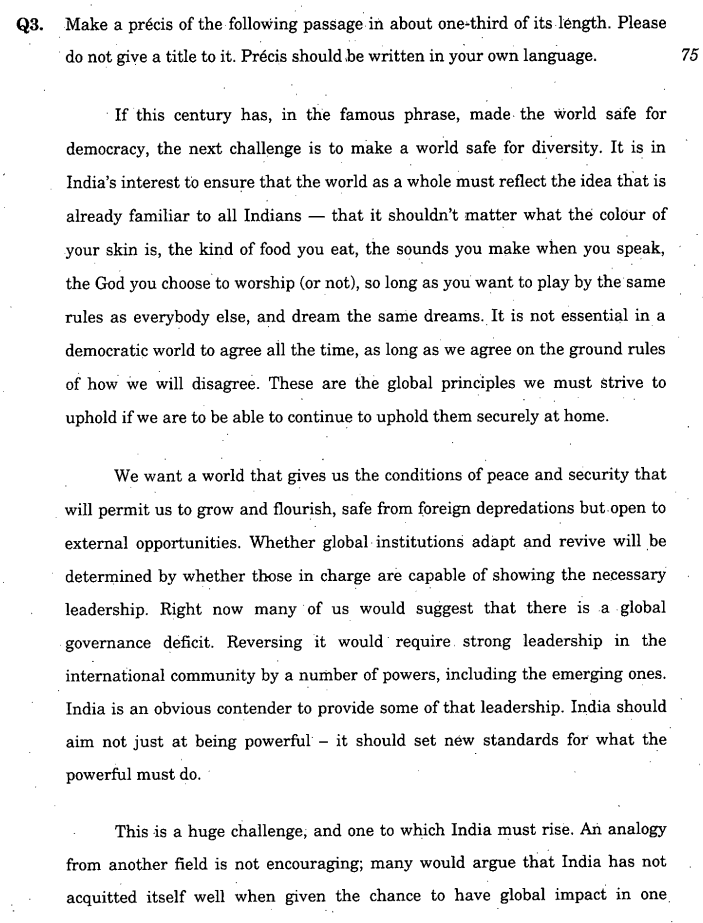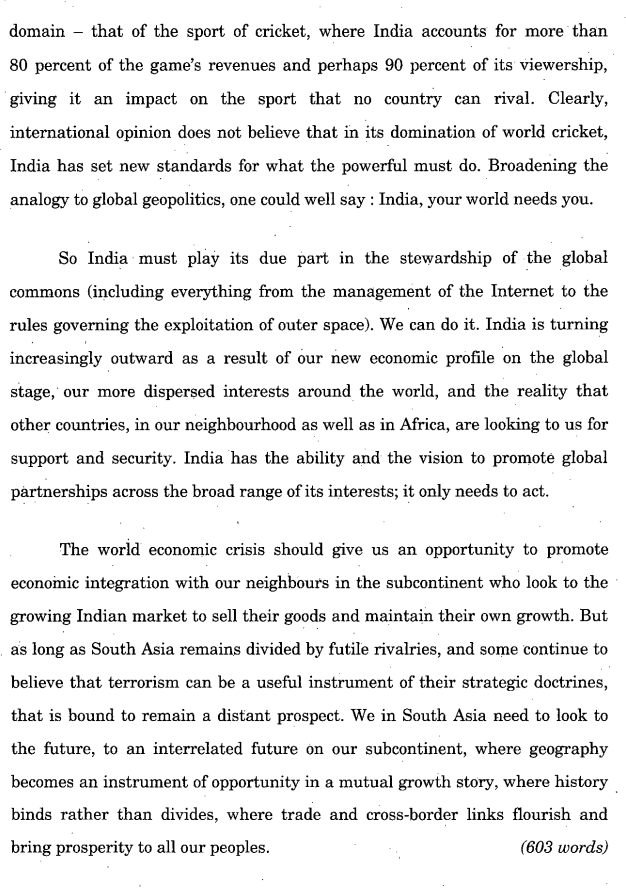 Q4. Grammar (one example is given for each type)
(a) Rewrite the following sentences after making necessary corrections.  Please do not make unnecessary changes in the original sentence. (1*10 = 10)
(i) School is very near my home.
(b) Supply the missing words. (1*5 = 5)
(i) If you see him give him ______ message.
(c) Use the correct forms of the verbs in brackets: (1*5 = 5)
(i) His company is greatly _____ after. (Seek)
(d) Write the antonyms of the following: (1*5 = 5)
(i) Ability
Q5. Grammar (one example is given for each type)
(a) Rewrite each of the following sentences as directed without changing its meaning:   (1*10 = 10)
(i) He finished his exercise and put away his books.
(Change into simple)
(b) Make sentences using words given: (1*5  = 5)
(c) Choose the appropriate word to fill in the blank: (1*5  = 5)
(i) He got a _____ blow from his enemy. (deadly/deathly)
(d) Make sentences using phrases given: (1*5 = 5)
If you want to clear the USPC civil services, you must take this paper seriously even though you only need a minimum of 75 marks out of 300 to pass and qualify. All your hard work in other subjects will be in vain if you fail to qualify in the UPSC compulsory English paper. Read on to know more about the strategy to deal with this paper:
Ensure you know basic English grammar well. Not only will this help you score well, but this will also help you in writing error-free essays and answers.
Have neat handwriting.
Do not make spelling mistakes.
Finish off the grammar part first.
Have clarity in your answers. Avoid being too verbose.
Improve your vocabulary by reading newspapers and other books.
Attempt the essay question last and dedicate at least 45 minutes for it.
Also, check | UPSC Civil Services Exam previous year question papers.