UPSC Mains 2022 General Studies Paper Syllabus (I, II, III, and IV )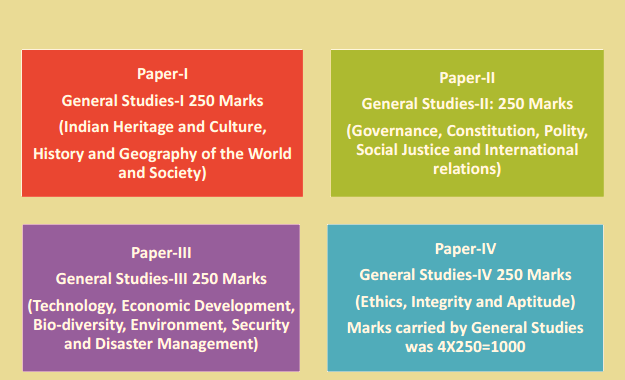 UPSC Mains Syllabus 2022:-Download PDF Here
The Civil Services Main examination is designed to check the scholastic skills of the aspirants and also his/her ability to present his/her knowledge in a comprehensible, consistent and descriptive manner. The IAS Mains Exam intents to evaluate the intellectual quality in whole and candidates' insights on diverse issues rather than just their memory.
Revised UPSC Exam Pattern
The Civil Services Examination pattern for Mains has been revised by UPSC since 2015. Now, the mains examination has 9 papers (7+2) and all of them require descriptive answering. There are two qualifying papers each for 300 marks:
Any modern Indian language
English language
However, the marks secured by candidates in the two language papers are not counted for merit-ranking in the UPSC Mains. According to the new pattern, there are 4 General Studies papers each totalling 250 marks giving a total of 1000 Marks. The standard of the General Studies subjects is of graduate degree level.
Check IAS Notification for more details on the exam pattern, syllabus and eligibility criteria for the exam.
UPSC Mains General Studies Paper Syllabus (I, II, III, and IV )
| | |
| --- | --- |
| Paper-I General Studies-I 250 Marks(Indian Heritage and Culture, History and Geography of the World and Society) | Paper-III General Studies-III 250 Marks (Technology, Economic Development, Bio-diversity, Environment, Security and Disaster Management) |
| Paper-II General Studies-II: 250 Marks(Governance, Constitution, Polity, Social Justice and International relations) | Paper-IV General Studies-IV 250 Marks (Ethics, Integrity and Aptitude) Marks carried by General Studies was 4X250=1000 |
Below is a detailed list of the topics to be studied for the GS papers I, II, III and IV:-
UPSC Exam General Studies- PAPER I
Candidates can check the UPSC Mains GS 4 Strategy and Structure in the linked article.
The nature of questions in General Studies in civil services mains exam need answers that are relevant, consequential and synoptic and will impress the examiner. These questions are to test the candidate's skill on assessing and taking a view on the diverging socio-economic goals and objectives.
UPSC Syllabus:-Download PDF Here
Related Links: