POLITY
1. Pakistan should not execute Kulbhushan Jadhav till final verdict, rules ICJ
INTERNATIONAL RELATIONS
ECONOMY
1. GST Council sets rates for most commodities 
ENVIRONMENT AND ECOLOGY
1. Water quality of major rivers in UP not as per norms: CAG 
SCIENCE AND TECHNOLOGY
1. India's first uterine transplant performed 
INTERNAL SECURITY
1. Two M777 howitzers arrive from U.S. 
MISCELLANEOUS
1. ISRO gets Indira Gandhi Prize for 2014 
***********************************************************************************

.
***********************************************************************************
Useful News Articles for UPSC Current Affairs
A. GS1 Related
Nothing here for Today!!!
B. GS2 Related
1. Pakistan should not execute Kulbhushan Jadhav till final verdict, rules ICJ
Context:
The International Court of Justice (ICJ) stayed the execution of former Indian naval officer Kulbhushan Jadhav, who was sentenced to death by a Pakistan military court on the charge of spying, till its final decision.
In News:
Argument accepted: Court accepted India's argument
Argument: Pakistan failed to provide required consular notification and access fell under the scope of Article 1 of the Optional Protocol of the Vienna Convention of Human Rights. 
ICJ verdict:
2008 bilateral agreement on consular relations did not impact ICJ's jurisdiction
Ordered Pakistan to take all measures at its disposal to prevent the execution of Mr. Jadhav, pending its final judgment.
The decision was adopted unanimously.
Implication of Order:
Pakistan to stay Mr. Jadhav's execution.
Inform the court measures it is taking to implement the order
Order does not cover issues such as consular access to Mr. Jadhav.
Category: INTERNATIONAL RELATIONS
In news:
China re-invoked the doctrine of Panchsheel — or the five principles of peaceful co-existence — as the template for addressing India's concerns over the China Pakistan Economic Corridor (CPEC) and the Belt and Road Initiative.
The five principles of peaceful cooperation along the Belt and Road should be the basis for addressing India's concerns.
Basic Information:
Panchsheel Doctrine:
Mutual respect for each other's territorial integrity and sovereignty
Mutual non-aggression
Mutual non-interference in each other's internal affairs
Equality and mutual benefit and
Peaceful co-existence, as the touchstones for international conduct.
C. GS3 Related
1. GST Council sets rates for most commodities
In News:
The Goods and Services (GST) Council agreed on the fitment finalized the tax rates of almost all commodities in the various tax slabs under the new indirect regime to be rolled out on July 1.
| | |
| --- | --- |
| Commodity | Rates |
| Sugar, tea, coffee (except instant), and edible oil | 5% |
| Common use items such as soap, toothpaste, and hair oil | 18% |
| Coal | 5% |
| Consumer durables | 28% |
| Capital goods and industrial intermediaries | 18%. |
| Small petrol and diesel cars (small petrol cars attracting a cess of 1% and small diesel cars 3%.) | 28% |
| Luxury cars( additional15% cess) | 28% |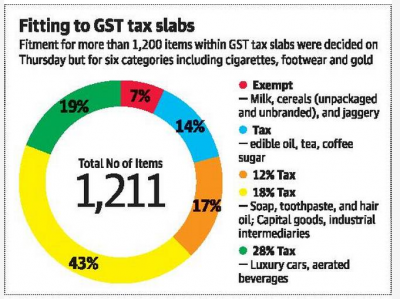 Exemption List:
Milk, cereals (unpackaged and unbranded), and jaggery.
Category: ENVIRONMENT AND ECOLOGY
1. Water quality of major rivers in UP not as per norms: CAG
In News:
CAG Report:
The water quality of major rivers and water bodies in Uttar Pradesh is not as per the norms.
Reason: inadequate sewage and industrial effluent treatment facilities in the state. Malfunctioning of existing treatment facilities was also responsible for the pooor quality of water.
The BOD (bio-chemical oxygen demand) level and total coliform (which included bacteria that are found in the soil in water that has been influenced by surface water and in human or animal waste) are above the prescribed standard in 12 major rivers and six water bodies for the years 2013-15
Basic Information:
Coliform bacteria:
Coliform bacteria are defined as rod-shaped Gram-negative non-spore forming and motile or non-motile bacteria which can ferment lactose with the production of acid and gas when incubated at 35–37°C.
They are a commonly used indicator of sanitary quality of foods and water.
Coliforms can be found in the aquatic environment, in soil and on vegetation; they are universally present in large numbers in the feces of warm-blooded animals.
Whilst coliforms themselves are not normally causes of serious illness, they are easy to culture, and their presence is used to indicate that other pathogenic organisms of fecal origin may be present. Such pathogens include disease-causing bacteria, viruses, or protozoa and many multicellular parasites.
Biochemical oxygen demand
Biochemical oxygen demand (BOD, also called biological oxygen demand) is the amount of dissolved oxygen needed (i.e., demanded) by aerobic biological organisms to break down organic material present in a given water sample at certain temperature over a specific time period.
The BOD value is most commonly expressed in milligrams of oxygen consumed per litre of sample during 5 days of incubation at 20 °C and is often used as a surrogate of the degree of organic pollution of water.
BOD can be used as a gauge of the effectiveness of wastewater treatment plants.
Category: SCIENCE AND TECHNOLOGY
1. India's first uterine transplant performed
In News:
A team of 12 doctors at the Pune's Galaxy Care Laparoscopy Institute (GCLI) successfully completed the highly complex and delicate procedure of India's first uterine transplant on a woman from Solapur district .
The woman suffers from congenital absence of uterus and is to be fitted with her mother's womb to enable her to conceive normally.
The operations are meant to help women who want to conceive but cannot because they were born without uterus, suffered damage to it or had to have it removed.
Uterus transplant technique:
Still in its nascent, experimental stage, only a handful of these operations have met with success in other countries, primarily in Sweden.
Risk involved: Organ rejection.
1. Two M777 howitzers arrive from U.S.
In news:
The Army took delivery of two M777 ultralight howitzers from the U.S. under a contract signed in 2016.
The guns will be put through trials before induction into the Indian arsenal.
M777 howitzers:
First modern 155-mm artillery guns to be inducted.
Dhanush:
Dhanush, an upgraded and indigenous version of the Bofors gun, is in the final stage of trials and induction is slated to begin soon.
Development of a new gun, the Advanced Towed Artillery Gun System (ATAGS), under a public-private partnership (PPP) model jointly by the public and the private sector is progressing well.
The Bofors guns, which was found effective during the Kargil war, continue to be the mainstay.
1. ISRO gets Indira Gandhi Prize for 2014
In news:
The Indian Space Research Organisation (ISRO) – presented with the Indira Gandhi Prize for Peace, Disarmament and Development for the year 2014.
The prize was presented to ISRO Chairman A.S. Kiran Kumar by former Prime Minister and Indira Gandhi Memorial Trust (IGMT) trustee Dr. Manmohan Singh.
Award:
Trophy made of banded Haematite Jasper, with a portrait of the late Prime Minister Indira Gandhi in Jaipur miniature paintings
Ccash award of 1 crore and a citation.
Why ISRO?
In recognition of its path-breaking achievements, culminating in the Mars Orbiter Mission and its contributions in strengthening international cooperation.
Basic Information:
Indira Gandhi Prize :
Prestigious award accorded annually by India to individuals or organisations in recognition of creative efforts toward promoting international peace, development and a new international economic order; ensuring that scientific discoveries are used for the larger good of humanity, and enlarging the scope of freedom.
The prize carries a cash award of 2.5 million Indian rupees and a citation. A written work, in order to be eligible for consideration, should have been published. The panel constituted by the Indira Gandhi Memorial Trust consists of prominent national and international personalities including previous recipients. The recipients are chosen from a pool of national and international nominees.
Nothing here for Today
E. Concepts-in-News: Related Concepts to Revise/Learn
F. Bills/Acts/Schemes/Orgs in News
| | |
| --- | --- |
| Article in News | About the article |
G. Practice Questions for UPSC Prelims Exam
Question 1: Mixed Cropping is the practice of
Growing two or more crops simultaneously on the same piece of land.
Growing crops and rearing livestock simultaneously
Growing different crops on a piece of land in a pre-planned succession
Growing fodder crops along with livestock
See
Question 2: Indira Gandhi Prize for Peace, Disarmament and Development for the year 2014 was 
awarded to
NTPCL
ISRO
BHEL
BEL
See
Question 3: Sonic boom is a phenomenon related with
Ultrasonic sounds produced by small vertebrates.
Supersonic sounds produced by moving objects.
Destruction of sea bed due to SONAR waves.
None of the above
See
Question 4:

 

Which of the following are plant macro-nutrient?
Iron
Copper
Chlorine
Nitrogen
Choose the correct answer
1 and 2 only
2,3 and 4 only
1 and 4 only
4 only
See
"Proper Current Affairs preparation is the key to success in the UPSC- Civil Services Examination. We have now launched a comprehensive 'Online Current Affairs Crash Course'. Limited seats available. Click here to Know More."