Table of Contents:
1. 'Urban planning kept the peace in Harappa'
1. NITI Aayog launches 'Performance on Health Outcomes' index
2. China open to India joining economic corridor
3. NEET in Kannada: Karnataka's delay to blame for its non-inclusion?
1. Draft Central, State GST laws approved
2. New Ebola vaccine provides 100 per cent protection

.
+++++++++++++++++++++++++++++++++++++++++++++++
Useful News Articles
A. GS1 Related
Category: Ancient History and Culture
Topic: Indus-Valley Civilization
Key Points:
Indus Valley Civilisation expert Jonathan Mark Kenoyer said ensuring efficient water supply and sewerage for every city can reduce conflicts. He believes this strategy is an important lesson to be learnt from the Harappans.
He displayed photographs of sump pots, wash-rooms and toilets built one above the other at Harappa to show the importance of urban planning in the ancient cities that flourished from 2600 BCE to 1900 BCE. "The concept of cleanliness and wells and drains is not so much about hygiene but conflict avoidance. So this is a strategy of the Harappans to keep people from fighting each other. So if everybody has clean, proper toilets and drainage, then people won't be fighting about these kind of things," he added.
B. GS2 Related
Category: Centre programs and policies
Topic: NITI Aayog
Key Points:
Centre's policy think tank NITI Aayog launched 'Performance on Health Outcomes' index that will rank various States on the basis of their performance on measurable health indicators. It is meant to capture the annual incremental improvements by States, rather than focus on historical achievements.
The index was spearheaded by NITI Aayog along with Union ministry of Health and Family Welfare, to nudge States towards transformative action in the Health sector. It has been developed with inputs from domestic and international experts, including academicians and development partners as well as feedback from States. The features of the index, measures and methods of data submission will be disseminated to the States through these workshops.
What does the index contain: It includes indicators in the domains of health outcomes governance and information and a few key inputs and processes; the initiative is envisioned to bring about the much required improvements in social sector outcomes, which have not kept pace with the economic growth in this country. It will be used to propel action in the States to improve health outcomes and improve data collection systems.
The health index will assist in State-level monitoring of performance, serve as an input for providing performance-based incentives and improvement in health outcomes.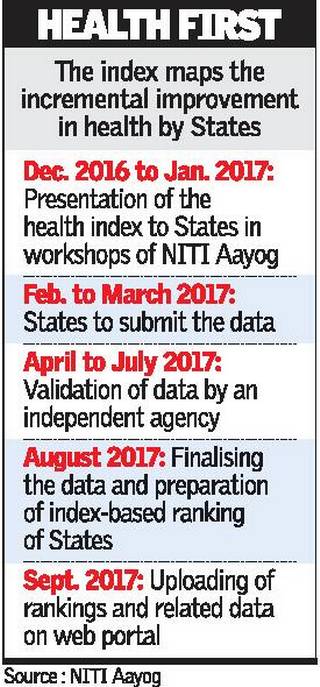 Note – Monitorable indicators that form a part of Sustainable Development Goal in Health have been included in order to align these initiatives. The exercise involves the participation of several partners including technical assistance from the World Bank, mentor agencies to hand-hold States, where required, during the exercise and third party organizations to validate the data submitted prior to calculation of the index.
A similar exercise has also been launched for the Education and Water sectors.
Category: Bilateral
Topic: India – China
Key Points:
China signalled that it was ready to consider India's participation in the China Pakistan Economic Corridor – CPEC after a Pakistani general counselled India to shed enmity and join the project.
China's Foreign Ministry said, "On China's part, we view the China-Pakistan Economic Corridor as a cooperation framework, and we hope that this programme will not only serve the interest of China and Pakistan but also of Asia and the region as a whole. CPEC is an important part of China's Belt and Road initiative and it is an open proposal, and we are willing to work with Pakistan to discuss the participation of any third country, on the principle of wide consultation and joint contribution" 
Note – The $46B project CPEC links the Pakistani port of Gwadar with Kashgar in China's Xinjiang province.
3.
NEET in Kannada: Karnataka's delay to blame for its non-inclusion?
Category: Centre's Education policy
Topic: NEET
Key Points:
While the State government is crying foul over non-inclusion of Kannada among the regional languages in which students can write the National Eligibility-cum-Entrance Test – NEET, documents indicate that Karnataka delayed in making an appeal for its inclusion.
In fact, while the announcement on 6 regional languages, besides English and Hindi, in which NEET could be written, was made on December 19, Karnataka sent its appeal only on December 20, after the issue was raised by Kannada organisations.
Union ministry of Health and Family Welfare (MHFW) also claimed that the Karnataka government had initially not sought bilingual exams. Sources said that MHFW had conducted an exhaustive exercise and had consulted various State governments.
C. GS3 Related
Category: Indian Economy
Topic: GST
Key Points:
Union Finance minister said, the Goods and Services Tax – GST Council has moved a significant step closer to finalising the draft Central GST (CGST) and State GST (SGST) laws that must be passed in Parliament along with two other laws to bring the GST into implementation.
The minister further said, the Council will meet very shortly to discuss the contentious issue of cross-empowerment, the only major issue that is lacking consensus. At the next council meeting, the CGST and SGST laws would be being framed in legal language and placed before the States.
Regarding the compensation law, the Finance Minister said a few issues were left to be settled, such as the source of the compensation fund. He added that compensation to States for the loss of revenue, if any, from the GST rollout, would be paid every 2 months.
Category: S&T
Topic: Diseases in news
Key Points:
In a scientific triumph that will change the way the world fights a terrifying killer, an experimental Ebola vaccine tested on humans in the waning days of the West African epidemic has been shown to provide 100 per cent protection against the lethal disease. The vaccine has not yet been approved by any regulatory authority, but it is considered so effective that an emergency stockpile of 3, 00,000 doses have been created for use should an outbreak flare up again.
Since Ebola was discovered in the former Zaire (Democratic Republic of Congo) in 1976, there have been many efforts to create a vaccine. All began with a sense of urgency but then petered out for lack of money.
But the huge, explosive 2014 outbreak that took 11,000 lives in Africa and spread overseas, killing a handful of people in Europe and the United States, provided the political and economic drive to make an effective vaccine. The vaccine was not ready in time to stop the outbreak, which probably began in a hollow, bat-filled tree in Guinea and swept Liberia and Guinea before being defeated. But the prospect of a vaccine stockpile has brought optimism among public health experts.
Effective Vaccination – The vaccine opens up new, faster, more efficient ways to encircle and strangle the virus. The many small Ebola outbreaks that occurred between 1976 and 2014 were all stopped in remote villages by laborious methods: medical teams flew in, isolated the sick, and donned protective gear to treat them and bury the dead.
But that tactic failed in 2014 when the virus reached crowded capital cities, where it spread like wildfire and dead bodies piled up in the streets. The new vaccine has some flaws, experts said. It appears to work against only one of the two most common strains of the Ebola virus, and it may not give long-lasting protection. Some of those who get it report side effects like joint pain and headaches.
Note – The Lancet study was done in 11,841 residents of Guinea in 2015. Among the 5,837 people who got the vaccine, none came down with Ebola 10 or more days later. There were 23 Ebola cases among the thousands of others not immediately vaccinated. The 10-day window was important because the trial used the ring vaccination technique developed during the drive to eliminate smallpox.
D. GS4 Related
Nothing here today folks!
E. Important Editorials: A Quick Glance
Nothing here today folks!
F. Concepts-in-News: Related Concepts to Revise/Learn:
Indus Valley Civilization
One belt – One Road initiative
China Pak Economic Corridor
Ebola Fever
GST
NITI Aayog
NEET
G. BILLS/ACTS/SCHEMES/ORGS IN NEWS
H. Fun with Practice Questions 🙂
Question 1: Which of the following is the biggest Harappan site?
a) Ganweriwala, Pakistan
b) Mohenjodaro, Pakistan
c) Rakhigarhi, Haryana
d) Dholavira, Gujarat
Question 2: Recently, the centre launched 'Performance on Health Outcomes' index. It is an initiative of -
a) NITI Aayog
b) Union ministry of HRD
c) AIIMS
d) Medical council of India
Question 3: Which of the following statements are correct?
(i) Ebola fever is a viral disease
(ii) Fruit bat is the natural carrier of Ebola virus
(iii) It is named after a river
a) (i) only
b) (i) and (ii) only
c) (ii) and (iii) only
d) All 3 are correctly matched
Question 4: Which of the following statements are correct regarding China-Pakistan Economic Corridor - CPEC?
CPEC is an important part of China's Belt and Road initiative
It links the Pakistani port of Gwadar with Kashgar in China's Xinjiang province.
a) (1) only
b) (2) only
c) Both (1) & (2)
d) Neither (1) nor (2)
Question 5: 'NITI Aayog' works on the principle of 
a) Cooperative Federalism
b) Administrative decentralization
c) Financial decentralization
d) Top-down approach
"Proper Current Affairs preparation is the key to success in the UPSC- Civil Services Examination. We have now launched a comprehensive 'Online Current Affairs Crash Course'.
Limited seats available. Click here to Know More."