In the series Sansad TV Perspective, we bring you an analysis of the discussion featured on the insightful programme 'Perspective' on Sansad TV, on various important topics affecting India and also the world. This analysis will help you immensely for the IAS exam, especially the mains exam, where a well-rounded understanding of topics is a prerequisite for writing answers that fetch good marks.
In this article, we feature the discussion on the topic: 'Foreign Trade Policy 2023'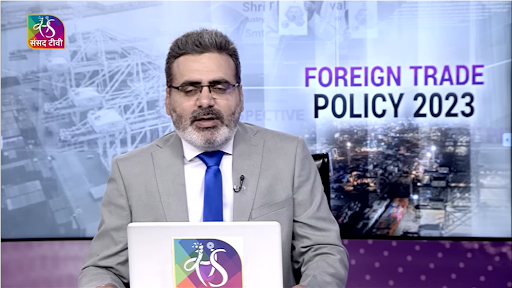 Anchor:  Vishal Dahiya
Participants: 
Dr Ajay Sahai, DG & CEO, FIEO

Subhash Chandra Pandey, Former Special Secretary & Financial Adviser, Ministry of Commerce and Industry, GoI

A K Bhattacharya, Editorial Director, Business Standard
Context: Union government unveiled India's Foreign Trade Policy 2023.
Highlights of the discussion: 
Introduction

Key Provisions

Need for new policy

Significance

Way Forward
Introduction:
The Union Commerce, Industry and Textiles Ministry unveiled India's Foreign Trade Policy 2023 on March 31, 2023.

The new policy seeks to boost the country's exports to USD 2 trillion by 2030 by shifting from incentives to a remission and entitlement-based regime. 

It also seeks to make the Indian rupee a global currency and allow international trade settlement in the domestic currency.  

Unlike the practice of announcing 5-year FTP, the latest policy has no end date and will be updated as and when needed. 
Read more on Key Provisions of Foreign Trade Policy 2023 in CNA dated April 1, 2023.
Need for the new policy:
India has been one of the fastest-growing economies in the world in recent years, and foreign trade has played a significant role in driving this growth. However, with the current global economic scenario, there was a need for India to reassess its foreign trade policy and focus on enhancing its competitiveness in the global market.

Many countries have become increasingly protectionist in their trade policies, imposing tariffs and non-tariff barriers to protect their domestic industries. This has made it difficult for Indian businesses to export their products and services to these countries. The new foreign trade policy could address this issue and help Indian businesses to compete effectively in the global market.

The global economic scenario is changing rapidly, with the emergence of new technologies, the rise of e-commerce, and the increasing role of services in international trade. The new trade policy could help India to adapt to these changes and leverage them to its advantage.

India's trade has been hit by supply chain disruptions and the slowdown in global trade amidst the ongoing Russia-Ukraine war.

India has traditionally been heavily reliant on a few key trading partners, such as the United States and China. A new foreign trade policy could help India to diversify its trade relations and tap into new markets, such as Africa and Latin America.
Significance of the policy:
The new foreign trade policy marks a move from incentives to remission.

It focuses on export promotion through collaboration with exporters, states, districts, and Indian Missions.

It will promote ease of doing business with a focus on emerging areas like e-commerce and export hubs.

The new policy will also automate some trade approvals and cut charges for medium-sized and small businesses to secure some government-backed benefits.

Under the new framework, the processing time for revalidation of various authorisations, which currently ranges from three days to one month, is expected to be brought down to one day.

The amnesty scheme in the new policy is likely to provide relief to exporters as the interest burden will come down substantially. It is hoped that this will give these exporters a fresh start and an opportunity to come into compliance.

The new foreign trade policy has not put any end date to the trade policy targets, which provides flexibility to update dynamically based on feedback from stakeholders. 
Way Forward:
While this policy comes at a time of considerable uncertainty across the world, as India accounts for a minuscule portion of global trade (its share in global merchandise exports stands at around 1.8 per cent, while that in services is roughly 4 per cent), there is considerable scope for improvement for the country on this count. 

India's foreign trade policy has to be formulated in such a way that it promotes the country's economic growth and development, enhances its competitiveness in the global market, and strengthens its trade relations with other countries. 

India needs to diversify its exports to reduce its dependence on a few key products and markets. This can be achieved by promoting new sectors, such as services and high-tech industries, and exploring new markets in Africa, Latin America, and other regions.

India must focus on strengthening its domestic manufacturing sector to make it more competitive in the global market. This can be achieved by promoting innovation, increasing investment in research and development, and improving infrastructure and logistics.

India needs to enhance its competitiveness in the global market by improving the quality of its products and services, promoting branding and marketing, and investing in human capital development.

India shall promote sustainable trade practices that are environmentally and socially responsible. This will not only help to protect the environment and promote social welfare but also enhance India's reputation in the global market.
Read all the previous Sansad TV Perspective articles in the link.
Sansad TV Perspective: Foreign Trade Policy 2023:- Download PDF Here