26 April 1858
Death of Kunwar Singh
---
What happened?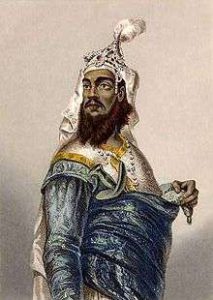 Kunwar Singh, a brave leader of the Indian Revolt of 1858 succumbed to injuries he sustained in the fight against the British on 26 April 1858.
In this edition of This Day in History, you can read about the life and contributions of Kunwar Singh to the First War of Independence for the IAS exam.
Kunwar Singh Biography
Born to the Maharaja and Maharani of Jagdispur (currently in Bhojpur District, Bihar) in April 1777, Kunwar Singh's name is generally drowned among the other more famous names of the Revolt.
His contribution to the first war of independence is nonetheless immense.
The rebellion in Bihar was led by Kunwar Singh. He was nearly 80 when he took charge of the sepoys who were stationed at Danapur on 25 July 1857.
On 27th July, Singh and his troops laid siege to the district headquarters at Arrah. He held fort till 3rd August when British officer Major Vincent Eyre took Arrah back. Eyre's troops also ransacked Jagdispur.
Singh was a master at guerrilla warfare and was able to elude the British for almost a year. Once, when he was crossing the Ganga River, he was shot at by the British. The bullet struck his wrist. Then, the 80-year old leader unhesitatingly cut off his hand in order to avoid more damage to his health.
In March 1858, Kunwar Singh occupied Azamgarh (now in UP). He later returned to his home and led a victorious battle near Jagdispur on 23rd July. The British led by Captain le Grand were defeated in this battle although Kunwar Singh was badly injured. The Indians routed the Company's troops killing about 130 men including Captain le Grand.
Kunwar Singh died of injuries three days later, passing on the mantle to his successor and brother Amar Singh II.
He is known as Veer Kunwar Singh because of his courageous fights against the British despite many odds stacked against him.
In 1966, the Government of India released a stamp in his honour.
Also on this day
---
1920: Death of genius mathematician S Ramanujan.
See previous 'This Day in History' here.
Related Links: