On 26 November 2008, terrorists affiliated with the Lashkar-e-Taiba attacked a series of coordinated attacks on several locations across the city of Mumbai. The heinous attack lasted four days and a total of 164 people were killed. Read more about this event for the IAS exam.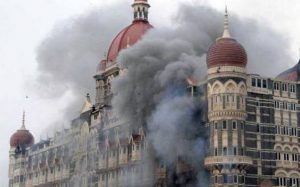 Get an edge over your competition in one of the toughest exams by visiting the UPSC Previous Year Question Papers page
Strengthen your preparation for the UPSC exam by checking the following links:
Background of 26/11 Terror Attack Mumbai
The Mumbai terror attacks were perhaps one of the worst in recent Indian history and undoubtedly the most hard-hitting.
India's commercial capital and in many ways, one of the most renowned Indian locations worldwide was targeted. Moreover, terrorists attacked well-known locations in the city that were frequented by foreign tourists indicating the intentions of the attackers.
The terror started on 26 November 2008 when 10 terrorists targeted several locations across the city. The locations included the Chhatrapati Shivaji Maharaj Terminus (CST – railway station), the Taj Mahal Palace Hotel, Leopold Café, Hotel Oberoi Trident, Cama Hospital, Nariman House, the Metro Cinema, St. Xavier's College and a lane behind the Times of India building. There were explosions at Mazagaon and in a cab at Vile Parle.
The city was under a siege of terror for 3 consecutive days.
The image of the Taj Mahal Palace Hotel engulfed in flames and smoke became entrenched in every Indian's heart. The hotel symbolised the opulence associated with the elites of Mumbai and it came as a rude shock to Mumbaikars.
The terrorists, 10 young men came from Karachi in inflatable speedboats to two locations in Colaba, Mumbai. They were trained in Pakistan by the Lashkar-e-Taiba (LeT). They were even given blueprints of the Taj Hotel, Oberoi Trident, Nariman House and CST.
One of the first sites to come under attack was Leopold Café in Colaba.
The attacks began at around 9:30 PM at the CST when two gunmen stormed into the place and opened fire all around. The two terrorists were wielding AK-47s. One of them was Ajmal Kasab, the lone terrorist caught alive by Indian authorities and later given the hangman's noose.
The attackers were getting directions from Pakistan through mobile phones and VoIP.
Mumbai police forces, National Security Guards (NSG) commandos, Rapid Action Force personnel and the Marine Commandos, Mumbai ATS and the Mumbai Fire Brigade all participated in the defence and counter-attacks on the terrorists.
15 policemen and 2 NSG commandos gave the supreme sacrifice during the rescue operation.

Assistant Sub-Inspector of Police Tukaram Omble – He was responsible for capturing Kasab alive
JCP Hemant Karkare – Chief of Mumbai ATS
ACP Ashok Kamte
Encounter specialist Vijay Salaskar
Senior Inspector Shashank Shinde
Major Sandeep Unnikrishnan – NSG Commando
Hawaldar Gajendra Singh – NSG Commando

Casualties of the incident:

Mumbai harbour – 4 killed
CST – 58 killed
Leopold Café – 10 killed
The Taj Mahal Palace Hotel – 32 killed, 250 injured
Oberoi Trident – 30 killed, 143 injured
Metro Cinema – 10 killed
Cama Hospital – 5 killed
Nariman House – 7 killed, 9 injured
Vile Parle – 1 killed
Badruddin Tayabji Lane – 9 killed

The killed included many policemen and security forces also.
Kasab was captured alive and his trial started on 6 May 2009. His trial was delayed because it was difficult to get a lawyer for him. Investigators filed an 11000-page chargesheet against him charging him on 86 counts including waging war against India.
He was found guilty on all charges and hanged till death on 21 November 2012 in Pune's Yerwada Jail.
Although initially, Pakistan denied Kasab was a Pakistani, it later admitted as much.
Pakistani authorities had arrested Zaki-ur-Rehman Lakhvi in 2008 after he was named by Indian authorities as one of major masterminds of the attack. He was released on bail in 2015. He was arrested and later convicted by the Anti-Terrorist court of Pakistan on January 8, 2021. Lakhvi was handed 15 years imprisonment
India also wants the custody of Hafiz Muhammad Saeed, the co-founder of the LeT, who was also involved in the 2006 Mumbai train bombings and the 2001 Parliament attack. Though a designated international terrorist, he now roams free in Pakistan.
Also on This Day 


---


1921: Birth of Verghese Kurien, Father of India's White Revolution.
1949: The Constitution of India was adopted by the Constituent Assembly of India. This day is celebrated as 
Constitution Day or Samvidhan Divas since 2015.
1954: Birth of LTTE leader Velupillai Prabhakaran.

See previous 'This Day in History' here.
Related Links: