3 November 1618
Birth of Mughal Emperor Aurangzeb.
---
What happened?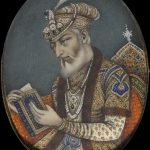 On 3 November 1618, Aurangzeb was born in Dahod, Gujarat to Mughal Emperor Shah Jahan and his wife Mumtaz Mahal.
Aurangzeb Biography
Aurangzeb was the third son of Shah Jahan. He had three brothers and two sisters. His birth name was Muhi-ud-Din Muhammad. He was the sixth Mughal Emperor and according to many, the last effective one.
He assumed the title of Aurangzeb Alamgir after he took the Mughal throne.
In 1636, Aurangzeb was appointed the Viceroy of the Deccan. He had successful military campaigns there for his father. He was also appointed the governor of Gujarat, and later of Balkh, Multan and Sindh.
Shah Jahan had designated his eldest son Dara Shikoh as his heir, and so there was a rivalry between Dara and Aurangzeb who also nurtured dreams of becoming the emperor. There was no system of primogeniture among the Mughals and it was customary for sons to fight for the throne after the father's death.
When Shah Jahan became ill, there was a tussle for power among his four sons. Aurangzeb managed to succeed and he usurped the throne by putting his own father in prison at Agra Fort. Shah Jahan died there after 7 years. Aurangzeb also had Dara Shikoh executed.
He was crowned the king in 1659 at Delhi. The first ten years of his rule are chronicled in Alamgir Nama written by Muhammad Kazim.
He employed many Hindus in his court but he also detracted from the policy of religious tolerance practised by his ancestors. He reversed many of Akbar's policies towards non-Muslims. He reintroduced the Jizya or the tax on non-Muslims. He is said to have destroyed many Hindu temples.
He was also infamous for executing the Sikh leader Guru Tegh Bahadur for his refusal to convert to Islam. He also nurtured ill will for the Sikhs since they had given refuge to his rival Dara Shikoh.
Under his reign, the Mughal Empire expanded. He had a massive army and the empire reached its zenith under him in terms of area. He conquered large parts of the Deccan and pushed the north-western limits of the empire.
Aurangzeb also banned the use of alcohol, gambling and music from his empire. The textile industry flourished under him.
In 1667, he gave permission to the French for setting up a factory at Surat.
During his reign, he had to deal with many rebellions such as by the Jats around Mathura, the Marathas under Shivaji and Sambhaji, many Rajputs, the Sikhs and the Pashtuns.
Though the Mughal Empire reached its territorial heights during Aurangzeb's time, it was also beginning of the end in many ways. Aurangzeb's successors were not able to maintain the vast empire's territorial integrity and many new states were formed out of former Mughal vassals.
Aurangzeb died in Ahmednagar in February 1707 of old age and illness at the age of 88. He was in the middle of a Deccan campaign then. He had reigned for 49 years. His son Azam Shah ascended the throne thereafter but was soon defeated by his half-brother Shah Alam. Shah Alam then succeeded to the Mughal throne assuming the title, Bahadur Shah I.
Also on This Day 


---


1900: Birth of freedom fighter Sagarmal Gopa in Jaisalmer.
1933: Birth of Nobel laureate Amartya Sen.
1991: Short-range surface-to-air missile Trishul test-fired successfully.
See previous 'This Day in History' here.
Also, read about other Mughal emperors: