New Dress for Postmen/MTS launched
Hon'ble Minister of Communications, Shri Manoj Sinha launched the redesigned uniform for postmen/postwomen and MTS in New Delhi.
The Department of Posts has redesigned the uniform for Postmen (both male and female) and MTS cadre in consultation with National Institute of Fashion Technology, Delhi (NIFT).
As per the recommendation of 7th CPC, the Government has decided to provide Rs. 5,000/- as dress allowance per year.
Khadi and Village Industries Commission (KVIC) under the Ministry of Micro, Small & Medium Enterprises has agreed to provide dresses for the postmen from its outlets in each district of the country.
Finance Minister Presents Economic Survey 2017-18 in the Parliament
Highlights
The Pink-color Economic Survey 2017-18 tabled in Parliament today by the Union Minister for Finance and Corporate Affairs, Shri Arun Jaitley lays special emphasis on Gender and Son meta-preference, while providing an assessment of India's performance on gender outcomes relative to other economies.
A series of major reforms undertaken over the past year will allow real GDP growth to reach 6.75 percent this fiscal and will rise to 7.0 to 7.5 percent in 2018-19, thereby re-instating India as the world's fastest growing major economy.
GVA growth seen at 6.1% vs 6.6% in FY17.
GST data shows growth of 50% in number of indirect tax payers.
Average FY18 CPI inflation seen at 3.7%.
Agriculture, industry and services sectors are expected to grow at the rate of 2.1%, 4.4%, and 8.3% respectively in 2017-18.
Demonetisation helped share of financial saving to rise. The ratio of domestic saving to GDP reached 29.2 percent in 2013 to a peak of 38.3 percent in 2007, before falling back to 29 percent in 2016. 
Dwelling on the subject of International Trade, Inter-State Trade and Economic Prosperity, the Survey points-out for the first time in India's history  that five States-Maharashtra, Gujarat, Karnataka, Tamil Nadu and Telangana account for 70% of India's exports.
Last year Survey had estimated that India's Inter-State trade in goods was between 30 and 50 percent of GDP. But the GST data suggests that India's internal trade in goods and services (excludes non-GST goods and services) is actually even higher and is about 60 percent of GDP.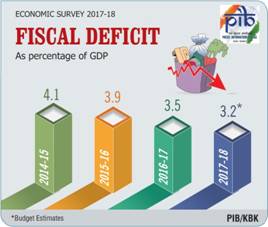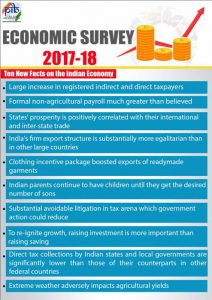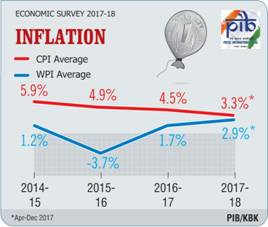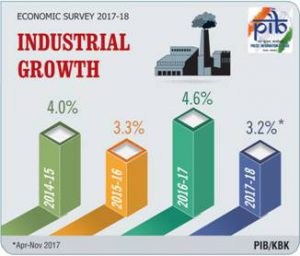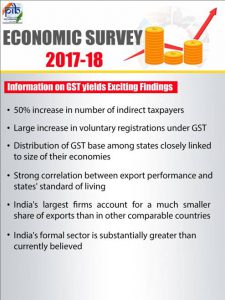 Ease of Doing Business Report (EODB)
The Economic Survey notes that India jumped 30 places to break into the top 100 for the first time in the World Bank's Ease of Doing Business Report (EODB), 2018. The rankings reflect the government's reform measures on a wide range of indicators.
The Government has taken a number of actions to improve the contract enforcement regime. Some of the steps briefly are as follows:- 
Scrapping of over 1,000 redundant legislations. 
Amending the Arbitration and Conciliation Act, 2015.
Passing the Commercial Courts Commercial Divisions and Commercial Appellate Division of High Courts Act, 2015. 
Expanding the Lok Adalat Programme . 
The Judiciary has at the same time expanded the National Judicial Data Grid (NJDG) and is near to ensuring that every High Court is digitized. 
Tableau of Youth Affairs & Sports Ministry adjudged best among all Ministries 
Tableau of the Ministry of Youth Affairs & Sports for Republic Day 2018 has been adjudged as the best Tableau among all the Tableaux of the Ministries/Departments of the Government of India.
In a ceremony in New Delhi yesterday (28.1.2018), Shri Rahul Bhatnagar, Secretary (Sports) received the Trophy and Certificate for best Tableau from Hon'ble Raksha Mantri Smt Nirmala Seetharaman. 
To ace UPSC current affairs section, read more PIB articles here