Yojana Magazine is an important source of material for the UPSC exam. The monthly magazine provides details of major government schemes and programmes in various domains. Moreover, coming from the government, it is an authentic source of information for the UPSC Exam. Here, we provide the Gist of Yojana, exclusively for the IAS Exam.
TABLE OF CONTENTS
1. Direct Tax Reforms
2. Consumer Protection Act 2019
3. Women Empowerment
4. Law Commission of India
5. Civil Services Reforms
6. Role of Constitutional Bodies in Strengthening Democracy

1. Direct Tax Reforms
Introduction:
Direct tax is a crucial source of government revenue, playing a vital role in developing infrastructure, fostering economic growth, and achieving social objectives such as providing education, healthcare, housing, and other basic amenities.
Direct Tax Reforms undertaken by the Government
Removing Exemptions and Reducing Tax Rates:
Corporate tax reduction:

The corporate tax rate for existing domestic companies was reduced from the previous 30% to 25.17% (inclusive of surcharges and cess).

Tax incentives for new companies:

A lower direct tax rate of 17.16% (inclusive of surcharges and cess) is applicable to new domestic manufacturing companies established after October 1, 2019, and commencing production before March 31, 2024.

Reduced tax rates for cooperatives: The Finance Act of 2022 reduced the Alternative Minimum Tax rate for cooperatives to 15%.
Personal income tax rebate

: In 2020, a new personal income tax regime with lower rates was introduced, and these rates were further reduced in the Finance Act of 2022.
Widening and Deepening of Tax Bases:
Introduction of

Tax Deduction at Source (TDS) and Tax Collection at Source (TCS)

for various payments like rent, e-commerce operations, virtual digital assets, online games, and car purchases to broaden the tax base.

Measures for high-net-worth individuals:

 

Arbitrage on the sale of market-linked debentures and debt mutual funds was eliminated.

A higher surcharge was imposed on high-net-worth taxpayers.

Legislation: The Black Money (Undisclosed Foreign Income and Assets) and Imposition of Tax Act, 2015 and the Benami Transactions (Prohibition) (Amendment) Act 2016, were introduced to combat black money and benami transactions.
Use of Technology to Enhance Tax Department Efficiency:
A Faceless Scheme for e-assessment and appeal

was introduced to improve the efficiency of tax collection and bring convenience to taxpayers.

E-filing systems, refund bankers' schemes, and online tax payments

for quicker processing of tax returns and speedy issuance of refunds.
Reducing Litigation through Tax Certainty:
Advance Pricing Agreements (APA)

were introduced to decrease transfer pricing litigations, resulting in the signing of 95 APAs in FY 2022.

An

E-verification scheme, coupled with the ability to update tax returns

, reduced the issuance of reassessment notices.
Conclusion: Direct taxation reforms have led to a remarkable 160% growth in direct tax collections from 2013-14 to 2022-23. The long-term direct tax buoyancy, standing at 1.15, surpassing the baseline of 1, signifies the efficiency of tax administration and the success of tax reforms. 
Tax policy reforms remain an ongoing process, with the need for further reforms to minimise tax litigations and simplify taxation regimes to enhance the ease of doing business.
2. Consumer Protection Act 2019
Introduction:
The Consumer Protection Act of 2019 replaced the Consumer Protection Act of 1986 to further strengthen provisions for consumer protection, especially in the new era of globalisation, online platforms, and e-commerce markets.
How the Consumer Protection Act 2019 strengthen provisions for consumer protection
Expanded Consumer Definition

: The Act broadened the definition of "consumer" to include those who purchase or access goods or services online or through electronic means.

Central Consumer Protection Authority (CCPA):

The

Act established CCPA as a central authority to promote, protect and enforce the rights of consumers. CCPA has the power to

Conduct investigations into violations of consumer rights.

Issue orders for the recall of unsafe goods and devices.

Order the discontinuation of unfair trade practices and misleading advertisements.

Impose penalties for misleading advertisements.




Product liability provision

to sellers for any harm caused to a consumer due to a defective product.



Simplified dispute resolution process:

Mediation will be preferred for early settlement of cases

State and District commissions can review their own orders

E-filing of complaints and videoconferencing for hearing




Misleading Advertisements and False Endorsements:

The Act defines advertisements as any audio or visual publicity, representation, endorsement, or pronouncement made through various means, including electronic media, the internet, or websites. 

The 'Guidelines for Prevention of Misleading Advertisements and Endorsements for Misleading Advertisements, 2022' require endorsers to fully disclose any affiliations with the trader, manufacturer, or advertiser of the endorsed product.

e-Commerce Regulation:

The Act defines e-commerce as the buying or selling of goods or services, including digital products, over a digital or electronic network. 

Information regarding the return, refund, grievance redressal mechanism, and country of origin need to be provided.

Acknowledge any consumer complaints within 48 hours and redress the complaint within one month.




Punishments:

Imposes a 2-year licence suspension for manufacturing or selling adulterants or spurious goods.



Combatting Dark Patterns:

E-commerce companies and industry associations are urged to avoid engaging in unfair trade practices known as "dark patterns." 

"Dark patterns" involve using design and choice architecture to deceive, coerce, or influence consumers into making choices that are not in their best interest.
3. Women Empowerment
The

Supreme Court (SC) of India

 released the

'Handbook on Combating Gender Stereotypes'

which renews the discussion on gender justice.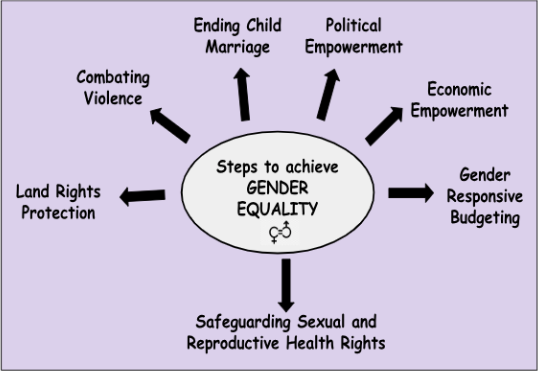 The

National Commission for Women (NCW)

aims to foster a culture where equal, free, and fair opportunity is available to everyone for engaging in social, political, and economic activities without prejudice.

Thus, the

narrative of gender inequality is changed

in consonance with the government's vision.

NCW aims to ensure the rights, commitments, guarantees, and safeguards available to women are put into practice.

The government is also aiming to empower women through various schemes and amendments/enactments of laws.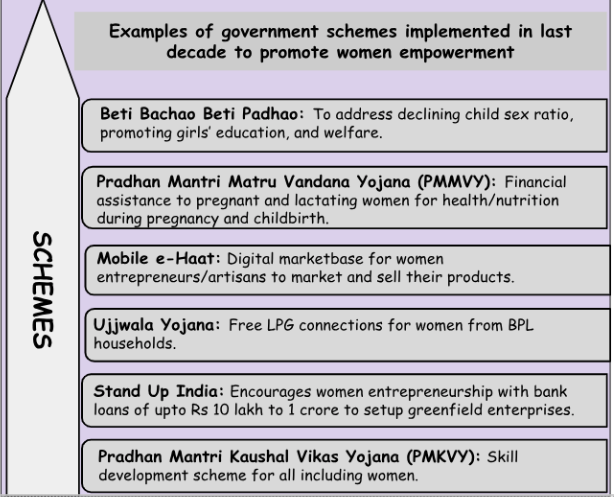 The various

steps to achieve gender equality

can be studied under various heads.

Combating violence:

 

Through comprehensive legal frameworks, awareness campaigns, and support services for survivors.

Initiatives such as helplines, safe houses, and counselling programmes.

Ending Child Marriage:

Laws setting minimum marriage age, girls' education promotion, raising awareness about the consequences of child marriage, economic empowerment for girls and their families, community engagement, and other targeted interventions.

Political empowerment:

Affirmative action, leadership training, and addressing systemic barriers

Economic empowerment:

Establishing equal pay for equal work, maternity leave and childcare policies, access to finance and entrepreneurship training, and encouraging women's participation in male-dominated areas.

Sexual and Reproductive Health Rights:

Governments should ensure sex education, family planning services, safe abortion services where legal, and investment in health infrastructure.

Addressing stigmas, informing about rights and choices.

Land Rights:

Fundamental to economic empowerment.

Gender Budgeting

We need to make collective efforts involving governments, civil society, and individuals to create an equitable and women-inclusive world.

Various

laws empowering women

:
Criminal Law (Amendment) Act, 2013 (Nirbhaya Act)

Concerning sexual offences.

Nirbhaya Fund

was established for women's safety and empowerment. Used for one-stop centres, helplines, infrastructure, etc.

Maternity Benefit (Amendment) Act, 2017

Maternity leave period increased from 12 to 26 weeks.

The Muslim Women (Protection of Rights on Marriage) Act, 2019

Criminalised instant triple

talaq

(divorce)

Sexual Harassment of Women at Workplace (Prevention, Prohibition, and Redressal) Act, 2013

Establish Internal Complaints Committee (ICC) in the workplace
4. Law Commission of India
The Law Commission of India (non-statutory

body) is

constituted by a notification

of the Government of India (GoI), Ministry of Law and Justice (MoL&J), and Department of Legal Affairs.

The

notification lists definite terms of reference

containing

matters of law on which research is to be carried out

and

recommendations made

in the form of reports.

It also takes up

subjects on references

made by the Department of Legal Affairs, Supreme Court (SC), and High Courts (HCs) and submits reports.

The

22nd Law Commission

was constituted by the GoI with a 3-year term in February 2020, which has been extended to 31

st

August 2024.

Composition of the 22nd Law Commission:

a full-time

Chairperson
four

full-time

Members (including Member-Secretary)
Secretary, Department of Legal Affairs as ex-officio Member
Secretary, Legislative Department as ex-officio Member

not more than five

part-time Members

Functioning:

Based on

references

from GoI, SC, and HCs.

Suo moto

on specific matters, sometimes, if important.

Final Report:

The Commission evaluates the data and opinions/suggestions before incorporating them into the report.

The report is then scrutinised by the full Commission in meeting.

On report finalisation, a draft amendment/bill may be prepared and appended to the report by the Commission if needed.

Report submitted to GoI for consideration.

The

success of the Commission is dependent upon

the depth and breadth of its consultation i.e. how much data/views/suggestions it can gather and incorporate from a diverse range of stakeholders with its limited resources.

Reports:

Laid before Parliament from time to time by MoL&J.

Forwarded to various Departments/Ministries for implementation.

Acted upon by Departments/Ministries if required.

Cited in courts, Parliament Committees, academic and public discourses.
5. Civil Services Reforms
In a democratic polity, the civil services are a crucial organisation tasked with helping the political executive formulate policies, carry them out through initiatives that promote governance and welfare, and provide system maintenance services. Through its actions, it supports the executive, legislature, and to a lesser extent – the judiciary. 
Part XIV of India's Constitution

provides for efficient 'public services' by creating the Union Public Service Commission and the State Commissions. 

The civil services are called upon to play several roles, many of whose nature and scope remain unclear. It is expected to play a quasi­ political role when assisting political executives in their staff positions. 

Most of the bureaucratic work takes place in relatively homogenous rule-bound spaces where Do's and Don'ts principles are well established.
Since a vast number of people depend upon the government services at the grassroots level, it is important that the interface between the civil services and people remains smooth and effective.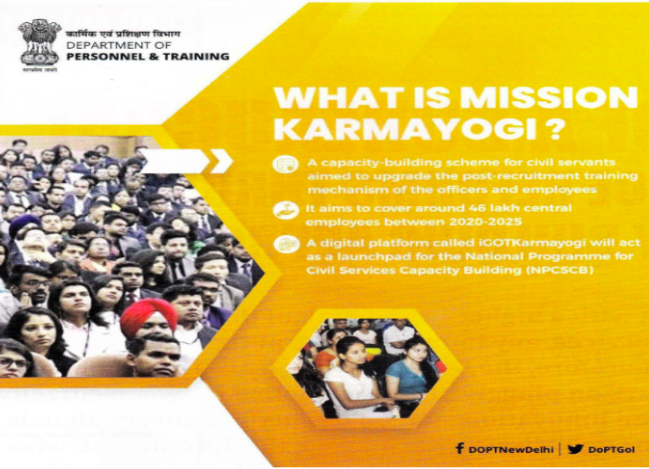 Therefore, the emphasis is being laid upon the spirit of Jan Bhagidari and on plugging the trust deficit between citizens and government processes.

Through Mission Karmayogi, the 'bureaucracy' is expected to transform from a  rule-bound organisation into an empathetic organisation, embracing the transformation from 'Rule to Role'.
Mission Karmayogi acknowledges the heterogeneity and complexity

of the civil service architecture and makes incremental gains through capacity building at the interface point of civil servant-citizen.

The mission focuses on (a)

the individual through its emphasis on the three-dimensional skills of behaviour, functional knowledge, and domain;

(b) the nature of the Civil Service by rendering it adept and adaptive through continuous upskilling; and (c) the quality of services delivered through a shift from Rule to Role.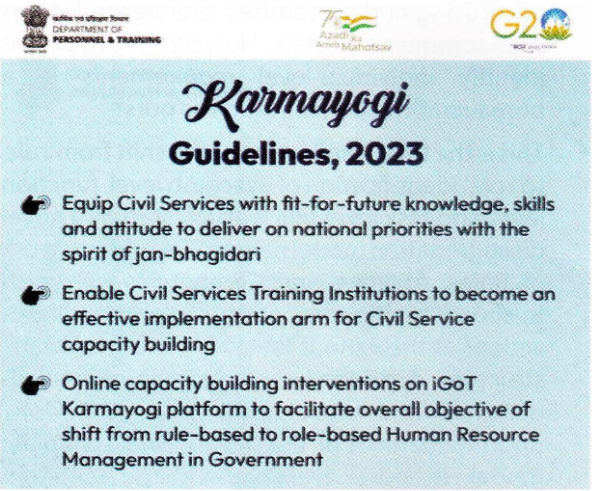 There exist certain challenges and implications related to the shift from a rule to role-based transformation.
Moving away from top-led supervision, monitoring, and guidance will need effective command structures at the middle and bottom;

hence there must be emphasis on capability creation at the level of every individual civil servant.

Identification of every job level, function level, and task level skill is articulated by a model named

FRAC (Framework of Roles, Abilities, and Competencies)

, which is the mapping out of these multitudinous actions at the various levels of the bureaucratic structure.

While all the focus is at the citizen level, all the micro-steps must converge into a national whole

. A synergy needs to be brought via the annual capacity-building plans of ministries and their eventual alignment with the national direction.

There needs to be an overarching governance framework for the mission. The Prime Minister-led Human Resource Council, supported by its secretariat-

the Cabinet Secretariat Coordination Unit

is a step in this direction.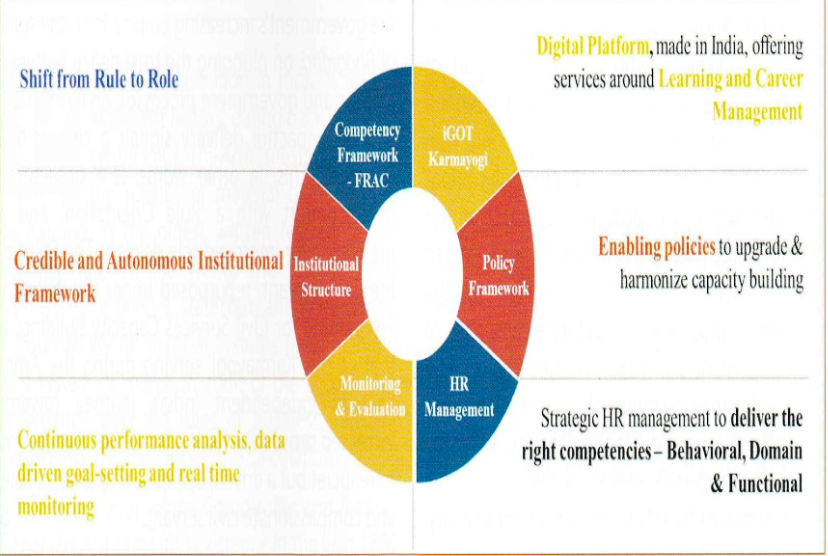 The long-needed change of a classic rule-bound bureaucrat into a role-driven 'civil servant' augurs well for the welfare of the public. The Government of India's increased focus on the spirit of Bhagidari, on bridging the trust gap between citizens and government processes, on innovation, and on effective delivery thereby reflects a citizens-first strategy.
6. Role of Constitutional Bodies in Strengthening Democracy
The institution of democracy is built on constitutional bodies. The robustness of Indian democracy has been greatly influenced by their existence. The institution of democracy has developed and expanded to include more people.
Democracy is imagined as a form of governance based on certain fundamental philosophies:
People should be a part of the governance structure because they are the subjects and beneficiaries of the governance setup. 

Various studies have demonstrated that collective decisions are more balanced and well thought out than individual judgements

since collective decisions take into account numerous points of view and must be modified to meet the needs of all stakeholders. 
Constitutional bodies are needed to establish, protect, and substantiate democratic ideals: 
The most essential democratic body is the Indian Parliament, which makes laws. The Indian Parliament, where both Houses are directly or indirectly elected, performs this primary function as a constitutional body.

An elected legislature is a 'sine qua non' for establishing and strengthening democracy

, which functions on a majority decision-making system. 

Democracy proposes rights, which must be protected at an individual level, and they cannot be taken away even by the majority's will through the legislature. Thus,

Part III of the Indian Constitution gives Fundamental Rights. To protect these rights, another essential constitutional body is required, in the form of an independent judiciary.

 

The crucial duty of protecting the Constitution itself falls to the courts as constitutional institutions.

In Kesavananda Bharati v. State of Kerala, the 'Basic Structure' doctrine

was evolved, which restricts the amending power of the Parliament. 

We have various constitutional bodies like the

Election Commission of India, the Union Public Service Commission, the Comptroller and Auditor General of India

, etc., which help in establishing the '

rule of law' in the

country.

In a 'rule of law' governance system, the law is supreme, every person and institution is subordinate to it, and there is no scope for discretionary and arbitrary decision-making.

The endurance of Indian democracy has been greatly aided by the existence of powerful constitutional bodies. These organisations have supported democratic ideals, upheld the rule of law, and protected citizens' rights.