30 August 1983
Indian communications satellite INSAT-1B launched.
---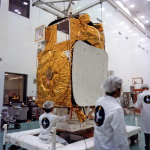 What happened?
On 30 August 1983, Indian communications satellite INSAT-1B was launched from the Kennedy Space Center, Florida, USA. Important satellites launched by ISRO are crucial for the science and technology segments of the UPSC Syllabus.
INSAT-1B Details
INSAT-1B was part of the INSAT or the Indian National Satellite System satellites which is a series of communications satellite.
INSAT-1B was built by Ford Aerospace and operated by the Indian Space Research Organisation (ISRO).
It was deployed by the Challenger space shuttle from the Kennedy Space Center of NASA.
When launched, it had a mass of 1152 kg and an expected life of 7 years.
INSAT-1A was the first satellite in the INSAT series to be launched by ISRO in April 1982, but it had to be abandoned a year later due to some technical glitches.
INSAT-1B also ran into some trouble early on regarding the deployment of its solar array, but it became operational in October 1983 after the problem was fixed by ISRO and Ford.
The satellite was operated in a geostationary orbit at a longitude of 74o east replacing the INSAT-1A.
INSAT-1B had the International Designation (COSPAR designation – international naming convention for satellites) 1983-089B and a Satellite Catalog Number of 14318.
It had 12 C band and 3 S band transponders.
It provided direct television and communications to the entire country including remote villages. It also provided weather forecasting and disaster-warning services.
To enable the INSAT-1B to transmit programmes, around 35000 earth receive only terminals were built.
After 7 years, in July 1990, the INSAT-1B was replaced by the INSAT-1D when the former was relegated to backup status.
It was finally removed from the geostationary orbit and put into the graveyard orbit in August 1993.
The satellite has transmitted to earth around 36000 earth images.
About INSAT
The INSAT series is the largest domestic communications system in the Asia Pacific region.
It has purposes in broadcasting, telecommunications, meteorology and search and rescue operations.
It is a joint venture of the Departments of Space, Telecommunications, AIR, Doordarshan and the India Meteorological Department.
It is a member of the International Cospas-Sarsat Programme.
Also on this day 


---


1569: Mughal Emperor Jahangir (son of Akbar) was born at Fatehpur Sikri.
1574: Guru Ram Das becomes the fourth Sikh Guru.
1659: Aurangzeb executes his elder brother Dara Shikoh to reach the throne of the Delhi Mughal Empire.
1936: Madam Bhikaji Cama passed away in Bombay.
1979: Lord Mountbatten (last Viceroy of British India) killed by the Irish Republican Army which
had planted a bomb in his fishing boat in Ireland.
1990: Prasar Bharati bill passed unanimously in Parliament.
1992: The first Indian-built Advanced Light Helicopter flown in Bangalore.
See previous 'This Day in History' here.
Also See: