TABLE OF CONTENTS
A.

 GS1 Related


GEOGRAPHY
1. Anak Krakatoa Volcano
SOCIAL ISSUES
1. No rise in working women despite high literacy levels
ART AND CULTURE
1. Lalitgiri Museum 


B.

 GS2 Related


POLITY AND GOVERNANCE
1. Executive Magistrate can't order FIR on private complaint: SC


C.

 GS3 Related


INDIAN ECONOMY
1. RBI mulls cooling-off period for its retired top officials
2. Coffee growers hit by sharp decline in prices
2. Pokkali paddy
ENVIRONMENT
1. Rs. 1,000 fine for 'nailing' trees


D.

 GS4 Related




E. 

Editorials


POLITY AND GOVERNANCE
1. Surrogacy (Regulation) Bill


F. 

Tidbits




G. 

Prelims Fact


H. UPSC Prelims Practice Questions
I. UPSC Mains Practice Questions

The name "Anak Krakatau" means "Child of Krakatau"

Anak Krakatoa emerged around 1928 in the caldera of Krakatoa, a volcanic island that violently erupted in 1883.
It has been in a "state of semi-continuous eruptive activity", growing bigger as it experiences eruptions every two to three years with the cone now standing at an altitude of around 300 metre
The island is part of the Ujung Kulon National Park, "demonstrating on-going evolution of geological processes", since the Krakatoa eruption, UNESCO says on its World Heritage site listing for the area.

Krakatau was a classic cone-shaped stratovolcano (meaning it was made of layers and layers of erupted material) that appeared to be intact and large.

It is situated in the Sunda Strait between the islands of Java and Sumatra in the Indonesian province of Lampung.
Geography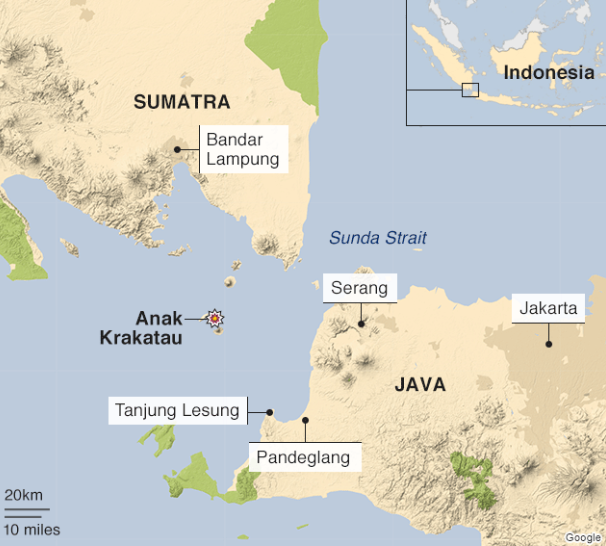 Context
At least 222 people have been killed and 843 injured after a tsunami hit coastal towns on Indonesia's Sunda Strait
What caused the tsunami?
The tsunami, which happened between Java and Sumatra islands, was caused by the Anak Krakatau, an active volcano that has been erupting. This could have generated large waves leading to displacement of a large volume of water having set off underwater landslide.
It can also be due to spewing of molten lava which may have caused the displacement.

Because of Anak Krakatau's proximity to shore, tsunami likely struck 20 to 30 minutes after some sort of volcanic activity,

High seas as a result of the full moon might have contributed to the strength of the waves
The worst-affected area was the Pandeglang region of Java's Banten province, which encompasses Ujung Kulon National Park and popular beaches
Similar such events from the past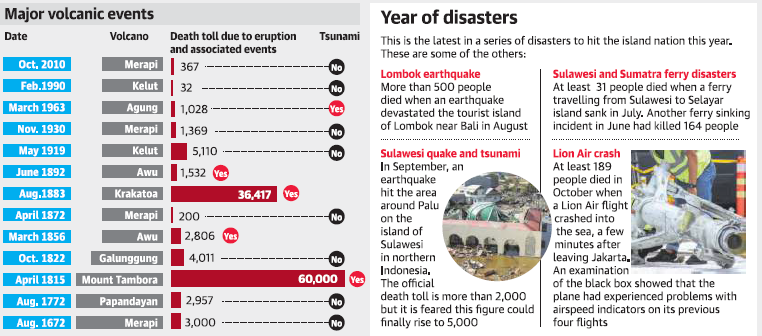 1. No rise in working women despite high literacy levels
Context
According to a new research by the Indian Council for Research on International Economic Relations (ICRIER), the study says that the rise in literacy levels among women has failed to translate into an increase in the number of working women due to a combination of socio-economic factors such as the importance of education for improving marital prospects as well as higher prestige attached to households which keep women out of labour force
Details
It has cited the Labour Bureau's employment figures to show that there is a rise in the percentage of women out of labour force between 2011-2012 and 2015-2016 across all levels of education and age-cohorts.
The percentage of women with graduate degrees and above who are not in the labour force has increased from 62.7% to 65.2%.
The percentage of illiterate women out of the labour force too increased from 67.6% to 70.1%.
This is an indicator that despite one's educational attainment there has been a decline in the incentive for women to participate in the labour force.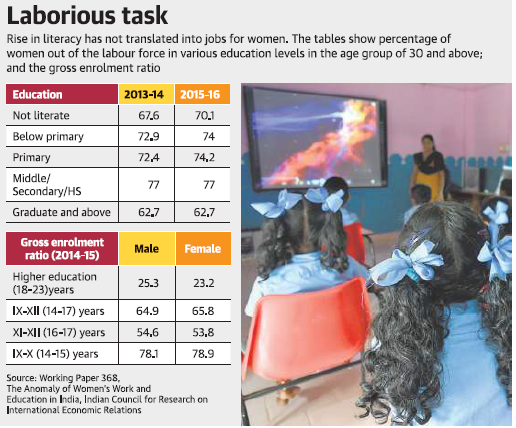 Reasons behind this drop
The paper attributes the trend to four major factors: the role education plays in marriage markets, social norms, poor condition for educated women and quality of education.
For many the incentive behind ensuring better education for their daughters is not so much the lure of a better paying job but the promise of a better marriage prospect.
Social norms also ensure that higher prestige or social status is associated with families which keep their women out of the workforce.
The growth in formal sector jobs has not kept pace with the supply of educated women, which may have led to "crowding out of females" from the workforce.
Recommendation
The study recommends that government policies should focus on behavioral changes that make female employment more acceptable in the society
Communication programmes on gender equality in secondary education needs to be developed to help students imbibe equitable gender norms
Programmes that acknowledge child care as the responsibility of both parents requires attention.
Context
Prime Minister Narendra Modi will inaugurate the Lalitgiri museum through video conference from Bhubaneswar.
Lalitgiri was one of the earliest Buddhist settlements in Odisha
Details
Excavations at Lalitgiri have yielded the remains of four monasteries, showing cultural continuity from the post-Mauryan period till the 13th century CE.
This region has many stupas and Viharas
Together with the Ratnagiri and Udayagiri sites, Lalitagiri is part of Puspagiri University located on top of hills
The three complexes are known as the "Diamond Triangle"
Category: POLITY AND GOVERNANCE
1. 'Executive Magistrate can't order FIR on private complaint: SC'
Background
There was a direction that was passed by the Unnao Sub-Divisional Magistrate (SDM) to file an FIR on a private complaint from a student who alleged that she was cheated into taking admission to a three-year law course at an unrecognised institute.
The police filed a case of cheating and misrepresentation against the institute management.
After the Allahabad High Court refused to quash the FIR, the institute managers moved the Supreme Court.
Context
The Supreme Court has said that an executive magistrate has no power under the Code of Criminal Procedure to direct the police to register an FIR on a private complaint filed before him as the SDM does not exercise powers under Section 156(3) of the CrPC.
Further, if a complaint is lodged before an executive magistrate on an issue over which he has jurisdiction, then he can himself lodge an FIR in the matter after conducting an administrative inquiry.
Question before the SC
The issue considered by Justice Rohinton Fali Nariman and Justice Navin Sinha in Naman Pratap Singh vs. State of Uttar Pradesh was whether the Sub-Divisional Magistrate was competent to do so, and whether such an F.I.R. can be said to have been registered in accordance with the Code of Criminal Procedure,1973
What does the law say?
Section 154 of the CrPC provides for registration of a FIR at the instance of an informant, reduced into writing and signed by the person giving it
Section 154(3) stipulates that in the event of a refusal on part of police officer to record such information, it may be sent in writing and by post to the Superintendent of Police, who will direct investigation into the same.
Section 156(3) provides that any Magistrate empowered under Section 190 may order such an investigation, and which also includes the power to direct the lodgement of an FIR. The Code in Section 200 of CrpC provides for lodging of a complaint before the Magistrate, who after examination of the complainant and witnesses, if any, can take cognizance

Section 190 of the CrPC provides for taking of cognizance by a Magistrate either on a complaint or upon a police report.
So the SC said nothing prevented the student from lodging an FIR before the police or if the circumstances so warranted, then she could have approached the superintendent of police under section 154(3) of CrpC.
Remedy was also available to the respondent by filing a complaint under Section 200 of the Code before the jurisdictional Magistrate
1. RBI mulls cooling-off period for its retired top officials
Context
The Reserve Bank of India (RBI) has come up with a new norm for its top officials who want to take up the job of a chairman or chief executive of any other entity, post retirement.
Details
The RBI has mandated a three-year cooling-off period for retired officials before they can take over as chairman or chief executive of any other entity
However, to join as a director of any company's board, the one-year cooling period mandate continues.
This new rule was taken up citing global best practices
Examples
Padmanabhan, who retired as RBI's Executive Director in 2015 joined as the non-executive chairman of Bank of India
Shyamala Gopinath, who retired from the RBI as Deputy Governor in 2011, became the non-executive chairman of HDFC Bank in 2015.
Bandhan Bank's board has recently cleared the appointment of former RBI Deputy Governor H.R. Khan as its non-executive chairman. Mr. Khan had retired as Deputy Governor in July 2016.
2. Coffee growers hit by sharp decline in prices
 Context
A steep fall in the price of Robusta coffee has been reported during the harvest season
Reasons behind the fall
There was bumper coffee production in Brazil which is a major coffee-producing country
Vietnam has increased its production this year owing to favourable climate in coffee growing areas
Sharp decline in coffee production is also due to rain and flood-related calamities in Kerala and Karnataka have also put growers in distress.

Heavy rains triggered spread of diseases such as black rot disease, heavy berry dropping due to fungal infections and melee bugs, adversely affecting production.
It is a saltwater-tolerant paddy grown in the coastal fields of Alappuzha, Ernakulam and Thrissur districts.
It is known for its taste and high protein content
It has been awarded with GI tag
Many medicinal properties are also attributed to this rice.
Cropping Season
Paddy is grown during June to October (120 days maturity period) followed by shrimp farming during November to April.

After the harvest, the paddy stubble in the fields acts as food and shelter for shrimp and small fish.
Fish excreta and scales, along with the decomposed stubble, provide excellent natural manure for another season of Pokkali.

So Pokkali farming is a system in which paddy and shrimp are grown alternately in the same field.
Concerns
The variety is now grown in only over 5,000 hectares, a drop from over 25,000 hectares a few decades ago, due to high labour cost and poor returns.
Large amount of manual labour is required since no specialised equipment or machinery is available for this
Various reasons such as lack of labour, costly manpower, pollution from nearby industries contaminating the pokkali fields, widespread attack of viral infection to the shrimps are some of the problems
1. Rs. 1,000 fine for 'nailing' trees
Context
Odisha's Berhampur Municipal Corporation (BeMC) has decided to slap a ₹1,000 fine on persons or advertising agencies hammering nails to put up publicity materials on trees of the city.
Details
The decision was taken to save the trees from internal injuries that lead to their premature death.

Metal nails, wires and publicity materials are being removed from the trunks as they are major cause of slow death of trees.
A herbal concoction comprising pastes of neem leaves, turmeric, cow dung and clay from the base of ponds is being used to heal the wounds of trees

It has also been resolved to remove metal protectors that constrict the trunks of grown up trees.

The protectors were installed to protect the saplings when they were planted but were not removed even after the trees grew up.

Super cyclone of 1999, Phailin of 2013, Hudhud in 2014 and the Titli cyclone have uprooted most big trees in Berhampur. So efforts are on to save the existing large trees and provide them longevity
Nothing here for today!!!
Category: POLITY AND GOVERNANCE
1. Surrogacy (Regulation) Bill
Context
The Lok Sabha passed a Bill banning commercial surrogacy with penal provisions of jail term of up to 10 years and fine of up to ₹10 lakh.
Details
It states an Indian infertile couple, married for five years or more, can go in for 'altruistic surrogacy' where the surrogate mother will not be paid any compensation except medical expenses and insurance.
According to the provisions of the Bill, women within the age group of 23 years to 50 years and men aged between 26 and 55 years will be eligible to go in for surrogacy.
The child, thus born, will be deemed to be the legal offspring of the intended couple.

Also, a woman can be a surrogate only once in her lifetime.
It allows only close Indian relatives to be surrogate mothers and purely for "altruistic" reasons.

Singles, homosexuals and live-in couples cannot apply for surrogacy.
Couples who already have children will also not be allowed to opt for surrogacy.
The Bill entitles only Indian citizens to avail of surrogacy
foreigners, NRIs and PIOs are not allowed to commission surrogacy
Examples from the world on Altruistic Surrogacy
In the K., laws on surrogacy allow only altruistic arrangements where the surrogate can be paid only 'reasonable expenses'.
The fluidity in defining reasonable expenses means that this should ideally include payment for medical treatment, and in-vitro fertilisation (IVF) but may include other 'expenses'.
In most of Australia, altruistic surrogacy entails restricted
In different parts of the world, varying levels of legal restrictions, or complete bans are practised — pre-approved payments to the surrogate, including for diet during the pregnancy, and/or for the medical treatment.

Altruism also entails the provision that the surrogate is the legal mother of the child, which can be transferred to the parents through a legal process, including adoption.

In many countries in Europe, the act of gestation defines motherhood, even though the egg used for the pregnancy through IVF may belong to the couple entering the arrangement.
Why is the bill important?
India had become a hub of commercial surrogacy and surrogate mothers were being exploited.

There were reports of unethical practices, exploitation of surrogate mothers, abandonment of children born out of surrogacy and rackets around intermediaries importing human embryos and gametes

The commercial surrogacy arrangement in India was an exchange of money for services where motherhood could be for sale is a matter of distress and shock.
Experts claim that the stringent rules and regulations may encourage couples to turn toward adoption
Altruistic surrogacy has issues too
Altruistic surrogacy is not very different from its opposite commercial variant.
Unlike the U.K., altruism in India is being defined through the tie of kinship, not through the exchange of payment for 'services rendered'.
Here, kinship and family hide the commercial element entailed in seeking a surrogate from among close relatives.
Thus, much of the criticism against the Surrogacy Bill in Parliament points toward the lack of definition that the category of the 'close relative' carries.
A look at Transplantation of Human Organs Act (THOA), 1994
This Act prescribes that organ donors are allowed to donate their organs before death only to 'near relatives'. Donating organs to 'strangers' or not near relatives before death is not allowed, and may be approved of only through the authorisation committee.
The category of the 'near relative' appears again in a similar vein to the 'close relative'.
But unlike the Surrogacy Bill, the THOA identifies 'near relatives' as 'spouse, son, daughter, father, mother, brother or sister'.
It's a closed group of relatives — within the structure of the nuclear family unit — members who may not be eligible to be surrogates, unfortunately.
By banning commercial surrogacy in favour of its altruistic avatar, the identification of 'close relatives' will take on a murky turn. Just like in the case of organ donation, wherein 'strangers' were dressed up as 'near relatives', in altruistic surrogacy too, similar negotiations may be entered into
Concerns
Surrogacy is a moral, social and emotional issue concerning parenthood. The 5-year clause to prove infertility, should be relooked as science and technology has progressed so much that the couple don't have to wait for that long a while to have a child through surrogacy
Outright prohibition would push the surrogacy market underground, defeating the regulation's main purpose of protecting surrogate mothers.
Citizens who still don't have a right to marry — LGBT persons — are denied the option of having a child through surrogacy, as per the new draft law.
In an overtly patriarchal society, women are always at the receiving end of ostracism and exploitation.

The decision-making power rarely rests with women and not so privileged or financially weak relatives can be coerced into becoming surrogate mothers

Inter-faith and inter-caste couples in India are often shunned by their families for breaking social norms, and will not enjoy family support as perceived in this Bill.
This bill also takes the right of the surrogate mother away, and makes the state the patriarch who decides how children should be born and raised in society.

It takes away all agency and bodily autonomy away from the surrogate woman who might be in this business consensually.
The woman is viewed as a victim of exploitation, and not as a rights holding citizen who is exercising her freedom of choice to engage in a certain profession.

The commissioning couple gets a child, and doctors, lawyers and hospitals get paid. However, the surrogate mothers are expected to practise altruism without a single penny
Conclusion
If tackling exploitation and trafficking are at the core of the Surrogacy Bill, there can be more effective ways of incorporating checks and balances in the process of commercial surrogacy.
Bill must mould itself in a more modern shape by considering cases of potential single parents, widows, same sex couples who want to have children as well, especially after recent progressive judgments.
Nothing here for today!!!
G. Prelims Fact
Nothing here for today!!!
H. Practice Questions for UPSC Prelims Exam
Question 1. Consider the following statements regarding nai manzil

The scheme will address educational and livelihood needs of minority communities in general.
The scheme aims at providing educational intervention by giving the bridge courses to the trainees and getting them Certificates for Class XII only from distance medium educational system and at the same time also provide them trade basis skill training in 6 courses
Which of the statements given above are correct?
Only 1
Only 2
All of the above
None of the above
See
Question 2. Which of the following statements are correct with reference to SECURE Himalaya?

It is to ensure conservation of locally and globally significant biodiversity, land and forest resources in the high Himalayan ecosystem
It is launched by the Union environment ministry in association with WWF
Protection of snow leopard and other endangered species and their habitats is one of the key components of the project
Which of the above statement(s) is/are correct?
All of the above
Only 2
Only 1 and 3
Only 2 and 3
See
Question 3. Yatri Mitra seva in news is:

Construction of roads by ministry of road for bumpy free travelling
It is a program by ministry of aviation to provide affordable ticketing to remote areas
Introduced by Ministry of railways to support old and differently abled
Safety provided by ministry of home to people travelling to Amarnath.
See
I. Practice Questions for UPSC Mains Exam
The intellect has sharp eye for methods and tools, but is blind to ends and values. Explain
In law a man is guilty when he violates the rights of others. In ethics he is guilty if he only thinks of doing so. Analyze the statement
See previous CNA