TABLE OF CONTENTS
A. 

GS1 Related




B. 

GS2 Related


POLITY AND GOVERNANCE
1. 'Don't invoke NSA for cow slaughter'"
2. India set to overtake Pakistan in number of Haj pilgrims: Naqvi
3. Pension scheme for workers in informal sector to kick-start from February 15


C. 

GS3 Related


ENVIRONMENT
1. Human-elephant conflict kills 1,713 people, 373 pachyderms in 3 years
INTERNAL SECURITY
1. Push for generous rehab scheme for Naga cadres
HEALTH
1. As new cases rise, leprosy in spotlight
2. Swine flu death toll touches 100 in Rajasthan, even as 2,793 test positive


D. 

GS4 Related




E 

Editorials


INTERNATIONAL RELATIONS
1. The lowdown on Mallya's extradition
INDIAN ECONOMY
1. Bill shock for power producers
2. In Northeast, air links shrinking (Infrastructure: Airways) 


F. 

 TIDBITS


1. Modi to inaugurate National War Memorial on February 25


G. 

Prelims Facts


1. The Table that defines chemistry turns 150


H. 

UPSC Prelims Practice Questions




I. 

UPSC Mains practice Questions



A. GS1 Related
 Nothing here today!!!
B. GS2 Related
Category: POLITY AND GOVERNANCE
1. 'Don't invoke NSA for cow slaughter'
Context
Sending out a strong message to the Congress, the CPI(M) Polit Bureau has demanded that the Kamal Nath government in Madhya Pradesh revoke NSA invoked against five Muslim men for cow slaughter.
"This stringent legislation was meant to be used against anti-national terrorists. Instead, its invocation over such allegations displays an effort to appease the communal elements," the Polit Bureau statement said.
The party has argued that the existing provisions of the law would be sufficient to deal with such allegations.
National Security Act
The National Security Act of 1980 is an act of the Indian Parliament whose purpose is to provide for preventive detention in certain cases
The act extends to the whole of India except the State of Jammu and Kashmir.
This act empowers the Central Government and State Governments to detain a person to prevent him/her from acting in any manner prejudicial to the security of India, the relations of India with foreign countries, the maintenance of public order, or the maintenance of supplies and services essential to the community.
The act also gives power to the governments to detain a foreigner in a view to regulate his presence or expel from the country.
The other enactments relating to national security are the Unlawful Activities (Prevention) Act, 1967, the Criminal Law Amendment Act, the Official Secrets Act, 1923, Chapters 6 and 7 of the Indian Penal Code etc.
India had a long history of preventive detention laws like the Defence of India Act of 1858, The Government of India Act of 1935, the Preventive Detention Act of 1950, the Maintenance of Internal Security Act in 1971 and the NSA in 1980.
2. India set to overtake Pakistan in number of Haj pilgrims: Naqvi
Context:
Union Minister of Minority Affairs Mukhtar Abbas Naqvi said that India is likely to overtake Pakistan in terms of the number of pilgrims sent for Haj pilgrimage this year.
From our country, Muslims participate in Haj in huge numbers. There are two Islamic countries – Indonesia, from where around 2 lakh people participate and then there is Pakistan from where 1,84,000 people participate. As of today, India already has over 1,75,000 participants and we are aiming to supersede Pakistan this year," Mr. Naqvi said.
According to Mr. Naqvi, of the total number of applications received by the Haj Committee of India, around 50% were from women. He also said that there was a gradual rise in the number of women willing to participate in the pilgrimage without a mehram (male companion).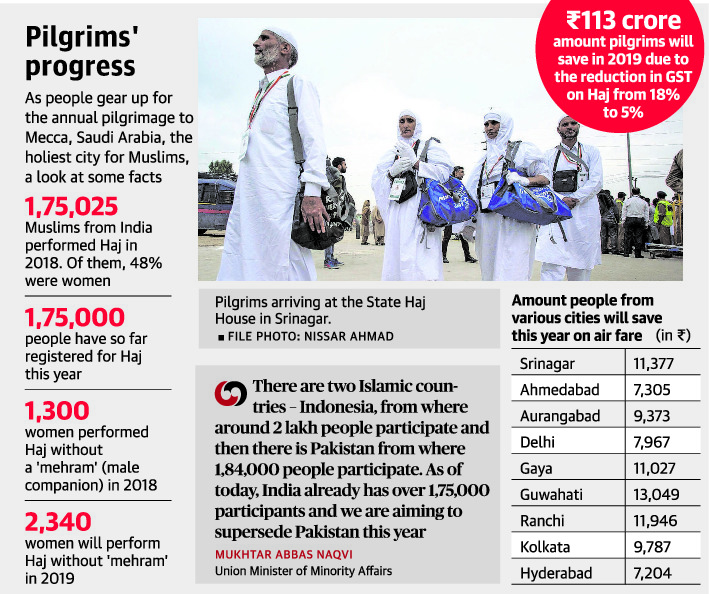 Haj Pilgrimage through Haj Group Organisers
Ministry of Minority Affairs is the nodal ministry to conduct Haj pilgrimage in India. Haj pilgrimage for the Indian Pilgrims is conducted either through Haj Committee of India (HCoI), which is a statutory organization under the administrative control of Ministry of Minority Affairs or through the Private Tour Operators (PTOs).
The quota of pilgrims is divided between Haj Committee of India (HCOI) and Private Tour Operators (PTOs).
The Hajj 2002, the Kingdom of Saudi Arabia made it mandatory for the PTOs to come through their respective Governments. Therefore, from the year 2002, the Government of India evolved a system under which private operators/ travel agents were registered as PTOs and following the registration were allocated quotas from the overall number of seats specified for PTOs.
Till the year 2012, the PTO Policy was formulated annually. However, in the year 2013, a five year PTO Policy for Haj 2013-17 was approved by Hon`ble Supreme Court of India. This Policy remained valid till Haj 2017.
Based on the recommendations of Haj Policy Committee and the evidence based study conducted by IIT Delhi, Ministry framed the PTO Policies for Haj 2018 and subsequently for the next five years i.e. Haj 2019-23.
3. Pension scheme for workers in informal sector to kick-start from February 15
Context:
All unorganised sector workers up to 40 years of age can subscribe to the Pradhan Mantri Shram Yogi Mandhan (PMSYM) scheme, which entails a minimum monthly pension of ₹3,000, from February 15, a Labour Ministry notification said.
Pradhan Mantri Shram Yogi Mandhan (PMSYM) scheme
It is a scheme for the unorganised sector workers with monthly income upto Rs 15,000. A sum of Rs 500 crore has been allocated for the Scheme.
This scheme shall provide an assured monthly pension of Rs 3,000 from the age of 60 years on a monthly contribution of a small affordable amount during their working age.
The monthly contribution by the worker joining the scheme would be ₹55, with matching contributions from the government. The contributions would rise at higher age. The worker joining the scheme at the age of 40 years would contribute ₹200, while workers at the age of 29 years would pay ₹
The Government will deposit equal matching share in the pension account of the worker every month.
The scheme would cover unorganised workers who are working or engaged as home-based workers, street vendors, mid-day meal workers, head loaders, brick kiln workers, cobblers, rag pickers, domestic workers, washer men, rickshaw pullers, landless labourers, agricultural workers amd construction workers, among others.
The informal workers will not be eligible for the scheme if they are covered under the National Pension Scheme, the Employees' State Insurance Corporation Scheme or Employees' Provident Fund Scheme. Workers who are income-tax assesses are also not eligible to join the scheme.
C. GS3 Related
1. Human-elephant conflict kills 1,713 people, 373 pachyderms in 3 years
Context
In a response to Parliament, Dr. Mahesh Sharma, Minister of State in the Ministry of Environment, Forest and Climate Change (MoEFF), said damage to houses and crops had been reported in several States. Data presented by him showed that the highest numbers of human casualties had occurred in West Bengal (307 deaths), followed closely by Odisha (305).
In the three years between 2015 and 2018, human-elephant conflict caused 1,713 human and 373 elephant deaths by unnatural causes, including electrocution and poaching. Experts say various factors, including habitat disturbance and urbanisation, could be the cause of the alarming rise in unnatural human and animal casualties.
Key Causes of Elephant deaths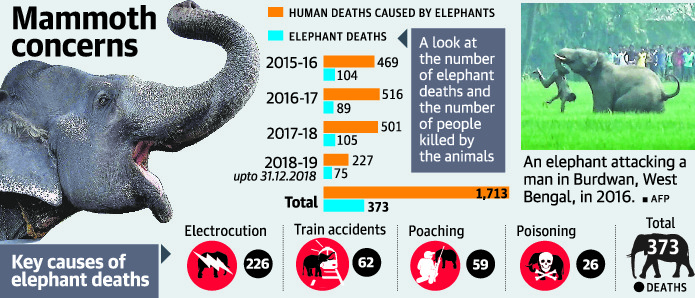 Related Concept – Elephant Corridors
Elephant corridors are narrow strips of land that connect two large habitats of elephants.
The movement of elephants is essential to ensure that their populations are genetically viable. It also helps to regenerate forests on which other species, including tigers, depend.
Elephant corridors are also crucial to reduce animal fatalities due to accidents and other reasons. So fragmentation of forests makes it all the more important to preserve migratory corridors.
Ending human interference in the pathways of elephants is more a conservation imperative.
Nearly 40% of elephant reserves are vulnerable, as they are not within protected parks and sanctuaries. Also, the migration corridors have no specific legal protection.
Forests that have turned into farms and unchecked tourism are blocking animals' paths. Animals are thus forced to seek alternative routes resulting in increased elephant-human conflict.
Weak regulation of ecotourism is severely impacting important habitats. It particularly affects animals that have large home ranges, like elephants.
Efforts should be to expand elephant corridors, using the successful models within the country. This includes acquisition of lands using private funds and their transfer to the government.
Related Concept – Project Elephant
It is a centrally sponsored scheme; launched in 1992
Objectives
To protect elephants, their habitat & corridors
To address issues of man-animal conflict
Welfare of captive elephants
Main activities of the Project are as follows
Ecological restoration of existing natural habitats and migratory routes of elephants;
Development of scientific and planned management for conservation of elephant habitats and viable population of Wild Asiatic elephants in India
Promotion of measures for mitigation of man elephant conflict in crucial habitats and moderating pressures of human and domestic stock activities in crucial elephant habitats
Strengthening of measures for protection of Wild elephants form poachers and unnatural causes of death
Eco-development and Veterinary care
1. Push for generous rehab scheme for Naga cadres
Context
A Parliamentary panel has recommended the Ministry of Home Affairs (MHA) prepare a detailed and generous rehabilitation-cum-settlement scheme for the cadres of National Socialist Council of Nagaland (Isak-Muivah), the group that signed a Naga Framework Agreement with the Centre in 2015.
NSCM
Nationalist Socialist Council of Nagaland, was formed to advance the Naga cause for sovereignty.
This organisation has operations in the Naga inhabited regions of India & Myanmar, with easy cross border access.
This group has had major splits. Issac-Muivah faction (NSCN – IM) is currently involved in peace talks with the Indian government, while the Kaplang faction with its major operations in Myanmar is designated as a terror outfit by India.
Greater Nagalim
A "Greater Nagalim" comprising "all contiguous Naga-inhabited areas", along with Nagaland. That included several districts of Assam, Arunachal and Manipur, as also a large tract of Myanmar. The map of "Greater Nagalim" has about 1,20,000 sq km, while the state of Nagaland consists of 16,527 sq km.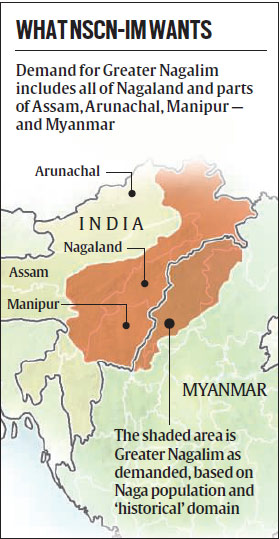 The claims have always kept Assam, Manipur and Arunachal Pradesh wary of a peace settlement that might affect their territories.
The Nagaland Assembly has endorsed the 'Greater Nagalim' demand — "Integration of all Naga-inhabited contiguous areas under one administrative umbrella" — as many as five times: in December 1964, August 1970, September 1994, December 2003 and as recently as on July 27, 2015.
The NSCN (Isak-Muivah) has been engaged in peace talks with the interlocutor of the Central government since 1997, when it announced a ceasefire agreement after an insurgency movement that started in Nagaland soon after India's Independence.
The NSCN(K) had signed ceasefire with the Centre in 2001 but unilaterally abrogated (repeal or do away) it in March 2015 when the then chairman of the group, S.S. Khaplang, was alive.
In 2015, the Centre signed a framework agreement with the National Socialist Council of Nagaland-Isak-Muivah (NSCN-IM) to end the long- drawn Naga insurgency after it agreed to give up the demand for sovereignty. Six Naga political groups joined the discussions later.
The Union government has also started separate talks with working committees of six Naga nationalist political groups since 2017.
1. As new cases rise, leprosy in spotlight
Context
The rise in the number of recorded leprosy cases from 86,147 (in 2013-14) to 90,709 (2017-18), reported a decade and a half after India was declared leprosy-free in 2005, has turned the spotlight on the hotspots for the disease.
The World Health Organisation (WHO) has set the goal of zero children with leprosy and deformities by 2020, and less than one patient per million for other newly diagnosed patients.
Bihar, Chhattisgarh, Odisha, Jharkhand, Uttar Pradesh, West Bengal and Maharashtra remain the 'hotspots' from which maximum prevalence was detected last year. High population density, poor sanitation and inadequate access to nutrition are among the reasons for the number remaining high.
Leprosy
Leprosy, also known as Hansen's disease, is a bacterial disease which affects the skin and nerves which can lead to physical deformity and disability if left untreated.
Despite a centuries-long stigma, it is not hereditary, it is completely curable, and is only mildly infectious – more than 85% of cases are non-infectious and over 95% of the population has a natural immunity to the disease.
Initially, infections are without symptoms and typically remain this way for 5 to 20 years.
Symptoms that develop include granulomas of the nerves, respiratory tract, skin, and eyes.
This may result in a lack of ability to feel pain, which can lead to the loss of parts of extremities due to repeated injuries or infection due to unnoticed wounds. Weakness and poor eyesight may also be present.
Leprosy is one of the World's oldest diseases with India accounting to 60% of the annual new cases.
In 2005, it was officially declared eliminated as a public health concern in India. This was when the new cases fell to less than 1 per 10,000. Yet India accounts for the largest number of leprosy affected people in the world.
Related Personality – Baba Amte (1914-2008)
Baba Amte, (Murlidhar Devidas Amte), Indian lawyer and social activist, devoted his life to India's lower-caste Dalits and especially to the care of those individuals who suffered from leprosy (Hansen's disease).
His work earned him numerous international awards, notably the 1971 Padma Shree, the 1988 UN Human Rights Prize, a share of the 1990 Templeton Prize, and the 1999 Gandhi Peace Prize.
Amte was born into an affluent Brahmin family and acquired the nickname Baba as a child. He trained as a barrister but, influenced by Mahatma Gandhi's nonviolent fight for justice, abandoned his legal career in the 1940s.
He settled with his wife in a labour ashram, then studied leprosy at the Calcutta (now Kolkata) School of Tropical Medicine, and in 1951 founded Anandvan, an ashram dedicated to the treatment and rehabilitation of leprosy patients. Amte, who suffered from cancer, died at the Anandvan ashram and was given a Maharashtra state funeral.
2. Swine flu death toll touches 100 in Rajasthan, even as 2,793 test positive
Context
Four people died of swine flu in Rajasthan recently, taking the total death toll to 100 in the State so far this year. Eighty seven new cases were reported in the State, taking the tally of patients to 2,793 in 39 days.
Fifty-four deaths and 1,187 cases were reported in Gujarat till February 7, while 30 deaths and 301 cases were reported from Punjab, according to data by the Health Ministry.
Swine Flu (H1N1)
Swine influenza, also called pig influenza, swine flu, hog flu and pig flu, is an infection caused by any one of several types of swine influenza viruses. Swine influenza virus is any strain of the influenza family of viruses that is endemic in pigs.
Influenza A (H1N1) virus is the subtype of influenza A virus that is the most common cause of human influenza.
It is an orthomyxovirus that contains the glycoproteins haemagglutinin and neuraminidase. For this reason, they are described as H1N1, H1N2 etc. depending on the type of H or N antigens they express with metabolic synergy. Haemagglutinin causes red blood cells to clump together and binds the virus to the infected cell. Neuraminidase is a type of glycoside hydrolase enzyme which helps to move the virus particles through the infected cell and assist in budding from the host cells.
Some strains of H1N1 are endemic in humans and cause a small fraction of all influenza-like illness and a small fraction of all seasonal influenza. Other strains of H1N1 are endemic in pigs (swine influenza) and in birds (avian influenza).
H1N1 influenza (or swine flu) is a highly contagious acute respiratory disease of pigs caused by type A influenza virus that regularly causes outbreaks of influenza in pigs. Swine flu viruses do not normally infect humans. However, sporadic human infections with swine flu have occurred.
Most commonly, these cases occur in people with direct exposure to pigs (e.g., children near pigs at a fair or workers in the swine industry). However, there have been cases of human-to-human spread of swine flu.
D. GS4 Related
  Nothing here today!!!
E Editorials
Category: INTERNATIONAL RELATIONS
1. The lowdown on Mallya's extradition
Editorial Analysis:
Recently in the month of February, 2019, Britain's Home Secretary Sajid Javid signed the order for Vijay Mallya's extradition to India to face charges of fraud and money laundering, following the judgment handed down by Westminster Magistrates Court Chief Magistrate Emma Arbuthnot in December, 2019.

She concluded there was a prima facie case against Mr. Mallya, rejected the argument that the case was politically motivated, and labelled him a "glamorous, flashy, famous, bejewelled, bodyguarded, ostensibly billionaire playboy."

The Government of India wants to bring criminal action against Mr. Mallya, whose business interests have ranged from aviation to liquor, for defaulting on over $1.4 billion in loans Kingfisher took out from Indian banks.

Authorities argue misrepresentations were made to acquire those loans, while Mr. Mallya had no intention of repaying them and sought to squirrel away funds and use them in ways that were not permitted by the terms of the loans.
Options Available before Mr. Mallya:
There are ample opportunities for appeal available to Mr. Mallya — who has indicated his intention to pursue them. This also means that the entire process could take another two years or so.

The signing of the order means the appeal process can now be kick-started.

Currently, Mr. Mallya has two weeks from the signing of the order to seek permission to appeal to the High Court, at which stage that application will be considered by the judge on paper over a 21-day to 3-month period.

If he manages to get permission to appeal, the appeal process should begin within 76 days, though with options for seeking extensions available to both sides, the appeal could take 6-8 months to begin with.

If — following the paper consideration — the judge denies permission to appeal, Mr. Mallya can push for an oral hearing, which could add a further three months to the process. If at this stage, permission is still refused that would end his appeal options.

He can seek permission to appeal to the Supreme Court — at first instance from the High Court, and if unsuccessful he can seek permission from the Supreme Court itself.

If successful at this stage, he would have 28 days to file an appeal, with the ensuing appeal taking over 6-9 months more.

He could apply as a last resort to the

European Court of Human Rights

though such appeals are only granted in very rare cases, she notes.

In 2014, only 4 of 833 applications for appeal were granted.
The 2003 Extradition Act says he must be extradited within 28 days of the court of appeal's decision (or when appeal proceedings are discontinued).
If the deadline (including any extension) is passed without the extradition happening, he could apply to be discharged from extradition, unless the Home Office could provide a good reason for any delay.

While the applications for permission to appeal can't be speeded up, an expedited appeals process can be requested if leave is granted, which would involve pushing for an early date in the court's diary.

Grounds, of course, vary significantly, and include suggestions that the person is being pursued for political motivations because of race or religion and so on.




Others include the passage of time, and rules against double jeopardy.

It is important to note that while it is not common for extradition appeals to succeed, last year India successfully appealed a Westminster Magistrate Court's ruling that discharged the alleged bookie Sanjeev Chawla, who India had been seeking to extradite over the 2002 cricket match fixing scandal.
Concluding Remarks:
As per the guarantees offered to the Chief Magistrate, if Mr. Mallya is extradited, he will be held in Barrack 12 of the Arthur Road Jail in Mumbai — with certain assurances of space, daylight and medical facilities — both ahead of any trial and after any conviction.
1. Bill shock for power producers
Larger Background:
Brief Note on UDAY:
The Ujwal DISCOM Assurance Yojana (UDAY) was launched by the Government of India on 20-11-2015 for operational and financial turnaround of State owned Power Distribution Companies (DISCOMs).
The Scheme aims to reduce the interest burden, reduce the cost of power, reduce power losses in Distribution sector, and improve operational efficiency of DISCOMs.
UDAY is the most comprehensive power sector reform ever planned and executed in the country.
The UDAY scheme is a classic example of Comprehensive, Cooperative, Collaborative, Competitive, Consensual and Compassionate Federalism, where in the Governments at the States are envisaged to work in complete cohesion and collaboration with the Centre so as to compassionately focus on the comprehensively serving the people of India in meeting their power demands.
Further, the scheme encourages State Governments to engage in constructive competition amongst themselves so as to achieve the financial and operational turnaround of their power departments and DISCOMs.  
Editorial Analysis:
Understanding the Issue:
What happens if you don't pay your electricity bill?
The power company cuts you off , right? Now what happens if you happen to be the power company, and haven't been paying your bills to your supplier — the power generating company? Ideally, the same rules should apply.
Unfortunately, the same rules don't apply.
All kinds of reasons are put forward: For example, power distribution companies (discoms) are essential utilities, electricity is a basic requirement, the discoms are all (or, almost all) owned by the government so the money isn't going anywhere, and so on and so forth.
The power problem:
Usually, the generators tend to cave in and simply let the dues mount till they reach a point where they can't pay their suppliers or their employees and then the cycle of threat and bargaining starts.
As a matter of fact, the recent stand-off between India's largest power producer, NTPC, and the discoms of Andhra Pradesh, Telangana and Karnataka is a classic example.
Stuck with unpaid dues of over Rs. 5,838 crore, of which more than Rs. 4,100 crore were due for more than two months, NTPC threatened to "regulate" supply — effectively, reduce by over 3,400 MW the quantum of power it supplies to these three discoms — from midnight of February 5, 2019.
Within a day, the threat was kept in abeyance, with the three discoms promising to pay "as soon as possible", although no clear date was given.
It is also important to note that as of November 2018, the latest month for which data are available, the money owed by discoms to power producers was over Rs. 41,000 crore. That number will climb closer to the Rs. 55,000 crore mark, if you add the dues which are still within the 60-day credit offered by generators. Pending payments are growing at 29% per year.
This is clearly unsustainable. If power producers don't get paid, their only option is to go belly up or shut shop, since power distribution is, for all practical purposes, a monopoly.
If you have only one customer and that customer isn't paying you, there's little you can do. This is one of the reasons why over 30,000 MW of capacity is currently under the "stressed asset" category and looking for resolution.
With or without resolution, lenders are already facing a monumental haircut. If one adds productive, operational assets to this — because the buyer is not paying up – then we are looking at a systemic collapse.
Currently, the accumulated losses of discoms are in excess of Rs. 17,000 crore.
But this is after two years of the government's Ujwal DISCOM Assurance Yojana (UDAY), instituted after the cumulative losses of discoms crossed Rs. 51,000 crore in 2015-16.
Under the scheme, State governments took over the liability for half the accumulated losses, allowing the discoms to start with a near fresh slate.
In return, discoms were expected to cut losses resulting from theft, non-metering and leakages to 15% of the total by March 31, 2019, while gradually increasing tariffs to cover the rest.
With just a little more than a month left for that deadline, the loss figure is still over 20% — which means a fifth of the power produced doesn't earn a paisa — while tariff hikes and axing of subsidies hasn't happened.
India's power problem, long thought to lie on the generation side, has shifted to the distribution side. We are now comfortable on the generation side.
It is important to note that with State governments stubbornly refusing to change, using discoms as handy vehicles to push all kinds of populist agendas without actually having to spend their budget monies on it, the discoms have virtually reached the point of no return.
A Look at past attempts in finding a workable solution:
The Centre has taken several shots at solving this. Initially, privatisation was thought of as the panacea, but the experience with privatised discoms has been only marginally better (For example, Mumbaikars are up in arms over sharp bill increases after Gautam Adani bought out Anil Ambani's distribution utility there).
Later the Modi government came up with the UDAY scheme. But clearly, UDAY too has just kicked the can down the road, since discoms haven't cleaned up their act.
In 2018, a high-level committee headed by the Cabinet Secretary suggested that public financial institutions like the Power Finance Corporation discount discom receivables and pay power producers. However, these institutions were wary of default by discoms and wanted the government to create a three-way arrangement with the Reserve Bank of India, such that flows to State government treasuries would be diverted to pay the institutions in case of default. This proved unworkable.
Currently, another committee has been formed, which is of the view that discoms should go into a prepaid mode with power producers. This too looks unlikely.
Lastly, what also looks unlikely is a workable solution — unless the political class stops playing politics with power.
2. In Northeast, air links shrinking (Infrastructure: Airways)
A Brief Look at the UDAN Scheme:
UDAN is an innovative scheme to develop the regional aviation market. It is a market-based mechanism in which airlines bid for seat subsidies.
This first-of-its-kind scheme globally will create affordable yet economically viable and profitable flights on regional routes so that flying becomes affordable to the common man even in small towns.
The scheme UDAN envisages providing connectivity to un-served and under-served airports of the country through revival of existing air-strips and airports. The scheme would be in operation for a period of 10 years.
UDAN has a unique market-based model to develop regional connectivity.
Interested airline and helicopter operators can start operations on hitherto un-connected routes by submitting proposals to the Implementing Agency.
The operators could seek a Viability Gap Funding (VGF) apart from getting various concessions.
All such route proposals would then be offered for competitive bidding through a reverse bidding mechanism and the route would be awarded to the participant quoting the lowest VGF per Seat.
The operator submitting the original proposal would have the Right of First Refusal on matching the lowest bid in case his original bid is within 10% of the lowest bid.
The successful bidder would then have exclusive rights to operate the route for a period of three years. Such support would be withdrawn after a three year period, as by that time, the route is expected to become self-sustainable.
The UDAN is likely to a give a major fillip to tourism and employment generation in the hinterland.
Through introduction of helicopters and small aircraft, it is also likely to significantly reduce travel timings in remote and hilly regions, as well as islands and other areas of the country.
Editorial Analysis:
It is important to note that the day Prime Minister Narendra Modi laid the foundation for the first civilian airport in Arunachal Pradesh, Jet Airways operated its last flight on the Guwahati-Aizawl route.
As a matter of fact, by withdrawing from Mizoram, Jet Airways joined an expanding list of flight operators that have suspended operation from new and existing routes in the geographically challenged northeastern region.
Critics have opined that this has undermined India's ambitious flagship regional connectivity scheme UDAN, an acronym for the Hindi phrase Ude Desh ka Aam Naagrik meaning 'let the common man fly.'
Why was the flight terminated?
Mizoram's Lengpui Airport, 32 km from the capital Aizawl, took a little more than two years to be completed in February 1998.
It soon became the busiest airport in the region after the ones in Assam's Guwahati, Manipur's Imphal and Tripura's Agartala.
However, the airlines began withdrawing operations for reasons such as safety, maintenance and viability.
If an accident made Northeast Shuttles stop its Cessna flights in 2011, losses made Kingfisher Red withdraw a year later in 2012.
Air India ended its Guwahati-Aizawl flights as did SpiceJet in less than a year after its inaugural flight in October 2016.
Jet Airways, once the only private airline flying to and from northeastern India, withdrew from Aizawl on February 10.
The airline attributed it to non-viability of the route because of fuel price rise, a depreciating rupee and a difficult pricing environment.
Is only Mizoram affected?
Jet Airways withdrew from Imphal and Assam's Silchar and Jorhat, along with Aizawl. Much before the first round of UDAN was launched in April 2017, private airlines had withdrawn from Nagaland's Dimapur.
The Hyderabad-based Air Deccan, which won exclusive rights in the UDAN bidding to connect Meghalaya capital Shillong to Aizawl, Agartala, Silchar, Dimapur and Imphal, operated only 10 flights to Agartala and Dimapur in May 2018.
The Delhi-based Zoom Air operated between Assam's Tezpur and Kolkata for only three months, till July 2018, before withdrawing owing to "technical issues."
And from September 1, 2018, SpiceJet suspended its operation from Agartala, six years after Jet Airways and a few other small airlines had withdrawn.
Has the demand gone down?
Viability is often cited by airliners, despite a passenger occupancy rate of 60-70% in most flights, and more people in the region flying than ever before.
While some of the smaller airports have flights connecting Kolkata and Delhi, the withdrawal of service to and from Guwahati — the hub of communication — is expected to affect tourism, a sector that has capitalised on peace in the region.
Further, Airliners and the Airports Authority of India (AAI) agree that the passenger volume has doubled in the last five-six years from Guwahati and other popular airports in the region. But improved road and rail connectivity, they said, have become a bane for smaller airports.
For instance, a two-hour drive brings a passenger from Shillong and an overnight train trip brings one from Dimapur to Guwahati.
Where is connectivity headed?
The Ministry of Civil Aviation announced the opening of 92 air routes in the region in the second round of UDAN in November 2017.
Bidders snapped up six airports – Rupsi, Jorhat, Lilabari and Tezpur in Assam, and Tezu and Pasighat in Arunachal Pradesh — and 12 routes, of which only two are operational.
In May 2018, Air India started a flight between Guwahati and Pasighat in Arunachal Pradesh with VIPs, including Chief Minister Pema Khandu, on board.
The militarily strategic airport of Pasighat, which allows Sukhoi 30 to land and take off, has had very few civilian flights.
AAI officials say UDAN, in its current form, is difficult for smaller airliners to sustain.
Aviation experts say the scheme has not been able to add wings because it is aimed more at reaping political benefits than increasing connectivity.
Furthermore, it does not have enough incentives for airlines to ignore the issue of viability.
F. TIDBITS
1. Modi to inaugurate National War Memorial on February 25
The National War Memorial (NWM) which pays homage to soldiers who laid down their lives for the country post-Independence is all set to be inaugurated by Prime Minister Narendra Modi on February 25.
The NWM is being constructed at the 'C' Hexagon near India Gate and the National War Museum at Princes Park Complex Gate in memory of about 22,500 Indian soldiers who laid down their lives for the country in the post-Independence period.
Once inaugurated, the NWM will be used for guard of honour for all national events and India Gate which houses the Amar Jawan Jyoti [AJJ] will be used for regimental events and visiting dignitaries.
The AJJ at India Gate which represents the 'unknown soldier' is currently accorded guard of honour on important occasions to pay homage to the soldiers who sacrificed their life in service of the nation. India Gate was built to honour the soldiers who lost their lives during the First World War.
The inauguration of the NWM was earlier scheduled for January 25 but was postponed by the government citing pending work. Some officials said it was also to avoid any protocol issues and any unnecessary controversy arising out of it during the Republic Day celebrations.
The Union Cabinet accorded approval for the NWM, a long-term demand, on October 7, 2015, with a tentative timeframe of five years for completion of the project.
G. Prelims Facts  
1. The Table that defines chemistry turns 150
Context
The majestic table of elements that hangs on the walls of chemistry classrooms across the world has turned 150 years old in 2019.
The United Nations General Assembly and UNESCO have decided to celebrate 2019 as the "International Year of the Periodic Table of Chemical Elements (IYPT2019)".
Periodic Table and Mendeleev
The Periodic Table of Elements was written by Dmitri Ivanovich Mendeleev on 17th February 1869.
Mendeleev was not the first one to create a table of elements. Earliest of such efforts was due to the father of modern chemistry, Antoine Lavoisier in 1789 who classified them in terms of their properties. John Newlands introduced the concept of octaves in chemistry, wherein properties repeat for every eighth element. There were other attempts too. However, the proposal of Mendeleev was unique.
Mendeleev's finding was that the elements, if arranged according to their atomic weights, exhibit an evident stepwise variation of properties. Today, all the 118 elements are put in the periodic table based on the periodic law.
Mendeleev put emphasis on chemical properties. As a result, in a few cases systematically increasing atomic weights did not match well with chemical properties. He hesitatingly placed tellurium before iodine with a question mark, although tellurium is heavier than iodine. Today we know that his placing was indeed justified.
The element 101 is named as Mendelevium (Md). Although narrowly missed the Nobel Prize of 1906, he became one of the 15 scientists to be remembered with an element, a more illustrious recognition considering that 181 have won a Nobel Prize in chemistry so far.
H. UPSC Prelims Practice Questions
Question 1.Consider the following statements about Payments Bank

It can advance loans but can't issue credit cards.
It can accept demand deposits.
Payment bank was established in India on the recommendation of Nachiket Mor Committee.
Which of the above statement(s) is/ are correct?
Only 1 and 2
Only 2 and 3
Only 1 and 3
All of the above
See
Question 2. Consider the following statements about the Extension for Community Healthcare 
Outcomes (ECHO) 
It is a concept of weekly or fortnightly virtual clinics that use teleconferencing to bridge the gap in healthcare resources by using the best specialists to reach out to underserved areas.
Unlike telemedicine, ECHO clinics do not provide care directly to patients.
Which of the above statement(s) is/ are correct?
Only 1
Only 2
Both 1 and 2
None of the above
See
Question 3. Transformative Carbon Asset Facility (TCAF) was launched by?
World Bank
UN-Environment
Green Climate Fund (GCF)
Vulnerable Twenty (V20)
See
I. UPSC Mains Practice Questions
Air pollution is a serious issue in India and many of the world's most polluted cities are from India. Air pollution is not only a problem in Metropolitan or big cities but also in small cities, towns and even villages. In this context examination the reasons for the air pollution India and suggest some innovative measure to face the challenges of air pollution (12.5 Marks; 200 words)
The government has introduced Constitution (125th Amendment) Bill in Rajya Sabha to increase the financial and executive powers of the 10 Autonomous Councils in the Sixth Schedule areas of the northeastern region. The amendment will impact one crore tribal people in Assam, Meghalaya, Tripura and Mizoram. In this context write a note on Autonomous Councils by highlighting their significance(12.5 Marks; 200 words)
See previous CNA