TABLE OF CONTENTS
A. 

GS1 Related




B. 

GS2 Related


POLITY AND GOVERNANCE
1. Why only bureaucrats on information panels, asks SC
INTERNATIONAL RELATIONS
1. India revokes Pak.'s MFN status day after terrorist strike in J&K
2. Trump declares emergency to build border wall


C. 

GS3 Related 


SCIENCE AND TECHNOLOGY
1. Gaganyaan's review panel to meet in March
2. Antibiotic-resistant NDM-1 gene found in pristine Arctic


D. 

GS4 Related




E. 

Editorials


INTERNATIONAL RELATIONS
1. Heralding a new dawn
2. Pulwama attack: Most Favoured Nation status withdrawn, how Pakistan's economy will be hurt


F. 

Tidbits




G. 

Prelims Facts


1. Vande Bharat: India's fastest train takes off


H. 

UPSC Prelims Practice Questions




I. 

UPSC Mains practice Questions



A. GS1 Related
 Nothing here today!!!
B. GS2 Related
Category: POLITY AND GOVERNANCE
1. Why only bureaucrats on information panels, asks SC
Context
The Central Information Commission (CIC) and State Information Commissions, the country's apex bodies entrusted to uphold the citizen's fundamental right to information, have been bastions of government employees and their retired counterparts.
This "strange phenomenon" was exposed in a 52-page judgment pronounced by a Supreme Court Bench of Justices A.K. Sikri and S. Abdul Nazeer.
Details of the Report
The apex court found that "official bias" in favour of bureaucrats and government employees was evident from the very beginning of the process for appointment of Chief Information Commissioners and Information Commissioners. In fact, the selection committee, which shortlists candidates for appointment, is itself composed of government employees.
The Right to Information Act of 2005 itself requires people from varied domains to man the Commissions.
The 2005 law was enacted to ensure accountability in governance. The Commissions are meant to be the law's eyes and hands to provide information to ordinary people.
The apex court directed the government to look beyond bureaucrats and appoint professionals from "all walks of life," including eminent persons with wide knowledge and experience in law, science and technology, social service, management, journalism as Information Commissioners.
The Supreme Court concluded that the entire RTI mechanism has been choked by rising pendency and growing number of vacancies of Information Commissioners.
The Supreme Court has, for the first time, put the government on a deadline as far as filling vacancies in the Commissions. The court directed that the process of appointment should commence at least one or two months before the retirement is due.
Central Information Commission (CIC)
CIC was established in 2005 by Central Government under provisions of Right to Information (RTI) Act (2005).
The Chief Information Commissioner heads the Central Information Commission.
The general superintendence, direction and management of affairs of Commission are vested in Chief Information Commissioner who is assisted by Information Commissioners.
CIC hears appeals from information-seekers who have not been satisfied by the public authority, and also addresses major issues concerning the RTI Act.
CIC submits annual report to Union government on the implementation of the provisions of RTI Act.
The central government inturn places this report before each house of Parliament.
The Chief Information Commissioner and Information Commissioners are appointed by the President on the recommendation of a committee consisting of – The Prime Minister, who shall be the Chairperson of the committee; the Leader of Opposition in the Lok Sabha; a Union Cabinet Minister to be nominated by the Prime Minister.
Functions and Powers of CIC
It can order inquiry into any matter if there are reasonable grounds.
It can secure compliance of its decisions from the public authority.
It can recommend steps to be taken for promoting such conformity, if public authority does not conform to provisions of RTI Act.
It receives and inquires into a complaint from
It examines any record which is under control of the public authority and which may be withheld from it on any grounds during the enquiry. While inquiring, it has powers of civil court
Category: INTERNATIONAL RELATIONS
1. India revokes Pak.'s MFN status day after terrorist strike in J&K
Context
India has revoked the Most Favoured Nation (MFN) status of Pakistan (bestowed in 1996) and warned of more measures in response to its support for terrorist groups targeting India.
While Prime Minister Narendra Modi asserted that those responsible for the terrorist attack in Jammu and Kashmir would be given a "befitting reply," the Opposition rallied behind the government in a show of solemn unity.
What does Most Favoured Nation mean?
While the term suggests special preference for the country given MFN status, it actually means it would be treated equally as all others.
According to the World Trade Organisation rules, countries cannot normally discriminate between their trading partners.
If one country is granted a trade concession such as, for example, lower import duties, then all WTO members must be extended the same concessions. This principle is known as the Most Favoured Nation treatment. Despite repeated promises, Pakistan has never granted MFN status to India.
What does revoking MFN mean?
Revoking it means India can levy whatever import tariffs it wants. India can now make it very expensive for Pakistan to export its goods or services to India.
Will this hurt Pakistan?
So far, India has only revoked the MFN status. It has not altered the import duties on Pakistan. However, if it does hike them, then this will likely have an impact on that country.
That said, the scale of that impact is questionable. India's total trade with Pakistan stood at $2.4 billion in 2017-18, with just $488.56 million of this being imports from Pakistan, according to Commerce Ministry data.
2. Trump declares emergency to build border wall
Context
President Donald Trump formally declared a national emergency at the border to access billions of dollars to build a border wall that Congress refused to give him, transforming a highly charged policy dispute into a fundamental confrontation over separation of powers.
In a televised announcement in the Rose Garden, Mr. Trump said he was signing the declaration to protect the country from the flow of drugs, criminals and illegal immigrants coming across the southwestern border from Mexico, which he characterised as a profound threat to national security.
National Emergencies Act of USA
A president can declare a national emergency under the 1976 National Emergencies Act, which was passed in the aftermath of the Watergate crisis in an attempt to limit, not expand, executive power.
The act does not define what constitutes a "national emergency." But it does require the White House to put forward a legal justification for any emergency declaration and requires a congressional review every six months.
The National Emergencies Act (NEA) is a United States federal law passed to end all previous national states of emergency and to formalize the emergencies powers of the President.
The Act empowers the President to activate special powers during a crisis but imposes certain procedural formalities when invoking such powers.
The perceived need for the law arose from the scope and number of laws granting special powers to the executive in times of national emergency. Congress can undo a state of emergency declaration with either a joint resolution and the President's signature, or with a veto-proof (two-thirds) majority vote.
The legislation was signed by President Gerald Ford on September 14, 1976. As of February 2019, 59 national emergencies have been declared, and the United States is under 31 continuing declared states of national emergency.
The International Emergency Economic Powers Act, enacted in 1977, falls under the National Emergencies Act, which means that an emergency declared under that Act must be renewed annually to remain in effect.
Will the 'emergency' help to build the wall?
In theory it could. Following the declaration of a national emergency, military officials are empowered to divert funding and resources "essential to the national defense" including the "use of the armed forces".
So Trump could order the military to move money and troops around to address the emergency – in this case, Trump imagines, by building a wall.
But many analysts believe that the emergency declaration will not produce a wall, owing to the anticipated challenges in the courts and Congress. Or it will fail due to public outcry or perhaps to a breakdown in compliance somewhere in the chain of command, either on the part of military officials or Trump's own legal team.
Mexican border wall – Will it help the US?
Since his swearing-in as President, Trump is wasting no time in enforcing his numerous campaign promises. One such order is the use of federal resources to construct a Mexican border wall.
The border with Mexico is roughly 1,900 miles long and spans fours state: California, Arizona, New Mexico and Texas.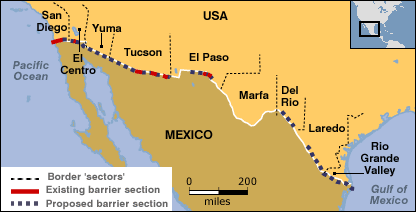 Trump's thinking is that a giant wall dividing Mexico and the United States will restrict illegal immigrants' entry into the country, as he feels the border patrol as it currently stands is weak and letting too many, as he puts it, "rapists" onto American soil.
Currently 652 miles of the 1,954-mile U.S. Mexico border has some amalgamation of walls, fences and other barriers. In areas closest to cities the wall has multiple layers. The wall is the weakest in more desolate areas and in some areas there is no wall at all. This is frequently because the terrain already provides a natural barrier, such as the widest parts of the Rio Grande River or steep mountain ranges.
Analysts believe the majority (possibly vast majority) of illegal immigrants enter America by air. There are two kinds of illegal immigration. President Trump's rhetoric focuses on "entries without inspection." But most illegal immigrants actually arrive in America with a visa – and then simply don't leave. These are called "overstays."
Also, the states where illegal immigration is growing are not on the Mexican border. The states with rising illegal immigration are Washington, Pennsylvania, New Jersey, Virginia, Massachusetts and Louisiana. Texas, New Mexico and Arizona have seen no significant, measurable increase in illegal immigrants. And California, Nevada, Illinois, Alabama, Georgia and South Carolina have seen their illegal immigrant population decline.
A border wall does not address the growth of illegal immigrants, as to the extent illegal immigrants are working in the U.S. they are clearly not in the border states.
Besides, the number of illegal immigrants living in the U.S. is actually declining. There are more Mexicans returning to live in Mexico than are illegally entering the U.S. Between 2009 and 2014 over 1 million illegal Mexican immigrants willingly returned to Mexico where working conditions had improved and they could be with family.
Americans also seem divided by the wall. According to a poll 47% of voters support building a wall, with 45% against. Critics say the wall proposal is pointless because, among other things, most drugs smuggled into the United States pass through legal entry points and are not transported through the desert.
The US-Mexico border region is a delicate ecosystem with regular animal and bird migrations moving between the north and south of the American continent. A number of species need to cross the border to mate with their genetically different cousins, including the endangered North American jaguar and black bears, which would be threatened without being able to mate with Mexican bears.
If the main intention is to stop illegal border immigrants into the U.S., the best (and least costly) policy would be to cooperate with Mexico to capture these immigrants as they flee Central America and find a solution for either housing them in Mexico or returning them to their country of origin. It is ridiculous to expect Mexico to pay for a wall when it is not Mexico's citizens creating the purported illegal immigration problem on the border.
If the administration would like to stop illegal immigration the best way is to help Mexico create more high-paying jobs (say with a trade deal like NAFTA) so they don't come to America, and those in America simply choose to go to Mexico.
C. GS3 Related
Category: SCIENCE AND TECHNOLOGY
1. Gaganyaan's review panel to meet in March
Context
A national review committee on Gaganyaan is slated to meet for the first time on March 5 and 6 and comprehensively scan the contours of the first Indian human mission to space.
The Indian Space Research Organisation (ISRO) wants to unveil the human mission's details to stakeholders from multiple agencies, and also keep the nation in the loop about the prestigious mission, K.Sivan, ISRO Chairman and Secretary, Department of Space, said. He added, "It should also give us the confidence that we are on the right track with such a humongous project."
Gaganyaan
Gaganyaan is an Indian crewed orbital spacecraft intended to be the basis of the Indian human spaceflight program.
The spacecraft is being designed to carry three people, and a planned upgraded version will be equipped with rendezvous and docking capability.
In its maiden crewed mission, Indian Space Research Organization's largely autonomous 3.7-tonne capsule will orbit the Earth at 400 km (250 mi) altitude for up to seven days with a three-person crew on board.
The crewed vehicle is planned to be launched on ISRO's GSLV Mk III in 2022. This HAL-manufactured crew module had its first uncrewed experimental flight in 2014.
Challenges of the Gaganyaan
A manned space mission is very different from all other missions that ISRO has so far completed.
In terms of complexity and ambition, even the missions to the Moon (Chandrayaan) and Mars (Mangalyaan) are nowhere in comparison.
For a manned mission, the key distinguishing capabilities that ISRO has had to develop include the ability to bring the spacecraft back to Earth after flight, building a spacecraft in which astronauts can live in Earth-like conditions in space
Over the years, ISRO has successfully tested many of the technologies that are required. However, many other challenging ones are still to be developed and tested.
2. Antibiotic-resistant NDM-1 gene found in pristine Arctic
Context
The recent detection of the antibiotic resistant (AR) gene NDM-1, first isolated in India, in the Arctic region is a further indication of the globalisation of antimicrobial resistance, said a study.
The research was conducted in the High Arctic zone (Kongsfjorden region of Svalbard) and scientists were surprised to find a rather robust presence of NDM-1, according to Clare McCann, principal author of the study.
Details of the issue
A superbug, also called multi-resistant, is a bacterium that carries several resistance genes. These are resistant to multiple antibiotics and are able to survive even after exposure to one or more antibiotics.
Like any living organism, bacteria can mutate as they multiply. Also like any living organism, bacteria have a strong evolutionary drive to survive. So, over time, a select few will mutate in particular ways that make them resistant to antibiotics. Then, when antibiotics are introduced, only the bacteria that can resist that treatment can survive to multiply further, proliferating the line of drug-resistant bugs.
The discovery of antibiotics less than a century ago was a turning point in public health that has saved countless lives. Although antibiotic resistance develops naturally with normal bacterial mutation, humans are speeding it up by using antibiotics improperly. According to a research, now, 2 million people a year in the US develop antibiotic-resistant infections, and 23,000 of them die of those infections.
Basically, superbugs are becoming more powerful and widespread than ever. Medical experts are afraid that we're one step away from deadly, untreatable infections, since the mcr-1 E.coli is resistant to that last-resort antibiotic Colistin. Antibiotic-resistance is passed relatively easily from one bacteria to the next, since it is transmitted by way of loose genetic material that most bacteria have in common.
The World Health Organization (WHO) is afraid of a post-antibiotic world, where loads of bacteria are superbugs. Already, infections like tuberculosis, gonorrhea, and pneumonia are becoming harder to treat with typical antibiotics.
Way Forward
First step would be to limit antibiotic use. If a patient has a virus, for instance, an antibiotic won't work, so doctors shouldn't prescribe antibiotics even if the patient insists.
When patients do need antibiotics, it's important to make sure they take the full course to kill off every last infection-causing germ. Otherwise the strong survive, mutate, and spread. As a society, curbing antibiotic use in healthy animals used in human food production is another important step.
D. GS4 Related
 Nothing here today!!!
E. Editorials
Category: INTERNATIONAL RELATIONS
Editorial Analysis:
Why in the news?
Saudi Crown Prince Mohammed bin Salman visits India in the month of February, 2019 at a time when both countries are seeking to deepen bilateral cooperation.
Significance of the Visit: A Saudi Perspective:
For Crown Prince Mohammed bin Salman, the visit to India, Pakistan, China, Malaysia and Indonesia is an opportunity to re-assert Saudi Arabia's role as a major foreign policy player in Asia amid growing criticism over the Yemen war and the brutal assassination of journalist Jamal Khashoggi in Istanbul.
Significance of the Visit: An Indian Perspective:
For the government of Prime Minister Narendra Modi, the visit, with general elections approaching, is an opportunity to cap its pursuit of stronger ties with West Asian nations on a high note.
Nature of Visits (Saudi-India):
High-level visits between India and Saudi Arabia have become the new normal since King Abdullah came to India in 2006, the first Saudi monarch to do so in five decades.
Four years later, Prime Minister Manmohan Singh travelled to Riyadh. Mr. Modi visited Riyadh in 2016; last year, he met Crown Prince Mohammed bin Salman in Argentina on the sidelines of the G-20 summit at a time when the Crown Prince had already come under sharp criticism in many Western countries.
A number of factors have influenced the turnaround in ties between the two countries, which had been underwhelming during the Cold War.
When India's economy started growing at a faster clip post-liberalisation, its dependence on energy-rich nations grew. And Saudi Arabia was a stable, trusted supplier of oil.
Further, Post-9/11, the two have expanded the scope of their partnership to economic issues and fighting terrorism.
What is expected in the upcoming visit?
Crown Prince Mohammed bin Salman is expected to announce Saudi investments in both India and Pakistan.
Saudi Arabia, which has traditionally exercised great influence over Pakistan, had recently offered a $6 billion loan to Islamabad to stabilise the economy.
In India, Saudi Arabia and the UAE have acquired a 50% stake in a refinery complex in Maharashtra.
However, the project remains stalled amid protests against land acquisition, but it shows Saudi Arabia's interest to make long-term investments in India's energy sector.
Another subject that that will come up in bilateral talks is Iran.
Crown Prince Mohammed bin Salman has made containment of Iran his top foreign policy priority, and has U.S. support in this pursuit.
It is also important to point out that India is certain to come under U.S. pressure to cut oil imports from Iran: it has so far walked the tightrope between Saudi Arabia and Iran.
Even as its ties with the Kingdom improved over the past decade, India deepened its engagement with Iran, be it on oil trade or the Chabahar port.
This is driven by the conviction that while Saudi Arabia is vital for India's energy security, Iran is a gateway to Central Asia.
In conclusion, India is sure to continue this balancing act even as it seeks to strengthen the Saudi pillar of India's West Asia policy.
Brief Historical Background:
In April 2016, under the leadership of the Custodian of the Two Holy Mosques, King Salman bin Abdulaziz Al Saud, and Crown Prince Mohammed bin Salman, the Kingdom of Saudi Arabia gave itself a goal and a promise in the form of Vision 2030.
The Saudi citizen has become the focal point for sustainable development with massive projects directed towards building a vibrant society, a thriving economy and an ambitious nation.
The entire foundation of Saudi Arabia's economy is being transformed towards a post-oil age with the aim of attracting $427 billion in private investments over the next decade to diversify the economy and create 1.6 million new jobs through the National Industrial Development and Logistics Programme.
Powered by reforms:
According to World Bank's 'Doing Business 2018' report, Saudi Arabia has instituted the largest number of business reforms among countries in the Middle East and North Africa (MENA) region as of July 2017.
Further, with its platform Meras, starting a business in the Kingdom of Saudi Arabia now requires only one step and one day!
Brief Note on the Meras Platform:
The Meras platform is an e-government initiative to enhance the private sector's role in the Saudi market.
The initiative aims to help Saudi business owners to understand the process of establishing their business in Saudi Arabia.
It is a gateway that provides businesses with e-services, by collecting all the important links in one place.
These links direct the user immediately to the appropriate government website, thereby saving effort and time.
Thus, business owners will be able to manage their business registrations and complete them through one single platform.
FASAH is Saudi Arabia's national platform which connects all government and private entities involved in cross border trade.
The single-window platform Fasah has also been launched for customs clearance and import and export procedures.
A Closer Look at Saudi Arabia:
The 'Doing Business 2019' report has ranked Saudi Arabia as the fourth-largest reformer within the G20.
In 2018, Saudi Arabia saw foreign direct investment rise by 127% year-on-year.
Further, it is important to note that Global confidence in Saudi Arabia's ascent has further solidified with the International Monetary Fund forecasting increased growth for Saudi Arabia in July 2018.
The Kingdom's construction market is set to touch $96.52 billion in 2025, up from $45.33 billion in 2016.
There are three giga-projects underway — smart city project Neom, Qiddiya entertainment city and the Red Sea Tourism Project.
In 2018, FekraTech, which a national initiative for digital ideas, aimed at making Saudi Arabia a global innovation hub was also launched.
The Saudi Intellectual Property Authority is also working towards transforming Saudi Arabia into an advanced knowledge-based economy built on innovation and entrepreneurship.
A $100 billion planned investment in transport projects will also occur over the next decade as Saudi Arabia expands the railway system and introduce new light rail mass transit projects in Riyadh, Jeddah, Makkah and Madinah.
The grand expansions of the Holy Mosque in Makkah and the Prophet's Mosque in Madinah have increased their capacity for accommodating millions of worshippers.
Vision 2030:
One of the most important goals of the Vision 2030 is to increase Saudi Arabia's capacity to welcome 30 million Umrah performers every year by 2030, improve their experience and enrich it further.
Since a majority of the Kingdom's population is below the age of 30, education is a key component of Vision 2030. Over the decades, Saudi Arabia's education system has gone through an astonishing transformation.
Due to generous scholarships from the Kingdom, a large number of Saudi students study overseas.
By 2030, the Kingdom intends to have at least five Saudi universities among the top 200 in international rankings. Education reforms have also led to an increase in women's literacy and participation in the workforce.
Further, with the Kingdom at the heart of the Arab and Islamic world, the changes taking place on the Saudi soil are creating positive influences for the entire Arab region.
Saudi Arabia remains committed to the social, economic and political stability of the region and will continue playing a leading role in countering terrorism and establishing peace as demonstrated by the Kingdom's contribution towards the historic peace accord signed between Ethiopia and Eritrea in Riyadh in 2018.
Saudi Arabia continues to stand by its Yemeni brothers and support the Palestinian cause. It is Saudi Arabia's dream of a peaceful, progressive and a prosperous world.
Perspective on India-Saudi Relations:
In the common pursuit for development and stability, Saudi Arabia sees India as an important partner.
Saudi-India ties trace its roots to the third millennium BC.
Trade, science, arts, literature, languages — the links between India-Saudi Arabia has been civilisational.
India holds a special place for Saudi Arabia.
Nearly 3 million Indians form the largest expatriate community in the Kingdom.
India has also seen its Haj quota of 1,36,020 increase consecutively during the last two years to a record 1,75,025.
India and Saudi Arabia have more opportunities today to tap into than ever before.
The bilateral trade for 2017-18, in excess of $27 billion, will accelerate as Saudi Arabia and India engage in a host of new areas such as information and communications technology (ICT), health care, defence, biotechnology, education and infrastructure among others.
India is one of the top countries on the Kingdom's preferred list with great potential for investment in organic and food processing industries.
Expanding cooperation
The energy partnership between the two countries is also finding new grounds.
As of October 2018, Saudi Aramco has nearly $2 billion in material-service sourcing with Indian companies, and investing in India's value chain from oil supply, marketing and refining to petrochemicals and lubricants is a key part of its global downstream strategy.
The $44 billion integrated refinery and petrochemicals complex at Ratnagiri in Maharashtra, being jointly developed by Saudi Aramco, Abu Dhabi National Oil Company (ADNOC) and a consortium of Indian public sector units (PSUs) consisting of Indian Oil Corporation Limited (IOCL), Bharat Petroleum Corporation Limited (BPCL) and Hindustan Petroleum Corporation Limited (HPCL), is yet another milestone.
Crown Prince Mohammed bin Salman met Prime Minister Narendra Modi in November 2018 on the sidelines of the G20 summit and both sides agreed to set up a high-level mechanism to boost concrete actions in terms of investment, technology and manufacturing across various sectors.
Concluding Remarks:
In conclusion, as formidable economies of MENA and Asia, Saudi Arabia and India have a historic opportunity to collaborate in shaping the future of our regions, for a better tomorrow full of prosperity and promise.
Combining the respective strengths of Saudi Arabia and India will pave the way for endless possibilities and accomplishments for the benefit of our two peoples and the region.
The forthcoming state visit of the Crown Prince to India presents another historic opportunity to expand collaboration between our two friendly nations.
2. Pulwama attack: Most Favoured Nation status withdrawn, how Pakistan's economy will be hurt
Note to Students:
This editorial analysis takes into account two articles published in the Indian Express around the recent terror strikes in Jammu and Kashmir's Pulwama district. These articles are as follows, "Pulwama attack: Most Favoured Nation status withdrawn, how Pakistan's economy will be hurt", and "Pulwama attack: Like Iran, why India must be wary of Pakistan-aided US-Taliban talks".  
Editorial Analysis:
Less than 24 hours after the terror attack in Jammu and Kashmir's Pulwama district, India withdrew the Most Favoured Nation (MFN) status accorded to Pakistan.
While the withdrawal of the MFN status by India is negative in sentiment terms for the bilateral relations, the impact on trade is unlikely to be substantial given that volumes of merchandise trade are low.
In fact, India continues to maintain a substantial trade surplus, despite the fact that Pakistan is yet to transition fully to MFN status for India.
Pakistan's exports to India have consistently been about a fourth of what it imports from India, the MFN concessions notwithstanding.
What is Most Favoured Nation (MFN) status?
Article 1 of General Agreement on Tariffs and Trade (GATT), 1994, requires every WTO member country to accord MFN status (or preferential trade terms with respect to tariffs and trade barriers) to all other member countries.
Accordingly, India accorded MFN status to all WTO member countries, including Pakistan, from the date of entry into force of the so called Marrakesh Agreement, establishing the WTO.
The WTO is the only global international organisation dealing with the rules of trade between nations and the 164 member countries of the WTO represent 98 per cent of world trade.
Only a handful of very small countries are out of the WTO.
The primary purpose of the WTO is to open trade for the benefit of all. In that sense, "most favoured" sounds like a contradiction. But even though it suggests special treatment, in the WTO it actually means non-discrimination — that is treating virtually everyone equally. In effect, then, every WTO member is supposed to be"most favoured" for all other WTO members.
In accordance with the MFN principle and its obligations under the WTO, India accorded Pakistan MFN status in 1996. However, Pakistan is yet to transition fully to MFN status for India and it maintains a Negative List of 1,209 products that are not allowed to be imported from India. In addition, Pakistan permits only 138 products to be imported from India through Wagah/Attari border land route.
Despite these restrictions, India continues to maintain a substantial trade surplus with Pakistan. 
Controversy over reciprocal status for India:
On November 2, 2011, the Pakistani cabinet decided formally to accord India MFN status. But that decision remains unimplemented.
In March 2012, Pakistan substituted a "Positive List" of a more than 1,950 tariff lines permitted for import from India, by a "Negative List" of 1,209 lines that could not be imported.
This meant that the default setting had moved from 'no import' to 'import', and instead of listing only items that could be bought from India, Pakistan had listed items that could not be bought, with everything else allowed. But this was still not the same as according India MFN status.
This intransigence has periodically triggered anger in India, and demands have been raised, especially during times of heightened tensions and terrorist attacks sponsored by Pakistan, to withdraw the MFN status that New Delhi has granted to Islamabad. India had not, however, taken that step so far.
Despite the bilateral ups and downs, the MFN status accorded by India was not touched.
It is important to note that as late as December 19, 2018, in response to a query in Rajya Sabha on the withdrawal of MFN status to Pakistan, the junior Commerce and Industry Minister had told Rajya Sabha in a written reply: "No decision has been taken to review the MFN status accorded to Pakistan, so far.."
Perspective on India-Pakistan trade:
India's trade numbers with Pakistan are minuscule. Trade between the neighbours jumped nearly three-and-a-half times between 2000-01 and 2005-06 (from $251 million to $869 million per annum), but progress was slower in the decade that followed, with volumes rising a little over three times.
India's trade with much smaller Bhutan is over half that with Pakistan (In 2016, total India-Bhutan bilateral trade was Rs 8,723 crore; with Pakistan, it was around Rs 17,200 crore.) Back in 2007, the Indian Council of Research on International Economic Relations (Icrier) had projected a bilateral trade potential of $11.7 billion (Rs 46,098 crore), if both neighbours took proactive measures to exploit untapped areas of economic cooperation. But in FY17, India-Pakistan trade was a mere $2.29 billion, or about 0.35% of India's overall trade.
It is important to note that in the 7th round of Commerce Secretary level talks with Pakistan, held in September 2012 in Islamabad, a roadmap was agreed for facilitating trade, identifying several actions to be taken by both the countries in a time-bound manner.
The agreed roadmap could not be implemented since Pakistan did not notify the removal of trade restrictions through Wagah-Attari land route (which was the first step identified in the roadmap).
The Commerce Ministers of India and Pakistan met in January 2014 on the sidelines of the 5th SAARC Business Leaders Conclave held at New Delhi.
Then in the meeting between Prime Ministers of India and Pakistan on 27th May 2014, India stated that the two countries could move immediately towards full trade normalisation on the basis of September 2012 roadmap worked out between the Commerce Secretaries of both countries.
No bilateral trade meeting between India and Pakistan has taken place since then.
Pakistan's Prime Minister Imran Khan has repeatedly spoken of improving trade with India, arguing that "the best way to alleviate poverty and uplift the people of the subcontinent is to resolve our differences through dialogue and start trading".
Move to withdraw the MFN status:
Union Finance Minister Arun Jaitley in his first day of resuming office addressed the press following a Cabinet Committee on Securities meeting on 15th February, 2019 saying that the MFN status to Pakistan stands withdrawn.
The decision by India to withdraw MFN status to Pakistan is intended to isolate Pakistan diplomatically and squeeze the country's industry.
Possible impact on Pakistan's Economy: Post withdrawal of MFN Status:
Even though the low volumes of trade limit the impact that such a step can have, the stoppage of input materials such as chemicals and cotton from India will push up costs of production for the relevant Pakistani industries.
It would also give a push to the illegal trade between the two countries, which takes place through border gaps and via third countries.
It could also give a handle to extremist elements in Pakistan to scale up the rhetoric against India.
Examining the terror attack in Iran with that at Pulwama:
A day before the attack on a CRPF convoy at Awantipora, Pulwama in which at least 40 jawans of the paramilitary force were killed — there was an almost identical attack in Iran's Sistan-Balochistan province, which borders Pakistan.
While there are no apparent connections between the two, there is no denying that the two groups — Jaish ul Adl and Jaish-e-Mohammed – that have each claimed responsibility for the respective attack are ideologically linked.
Both have been mentored in Pakistan and both are based in Pakistan.
The Kashmir attack was claimed by the Jaish-e-Mohammad, a group that is known to operate from Bahawalpur in Pakistan, and that was set up under ISI patronage by Masood Azhar after his ISI-Taliban-negotiated release by India at Kandahar in return for the Air India IC 814 hostages in 1999.
In the Iran attack that the Jaish ul Adl claimed responsibility for, a suicide bomber rammed his explosive-laden car into a bus carrying troops of the Islamic Revolutionary Guard Corps, killing 27 and injuring several on the bus.
The Revolutionary Guard Corps is an elite arm of the Iran armed forces.
The attack took place near a town called Zahedan, close to the Iran-Pakistan border.
A Perspective on the Jaish ul Adl:
The Jaish ul Adl is a successor of the Sunni sectarian organisation Jundullah, which was hitting Iranian targets from bases in Balochistan.
After its leader Abdul Malik Riggi was captured by Iranian security forces and hanged in 2010, Jundullah remnants came together as JuA under the leadership of Mullah Omar (not the Taliban leader) and Salahuddin Farooqi, both shadowy figures about whom little is known.
Unlike separatist and nationalist Baloch militant groups in Pakistan, Jundullah, JuA and other extremist Sunni sectarian groups such as Sipah Rasoolallah target Shia Iran on religious grounds.
Sunni sectarian groups like Lashkar-e-Jhangvi, which operate in Pakistan's Balochistan target Shia minorities in the province and have also picked on other secular targets, have flourished in the region in the shelter provided by Afghan Taliban strongholds in and around Quetta.
Much like India has been asking Pakistan to shut down Jaish-e-Mohammed, Iran accuses Pakistan of sheltering the JuA and has repeatedly asked Islamabad to crack down against it.
In a thinly veiled statement after the attack, the Iranian foreign ministry said the group "receives military, financial and intellectual support from certain regional states", hinting both at Saudi and Pakistan backing for the group.
On 14th February, 2019, the same day as the attack in Kashmir, the Islamic Revolutionary Guard Corps (IRGC) Commander Mohammad Ali Jafari issued a statement vowing revenge for the attack on his troops.
He asked Pakistan to shut down all such groups targeting Iran, and said their actions were hurting Iran-Pakistan relations.
Concluding Remarks:
There is no overt connection between the Jaish-e-Mohammed and the Jaish-ul-Adl, but both are Sunni extremist groups, seen as closely linked to the Taliban.
The Indian security establishment believes the JuA is actually a front of the Lashkar-e-Taiba. and that both, LeT and JeM, are working with and learning from the Taliban, and the Haqqani network in Afghanistan.
That both JeM and JuA should deploy the well-known Taliban method of suicide car bombings points to the complex jihadist networks working to destabilise the region. Iran and India both have reason to be nervous about Pakistan-aided US-Taliban talks.
F. Tidbits
 Nothing here today!!!
G. Prelims Facts
1. Vande Bharat: India's fastest train takes off
Context
The inaugural trip of India's first semi-high speed train, Vande Bharat Express, was flagged off by Prime Minister Narendra Modi at the New Delhi railway station.
The train, named 'Train 18' at the concept stage, is a plush 16-coach, air-conditioned, self-propelled train set and doesn't have a locomotive.
Details of the Vande Bharat Express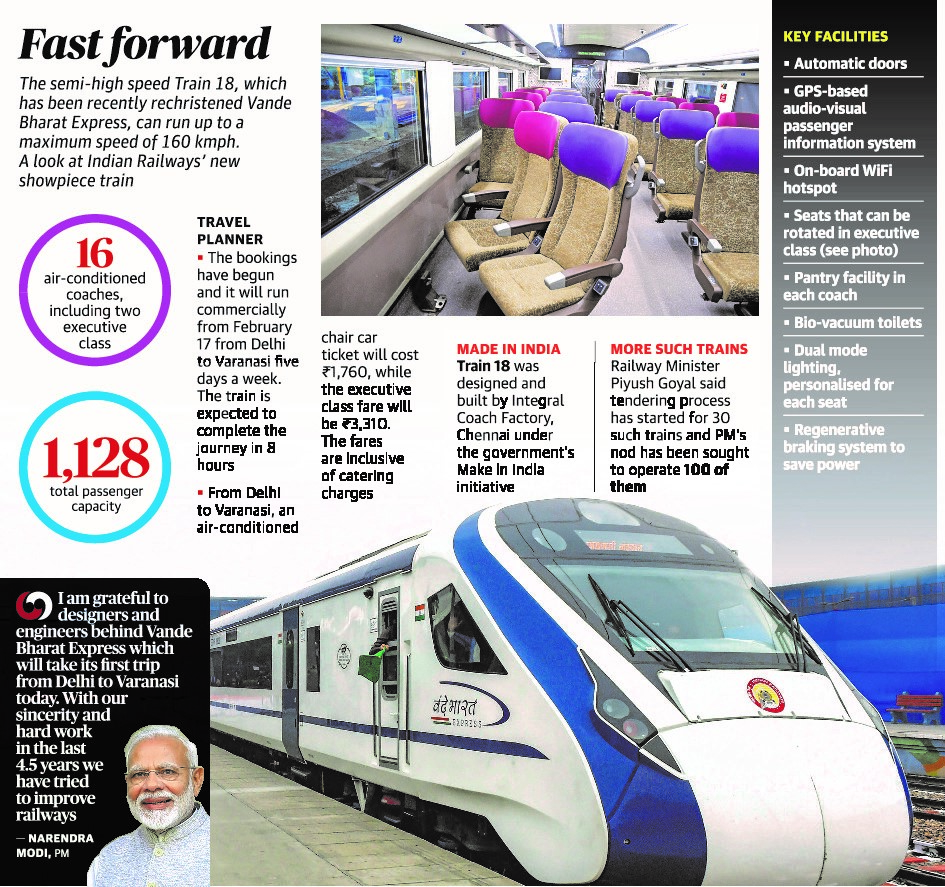 Train 18 or the Vande Bharat Express is regarded as a successor to the 30-year-old Shatabdi Express. Shatabdi was introduced in 1988 and is presently running on over 20 routes connecting metros with other important cities.
The Vande Bharat Express is set to run between Delhi and Varanasi at speed of 160 kmph. With this, the scheduled commute between New Delhi and Varanasi will take approximately 8 hours, making it 40-50 percent faster than the fastest train currently connecting these two cities.
Touted as the Next Generation Shatabdi Express, Vande Bharat Express is the first long-distance train without separate locomotive (engine) and is driven by a self-propulsion module.
It is capable of running at a speed of up to 160 kmph. It will cut travel time by 15 percent compared to the Shatabdi Express.
The train has been developed by the Chennai-based Integral Coach Factory (ICF) at an investment of nearly Rs 100 crore.
It has soft lighting, automatic doors, footsteps and GPS-based Passenger Information System.
It has intelligent braking system with power regeneration for better energy efficiency thereby making it cost, energy and environment efficient.
It also has provision of Divyang-friendly facilities.
   Nothing here today!!!
H. UPSC Prelims Practice Questions
Question 1.Supreme Court has recently set up a panel headed by retired SC Judge Amitava Roy 
Panel to look in to which one of the following matters?

Prison reforms and decongest crowded jails
Disqualification of MPs
Digital Payments
None of the above
See
Question 2. Consider the following statements about WAYU:
It is a device developed by ISRO
It is to address air pollution at high traffic zones, which have lot of buildings in the neighbourhood leading to restricted flow of air called "Street Canyon" effect.
Which of the above statement(s) is/are correct?
Only 1
Only 2
Both 1 and 2
None of the above
See
Question 3. The gates of Idukki dam in Kerala were recently opened after 26 years. This dam is 
on the river: 
Kabini
Valapattanam
Bharatapuzha
Periyar
See
I. UPSC Mains practice Questions
Dolphins have been included in Schedule I of the Indian Wild Life (Protection) Act 1972, in Appendix I of the Convention on International Trade in Endangered Species (CITES), in Appendix II of the Convention on Migratory Species (CMS) and categorised as 'Endangered' on the International Union for the Conservation of Nature's (IUCN) Red List. Explain the statement(12.5 Marks; 200 words)
An analysis by the Centre for Science and Environment has revealed that nearly half of India's waste-to-energy (WTE) plants, meant to convert non-biodegradable waste, are defunct. In this context, write a note on the solid waste management with special emphasis on the feasible and innovative strategies in the Indian context. (12.5 Marks; 200 words)
See previous CNA