TABLE OF CONTENTS
A. 

GS1 Related




B. 

GS2 Related


POLITY AND GOVERNANCE
1. Cabinet decides to strengthen northeast autonomous councils
2. Oral mentions in SC will soon be history
INTERNATIONAL ISSUES
1. Missile's range does not violate INF treaty: Russia


C. 

GS3 Related


ECONOMICS
1. Cabinet gives nod to set up GST Appellate Tribunal
SCIENCE AND TECHNOLOGY
1. ISRO to launch military satellite tonight


D. 

GS4 Related 




E. 

Editorials


POLITY AND GOVERNANCE
1. An electoral intervention that has clicked (Electronic Voting Machines)
2. A reckless experiment (Gene-Editing) 
3. Sedition and its discontents  (Section 124-A of the IPC)
ECONOMY
1. The gap within (Regional Inequalities)


F. 

Tidbits


1. India conducts 'largest coastal security drill'
2. Circadian rhythm


G. 

Prelims Facts


1. Two rhinos raised at Kaziranga find a new home at Manas


H. 

UPSC Prelims Practice Questions




I. 

UPSC Mains practice Questions



A. GS1 Related
  There is nothing from here for today!!
B. GS2 Related
Category: POLITY AND GOVERNANCE
1. Cabinet decides to strengthen northeast autonomous councils
Context
The Union Cabinet on Wednesday approved a constitutional amendment to increase the financial and executive powers of the 10 autonomous councils in the Sixth Schedule areas of the northeast.
Autonomous District Council
As per the Sixth Schedule, the four states viz. Assam, Meghalaya, Tripura and Mizoram contain the Tribal Areas which are technically different from the Scheduled Areas.
Though these areas fall within the executive authority of the state, provision has been made for the creation of the District Councils and regional councils for the exercise of the certain legislative and judicial powers.
Each district is an autonomous district and Governor can modify / divide the boundaries of the said Tribal areas by notification. Currently, there are ten such Councils in the region as listed below
Details of the proposed amendment
The amendment would impact a population of about 1 crore tribals living in Assam, Meghalaya, Tripura and Mizoram
The Finance Commission would be mandated to recommend devolution of financial resources to the councils, the government said in an official statement. Till now, the autonomous councils have depended on grants from Central Ministries and the State governments for specific projects.
As per the proposed amendment, at least one third of the seats would be reserved for women in the village and municipal councils in the Sixth Schedule areas of Assam, Mizoram and Tripura.
The amendment also provides for transfer of additional 30 subjects, including the departments of Public Works, Forests, Public Health Engineering, Health and Family Welfare, Urban Development and Food and Civil Supply to Karbi Anglong Autonomous Territorial Council and Dima Hasao Autonomous Territorial Council in Assam.
The proposed amendments provide for elected village municipal councils, ensuring democracy at the grass-roots level. The State Election Commissions would hold elections to the autonomous councils, village and municipal councils in the areas of Assam, Mizoram and

Tripura
2. Oral mentions in SC will soon be history
Context
The Supreme Court is drafting new guidelines that would help ensure that urgent cases automatically come up before a Bench for hearing within four days of their being filed, obviating the need for lawyers to appear before the Chief Justice of India to orally mention their cases for urgent listing.
The CJI added that if such cases did not come up for hearing, the lawyers concerned could make a mention before the Registrar to have their cases listed.
Details
Oral mentioning is a convention by which lawyers circumvent the long-winded filing procedures and make a direct appeal to the CJI, who is the court's administrative head and master of the roster, for early hearing.
The CJI takes a call on the spot, whether the case deserves to be heard out-of-turn. This would mean pushing other cases off the list. The CJI has often complained about how cases that were orally represented by a lawyer during mentioning, did not turn out to be urgent.
During the past few years oral mentioning has both sparked controversy and witnessed reform.
It was the oral mentioning of the Lucknow Medical College scam case before Justice (now retired) J.S. Chelameswar that triggered the row about the CJI's powers as 'master of roster.'
Justice Gogoi has repeatedly advised the Bar to be circumspect about orally mentioning cases, and to be careful that only absolutely urgent cases are brought before him. He reminded lawyers that the court cannot be seen to be wasting time when hundreds of death penalty cases are waiting for years to be heard.
Category: INTERNATIONAL ISSUES
1. Missile's range does not violate INF treaty: Russia
Context
Russian artillery Chief Mikhail Matveevsky told a briefing that the 9M729 missile's maximum range is 480 km.
The Intermediate-Range Nuclear Forces (INF) treaty bans missiles with a range above 500 km.
Intermediate- Range Nuclear Forces Treaty
The 1987 Intermediate-Range Nuclear Forces (INF) Treaty required the United States and the Soviet Union to eliminate and permanently forswear all of their nuclear and conventional ground-launched ballistic and cruise missiles with ranges of 500 to 5,500 kilometers.
The treaty marked the first time the superpowers had agreed to reduce their nuclear arsenals, eliminate an entire category of nuclear weapons, and utilize extensive on-site inspections for verification.
As a result of the INF Treaty, the United States and the Soviet Union destroyed a total of 2,692 short-, medium-, and intermediate-range missiles by the treaty's implementation deadline of June 1, 1991.
Despite its name, the INF Treaty covers all types of ground-launched

cruise and ballistic missiles — whether their payload is conventional or nuclear. Moscow and Washington are prohibited from deploying these missiles anywhere in the world, not just in Europe. However, the treaty applies only to ground-launched systems. Both sides are free to deploy air- and sea-launched missiles within the 500-to-5,500-kilometer range.
C. GS3 Related
1. Cabinet gives nod to set up GST Appellate Tribunal
Context
The Union Cabinet on Wednesday approved the creation of a National Bench of the Goods and Services Tax Appellate Tribunal (GSTAT), which would serve as the forum of second appeals to do with the applicability of GST, and will also be the first common forum of dispute resolution between the Centre and the States.
Details of the Tribunal
The National Bench of the Appellate Tribunal, to be situated in New Delhi, will be presided over by its president.
It will consist of a technical member from the Centre and a representative of the States.
Chapter XVIII of the CGST Act provides for an appeal and review mechanism for dispute resolution under the GST regime. Section 109 of this chapter empowers the Centre to constitute, on the recommendation of the GST Council, an appellate tribunal for hearing appeals against the orders passed by the Appellate Authority.
The government, it is learnt, was initially planning an appellate tribunal in each State. However, the idea was discarded in favour of one at the national level following the experience with the various state-level advance ruling authorities, which often gave conflicting judgments.
Goods and Services Tax (GST)
GST is a comprehensive indirect tax on manufacture, sale, and consumption of goods and services throughout India. GST would replace respective taxes levied by the central and state governments.
It is a destination-based taxation system. It has been established by the 101st Constitutional Amendment Act.
It is an indirect tax for the whole country on the lines of "One Nation One Tax" to make India a unified market.
It is a single tax on supply of Goods and Services in its entire product cycle or life cycle i.e. from manufacturer to the consumer.
It is calculated only in the "Value addition" at any stage of a goods or services.
The final consumer will pay only his part of the tax and not the entire supply chain which was the case earlier.
There is a provision of GST Council to decide upon any matter related to GST whose chairman in the finance minister of India.
Tax slabs are decided as 0%, 5%, 12%, 18%, 28% along with categories of exempted and zero rated goods for different types of goods and services.
Further, a cess would be levied on certain goods such as luxury cars, aerated drinks, pan masala and tobacco products, over and above the rate of 28% for payment of compensation to the States.
Category: SCIENCE AND TECHNOLOGY
1. ISRO to launch military satellite tonight
Context
Just before midnight on Thursday, Indian Space Research Organisation's first mission of 2019 will put into space a 130-kg military imaging satellite, Microsat-R.
Details of the launch
ISRO will launch a student satellite called 'Kalamsat' and an imaging satellite known as 'Microsat-R' on January 24, 2019, marking the first launch of the ISRO in 2019.
The Polar Satellite Launch Vehicle (PSLV-C44) will lift off the satellites from the spaceport Satish Dhawan Space Centre, Sriharikota, Andhra Pradesh.
This will be the 46th flight of PSLV. The 45th flight of PSLV-C43 had successfully launched 31 satellites from Sriharikota in November 2018.
Kalamsat Satellite
Kalamsat, prepared by a student, is a small satellite (10 x 10 x 10 cm) and is meant for HAM radio services. It has been developed by Space Kidz India and their team including Rifath Sharook, Srimathy Kesan, among others.
The student satellite 'Kalamsat' will be the first to use fourth stage (PS4) of the launch vehicle PSLV-C44 as an orbital platform.
Configuration of PSLV-C44
One of the specialties of the launch would be the configuration of the rocket.
This is the first time the launch vehicle is built in this configuration known as PSLV-DL.
It will carry only two strap-on motors by the sides of the first fuel stage at the bottom.
After parking the satellites in the intended orbits, the fourth stage of the rocket will be taken to a circular orbit in space for carrying out certain experiments by the scientists.
Normally, the fourth stage is kept deserted in space after the injection of the satellites. This time, it will be kept 'live' for carrying out innovative studies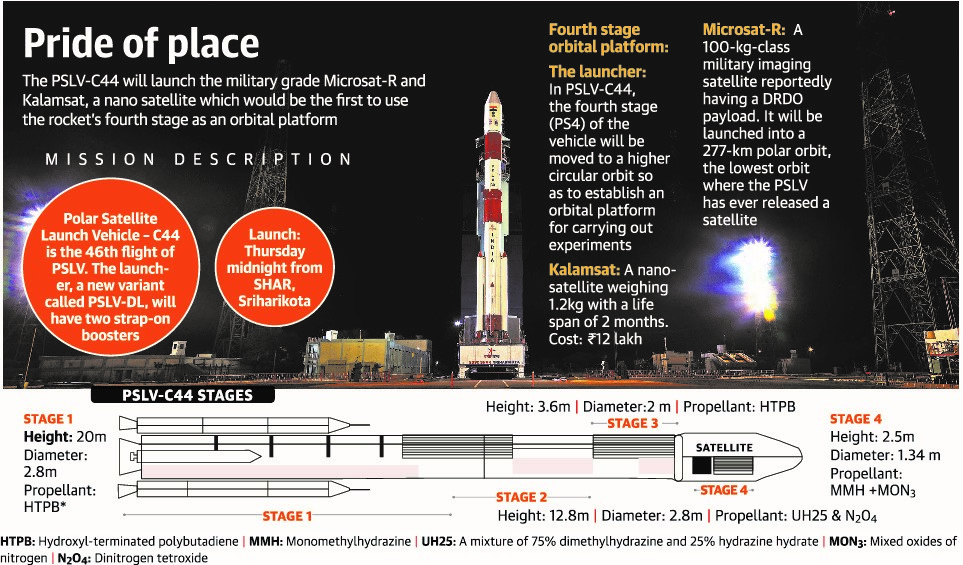 D. GS4 Related
 There is nothing from here for today!!
E. Editorials
Category: POLITY AND GOVERNANCE
1. An electoral intervention that has clicked (Electronic Voting Machines)
Note to Students:
The issue concerning electronic voting machines has been in the news for sometime now.
We at BYJU's have covered the topic on EVM's in detail in our YouTube video release. The link is as below:
A Brief Look at Security Features of EVM's: (These Clarifications have been given by the Election Commission)
What is meant by Tampering of EVM?

Tampering means alteration in the software program written either on existing microchips of Control Unit (CU) or introducing malicious software program by inserting new microchips in CU and also making keys – pressed in Ballot Unit (BU) not record faithfully in the Control Unit.
Can ECI-EVMs be manipulated by Manufacturers?
Not Possible.
There is very stringent security protocol at manufacturer level regarding security of software. The Machines have been manufactured in different years starting from 2006. After manufacturing, EVMs are sent to State and district to district within a State.

The manufacturers are in no position to know several years ahead which candidate will be contesting from a particular constituency and what will be the sequence of the candidates on the BU.

Also, each ECI-EVM has a serial number and the Election Commission by use of EVM – tracking software can find out from its database which machine is located where. So, any manipulation at manufacturing stage is ruled out.
 Can Trojan Horse be incorporated into the chip in CU?
Sequence of voting in EVM eliminates the possibility of injection of Trojan Horse as mentioned below. The stringent security measures by ECI make it impossible to introduce Trojan Horse in the field.

Once a ballot key is pressed in CU, the CU enables BU for registering the vote and waits for the key pressing in the BU.  During this period, all keys in the CU become Inactive till the entire sequence of casting of that vote is complete. Once any of the keys (candidates vote button) is pressed by a voter in BU, the BU transmits the key information to CU.  The CU gets the data and acknowledges it by glowing the corresponding LED lamps in BU. After the enabling of ballot in CU, only the 'first key press' is sensed and accepted by CU. After this, even if a voter keeps on pressing the other buttons that is of no use as there will not be any communication between CU and BU as the result of those subsequent key presses, nor will BU register any key press.  

To put it in other words, there can be only one valid key press (the first key press) for every ballot enabled using CU.  Once a valid key press (voting process) is complete, until another ballot enabling key press is made there will not be any activity between the CU and the BU.  Hence, sending of any malicious signal, by way of so called 'sequenced key presses', is impossible in the Electronic Voting Machines being used in the country.
Are Old model ECI- EVMs still in use?
M1 model of EVM machines were produced up to 2006  and were last used in 2014 General Elections. In 2014, EVM machines which completed 15 years of economic life and also because M1 were not compatible with VVPAT (voter-verified paper audit trail) , ECI decided to discontinue use of all M1 EVMs manufactured upto 2006. There is a Standard Operating Procedure laid down by ECI to discard EVMs. The process of destruction of EVM & its chip is carried out in the presence of Chief Electoral Officer of the state or his representatives inside the factory of manufacturers.
What are the latest technological features to make ECI-EVMs tamper proof?
The ECI-EVMs use some of the most sophisticated technological features like one time programmable (OTP) microcontrollers, dynamic coding of key codes, date and time stamping of each and every key press, advanced encryption technology and EVM-tracking software to handle EVM logistics, among others to make the machine 100% tamper proof.

In addition to these, new model M3 EVMs also have tamper detection and self-diagnostics as added features. Since, software is based on OTP the program cannot be altered, re-written or Re-read. Thus, making EVM tamper proof. If anyone make, attempt, the machine will become in operative.
Do the ECI-EVMs use foreign technology?
Contrary to misinformation and as alleged by some, India do not use any EVMs produced abroad.  EVMs are produced indigenously by 2 PSUs

viz.

Bharat Electronics Ltd., Bengaluru and Electronics Corporation of India Ltd., Hyderabad. The Software Programme Code is written in-house, by these two companies, not outsourced, and subjected to security procedures at factory level to maintain the highest levels of integrity. The programme is converted into

machine code

and only then given to the chip manufacturer abroad because we don't have the capability of producing semi-conductor microchips within the country.

Every microchip has an identification number embedded into memory and the producers have their digital signatures on them. So, the question of their replacement does not arise at all because microchips are subjected to functional tests with regard to the software. Any attempt to replace microchip is detectable and can make EVM in-operative. Thus, both changing existing programme or introducing new one are detectable making EVM in-operative.
What are the possibilities of manipulation at the place of storage?
At the district headquarters, EVMs are kept in a

double-lock system under appropriate security

.

Their safety is periodically checked

. The officers do not open the strong room, but they check whether it's fully protected and whether the lock is in proper condition or not.

No Unauthorized person can get access to the EVMs at any point of time.

During non election period, Annual Physical Verification of all EVMs is done by DEOs and report sent to ECI. Inspection & checking have recently been completed.
Why have Developed Nations like the US and European Union not adopted EVMs and some have discontinued?
Some countries have experimented with electronic voting in the past. The problem faced with the machines in these countries was that they were computer controlled and

connected to the network, which in turn, made them prone to hacking

and hence totally defeating the purpose.  Moreover, there were not adequate security measures and safeguards in their corresponding laws regulations for security, safety and protection. In some countries, Courts struck down the use of EVMs on these legal grounds only.

Indian EVM is stand-alone

whereas

, USA, The Netherlands, Ireland & Germany had direct recording machines.  India has introduced paper audit trail. Others did not have audit trail. Source code is closed during polling in all of the above countries. India also has closed source burnt into memory and is OTP.

ECI-EVMs, on the other hand, are stand-alone devices not connected to any network, thus making it impossible for anyone to tamper with over 1.4 million machines in India individually. EVMs are most suited for India, looking at the country's past poll violence and other electoral malpractices like rigging, booth capturing etc. during the polls.

It is worth mentioning that in contrast with countries like Germany, Ireland and the Netherlands, Indian Laws & ECI regulations have in-built adequate safeguards for security & safety of EVMs.

Besides, Indian EVMs are far superior on account of secured technological features. Indian EVMs also stand apart because of the use of VVPATs.

In case of The Netherlands, rules regarding storage, transport and security of machine were lacking.
ECI – EVMs are fundamentally different from the voting machines and processes adopted in foreign countries. Any comparison based on computer controlled, operating system based machines elsewhere will be erroneous and ECI – EVM cannot be compared with.
Editorial Analysis:
The implementation or evaluation of any policy decision must consider not just abstract reasoning but base it on empirical and historical evidence.

Experts have opined that this holds true for the debate on the question of persisting with the electronic voting machine, or EVM, in the Indian electoral process.

Much has been said by commentators and political party representatives about the futility of using the EVM because of the possibility of electoral fraud by manipulating the technology that drives the machine.

As a matter of fact, informed critiques of the EVM and its handling have helped in some ways, one of them being the universal implementation of the Voter Verifiable Paper Audit Trail (VVPAT) that allows for a layer of verification to the electoral process.
Do the Accusations on EVM's stand up to scrutiny?
Experts have opined that more often than not, there have been accusations made about the EVM which do not stand up to scrutiny or reality, primarily made by political parties that have chosen to blame EVM manipulation as an easy excuse for their losses in various elections.

Further, despite there being barely any shred of evidence to show that any election held recently was subject to electoral fraud through a manipulation of EVMs, and repeated assurances by the Election Commission of India (ECI) of the robustness of the administrative and technical safeguards in place to prevent EVM tampering, the swirl of accusations refuses to die down.

While glitches and machine failures have been reported or misreported as outcomes of "EVM hacking",

administrative errors in transporting the machines have been presented as evidence of tampering.

The fact that glitches being reported have gone up is true enough. The replacement rate for machines deployed in the by-elections of Uttar Pradesh in 2018 went up to as high as 20% because of failures — primarily of the VVPAT machine that is adjunct to the control and ballot units of the EVM. These glitches had caused difficulties in conducting polls in the Karnataka Assembly elections, in May 2018, as well. But there were specific reasons for these.
A Look at Technological Failures :
Experts have opined that the introduction of the VVPAT to allow for a paper count of the registered votes has also added a level of complexity to the otherwise simple technology that runs the EVM.

The VVPAT was also rushed into service because of the constant carping about the possibility of EVM hacking by political parties.
The VVPAT failure rates were high early on in elections held in late 2017 and early 2018, with hardware issues occurring during transportation and exposure to extreme weather conditions.

The ECI sought to correct these problems by repairing components related to the printing spool of the VVPAT machines and the deployment of many corrected machines in the three Assembly elections held recently — Madhya Pradesh, Rajasthan and Chhattisgarh — resulted in much reduced replacement rates (close to 2.5% in Madhya Pradesh and 1.9% in Chhattisgarh).

Experts point out that this suggests that the ECI is relatively better prepared to handle VVPAT-related glitches in the upcoming Lok Sabha elections.

The VVPAT's introduction and use is also necessary to address doubts related to the possibility of EVM hacking despite the safeguards in place.
A Look at Checks and Balances:
The ECI has reassured the public many a time that the simplicity of the architecture of the EVM (software written onto a one-time programmable chip; standalone machines that are not networked; the lack of any frequency receiver or wireless decoder that will allow for communication externally; and advancements in newly deployed machines that allow for self-diagnostics to render the machines tamper-proof among other things) has helped it evade some of the misgivings experienced by EVMs used in other countries

.

Combining this with administrative safeguards that allow for rigorous checks at various levels, such as after manufacture, during deployment, and so on; randomisation of deployment of machines, a listing of candidates in alphabetical order rather than on party basis on ballot units; sealing of machines by political party representatives after polling and storing in high security "strong-rooms", the ECI has asserted that all these have made tampering impossible.

With these safeguards in place, it would require "insider mischief" by officials of the ECI, or by employees of the EVM manufacturers (Bharat Electronics Limited and the Electronics Corporation of India Limited) or the introduction of Trojans (malicious software) at the chip burning stage (a process currently outsourced to overseas firms) and which remain undetected by the manufacturers during their "first level checks" of the firmware, to create problems. Critics of the EVM suggest that there is a non-zero possibility of such ways that will result in the deployment of tampered EVMs susceptible to manipulation. These are far-fetched but technically possible scenarios that assume malicious actions by vendors that are deliberately ignored by the manufacturers, "insider fraud" that remains undetected, and coordinated actions by agents who manage to shift vote counts in favour of their party using the manipulation that is possible with the tampered EVMs.
A Closer Look at VVPAT
Experts point out that fortunately, the implementation of the VVPAT as a device has rendered it possible to verify if at all such schemes have happened to subvert the mandate of voters.

Further, VVPATs will help find if there is anything malicious that has gone on by comparing machine tallies with the hand-counted tally of the slips.

Currently, the ECI allows for the votes recorded in the VVPAT to be counted in only one randomly chosen polling booth in each Assembly segment.

Statisticians such as Atanu Biswas of the Indian Statistical Institute, Kolkata, and former bureaucrat K. Ashok Vardhan Shetty have argued that this is not enough.

Mr. Shetty has suggested that a more robust count of VVPAT slips would entail the setting of a State-wise number of the booths to be counted, that is adjusted for population, voting turnout and other factors.

Experts opine that this is a legitimate suggestion that the ECI should pay heed to in order to dispel any lingering doubts about the electoral process.
Concluding Remarks:
The idea that EVMs should be junked because of the possibilities mentioned above and that we should return to paper ballots as the means of voting is not just problematic but is also an ahistorical argument.

In a recent paper, researchers such as Shamika Ravi have shown that the use of EVMs had led to a significant decline in election fraud such as rigging, booth capturing, ballot stuffing, etc. in many States and even resulted in increased voter turnout especially of the vulnerable and poorer sections of the Indian electorate.
One expert, in a statistical study for The Hindu in April 2016, had found that not only had EVMs rendered "invalid votes" to be a complete non-factor but also invalid votes had significantly affected several Assembly elections in the past.

In other words, the EVM has served the purpose which was the reason for its deployment by the ECI in the first place — to assure free and fair elections, and to ease the process of voting. Improvements to the EVM are certainly possible, but a return to paper ballots is an untenable proposition.
Lastly in conclusion, the best possible way of improving upon our electoral process and bringing in greater trust in it is in a continuing and constructive critique of India's EVM through a scrutiny of the election process including technical assessments of the devices used. Having said this, there should be no place for an uninformed dismissal of the EVM as a part of the discourse as this will only increase distrust in our democratic process.
2. A reckless experiment (Gene-Editing)
Larger Background:
What is gene editing?
Gene editing is a technique through which genes can be deleted or replaced from one's genome. It is like removing a word in a sentence completely or replacing it with another related or unrelated word, but which would give a meaningful sentence.
Eg: Sundays are good days for work
Sundays are bad days for work
The most widely used technique of gene editing is called CRISPR, which is an adaptation of methods that bacteria use to kill invading viruses.
How does CRISPR work?
When a virus invades a bacterial cell, it keeps a copy of a part of the virus gene within its own DNA. When a similar virus attacks the bacteria, it uses this copy to make a molecule called RNA, similar to the attacking viral gene, which will go and deactivate the virus.

Scientists use similar RNA as a guide to a gene, and bind it with a protein — called Cas9 – which will cut the unrequired gene shown by the guide RNA. Once it is cut, the cell itself repairs the DNA. Or, scientists can place another piece of DNA there with a required function.
Editorial Analysis:
The recent saga of the Chinese scientist who created the world's first gene-edited babies in November 2018 has forced researchers everywhere to take a hard look at the ethics of gene-editing.

As a matter of fact, Chinese authorities have since condemned the researcher, He Jiankui, with a government report saying he violated both ethics and laws.

Experts comment that although Mr. He's actions drew international outrage, they weren't revolutionary in technological terms.

Editing DNA to correct disease mutations has been possible for a while now, which means others can also do what Mr. He did.
Promises of Gene Editing:
The promises of such gene-editing are boundless; over a dozen clinical trials are currently on to treat diseases like HIV, multiple myeloma and other forms of cancer, using the Crispr-Cas9 editing system.

However, none of them involve editing the so-called human germ-line; instead, they have restricted themselves to fixing genetic flaws in sick adults.

In contrast, Mr. He deactivated a gene in two human embryos, which means that the changes he made could be inherited by the next generation. In doing so, he violated the widely held ethical consensus that it is too early for germline editing, for we simply don't know enough yet about the risks of such fiddling.

One pitfall of embryo gene-editing is that it is not as precise as we need it to be today. Studies have shown that the technology can result in unintended mutations, which in turn can cause cancers.

Having said this, there is the danger of mosaicism, in which some cells inherit the target mutation, while others don't. To be sure, the error-rates of Crispr are falling with each passing year.

What is more, even when gene-editing becomes fool-proof, the decision to edit embryos will still be a weighty one. This is because, today, scientists are far from understanding how exactly individual genes influence phenotypes, or the visible traits of people.

Every gene likely influences multiple traits, depending on the environment it interacts with. This makes it hard to predict the ultimate outcome of an embryo-editing exercise without decades of follow-up.

This uncertainty became evident in Mr. He's experiment, in which he sought to immunise a pair of twins from HIV by tinkering with a gene called CCR5.

The problem is that while protecting against HIV, a deactivated CCR5 gene can also make people more susceptible to West-Nile Fever. Every gene influences such trade-offs, which scientists barely understand today.

This is why

several scientific societies have advised abundant caution while fiddling with the human germline. In a 2017 report, the U.S.'s National Academies of Sciences, Engineering, and Medicine said such an intervention would be defensible only in very rare situations, where no alternative exists.
Concluding Remarks:
The He Jiankui incident shows it is time to translate these advisories into regulations. Unless this happens, the Crispr revolution could well go awry.
3. Sedition and its discontents (Section 124-A of the IPC)
Editorial Analysis:
What does Section 124-A of the IPC say?
The section deals with the offence of sedition, a term that covers speech or writing, or any form of visible representation, which brings the government into hatred or contempt, or excites disaffection towards the government, or attempts to do so. It is punishable with three years in prison or a life term.

"Disaffection", it says, includes disloyalty and feelings of enmity.

However, it also says expressing disapproval of government measures or actions, with a view to getting them changed by lawful means, without promoting hatred or disaffection or contempt towards the government will not come under this section.
What is its origin?
Sedition was introduced in the penal code in 1870, a decade after the Indian Penal Code came into force.

It was a colonial law directed against strong criticism of the British administration. Its most famous victims included Bal Gangadhar Tilak and Mahatma Gandhi. Gandhi called it "the prince among the political sections of the IPC designed to suppress the liberty of the citizen".
Is it constitutionally valid?
Two high courts had found it unconstitutional after Independence, as it violated the freedom of speech and expression.

The Constitution was amended to include 'public order' as one of the 'reasonable restrictions' on which free speech could be abridged by law.

Thereafter, the Supreme Court, in Kedar Nath Singh v. State of Bihar (1962) upheld its validity.

At the same time, it limited its application to acts that involve "intention or tendency to create disorder" or incitement to violence.

Thus, even strongly worded remarks, as long as they do not excite disloyalty and enmity, or incite violence, are not an offence under this section.
Why the controversy now?
In recent times, the resort to this section is seen as disturbingly frequent. Activists, cartoonists and intellectuals have been arrested under this section, drawing criticism from liberals that it is being used to suppress dissent and silence critics.

Authorities and the police who invoke this section defend the measure as a necessary step to prevent public disorder and anti-national activities. Jawaharlal Nehru University students and activists, Assamese scholar Hiren Gohain and Manipur journalist Kishorchandra Wangkhem are prominent among those booked in recent days. Wangkhem has also been detained under the National Security Act.
What is being done about it?
Liberals and rights activists have been demanding the scrapping of Section 124A from the statute books, arguing that it has no place in a democracy and that it is being invoked even in cases where there is no incitement to violence or tendency to create public disorder.

It is argued that the provision is "overbroad", i.e., it defines the offence in wide terms threatening the liberty of citizens.

The Law Commission released a consultation paper in the year 2018 calling for a reconsideration of the section.

It has pointed out that Britain abolished it more than a decade ago and raised the question whether a provision introduced by the British to put down the freedom struggle should continue to be law in India.
1. The gap within (Regional Inequalities)
Editorial Analysis:
Experts have pointed out that India, as the world's fastest-growing major economy, may well be catching up with the richer economies in terms of absolute size.

However, economic convergence within the country remains a distant dream as poorer States continue to lag behind the richer ones in economic growth.

A report from the rating agency Crisil found that the inter-State disparities have widened in recent years even as the larger economy grows in size and influence on the global stage.

Further, many low-income States have experienced isolated years of strong economic growth above the national average.

As a matter of fact, Bihar was the fastest-growing State this year among the 17 non-special category States evaluated by the report. But they have still failed to bridge their widening gap with the richer States since they have simply not been able to maintain a healthy growth rate over a sustained period of time.

Experts point out that richer states like Gujarat, for instance, have been able to achieve sustained economic growth and increase their gap over other States.
What did the Report find?
The report found that there was a slight, albeit weak, convergence in the per capita income levels of the poorer and richer States between fiscal years 2008 and 2013, but the trend was reversed in the subsequent years.
Further, between fiscal years 2013 and 2018, there has been a significant divergence rather than convergence in the economic fortunes of the poorer and richer States.

It is important to note that this was the result of richer States continuing to show strong growth while the poorer States fell behind.

In fact, only two of the eight low-income States in 2013 had growth rates above the national average over the next five years. On the other hand, six out of the nine high-income States recorded rates higher than the national average during 2013-18.
Possible reasons for the divergence in economic fortunes of States:
The report suggests that, at least during fiscal year 2018, government spending may be what boosted gross domestic product growth in the top-performing States, particularly in Bihar and Andhra Pradesh whose double-digit growth rates have come along with a burgeoning fiscal deficit.

The impact of greater spending was that 10 of the 17 States breached the 3% fiscal deficit limit set by the Fiscal Responsibility and Budget Management Act.

Many other big-spending States, however, have not managed to achieve growth above the national average.

Punjab and Kerala, which are at the bottom of the growth table, are ranked as profligates by the report.

This suggests that the size of public spending is probably not what differentiates the richer States from the poorer ones.

Other variables like the strength of State-level institutions, as gauged by their ability to uphold the rule of law and create a free, competitive marketplace for businesses to thrive, and the quality of public spending could be crucial determinants of the long-run growth prospects of States.
F. Tidbits
1. India conducts 'largest coastal security drill'
Ten years after the 26/11 Mumbai terror attack, India conducted its largest coastal defence drill, Exercise Sea Vigil, to test its preparedness along the entire 7,516.6 km-long-coastline and exclusive economic zone of the country.
The first of its kind exercise was conducted on January 22 and 23 and coordinated by the Navy.
Exercise Sea Vigil aims to comprehensively and holistically validate the efficacy of the measures taken since 26/11. It aims to simultaneously activate the coastal security mechanism across all 13 coastal States and Union Territories.
This involves the evaluation of critical areas and processes, including inter-agency coordination, information sharing and technical surveillance. Multi agency audit and identification of gaps, shortfalls and incorporation of lessons learnt into Standard Operating Procedures (SOP) are also the desired outcomes.
Post 26/11, the Navy was designated as the agency responsible for overall maritime security, including offshore and coastal security, while the Coast Guard was designated as the agency responsible for coastal security in territorial waters.
A multi-tiered patrol and surveillance mechanism with focus on technical surveillance and augmenting Maritime Domain Awareness through the coastal radar chain was adopted.
This refers to the 24-hour cycle that influences the various physiological processes that take place within the human body.
Among others, the circadian rhythm most commonly determines the hours that a human being is asleep or awake during a day.
Other important things like the metabolic rate, body temperature, blood pressure, and the secretion of various hormones are also influenced by the circadian rhythm.
It is believed that disturbances to the circadian rhythm, which is seen by some scientists as an adaptation to conditions prevalent on earth over a long period of time, due to changes in a person's lifestyle, for instance, can lead to adverse effects on the human body.
G. Prelims Facts
1. Two rhinos raised at Kaziranga find a new home at Manas
Context
They were only a few months old when floods in August 2016 at Kaziranga National Park displaced them. When rescuers found the two rhino calves, they were so small that they had to be fed milk in bottles.
Almost 30 months later, the calves, one male and other female, will find a new home at Manas National Park, about 450 km away from Kaziranga.
Manas National Park
Manas National Park is a national park, UNESCO Natural World Heritage site, a Project Tiger reserve, an elephant reserve and a biosphere reserve in Assam, India
It is located in the Himalayan foothills,
It is contiguous with the Royal Manas National Park in Bhutan
The Manas river flows thorough the west of the park and is the main river within it. It is a major tributary of Brahmaputra river
The Manas river also serves as an international border dividing India and Bhutan
H. UPSC Prelims Practice Questions
Question 1. Consider the following about OPEC 

OPEC is an intergovernmental organisation aimed towards stabilisation of global oil prices.
Qatar is a member of OPEC
Select the correct option from below
1 Only
2 Only
Both 1 and 2
Neither 1 nor 2
See
Question 2. Consider the following statement regarding Rights of Persons with Disabilities Act, 2016  
The number of recognized disability conditions has been increased from 7 to 21
Acid attack survivors are not included in the list.
It has provided for reservation in vacancies in government establishment for disabled person.
Choose the correct statement
1 and 2 only
1 and 3 only
2 and 3 only
1, 2 and 3
See
Question 3. With reference to a National Park, consider the following statements:  
It is located at the junction of the Aravalis and the Vindhyas.
It is bounded in north by Banas river and in south by Chambal river.
It is under Project Tiger.
Which of following National Park has all of the above characteristics?
Bandhavagarh National Park
Ranthambore National Park
Kanha National Park
Gaurumara National Park
See
I. UPSC Mains Practice Questions
1. Brexit is an opportunity for India to reset the legal terms of its trade with the UK and EU, at the multilateral level, and through free trade agreements. In this context, write a note on Brexit by highlighting its impact on India. (10 Marks; 150 words)
2. A unified national market, a freer export regime and abolition of the Essential Commodities Act are essential to boost agricultural growth. Examine (10 Marks; 150 words)
See previous CNA