Economy is an important part of the UPSC prelims and mains exams; this series titled 'Economy This Week' has been initiated to address the need to read and analyse economic articles in various business-related newspapers. The round-up of the Economy/Business section news for the week 27th Oct to 9th Nov 2019 is given below. Business news is essential for IAS exam preparation.
ETW (27th Oct to 9th Nov 2019):- Download PDF Here
Watch the video lecture of the weekly business news (27th Oct to 9th Nov 2019) below: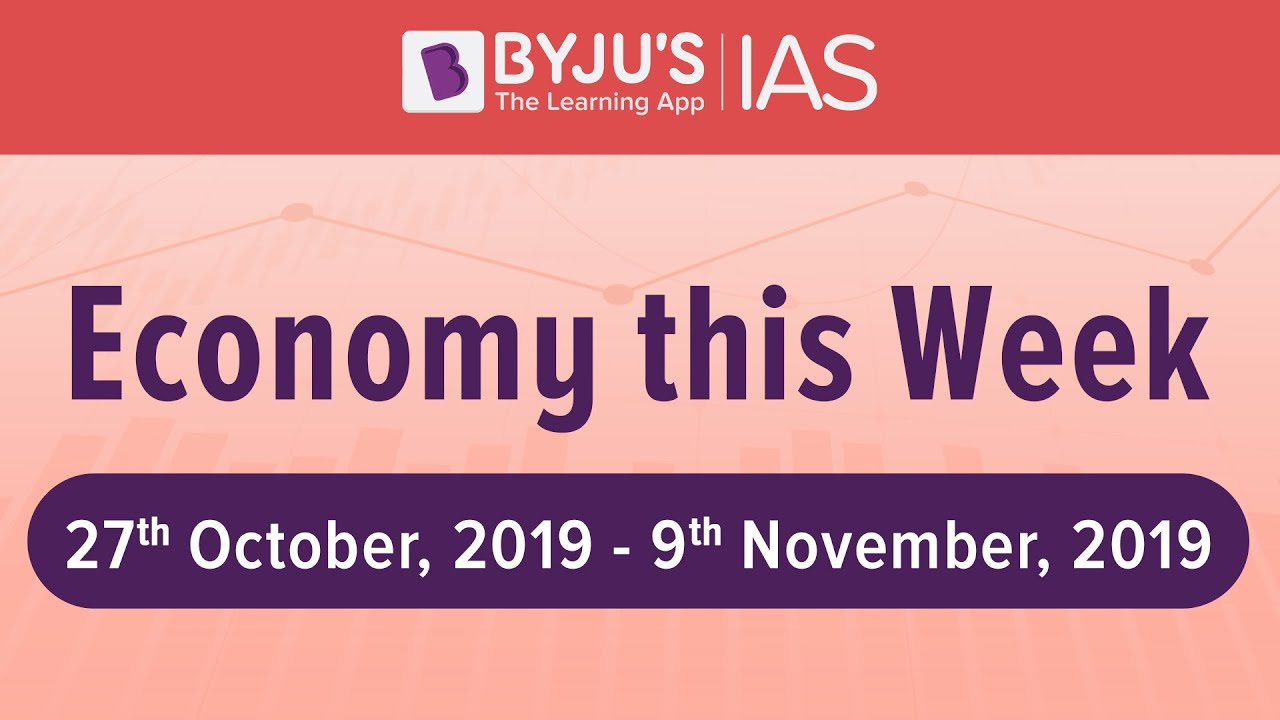 TABLE OF CONTENTS
1. Dividend Distribution Tax may be scrapped (BS 30/10/19)
2. Kisan pathshala for doubling the income of the farmers (FE 28/10/19)
3. Farm lessons from China (IE 28/10/19)
4. India's declining workforce productivity (LM 4/11/19)
5. Contraction in core sector (TH 2/11/19)

1. Dividend Distribution Tax may be scrapped (BS 30/10/19)
The Finance Ministry is thinking of:

Scrapping Dividend Distribution Tax (DDT) in order to attract investors back into the equity market.
Rationalisation of Long Term Capital Gains Tax (LTCGT) to reduce the asset classes to three (from the present 5 classes).

DDT

Was introduced in the 1997 budget.
Govt. is of the view that DDT is acting as a hindrance in attracting foreign investments into the market.
Companies pay a DDT of 15%.
It also attracts a surcharge of 12% and an education cess of 3%, taking the effective tax rate to 20.35%.
It is taxed in the hands of the companies i.e., the companies will have to pay this out of their profits. In the hands of the investors, it is not taxable up to ₹ 10 lakh per annum (once it crosses this limit, the investors have to pay a tax of 10%).
Recently submitted report by DTC panel also has recommended imposing DDT in the hands of the investors (i.e., under this system the dividends will be treated as a source of income and taxed accordingly).

LTCGT

Soon might have only three asset classes:

Financial equity (will contain all types of shares)
Financial non-equity (will have debt funds such as bonds, debentures, etc.)
Others (including property, gold, etc.)
---
2. Kisan pathshala for doubling the income of the farmers (FE 28/10/19)
In order to achieve the target of doubling the income of the farmers, many initiatives have been taken. One such initiative of the UP govt. is the Million Farmers' School (MFS) programme.
This has been launched in order to disseminate the information related to agriculture technology, govt. schemes and modern farming methods.
MFS is also referred to as Kisan Pathshala. It was launched in 2017. The objective was to promote usage of modern farming techniques, to make farming more profitable, sustainable and resilient.
The programme involves training the farmers daily for three to five days. The farmers are trained in areas such as improved varieties, crop and soil management practices, input use, and marketing.
This programme is funded through the Rashtriya Krishi Vikas Yojana (RKVY).
It is expected that with such programmes, the awareness amongst the farmers would increase, enhancing their agriculture performance.
As per the evaluation of the programme conducted by IFPRI (International Food Policy Research Institute):

Farmers under this are having 6 to 14% higher agriculture knowledge compared to those not under this programme.
The difference in knowledge can be seen across spatial and social dimensions.
Participants have cited a positive perception with regard to the programme's usefulness and relevance.
About 90% of those attending the training believe that training was useful.
The novelty factor was missing – about 70% of the respondents have stated that they already knew about what was taught in the training.

Having said so, it should be noted that it is very soon to be evaluating such a programme in such a short period of time and it would take some time for it to have an impact on the income of farmers.
---
3. Farm lessons from China (IE 28/10/19)
India and China have to produce a huge quantity of food for their population.

India has 156 mha of arable land and China has 120 mha.
48% of cultivable land is irrigated in India and it is 41% in the case of China.
Value of agriculture production in India is $407 bn and in the case of China it is $1367 bn.
So despite having higher arable land, why is that total agri production in India is a third of that of China?

Lessons that can be learnt in the agriculture sector:

China spends heavily in AKIS (Agriculture Knowledge and Innovation System, this includes R&D). In 2018-19 it spent $7.8 bn, this is 5.6 times the amount spent by India i.e., $1.4 bn.

As per a study done by Ashok Gulati and Prerna Terway:

For every ₹ 1 spent on agriculture research and education (R&E), agri GDP increased by ₹ 11.2.
For every ₹ 1 mn spent on agriculture research and education (R&E), 328 people are brought out of poverty.

Presently India spends about 0.35% of its agri GVA in R&D, whereas China spends about 0.8% of its agri GVA.
Hence there is a need for India to increase its investment in AKIS.

With R&D, the quality of seeds would increase and with that, the need for fertiliser is expected to increase. The fertiliser consumption in the case of China was 503 kg/ha (in 2016) and in the case of India stood at 166 kg/ha. Hence the productivity of china is 50 to 100% higher than India (as per World Bank Report).
The Producer Support Estimates (PSEs) measures the input subsidies and output prices that farmers would have got in a free trade scenario. The PSE for Chinese farmers stood at 15.3% and for the same period was a negative 5.7% for Indian farmers (which means that Indian farmers have been taxed more than the subsidies given to them).

Way forward

Govt. has to carry out reforms in the APMC and Essential Commodities Act (ECA).
Govt. of India has been increasing the MSP, the same was done by China, when they announced procurement prices for rice, wheat and corn. This resulted in huge procurement and huge expenditure burden on the govt. Hence the Chinese govt. has withdrawn the procurement price for corn and has been reducing it for the other two crops. GoI has to reduce the coverage under MSP (against the buffer stock norm of 41 mn tn, India had stocks of 81 mn tn by July 2019).
Chinese govt. has combined major input subsidies under one scheme and provides direct income support to farmers based on per hectare of land. This would incentivise the farmers to produce any crop rather than any specific crop (which would happen when the govt. announces MSP, like in India).
---
4. India's declining workforce productivity (LM 4/11/19)
As per the India Ratings and Research's analysis of the Annual Survey of Industries data, workforce productivity has been declining in the last eight years (labour productivity is measured by dividing the amount of output by the amount of labour used to generate the output).
Experts have put the blame mainly on the complex labour laws and have stated that there is a need for simplification of these laws.
Because of the multiplicity and rigidity of these labour laws, low scale manufacturing is encouraged. These laws come into force when the number of employees crosses a certain threshold.
As per ASI, an overwhelming 72% of the firms in India employ between 0 to 49 employees and their share in output is just 6.9%.
A report published by SBI has also pointed out that the productivity of labour in India is much lower compared to its peers.
To overcome this issue:

Govt. is already working on the labour regulations
There is a need to promote women participation
Promote workers' rights protections
Promote active labour market policies
---
5. Contraction in core sector (TH 2/11/19)
Core sector output is measured by taking into consideration output from eight sectors – Refinery products, electricity, steel, coal, crude oil, natural gas, cement and fertiliser.
The output in the core sectors has contracted by 20%. Given that the contraction for the month of August was 0.5%, this points to a worsening economic situation.
This contraction also shows that:

The slowdown in consumption is spreading across all the sectors.
These sectors represent the capital base of the sectors and slowdown means the investment is affected.

For the same month last year, the sectors registered a growth rate of 4.3%.
More concerning is the fact that this is coming in the midst of the central bank cutting interest rates to boost the growth.
The govt. is in an unenviable position as it has very little fiscal leeway in increasing the expenditure.
Govt. has implemented many reforms in the last couple of months which are expected to yield some benefits in the short term, but govt. has to take structural reforms to address the long term issues.
---
ETW (27th Oct to 9th Nov 2019):- Download PDF Here
Download the PPT of the video lecture from the link below:
ETW (27th Oct to 9th Nov 2019):- Download PPT Here
For more business news videos and PDFs, keep visiting the 'Economy This Week' segment regularly.