The International Telecommunication Union (ITU) is a specialized agency of the United Nations. In this article, you can read all about the United Nation's International Telecommunication Union (ITU) and its functions along with its relevance to the IAS Exam. 
International organizations and groupings are an important part of the International Relations section of the General Studies paper-2 in the UPSC Syllabus. 
ITU UPSC Notes:- Download PDF Here
International Telecommunication Union (ITU)
Established in 1865, the International Telecommunication Union is the UN's agency for Information and Communication technologies. Its mission is to connect all the people in the world and also to protect and support the right of the people to communicate.
Originally founded as the International Telegraph Union to promote cooperation among international telegraphy networks of the day, the ITU predates many other standardization bodies and its long and distinguished history contains a number of important 'firsts', such as the standardization of the use of the Morse Code and the world's first radiocommunication and fixed telecommunication networks.
ITU has 193 member countries.

The 6 regional offices of ITU are mentioned in the table below:
| | | |
| --- | --- | --- |
| America | Europe | Africa |
| Arab States | Asia & Pacific | CIS Region |
To know more about Important Headquarters of International Organizations, check the linked article.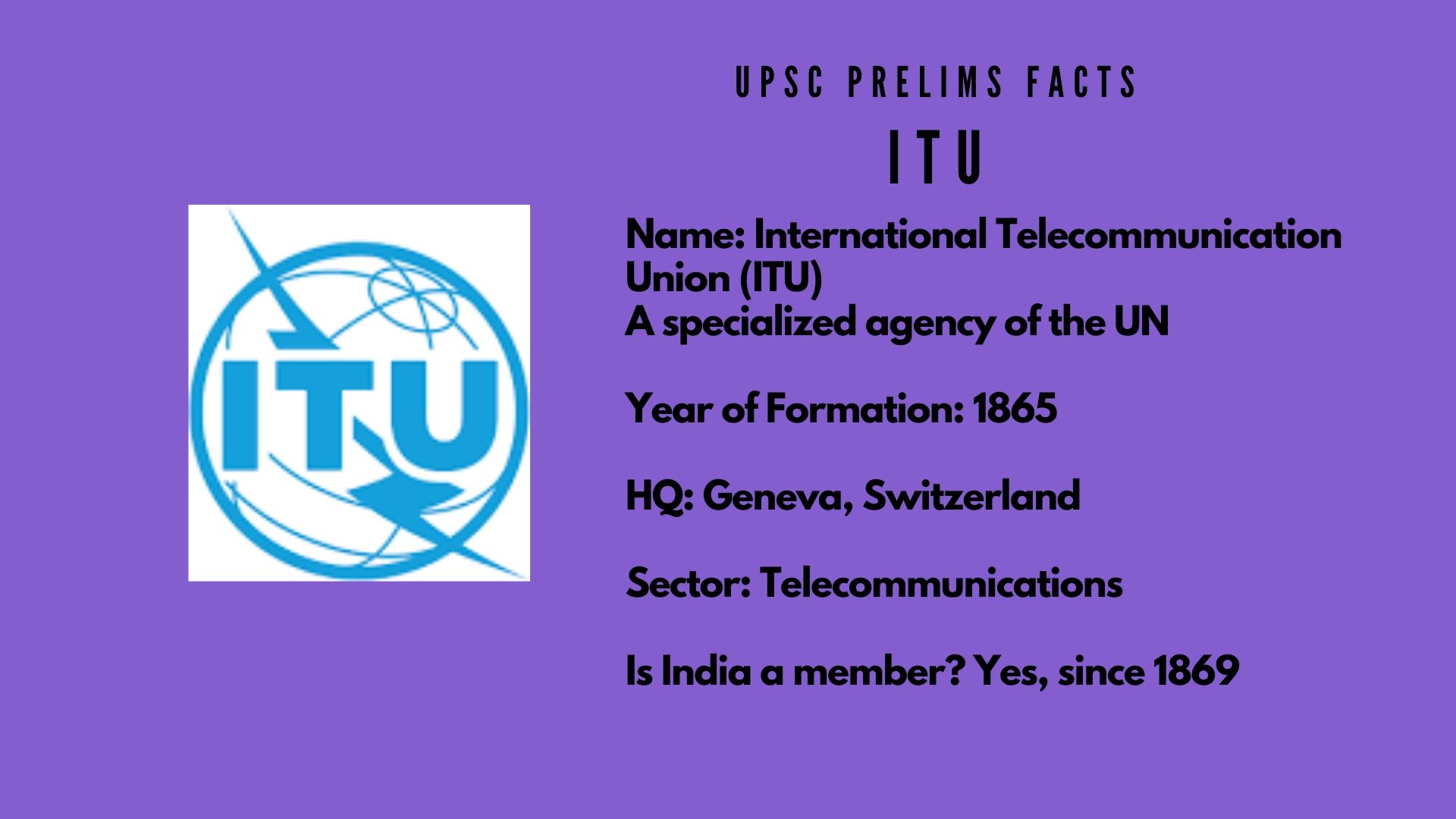 Functions of the International Telecommunication Union
The ITU consists of 3 sectors, that are: Radiocommunication (ITU-R); Telecommunication (ITU-T) and Telecommunication Development (ITU-D)
The major functions of ITU can be listed below:
Allocates radio spectrums

Allocation of Satellite orbits

Develops technical standards for the networks for them to function seamlessly

Strives to provide access to ICT to underserved communities worldwide

The ITU also brings out several reports related to telecommunications. 
To get a list of international organizations and their reports published, click on the linked article.
​​​​​​​​​​​​​​​​​​​​​​​​International Telecommunication Union and India
India is a member of the ​​​​​​​​​​​​​​​​​​​​​​​​​​​International Telecommunication Union since 1869. India comes under the Asia Pacific region of the ITU with its head office in Bangkok, Thailand. 
India is actively engaged in all the three sectors of ITU on different platforms. 

The Department of Telecommunications is the nodal agency for coordinating with ITU from India. 

Several Indian industry members and associations are members of the ITU.
Also read about the Telecom Regulatory Authority of India (TRAI).
FAQ about International Telecommunication Union (ITU) – UPSC Notes
Q1
What is the role of the International Telecommunication Union?
ITU acts as a catalyst in fostering cooperation among the countries to promote their participation in a global communication satellite system.By fostering such cooperation, the ITU can make its maximum contribution to the cause of world peace.
Q2
Where is International Telecommunication Union located?
International Telecommunication Union. ITU, headquartered in Geneva, Switzerland. It is an international organization where the governments and the private sector coordinate global telecom networks and services.