With the UPSC CSE Mains 2022 examination scheduled to be held in September, it is time you put your IAS mains preparation into the next gear. While the IAS Prelims is the first hurdle to cross over if you dream of the IAS, the mains exam is a completely different ballgame. Here, apart from studying from the right sources with conceptual clarity, it is equally important to have a proper exam-simulated answer writing practice. To help ease your IAS preparation, BYJU'S Exam Prep (BEP) presents the Target Mains 2022 – a comprehensive revision programme to help you cover the UPSC Mains syllabus effectively and efficiently.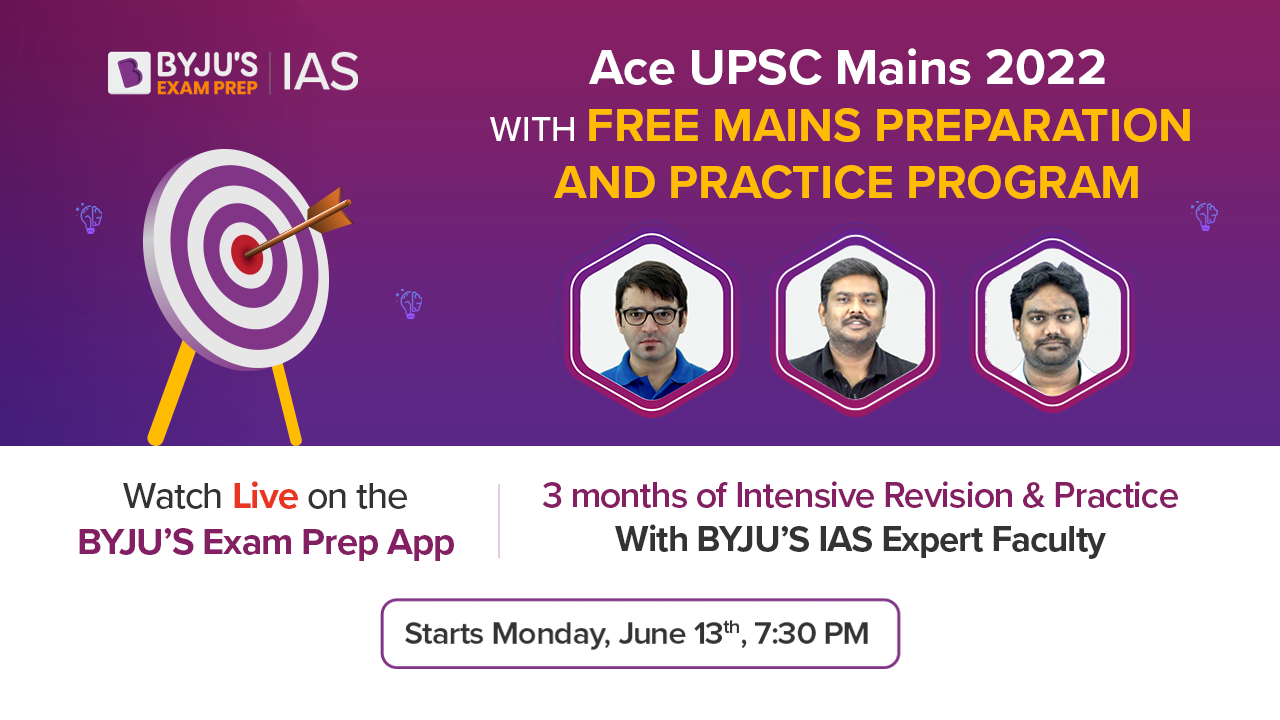 BYJU'S Exam Prep IAS Target Mains 2022 Program is meant for UPSC CSE 2022 aspirants to help them revise the entire Mains syllabus and practice answer writing from every module. During this 3-month intensive program, students will practice answer writing for CSE (Mains) questions, and join the live discussion of Current Affairs and CSE (Mains) questions with expert IAS faculty, ensuring comprehensive coverage of the entire Mains syllabus.
BYJU'S Exam Prep App:- Download Here
Starting 13th June 2022, aspirants will be guided in their preparation through Live Current Affairs Sessions covering over 130 topics, Live discussion on CSE (Mains) covering 130 Questions and Answer writing sessions covering the static portions. These sessions will go live every day at 7:30 PM on the BEP App. Attend live interactive sessions with our top IAS trainers who will analyze the relevant topics and address the students' doubts and queries.
For more information on the schedule of the Target Mains 2022 Program and the list of live sessions and questions, check the link.
Salient Features of the Target Mains 2022 Program
Three months intensive CSE Mains Programme – covering the entire UPSC CSE Mains syllabus.
Areas covered:

Essay, Art and Culture, Modern History, Post Independence History, Indian Society, Geography, Polity, Governance, Social Issues, International Relations, Economy, Environment & Ecology, Science and Technology, Disaster Management, Security and Case Studies from Ethics paper.

Students will be provided with a Weekly Plan which will include the following:

Topics to be covered in Current Affairs live sessions.
Answer writing practice – Relevant Mains questions will be published on the BEP App. Aspirants can upload their answers in the comments section and the same would be evaluated by Subject Matter Experts. Model answers would be provided for these questions.
Mains Questions discussion – live sessions on static subjects.
Case Study Sessions for Ethics.
The art of Essay Writing sessions.

Annotated PPTs of the live sessions would be provided to the students.
All relevant resources prepared by UPSC experts.
The program is FREE!
Given below are some quick reference links related to IAS/UPSC preparation.