TABLE OF CONTENTS
A.

 GS1 Related


Social Issues
1. SC orders NIA to probe Kerala 'love jihad' case


B.

 GS2 Related


Polity
1. No case for an all India judicial service
2. Flag hoisting today? Do you know the rules?
3. Union Cabinet approves new metro rail policy
International Relations
1. U.K. seeks to work together with India over North Korea crisis
Health Issues
1. 15%-29% AES fatality rate at BRD Hospital


C.

 GS3 Related


Economics
1. Ministerial group to oversee disinvestment 
Internal Security
1. Hizbul Mujahideen labelled a 'terror group' 
Environment and Ecology
1. India has 27,312 elephants, census shows
2. Cabinet clears stalled Bihar dam project
Miscellaneous
1. Full text of Tripura CM Manik Sarkar's speech that DD, AIR refused to broadcast 


D. 

GS4 Related


E. UPSC Prelims Practice Questions
F. UPSC Mains Practice Questions 
1. SC orders NIA to probe Kerala 'love jihad' case
The assertive conversion, radicalisation of a Hindu girl and her marriage to a Muslim man in Kerala seeks the attention of National Investigation Agency (NIA) and the Supreme Court.
NIA to start its investigation as per the orders of the Court under the supervision of committee led by former Supreme Court judge, Justice R.V. Raveendran.
About National Investigation Agency NIA
National Investigation Agency (NIA) is a central agency founded by the Indian Government to combat terror in India.
A dedicated Central Counter Terrorism Law Enforcement Agency.
The organization deals with terror related crimes across states without special permission from the states.
The Agency came into survival with the enactment of the National Investigation Agency Act 2008 by the Parliament of India.
Its objectives are:
to set the standards of excellence in counter terrorism and other national security related investigations.
It strives towards developing a highly trained, partnership oriented workforce to excel in its objective to set excellent standards in counter terrorism and national security investigations.
It also acts as deterrence for existing and potential terrorist groups/individuals.
It aims to develop as a storehouse of all terrorist related information
1. No case for an all India judicial service
Suggestion to craft an All-India Judicial Service (AIJS) on the contours of the All India Services (AIS) has initiated the debate on a move to implement it.
High Courts expressed their disapproval towards the suggestion.
District judges will be enlisted centrally through an all-India examination and given cadre similar to that of AIS
Objective of the move is to ensure a transparent and efficient method of recruitment and appeal the talent in India's legal profession
2. Flag hoisting today? Do you know the rules?
Why in news?
Naveen Jindal, Member of Parliament, Kurukshetra, was asked to remove the display of the national flag from his factory premises; he took the legal route and got the Flag Code of India amended.
About the Standards of procedure
Flag Code of India that lays down all the rules and procedures to be followed while hoisting the national flag.
Ensure the dimension of the flag is correct and the timing is right for hoisting it.
Never keep it on the ground in any circumstances and keep it folded after it has been lowered in a proper place
Stand in attention and salute, and while the last string of the anthem is being played, lower the salute.
The national flag of India shall be made of hand spun and hand woven wool/cotton/silk khadi bunting and its length to height (width) ratio shall be 3:2.
The flag shall not be used for commercial purposes in violation of the Emblem and Names (Prevention of Improper Use) Act, 1950.
The flag shall not be intentionally allowed to touch the ground or the floor or trail in water.
Where the flag is displayed in open, it should, as far as possible, be flown from sunrise to sunset, irrespective of weather conditions.
3. Union Cabinet approves new metro rail policy
The Union Cabinet comes up with a new policy for magnifying and regulating metro rail services.
The most significant move is with respect to the funding pattern.
The policy makes private sector contribution binding for all the three funding options:

Public-private partnership (PPP) model with central assistance under the Viability Gap Funding scheme of the Finance Ministry,
Grant from the Centre under which 10% of the project cost would be given as a lump sum, or
50:50 equity sharing model between the Central and State governments.
1. 15%-29% AES fatality rate at BRD Hospital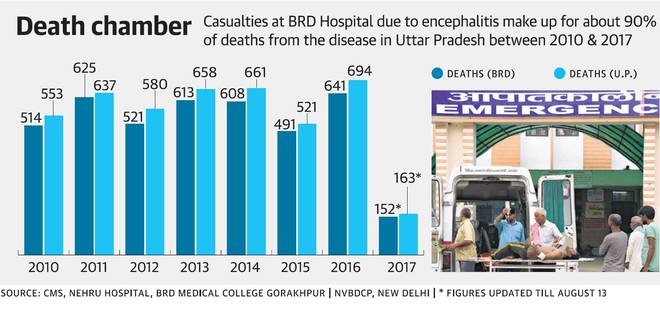 Mortalities of Acute Encephalitis Syndrome (AES) patients at Gorakhpur's region agonized by the infection have been between 15% and 29% of all cases over a period of eight years.
The Japanese encephalitis virus, scrub typhus or other bacterial, viral or fungal infections are the reason behind the number of cases of AES.
1. Ministerial group to oversee disinvestment
A ministerial group chaired by Finance Minister would be the deciding authority on particulars of strategic disinvestment of public sector firms.
It will be the authority responsible to state the terms of sale and also inviting financial bids from prospective buyers.
The suggestion from Department of Investment and Public Asset Management (DIPAM) got a nod from the CCEA for establishing an Alternative Mechanism (AM) comprising of the Finance Minister, Minister for Road Transport & Highways and Minister of Administrative Department in order to agree on the complications, terms and conditions of the sale from the stage of welcoming to the end process of financial bid.
The Core Group of Secretaries (CGD) to take policy judgments on procedural issues and deviations.
About DIPAM
Union Government has renamed Department of Disinvestment as Department of Investment and Public Asset Management (DIPAM).
DIPAM is under Union Finance Ministry.
Its function is to advise the Union with respect to the financial restructuring of PSUs and also for appealing investment through capital markets.
It will deal with all matters relating to sale of Union Government's equity through private placement or offer for sale or any other mode in the erstwhile Central PSUs.
Henceforth all other post disinvestment matters will continue to be handled by the Union Finance Ministry or concerned department in consultation with DIPAM on necessity.
1. Hizbul Mujahideen labelled a 'terror group'
The U.S. labelled militant group Hizbul Mujahideen as a "foreign terrorist organisation".
This move came up two months following the move to declare the group's chief Syed Salahuddin as a global terrorist.
This move imposes U.S. sanctions on the organization, where the entire property subject to U.S. jurisdiction are blocked, and people in the U.S. are generally forbidden from pleasing in any transactions with the group
This move was the result of a surge in terror undertakings by the militant group in Kashmir in recent months.
This move comes as a major setback to Pakistan, which has been projecting the militant group as a voice of the Kashmiri people.
About the FTO
"Foreign Terrorist Organization" (FTO) is a label for non-United States-based groups considered by the United States Secretary of State, in accordance with section 219 of the Immigration and Nationality Act of 1965 (INA), to be tangled in terrorist activities as per the US definition.
Category: ENVIRONMENT AND ECOLOGY
1. India has 27,312 elephants, census shows
The first-ever all-India Elephant Population Assessment estimates India's Asian elephant population at 27,312.
Methods employed: sighting-based direct count mode. Further, it will be confirmed from the indirect dung-count technique in three months.
Karnataka records the maximum number of elephants (6,049), followed by Assam (5,719) and Kerala (3,054).
Reports also discussed the reasons behind man-animal conflict:

Due to habitat fragmentation, elephants are moving out to agricultural landscapes leading to an increase in man-elephant conflict.
2. Cabinet clears stalled Bihar dam project
The Union Cabinet has stepped forward to restart the North Koel Reservoir Project.
This project was delayed since 1993 though it was a potential lifeline for irrigating over 40,000 hectares in specific backward and drought-prone districts of Jharkhand and Bihar.
Nevertheless, now the dam will be built smaller than planned and capacity condensed by up to 85%, to inherit the environmental and forest standards.
Threat estimated was that submergence of shares of the Betla National Park and the Palamau Tiger Reserve
1. Full text of Tripura CM Manik Sarkar's speech that DD, AIR refused to broadcast
Doordarshan and All India Radio (AIR) refused to broadcast Tripura Chief Minister Manik Sarkar's Independence Day address.
DD AND AIR compelled him to reshape it.
Tripura CM termed it "undemocratic, autocratic and intolerant step".
"The values of secularism were the brahmasthra in keeping Indians together as a nation. But this spirit of secularism is under attack" says Tripura CM.
Nothing here for Today!!!
E. Practice Questions for UPSC Prelims Exam
Question 1. Identify the correct statements with respect to PM Ujjwala Yojana.
Under the PM Ujjwala Yojana, the government aims to provide LPG connections to BPL households in the country.
The scheme is aimed at replacing the unclean cooking fuels mostly used in rural India with the clean and more efficient LPG (Liquefied Petroleum Gas).
Select the correct options.
1 only
2 only
Both 1 and 2
None of the above
See
Question 2. Recently National Child Labour Project for Rehabilitation of Child Labour scheme 
was seen making headlines. In this regard identify the incorrect statements.
National Child Labour Project for Rehabilitation of Child Labour scheme targets only children in the age group 6-14 years.
The identified children are to be withdrawn from hazardous occupations & processes and then put into special schools in order to enable them to be mainstreamed into formal schooling system.
Select the right option.
1 only
2 only
Both 1 and 2
None of the above
See
Question 3. "Bharat ke Veer" as seen on the headlines in the recent past is about?

It is an online web and mobile platform based portal
Objective is to enable willing donors to contribute towards the family of a braveheart who sacrificed his/her life in line of duty.
It is a scheme by Uttar Pradesh Government to recognise and register the martyrs from the state.
Both a and b
See
F. UPSC Mains Practice Questions
"Increasing competition among regional navies for dominance in the Indian ocean region is paving the way of global destruction" Examine.
Government has come up with GIS-enabled portal maps with respect to land-information. Can this be a potential tool in land reforms? Discuss.
Also, check previous 

Daily News Analysis
"Proper Current Affairs preparation is the key to success in the UPSC- Civil Services Examination. We have now launched a comprehensive 'Current Affairs Webinar'. Limited seats available. Click here to Know More."
Enroll for India's Largest All-India Test Series