TABLE OF CONTENTS
A.

 GS1 Related


GEOGRAPHY
1. Cyclone Ockhi to curve in to Maharashtra and Gujarat


B.

 GS2 Related


POLITY AND GOVERNANCE
1. Centre rolls back curbs on cattle sale
HEALTH ISSUES
1. Measles vaccination decreases acute respiratory infection, diarrhea
INTERNATIONAL RELATIONS/BILATERAL RELATIONS
1. Trump, Modi discuss GES over phone


C.

 GS3 Related


ECONOMY
1. Bitcoin keeps enforcers on edge
SCIENCE AND TECHNOLOGY
1. First US baby from a uterus transplant is born in Dallas:
ENVIRONMENTAL SCIENCE AND ECOLOGY
1. Light pollution rises on a global scale


D. 

GS4 Related




E. 

Prelims Fact


F. UPSC Prelims Practice Questions
G. UPSC Mains Practice Questions 
1. Cyclone Ockhi to curve in to Maharashtra and Gujarat
 In news
India Meteorological Department's (IMD) prediction: Cyclone Ockhi, predicted to pass over the Lakshwadeep islands and veer away from mainland India will now turn and head towards parts of coastal Maharashtra and South Gujarat.
Recurving cyclones are rare
Category: POLITY AND GOVERNANCE
1. Centre rolls back curbs on cattle sale
 In news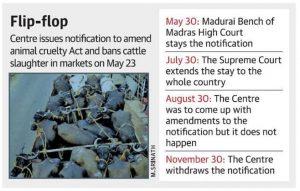 In news:
The government withdrew its controversial notification banning the sale of cattle for slaughter in cattle markets.
Background information:
Earlier in May this year, the Centre had amended the Prevention of Cruelty to Animals Act and laid down strict guidelines that spelt out conditions under which cattle could be sold in these markets.
According to that notification bulls, cows, buffaloes, steers, heifers and camels could be sold only after sellers formally stated that the animals had not been "brought to the market for sale for slaughter".
At the same time, buyers would have had to verify whether they are agriculturalists and declare that they would not sell the animal/s for six months from the date of purchase.
1. Measles vaccination decreases acute respiratory infection, diarrhea
 In news
Researchers from the International Institute of Population Sciences, Mumbai have found that among children who received measles vaccination there was a decrease in acute respiratory infection and diarrhea
The study was conducted based on data from five countries, namely, Republic of Congo, Ethiopia, India, Nigeria and Pakistan, and 12-59-month-old children were considered in the analysis.
Key Fact:
Measles is a highly contagious disease transmitted through a virus belonging to the Morbillivirus genus.
Children below five years are prone to the infection.
The virus can supress the immune system leading to infection in various organs of the body.
Pneumonia and diarrhoea occur either as a complication or as a secondary infection.
In 2010, diarrhoea and pneumonia were responsible for over 600,000 deaths of children in India under-5.
India along with four other countries accounted for nearly 50% of the deaths globally from diarrhoea and pneumonia in this age group.
Researchers also examined the effect of socioeconomic and demographic risk factors on occurrence of acute respiratory infection and diarrhoea.
These risk factors included cooking fuel, toilet facility, source of drinking water and household wealth status.
In India, 62% of the children were vaccinated. In all countries, the vaccination coverage was higher in urban than in rural areas.
In India, vaccination reduced acute respiratory infection cases by 15% and diarrhoea by 12%.
1. Bitcoin keeps enforcers on edge
 In news
Key Points:
Bitcoin, has been implicated in several crimes being investigated by police, the Narcotics Control Bureau and the Enforcement Directorate.
No legal framework: India's policy on Bitcoin regulation is still evolving and no legal framework exists. The RBI has cautioned against its use, informing users, holders, investors and traders dealing with virtual currencies that they are doing so at their own risk.
Investigating agencies worry about the absence of controls. They see any transaction using cryptocurrency and involving foreign exchange as a contravention of the Foreign Exchange Management Act (FEMA) and the FEM (Manner of Receipt & Payment) Regulations.
Domestic digital exchanges and platforms have been facilitating sale of cryptocurrency, while the RBI says it has not licensed any entity for this.
Different views:
Ministry of Finance: Bitcoin is illegal.
Financial Action Task Force: Virtual currencies are potential modes for money laundering and funding of terrorist activities.
The Enforcement Directorate views threats from virtual currency as real and extreme. Cryptocurrency use has been detected in crime and money laundering.
Purchase channels:
Virtual currencies can be bought through a banking channel, and the investor's identity is recorded using PAN card.
But some platforms are said to offer peer-to-peer sale or purchase through various payment gateways, including cash and credit cards.
Probe agencies say the generation and transaction of non-fiat (private) digital currencies are accompanied by exchange into a foreign currency without the government's knowledge.
Unlike government-backed payment systems, non-fiat virtual currencies have neither "inherent value" as in the case of gold or any other precious metal or stone, nor are they backed by sovereign guarantee.
Category:SCIENCE AND TECHNOLOGY
1. First US baby from a uterus transplant is born in Dallas:
 In news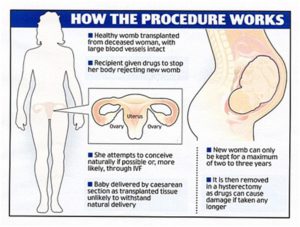 In news:
The first birth as a result of a womb transplant in the United States has occurred in Texas, marking a milestone for American medicine.
A woman who had been born without a uterus gave birth to the baby at Baylor University Medical Center in Dallas about a year after receiving a womb from a 36-year-old mother-of-two nurse who lives near the hospital.
The breakthrough comes after years of attempts by various hospitals to perfect the art of womb transplants, which has only been a success in Sweden. The Cleveland Clinic in Ohio made headlines in early 2016 after transplanting a deceased donor's womb into a patient, but it had to be removed days later due to a yeast infection.
Procedure:
The first step involves doctors removing some of the patients' eggs in order to fertilize them in a dish to create embryos. These are then frozen, until they are needed.
Secondly, a womb, complete with two major arteries and four veins, removed from a from donor in a three-hour operation. The donated womb is then implanted into the patient during an operation that typically takes around six hours. The woman is then, as all organ transplant patients are, prescribed powerful immune-suppressing drugs to stop the transplanted womb being rejected by the body.
Around a year later, when doctors are confident the transplant is a success, one of the embryos is thawed and implanted into the donated womb.
If the pregnancy is a success, doctors ultimately deliver the baby via C-section.
Once a woman has successfully carried one or two babies, the transplanted organ is then removed.
Flipside:
Woman must take powerful drugs to prevent organ rejection, and the drugs pose long-term health risks, so the uterus would be removed after one or two successful pregnancies.
Category:ENVIRONMENTAL SCIENCE AND ECOLOGY
1. Light pollution rises on a global scale
 In news
The world is getting brighter, but scientists say that may not be a good thing
According to Researchers, satellite data showed that Earth's artificially lit outdoor surface at night grew by about 2% annually in brightness and area from 2012 to 2016
This underscores concerns about the ecological effects of light pollution on people and animals
Growth in nighttime light
With few exceptions, growth in nighttime light was observed throughout South America, Africa and Asia
Light remained stable in only a few countries
What is Light pollution?
Light pollution, also known as photopollution, is the presence of anthropogenic light in the night environment
It is exacerbated by excessive, misdirected or obtrusive uses of light, but even carefully used light fundamentally alters natural conditions
As a major side-effect of urbanization, it is blamed for compromising health, disrupting ecosystems and spoiling aesthetic environments
It has a disruptive effect on natural cycles and inhibits the observation of stars and planets
It washes out starlight in the night sky, interferes with astronomical research, disrupts ecosystems, has adverse health effects and wastes energy
Nothing here for Today!!!
Nothing here for Today!!!
F. Practice Questions for UPSC Prelims Exam
Question 1. The first ever G20 Digital Ministerial Meeting on Digital Economy was held in which country?
JAPAN
INDIA
RUSSIA
GERMANY
See
Question 2.Which State Government is planning to launch 
cheap food canteens called "Annapurna Bhojanalayas"?
Haryana
Manipur
Uttar Pradesh
Assam
See
Question 3.Who composed the Bhakti song called "Abangas"?
Kabir
Sant Tukaram
Sant Ravidas
Guru Ramdas
See
Question 4.The coast running from Karwar to Bulsar is called
Malbar Coast
Konkan Coast
Kathiawar coast
Coromandel coast
See
Question 5.National Environmental Engineering Research Institute falls under
Ministry of Environment and Forest
Ministry of Science and Technology
Ministry of Human Resource and Development
None of the above
See
G. UPSC Mains Practice Questions
GS Paper I
"Conventional wisdom suggests that economic reforms succeeding liberalization policy of government in early 1990s should have reduced gender discrimination—but that hasn't really been the case". Discuss
GS Paper II
"Codifying checks and balances in respective police Acts will bring assurance against illegal orders by the political establishment to the police". Discuss.
Also, check previous Daily News Analysis
"Proper Current Affairs preparation is the key to success in the UPSC- Civil Services Examination. We have now launched a comprehensive 'Current Affairs Webinar'. Limited seats available. Click here to Know More."
Enroll for India's Largest All-India Test Series