Ministry of Culture organizes Sankalp Se Siddhi Programme in Coimbatore
The New India Movement 2017-2022, a Sankalp Se Siddhi  (Attainment through Resolve)  Programme main objectives: envisages an India free of Poverty, Corruption, Terrorism, Communalism, Casteism and Un-cleanliness.
In news: Sankalp Se Siddhi (Attainment through Resolve)  Programme was organized at  Sri Ramalinga Sowdambigai College of Science and Commerce, Onappalayam, Coimbatore.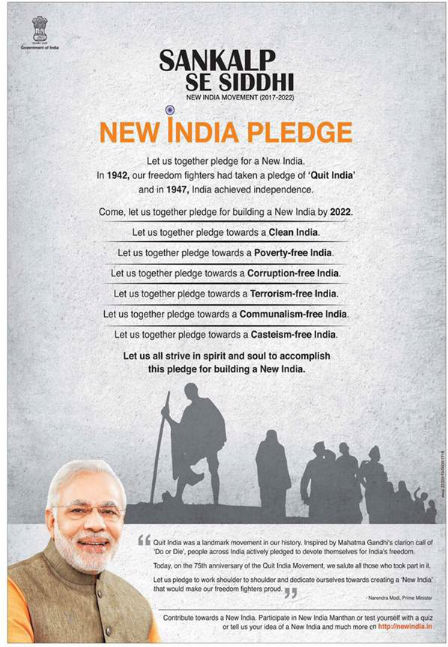 Environment Minister launches 'Gaj Yatra' to mark World Elephant Day 2017
'Gaj Yatra':
A nationwide campaign to protect elephants was launched by Union Environment, Forest and Climate Change Minister, Dr. Harsh Vardhan, occasion of World Elephant Day.
The campaign is planned to cover 12 elephant range
WORLD ELEPHANT DAY
World Elephant Day is a yearly worldwide occasion celebrated over the world on August 12, committed to the safeguarding and assurance of elephants.
The objective of World Elephant Day is to make mindfulness about the predicament of elephants and to share learning and positive answers for the better care and administration of captive and wild elephants.
African elephants are listed as "vulnerable" and Asian elephants as "endangered" in the IUCN Red List of threatened species.
Key Fact: As per the available population estimates, there are about 400,000 African elephants and 40,000 Asian elephants.
World Elephant Day is celebrated to focus the attention of various stakeholders in supporting various conservation policies to help protect elephants, including improving enforcement policies to prevent illegal poaching and trade in ivory, conserving elephant habitats, providing better treatment for captive elephants and reintroducing captive elephants into sanctuaries.