TABLE OF CONTENTS
A.

 GS1 Related




B.

 GS2 Related


POLITY AND GOVERNANCE
1. Quickly settle defection cases: Venkaiah
2. PM-CJI talks speeded judicial appointments: Kurian Joseph
3. You may soon be able to opt out of Aadhaar
4. India gets first witness protection scheme
5. No step taken to fill posts in information panels: SC
6. Modi's priority is clean Ganga: Gadkari
7. Centre may bring back curbs in Andamans


C.

 GS3 Related


ECONOMY
1. Reserve Bank stands pat on rates
INTERNAL SECURITY
1. 'Cyberattacks cost big firms in India $10.3 mn on an average'
ENVIRONMENT
1. 'CO2 levels poised for record high'
SCIENCE AND TECHNOLOGY
1. 'Big bird' to take Internet to villages


D.

 GS4 Related




E. 

Editorials


AGRICULTURE
1. Farmer woes
ECONOMY
1. Aviation Industry Crisis
INTERNATIONAL RELATIONS
1. Qatar has left OPEC


F. 

Tidbits


1. Art world to launch a Noah's Ark for Kerala
2. In a first, baby born using uterus from a dead donor


G. 

Prelims Fact


H. UPSC Prelims Practice Questions
I. UPSC Mains Practice Questions 

Nothing here for today!!!
Category: POLITY AND GOVERNANCE
1. Quickly settle defection cases: Venkaiah
Context
Vice-President M. Venkaiah Naidu on Wednesday stressed on the need for an amendment to the Anti-Defection Law, making it mandatory for the Speaker/Chairman of Assembly/Council to dispose of petitions on defections within a time frame.
Details of the Speech
Constituting special tribunals to deal with election-related petitions and criminal cases against the elected representatives were also necessary, he said. According to Supreme Court records, 4,127 cases, including some of strong criminal nature, were pending against public representatives.
Sharing his views on the political scenario, Mr. Venkaiah Naidu said the anti-defection laws should be implemented in letter and spirit and expeditiously. There was a need for consensus to amend this law and insert time frame clause. "I could dispose of the petitions that I receive within this time-frame.
"Everybody has a right to change the party. But after changing the party, by evening, one should quit the position that came because of it. This is not happening in most States," he pointed out.
The legislators and politicians should maintain restraint while speaking about the Prime Minister, the Chief Minister or the Leader of the Opposition. Otherwise, the people might soon lose faith in the political processes and institutions. All efforts should be made towards creation of a cleaner polity.
Also, the political parties should take the State's finances into consideration before making tall promises and announcing freebies. People too must ensure that persons with the right antecedents were elected. They should elect their representatives based on conduct, calibre, capacity and character, but not on caste, region or religion. "You [people] have the power to change."
Anti-Defection Law
The 10th Schedule to the Indian Constitution popularly referred to as the 'Anti-Defection Law' was inserted by the 52nd Amendment (1985) to the Constitution.
'Defection' has been defined as, "To abandon a position or association, often to join an opposing group".
The anti defection law was enacted to ensure that a party member do not violate the mandate of the party and in case he do so he will be disqualified from participating in the election.
The Anti-Defection Law allows Parliament to announce those members defected who oppose or do not vote in line with party's decision.
The aim of Anti-Defection Law is to prevent members of Parliament to change parties for any personal motive.
Grounds for disqualification:
If an elected member voluntarily gives up his membership of a political party
It he votes or abstains from voting in such House contrary to any direction issued by his political party.
If any independently elected member joins any political party.
If any nominated member joins any political party after the expiry of six months.
The decision on questions are to disqualification on ground of defection is referred to the chairman or the Speaker of such House, and his decision is final.
All proceedings in relation to disqualification under this Schedule are deemed to be proceedings in Parliament or in the Legislature of a state.
2. PM-CJI talks speeded judicial appointments: Kurian Joseph
Context
A new channel of dialogue between Prime Minister Narendra Modi and Chief Justice of India Ranjan Gogoi on issues relating to judicial appointments is a reason for the quick-fire filling of judicial vacancies in the Supreme Court and the High Courts, Justice Kurian Joseph, who retired as the third senior-most judge of the Supreme Court, revealed on Wednesday.
He said the speedy appointments were due to "better clarity" that prevails after Justice Gogoi took over as the Chief Justice of India. "The Prime Minister and the Chief Justice of India certainly had discussions on these issues. Both heads would have taken appropriate decision to expedite the process. There is no delay now. They have sorted out the gaps…," said Justice Kurian, who was part of Chief Justice Gogoi's collegium till his retirement on November 29.
Related Concept – Appointment of Judges
The Constituent Assembly adopted a consultative process of appointing judges to ensure that judges remain insulated from political influence.
It avoided legislative interference and also the undemocratic provision of a veto to the Chief Justice.
Instead, it vested in the President the power to both make appointments and transfer judges between high courts.
The President (to act on the advice of the council of ministers) was however required to consult certain authorities such as the CJI or chief justice of the high court appropriately.
'Consultation' – The Supreme Court earlier ruled that the word "consultation" could not be interpreted to mean "concurrence".
Accordingly, the CJI's opinion was not binding on the executive.
Nevertheless, the executive could depart from the opinion only in exceptional circumstances and any such decision could be subject to judicial review.
The system was thus fairly balanced and in the First Judges Case, 1981 the court once again endorsed this interpretation.
Second Judges Case – In the famous Second Judges Case, 1993 the court however overruled its earlier decisions.
It now held that "consultation" meant "concurrence", and that the CJI's view enjoys primacy.
This is with the rationale that CJI could be best equipped to know and assess the "worth" of candidates.
But, the CJI was to formulate the opinion only through a body of senior judges that the court described as the 'collegium'.
In the Third Judges Case, 1998 the court clarified that the collegium would comprise CJI and four senior-most colleagues, in appointments to the Supreme Court.
And, the CJI and two senior-most colleagues in the case of appointments to the high courts.
Additionally, for HCs, the collegium would consult other senior judges in the SC who had previously served in the HC concerned.
On whether these views of the consultee-judges are binding on the collegium or not, the judgments are silent.
NJAC – The government, through 99th constitutional amendment, sought to replace the collegium with the National Judicial Appointments Commission. The Supreme Court however struck NJAC down.
The court's rationale was that the NJAC law gave politicians an equal say in judicial appointments to constitutional courts.
In what might now be called the Fourth Judges Case (2015), the court upheld the primacy of the collegium.
More importantly, it declared collegium as part of the Constitution's basic structure.
And so its power could not be removed even through a constitutional amendment.
But given the criticisms against the system, the judgment promised to consider appropriate measures to improve the collegium system.
3. You may soon be able to opt out of Aadhaar
Context
The government is in the last stages of finalising a proposal to amend the Aadhaar Act to give all citizens an option to withdraw their Aadhaar number, including biometrics and the data.
Background of the issue
The Supreme Court judgment in September upheld the validity of Aadhaar, however, with certain riders
A Constitution Bench had struck down Section 57 of the Act that allows private entities to use the unique number for verification. The Bench also declared that seeking to link it with bank accounts and SIM cards was unconstitutional.
"The initial proposal was prepared by the Unique Identification Authority of India (UIDAI). It submitted that once a child turns 18, he/she will be given six months to decide if he/she wants to withdraw," a senior official said.
In line with the court order, the proposal seeks to appoint an adjudicating officer to decide whether a person's Aadhaar-related data need to be disclosed in the interest of national security.
The court had also struck down Section 33(2), which allowed disclosure of Aadhaar information for national security reasons on the orders of an officer not below Joint Secretary. It had said an officer above Joint Secretary should consult a judicial officer and together take a call.
What is Aadhaar?
The UIDAI allots a unique identifier (Aadhaar Number) to each citizen and deposits their biometric and demographic data in a Central Identities Data Repository (CIDR).
Aadhaar or Unique Identification Number (UID) is a 12-digit number that serves as a unique identifier for Indian citizens.
Aadhaar's database has the records of over 1.12 billion registered users and is rapidly becoming the government's base for public welfare and citizen services scheme.
Aadhaar authentication process validates an identity with a 'yes' or 'no', using one of the six demographic fields (name, date of birth, gender, address, mobile or email) along with either biometrics or One Time Password (OTP).
The process is designed in such a way that neither the purpose of the transaction nor any other context is known to the Aadhaar system in order to ensure the safety of any transaction.
4. India gets first witness protection scheme
Context
The Supreme Court on Wednesday put in place a witness protection regime in the country, noting that one of the main reasons for witnesses turning hostile was that they were not given security by the State.
Details of the Scheme
A Bench of Justices A.K. Sikri and S. Abdul Nazeer said the Witness Protection Scheme, 2018 would come into effect immediately across all States.
Under it, witness protection may be as simple as providing a police escort to the witness up to the courtroom or, in more complex cases involving an organised criminal group, taking extraordinary measures such as offering temporary residence in a safe house, giving a new identity, and relocation to an undisclosed place.
The top court said the scheme, which aimed to enable a witness to depose fearlessly and truthfully, would be the law of the land till Parliament enacted suitable legislation.
The issue came up when the Supreme Court was hearing a public interest litigation plea seeking protection for witnesses in rape cases involving self-styled preacher Asaram Bapu.
The Bench said witnesses feared serious consequences if they deposed against Asaram. "It is alleged that as many as 10 witnesses have already been attacked and three witnesses have been killed," it noted.
5. No step taken to fill posts in information panels: SC
Context
The Supreme Court has said that posts in the Central Information Commission (CIC) and in State Information Commissions (SICs) are lying vacant and no effective steps have been taken to fill them.
Central Information Commission (CIC)
CIC was established in 2005 by Central Government under provisions of Right to Information (RTI) Act (2005).
The Chief Information Commissioner heads the Central Information Commission.
The general superintendence, direction and management of affairs of Commission are vested in Chief Information Commissioner who is assisted by Information Commissioners.
CIC hears appeals from information-seekers who have not been satisfied by the public authority, and also addresses major issues concerning the RTI Act.
CIC submits annual report to Union government on the implementation of the provisions of RTI Act.
The central government, in turn, places this report before each house of Parliament.
The Chief Information Commissioner and Information Commissioners are appointed by the President on the recommendation of a committee consisting of – The Prime Minister, who shall be the Chairperson of the committee; the Leader of Opposition in the Lok Sabha; a Union Cabinet Minister to be nominated by the Prime Minister.
Functions and Powers of CIC
It can order inquiry into any matter if there are reasonable grounds.
It can secure compliance of its decisions from the public authority.
It can recommend steps to be taken for promoting such conformity, if public authority does not conform to provisions of RTI Act.
It receives and inquires into a complaint from
It examines any record which is under control of the public authority and which may be withheld from it on any grounds during the enquiry.

While inquiring, it has powers of

civil

court.
6. Modi's priority is clean Ganga: Gadkari
Context
Prime Minister Narendra Modi had suggested that efforts must first be made to clean the Ganga and then the question of ensuring environmental flows could be addressed, Nitin Gadkari, Union Water Resources Minister, said at the India Water Impact Summit here on Wednesday.
Details of the statement
This is a significant statement, as prioritising environmental flows — and not mere cleaning — was a key demand of the late environmentalist and seer G.D. Agrawal, who went on a fast in June demanding that the government act on its promise to clean and save the Ganga, and died on October 11.
He had, in a letter to Mr. Modi on June 22, demanded that all under-construction and proposed hydropower projects on the Ganga and the rivers that fed it be cancelled.
This was critical to ensuring that the river remained 'aviral', its flow uninterrupted.
The tension between 'aviral' and 'swachh' (clean) has, for long, plagued the mission to clean the Ganga.
"The Prime Minister gave us a suggestion, that first you work for a 'clean Ganga' and then talk about 'aviral Ganga.' We constituted several committees of IITians and experts and concluded that 'aviralta' is a matter of great importance for us," said Mr. Gadkari.
Namami Gange Programme
Namami Gange programme was launched as a mission to achieve the target of cleaning river Ganga in an effective manner with the unceasing involvement of all stakeholders, especially five major Ganga basin States – Uttarakhand, Uttar Pradesh, Jharkhand, Bihar and West Bengal.
The programme envisages: River Surface Cleaning, Sewerage Treatment Infrastructure, River Front Development, Bio-Diversity, Afforestation and Public Awareness.
The program would be implemented by the National Mission for Clean Ganga (NMCG), and its state counterpart organizations i.e., State Program Management Groups (SPMGs).
In order to improve implementation, a three-tier mechanism has been proposed for project monitoring comprising of a) High level task force chaired by Cabinet Secretary assisted by NMCG at national level, b) State level committee chaired by Chief Secretary assisted by SPMG at state level and c) District level committee chaired by the District Magistrate.
The program emphasizes on improved coordination mechanisms between various Ministries/Agencies of Central and State governments.
7. Centre may bring back curbs in Andamans
Context
The Chairman of the National Commission for Scheduled Tribes, Nand Kumar Sai, has said the Centre may like to revisit its decision to lift the Restricted Area Permit (RAP) system from 29 islands of Andaman and Nicobar, after the death of U.S. citizen John Allen Chau.
To develop tourism, the RAP regime, in place since 1963, was lifted around August this year from 29 islands, including the North Sentinel (where Chau was reportedly killed). Though the regime was withdrawn, a tourist is required to take permission from the Forest Department and the local administration as it is protected under two other Acts.
"Our visits to the Nicobar islands have revealed that there has been much conversion activity by Christian missionaries, and our view is that further contact with tribal groups that have various degrees of exposure to other societies should be on their own terms, and nothing should be forced upon them," he said.
Protected Area Permit (PAP) and Restricted Area Permit (RAP) regime
The Foreigners (Protected Areas) Order, 1958 requires non-Indian citizens to obtain a Protected Area Permit (PAP) to visit the protected/ restricted areas in India.
This requirement is in addition to getting an Indian visa. In order to get the permit, the foreign nationals must meet certain requirements.
Even Indian citizens who are not residents of those areas require an Inner Line Permit (ILP) to enter these places. The Inner Line Permit is, however, significantly easier to get.
Citizens of Pakistan, Bangladesh, China and Myanmar can get the PAP only with the approval of the Union Ministry of Home Affairs
The PAP is normally valid for a duration of 10 days, with the option of extension for another 7 days.
Foreigners (Restricted Areas) Order 1968 states that a Restricted Area Permit (RAP) is required for non-Indians to visit certain areas in India.
1. Reserve Bank stands pat on rates
Context
The Reserve Bank of India (RBI) has left the key interest rate or the repo rate unchanged at 6.5% during the fifth bimonthly monetary policy review on Wednesday — which was on expected lines — while maintaining the 'calibrated tightening' stance though it reduced the inflation projection sharply.
Highlights of the Policy Review
All the six members of the Monetary Policy Committee (MPC) voted in favour of status quo on repo rate while only one member R.H. Dholakia voted for change in the stance to neutral.
The sharp fall in inflation comes on the back of 30% decline in crude oil prices in November compared with October.
The RBI decided to retain GDP growth rate for 2018-19 at 7.4% and estimated growth at 7.5% for the first half of the next financial year.
In a move to boost credit flows, the central bank has decided to reduce the statutory liquidity ratio (SLR) requirement for banks to 18% of net demand and time liabilities from 19.5% over the next six quarters, by 25 bps each in every quarter.
Monetary Policy Committee
It is the committee which will decide India's Monetary Policy. The formation of the monetary policy committee was mooted by the Urjit Patel committee.
The committee suggested that monetary policy be rule-based and not discretion-based. The final decision on monetary policy should not lie with the RBI governor alone but on a group of people.
Targeting inflation is to be the core objective of the central bank, and it will be answerable to law-makers if it failed to achieve the target.
Composition of MPC – MPC will be a 6 member committee: 3 members will be from RBI. These 3 members would include the governor who will also be the ex-officio chairperson of the committee. 3 members will be appointed by the central govt. These members should be experts in the field of finance or banking or economics or monetary policy. They will have a tenure of 4 years and will not be eligible for reappointment.
Decisions will be taken by majority vote with each member having a vote
The governor will not enjoy a veto power to overrule the other panel members, but will have a casting vote in case of a tie.
No government official will be nominated to the MPC.
1. 'Cyberattacks cost big firms in India $10.3 mn on an average'
Context
A large-sized organisation in India incurs an average of $10.3 million in economic losses due to cyberattacks, according to a Frost and Sullivan study commissioned by Microsoft.
Details of the Study
The study also said cyberattacks cost a mid-sized organisation an average of $11,000 in economic losses.
"Cybersecurity attacks have also resulted in job losses across different functions in more than three in five (64%) organisations that have experienced an incident during the survey period," it added.
The study 'Understanding the Cybersecurity Threat Landscape in Asia Pacific: Securing the Modern Enterprise in a Digital World' surveyed 1,300 business and IT decision makers ranging from mid-sized organisations (250 to 499 employees) to large-sized organisations (more than 500 employees) from 13 markets, including India. It found that more than three in five organisations (62%) surveyed in India have either experienced a cybersecurity incident (30%) or were not sure if they had one as they had not performed proper forensics or data breach assessment (32%).
Cyber-attack
Cyber-attack is any type of offensive plan that targets computer information systems by malicious acts from an anonymous source.
It is to either steal, alter, or destroy a specified target by hacking into a susceptible system.
These can be labelled as either a cyber-campaign, cyber warfare or cyber terrorism in different context.
Cyber-attacks can range from installing spyware on a PC to attempts to destroy the infrastructure of entire nations
Related Office – Indian Computer Emergency Response Team
CERT-In is an office within the Ministry of Electronics and Information Technology.
It is the nodal agency to deal with cybersecurity threats like hacking and phishing.
It strengthens security-related defence of the Indian Internet domain.
They exchange information on prevalent cybersecurity policies and best practices.
There are MoUs signed between nations by this agency.
Related Terminology – Ransomware
Ransomware is a type of malicious software that threatens to publish the victim's data or eternally block access to it unless a ransom is paid.
1. 'CO2 levels poised for record high'
Context
Global carbon emissions are set to hit an all-time high of 37.1 billion tonnes of CO2 in 2018, according to researchers at the University of East Anglia (UEA) and the Global Carbon Project.
Details of the Research
India, the third-highest contributor, is projected to see emissions rise by 6.3% from 2017.
The 2.7% projected global rise in 2018 has been driven by appreciable growth in coal use for the second year in a row, and sustained growth in oil and gas use, according to the study that was published simultaneously on Wednesday in several leading scientific journals.
CO2 emissions have now risen for a second year, the study's authors say, after three years of little to no growth from 2014 to 2016. The rise in 2017 was 1.6%.
The 10 biggest emitters in 2018 are China, U.S., India, Russia, Japan, Germany, Iran, Saudi Arabia, South Korea, and Canada. The EU as a region of countries ranks third. China's emissions accounted for 27% of the global total, having grown an estimated 4.7% in 2018 and reaching a new all-time high.
Emissions in the U.S., which has withdrawn from its commitment to the Paris Agreement, account for 15% of the global total, and look set to have grown about 2.5% in 2018 after several years of decline.
Limiting global warming to the 2015 Paris Agreement goal of keeping the global temperature increase this century to well below 2°C, would need carbon dioxide emissions to decline by 50% by 2030 and reach net zero by about 2050.
Though coal use contributed to the rise in 2018 from last year, it still remains below its historical high in 2013 but may exceed that if current growth continues, the study's authors note.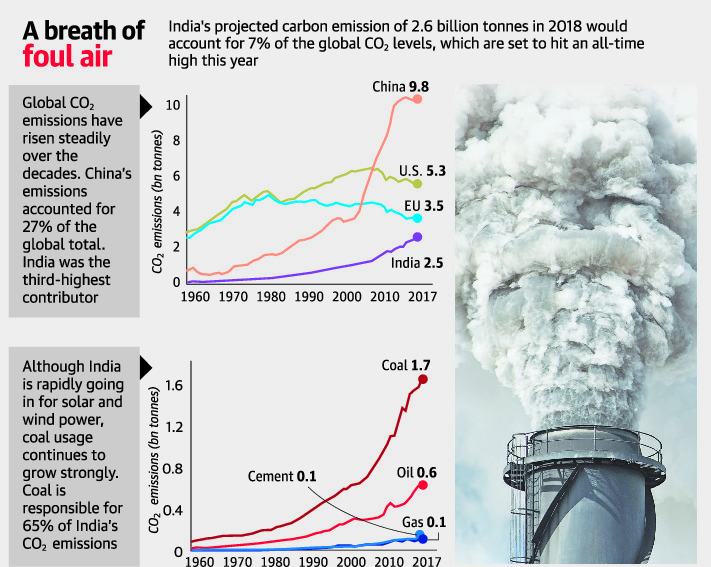 Possible impacts of Global Warming
Climate change is expected to have a significant influence on terrestrial biodiversity at all system levels – ecosystem, species and genetic diversity.
According to World Meteorological Organization, climate change can adversely impact global environment, agricultural productivity and the quality of human life. More importantly in developing countries, it will be difficult for farmers to carry on farming in the increased temperatures.
The monsoon accounting for 75% of India's rainfall significantly impacts country's agriculture and livelihood of tens of millions of small farmers.
Climate change, more particularly harsher weather conditions, will have impact on the quality, productivity, output and viability of fish and aquaculture enterprises, thereby affecting fishing community.
Rising sea levels owing to climate change would force communities in low-lying coastal areas and river deltas to move to higher ground level.
Glaciers the world over are thinning and shrinking as the planet warms, and glaciers in the Himalayas are receding faster than anywhere else
Environmental consequences of climate change, such as extreme heat waves, rising sea-levels, changes in precipitation resulting in flooding and droughts, intense hurricanes, and degraded air quality have impact directly and indirectly on the physical, social, and psychological health of humans.
Category: SCIENCE AND TECHNOLOGY
1. 'Big bird' to take Internet to villages
Context
India's first six-tonne-class 'big bird' in space, advanced communication satellite GSAT-11, was put into orbit in the early hours of Wednesday from the European spaceport in Guiana in South America.
Details of the GSAT 11
GSAT-11 is part of ISRO's new family of high-throughput communication satellite (HTS) fleet that will drive the country's Internet broadband from space to untouched areas; the broadband domain is now ruled by underground fibre and covers partial and convenient locations.
Already up in space are two HTSs — GSAT-29 (November 14) and GSAT-19 (June 2017) — while one more is due to join them in the near future. They are all to provide high-speed Internet data services at the rate of 100 Gbps (Gigabits per second) to Indian users. ISRO has earlier said this speed would be far better than what is available in the country now.
The HTSs will also be the backbone of pan-India digital or easy Internet-based programmes and services — such as Digital India, Bharat Net for rural e-governance, and commercial and public sector VSAT Net service providers.
According to ISRO, GSAT-11's multiple spot beam coverage — 32 in Ku band and 8 in Ka bands — will deliver an improved service of 16 gbps over the Indian region and nearby islands. It said, "GSAT-11 will play a vital role in providing broadband services across the country. It will also provide a platform to demonstrate new generation applications."
Its mission is to enable high-speed satellite-based Internet services to users in rural and remote areas and to businesses down home over the next 15 years.
The satellite and the launch fee have cost ISRO ₹1,200 crore.
Launched in October 2011, Bharat Net (earlier called the National Optical Fibre Network) aims to provide 2.5 lakh village panchayats with e-banking, e-education, e-health and e-governance, among others, through reliable broadband connectivity.
Enabling in-flight Internet and village web services are the government's other goals: the latter promises to bridge the urban-rural digital divide.
Nothing here for today!!!
1. Farmer woes
Background
Farmers from different parts of the country are knocking at the doors of Parliament in Delhi.
This was led by opposition leaders and activists, nearly one lakh farmers reached Delhi. All India Kisan Sangharsh Coordination Committee, an alliance of various farmer bodies, had organised the protest called Kisan Mukti March.
They have drawn their inspiration to protest from the Kisan Long March that took place from Nashik to Mumbai
What do they want?
Their sole aim was to get their demands heard, to reclaim their rural means of support, their fundamental rights, and Parliament itself. Their voice was to be heard by the legislators.
Protesting farmers demand a special session of Parliament on agrarian crisis to pass two Bills:
One, pertaining to one-time full loan waiver,
Two, long-term institutional measures to ensure farmers are not pushed into debt again.
They also demand implementation of Swaminathan Commission recommendations that say the minimum support price should be fixed at 50% above the comprehensive cost of production.
Taken a step further, their mass action reflects a desire to reset the economic and political agenda of the country.
Coming together of diverse local issues
Farmers from U.P. and Haryana participated as they were affected by the non-payment of dues to their Sugarcane production
Farmers from Maharashtra and Karnataka who are facing crop failure due to an acute water crisis
Farmers from parts of U.P. who are facing water contamination due to industrial emissions,
farmers from Tamil Nadu who are facing crop destruction due to stray animals, climate change and rising input costs, and farmers facing indebtedness.
There were Dalit farmers, who are facing landlessness,
Women farm workers who brought up the issue of unequal pay and
Adivasi farmers who spoke about land dispossession despite having cultivated indigenously for thousands of years.
Many of these concerns were linked to corporatisation of the farm sector processes.
Conclusion
Will the urban Working class empathize and offer deeper alliances and solidarities with the rural distressed community?
Will there be backing and assistance from the urban and middle classes if there are sensitized about plight of the farmers?
Will it only be a short-term political game or a broader picture of reassuring farmers about their sustainability?
These are questions that need an answer. The country is in the midst of a massive agrarian crisis and it is undeniable. The images of starvation and stories of farmer suicides are heart-wrenching. Gunnar Myrdal had written in his seminal work The Asian Drama, that Indian agriculture is a gamble on monsoons. That was in 1968. Sadly, even after 50 years, it is still as dependent on the vagaries of the climate.
Any movement like this which seeks answers should not be addressed by placebo governance which is evolved around doles and subsidies but will require pondering deep into root cause and addressal of the social and economic menace.
What is the crisis?
The three main publicly listed airlines in the country — IndiGo, SpiceJet and Jet Airways — slipped from profitability to steep losses in the first nine months of the calendar year 2018. These airlines together account for 70% of the domestic market share.
Why are they in trouble?
There has been 40% increase in the cost of Aviation Turbine Fuel in the last one year. Fuel accounts for the biggest expenditure for an airline — anywhere between 30 and 40% of the total expenditure incurred.
At the same time, the rupee has seen a consistent fall and even breached 74 to a dollar in early October 2018, though it has stabilised to a degree now.

This meant that fuel costs apart, airlines were spending more on payments made in foreign currency for engine lease rentals, and maintenance and purchase of spare parts.

Despite this rise in operational costs, the airlines have been unable to raise fares because of stiff competition among them.
With the constant upsurge in domestic flights, airlines have embarked on a massive fleet expansion, which means there are more seats to fill than ever before, as many of these airplanes are pressed into service on the already popular routes.
Losses
As a result, by the end of September, market-leader IndiGo posted a loss of ₹6,52.1 crore — its first loss since being listed.
The airline saw a nearly 60% rise in its expenses to ₹7,502.2 crore compared to the previous year.
Of this, fuel expenses at ₹3,035.4 crore accounted for an almost 50% increase and the remainder was because of rupee depreciation and an inability to raise fares.
Importantly, the cost incurred on fuel in the second quarter was double that in the same period last year.
What does it mean for passengers?
An airline shutting down could impact connectivity and compress capacity on important routes and drive up airfares.
Air travel is no more a luxury, but a necessity, and impacts the economy. So, possible airline failures will impact the public directly and indirectly.
However, experts say that an airline closing down is unlikely, though there could be a merger or a consolidation.
What lies ahead?
According to the International Air Transport Association, the global aviation body, India will be the third biggest aviation market by 2024 after China and the U.S.
India is the aviation market of the 21st century and experts see a profitable future for most Indian carriers, if infrastructure, policy and regulatory framework improve.
So, Short-term cyclical issues are unlikely to impact the long-term strategic outlook.
Category: INTERNATIONAL RELATIONS
Context
Qatar — among the world's smallest countries by area and the richest in terms of per capita gross national income ($128,000 or Rs 90 lakh, according to World Bank figures) — announced it was walking away from OPEC, a cartel of 15 countries that produce about 45% of the world's oil and contain over 80% of its "proven" reserves.
Organisation of the Petroleum Exporting Countries (OPEC)
OPEC an intergovernmental organisation was founded in 1960 by Saudi Arabia, Iraq, Iran, Kuwait, and Venezuela. Qatar joined in 1961.
Some of the world's biggest oil producers do not belong to OPEC. Among them: Canada, China, Mexico, Norway, Russia, and the United States itself.

And although not a single European nation is an OPEC member, the organization maintains its headquarters in Vienna, Austria.

The stated mission of the organisation is to "coordinate and unify the petroleum policies of its member countries and ensure the stabilization of oil markets, in order to secure an efficient, economic and regular supply of petroleum to consumers, a steady income to producers, and a fair return on capital for those investing in the petroleum industry."
The formation of OPEC marked a turning point toward national sovereignty over natural resources,
The OPEC members are the following: Algeria, Angola, Equatorial Guinea, Gabon, Iran, Iraq, Kuwait, Libya, Nigeria, Qatar, Republic of the Congo, Saudi Arabia (the de facto leader), United Arab Emirates, Ecuador and Venezuela (From South America)
Saudi Arabia dominates the cartel. OPEC has a very big influence on global oil prices, which play a crucial role in determining the economic health of many countries, including India.
Indonesia is a former member, and Qatar will no longer be the member of OPEC starting on 1 January 2019
Why has Qatar left OPEC?
Qatar denied there were political reasons for leaving OPEC
Qatar wanted to focus on its gas industry rather than on oil, in which it was in any case a small player. Qatar's riches are due to its natural gas reserves, and it is the world's largest exporter of liquefied natural gas (LNG).
Qatar wants to focus on gas production because Australia is threatening to dethrone Qatar as the world's biggest LNG seller as it ramps up production of the gas that is cooled to liquid to be transported by ships.
Qatar plans to boost its LNG output to 110 million tonnes per year from its current 77 million tonne annual output.
Is Qatar the first country to leave OPEC?
Qatar is the first Middle Eastern country to leave OPEC, but other countries have come and gone.
Indonesia, which first joined the organisation in 1962, suspended its membership in January 2009, then reactivated it in January 2016, only to leave again in November 2016. Dwindling production from the Asian state contributed to its decision.
Ecuador, which became a member in 1973, suspended its membership in December 1992 but then joined again in October 2007. Gabon, which entered the organisation in 1975, terminated its membership in January 1995 but came back in July 2016.
What is Saudi's problem with Qatar?
Qatar has long showed an independent mind in foreign policy that does not always align with the priorities of its regional Arab neighbours. This includes having a close economic and diplomatic relationship with Shia Iran, Sunni Saudi's great regional rival.
In 2017, Saudi Arabia, UAE, and Bahrain cut ties with Qatar, directed Qatari citizens to leave within 14 days, and forbade their citizens from going to or staying in Qatar.
Egypt too severed diplomatic contact with Doha, and all of them shut their airspace to Qatari aircraft, and told foreign airlines to seek permission if flying to and from Qatar.
Saudi sealed Qatar's only land border, and closed its ports to Qatari-flagged ships.
Riyadh claimed Qatar had refused to end ties with "terrorists", after Doha declined to fulfil 13 demands that were presented to it, including cutting diplomatic relations with Tehran and military ties with Turkey, shutting down the TV station Al Jazeera, and aligning with other Arab countries "militarily, politically, socially and economically".

Qatar said the demands amounted to "surrendering our sovereignty", which it would "never" do.

Doha has backed the Muslim Brotherhood and Hamas, but it is also part of the US-led war on the Islamic State, and has assisted the rebels fighting Bashar al-Assad's regime in Syria
Will Qatar leaving OPEC impact global oil prices?
Not quite. Qatar is a tiny player that pumped 609,000 barrels a day in October, only 2% of OPEC's total output of 32.9 million barrels per day.
However, over the last many decades, it has played a role mediating internal rivalries in OPEC and striking production-cut deals with producers like Russia. This is where its absence may hurt OPEC a bit.
Will India be impacted by the departure in any way?
Qatar has limited influence on OPEC's pricing decisions.
From India's perspective, its position as the world's top LNG exporter (annual production of 77 million tonnes per year) and an influential player in the global LNG market is more pertinent.
Qatar is one of India's oldest LNG suppliers, with Petronet LNG among the companies that have contracted to buy LNG from Qatar.
But LNG pricing is not in OPEC's domain, so Qatar's decision is unlikely to impact these trends.
1. Art world to launch a Noah's Ark for Kerala
The art world is launching a figurative Noah's Ark, a live art auction titled 'Art Rises for Kerala' (ARK), to save Kerala society, which is picking up the pieces after a devastating flood.
Steered by the Kochi Biennale Foundation (KBF) in partnership with the art auction house Saffronart, the auction featuring about 40 works by renowned artists will be held at Grand Hyatt in Kochi on January 18, during the course of the forthcoming edition of the Kochi Muziris Biennale (KMB) — a 108-day contemporary art jamboree getting under way on December 12.
Renowned British artist Anish Kapoor — whose work 'Descension', a bottomless whirlpool, which was a major draw in the 2014-biennale — was the first to get a call from Mr. Krishnamachari with the idea of a fund-raiser auction to support Kerala.
"He was very happy to offer a work. That gave us a good start," says Mr. Krishnamachari. There will be quite a few high-value works going under the hammer and on the list are prominent names like sculptor Subodh Gupta, photo artist Dayanita Singh, Italian contemporary artist Francesco Clemente, and T.V. Santhosh.
Saffronart, which has held two previous auctions to raise corpus funds for the biennale, will not be charging buyer's premium or any other fees and the proceeds will be donated towards the Chief Minister's Distress Relief Fund (CMDRF). "The goal is to raise anywhere between ₹5 crore and ₹10 crore," says Mr. Krishnamachari.
2. In a first, baby born using uterus from a dead donor
In a medical first, a mother who received a uterus transplant from a dead donor gave birth to a healthy baby, researchers reported on Wednesday.
The breakthrough operation, performed in September 2016 in Sao Paulo, Brazil, shows that such transplants are feasible and could help thousands of women unable to have children due to uterine problems, according to a study published in The Lancet.
The baby girl was born in December 2017.
Until recently, the only options available to women with so-called uterine infertility were adoption or the services of a surrogate mother.
The first successful childbirth following uterine transplant from a living donor took place in 2014 in Sweden, and there have been 10 others since then.
But there are far more women in need of transplants than there are potential live donors, so doctors wanted to find out if the procedure could work using the uterus of a woman who had died.
Ten attempts were made — in the U.S., the Czech Republic, and Turkey — before the success reported on Wednesday.
Infertility affects 10 to 15% of couples.
Of this group, one in 500 women have problems with their uterus — due, for example, to a malformation, hysterectomy, or infection — that prevent them from becoming pregnant and carrying a child to term. "Our results provide a proof-of-concept for a new option for women with uterine infertility," said Dani Ejzenberg, a doctor at the University of Sao Paulo.
Nothing here for today!!!
H. Practice Questions for UPSC Prelims Exam
Question 1. Public expenditure on social services in last few years has consistently

Increased
Decreased
Almost constant
No definite conclusion can be made
See
Question 2. Right to Education Act 2009 stipulates
Physical infrastructure of schools
Both school-wise and class-wise learning outcomes
Select from the codes below:
1 only
2 only
Both 1 and 2
None
See
Question 3. Which of the following states has the highest indirect tax base under GST?
Maharashtra
Madhya Pardesh
Uttar Pardesh
Tamil Nadu
See
I. Practice Questions for UPSC Mains Exam
Vice-President M. Venkaiah Naidu recently stressed on the need for an amendment to the Anti-Defection Law. In this context write a note on Anti-defection law. (150 words; 10 Marks)

A large-sized organisation in India incurs an average of $10.3 million in economic losses due to cyberattacks, according to a Frost and Sullivan study commissioned by Microsoft. What do you understand by Cyber Attacks? Critically evaluate the India's approach in dealing with the issue. (150 words; 10 Marks)
See previous CNA