TABLE OF CONTENTS
A.

 GS1 Related




B.

 GS2 Related


POLITY AND GOVERNANCE
1. How do you appoint CIC officials, asks SC
2. Supreme Court verdict on Rafale probe today
3. NGOs flay judge's citizenship view
SOCIAL JUSTICE
1. Lack of basic rights for the aged a concern: SC
INTERNATIONAL RELATIONS
1. Dissolution of House by Sirisena illegal: SC


C.

 GS3 Related


ECONOMY
1. Bankers ask Das to ease PCA norms
ENVIRONMENT
1. Migratory birds at Chilika face flu threat
2. Come June, groundwater extraction will invite a fee


D.

 GS4 Related




E. 

Editorials


POLITY AND GOVERNANCE
1. The fear of executive courts (Judiciary)


F. 

Tidbits


1. MHA to tech giants: check online abuse
2. Gandhi statue removed in Ghana
3. SC bats for rights of death row convicts
4. Scientists step in to save Punganur cow
5. Post-poll, it's brain gain for Telangana


G. 

Prelims Fact


1. 'Odisha lacks sincerity in monitoring child care homes'
2. Highlights of the IIFK
H. UPSC Prelims Practice Questions
I. UPSC Mains Practice Questions

Nothing here for today!!!
Category: POLITY AND GOVERNANCE
1. How do you appoint CIC officials, asks SC
Context
The Supreme Court on Thursday asked the government to disclose the process for appointment of Central Information Commissioner and Information Commissioners, including the names of candidates who applied and who were shortlisted.
The government informed a Bench led by Justice A.K. Sikri that it had so far received 65 applications for the post of the Central Information Commissioner and 280 for the post of Information Commissioners.
Background
The petition, filed by Anjali Bhardwaj, alleged that the Central and State governments "have attempted to stifle the functioning of the Right to Information Act by failing to do their statutory duty of ensuring appointment of commissioners in the Central Information Commission (CIC) and the State Information Commissions in a timely manner."
"This is despite huge backlogs of appeals and complaints in many information commissions across the country. Due to the non-appointment of Information Commissioners, several information commissions take many months, and in some cases even years, to decide appeals and complaints, with the accumulation of pending appeals/complaints, thus defeating the entire object of the RTI Act," the petition said.
Central Information Commission (CIC)
CIC was established in 2005 by Central Government under provisions of Right to Information (RTI) Act (2005).
The Chief Information Commissioner heads the Central Information Commission.
The general superintendence, direction and management of affairs of Commission are vested in Chief Information Commissioner who is assisted by Information Commissioners.
CIC hears appeals from information-seekers who have not been satisfied by the public authority, and also addresses major issues concerning the RTI Act.
CIC submits annual report to Union government on the implementation of the provisions of RTI Act.
The central government, in turn, places this report before each house of Parliament.
The Chief Information Commissioner and Information Commissioners are appointed by the President on the recommendation of a committee consisting of – The Prime Minister, who shall be the Chairperson of the committee; the Leader of Opposition in the Lok Sabha; a Union Cabinet Minister to be nominated by the Prime Minister.
Functions and Powers of CIC
It can order inquiry into any matter if there are reasonable grounds.
It can secure compliance of its decisions from the public authority.
It can recommend steps to be taken for promoting such conformity, if public authority does not conform to provisions of RTI Act.
It receives and inquires into a complaint from.
It examines any record which is under control of the public authority and which may be withheld from it on any grounds during the enquiry. While inquiring, it has powers of civil court.
2 Supreme Court verdict on Rafale probe today
Context
A Supreme Court Bench, led by Chief Justice of India Ranjan Gogoi, will on Friday pronounce its judgment on a batch of petitions for an independent court-monitored probe into the Rafale deal.
About Rafale jets
India in September 2016 inked a direct deal with the French government to purchase 36 new Rafale fighter jets.
Rafale is a twin-engine medium multi-role combat aircraft, manufactured by French company Dassault Aviation. Dassault claims Rafale has 'Omnirole' capability to perform several actions at the same time, such as firing air-to-air missiles at a very low altitude, air-to-ground, and interceptions during the same sortie.
The aircraft is fitted with an on-board oxygen generation system (OBOGS) which suppresses the need for liquid oxygen re-filling or ground support for oxygen production.
It carry out a wide range of missions: Air-defence/air-superiority, Reconnaissance, close air support dynamic targeting, Air-to-ground precision strike/interdiction, anti-ship attacks, nuclear deterrence, buddy-buddy refueling.
Background of the issue
Many international aviation manufactures expressed interest when they got know about the Indian government's plan to revamp its IAF fleet by introducing Multi-Role Combat Aircrafts.
IAF conducted technical and flight evaluations and in 2011, declared that Rafale and Eurofighter Typhoon had met its criteria. Rafale was declared L-1 bidder in 2012 and contract negotiations began with its manufacturer, Dassault Aviation, that year.
Contract negotiations remained incomplete even after 2 years, in 2014 due to a lack of agreement on various terms of RFP compliance and cost related issues. There was no deal under the UPA Government.
Transfer of Technology remained the primary issue of concern between the two sides. Dassault Aviation was also not willing to take the responsibility of quality control of production of 108 aircraft in India.
In April 2015, Prime Minister Narendra Modi had announced that India will buy 36 French-manufactured Rafale fighter jets off-the-shelf from Dassault, the French aircraft builder and integrator.
Nearly one- and-half years after Prime Minister Narendra Modi announced the proposal during a visit to Paris, finally in September 2016, India signed an inter-governmental agreement with France, dubbed as "Rafale deal", in which India will pay about Rs. 58,000 crore or 7.8 billion Euros for 36 off-the-shelf Dassault Rafale twin-engine fighters.
In November 2017, Congress alleged a 'huge scam' in Rafale fighter jets deal. Saying that the contract violated the procurement procedure, the Congress party blamed the government for promoting of 'crony capitalist friends' at the cost of a defence public sector unit, Hindustan Aeronautics Limited.
Congress alleged that the deal signed with France does not cater for technology transfer and has caused an 'insurmountable' loss to the exchequer.
Officials say that due to national security reasons, there is a confidentiality clause in the Rafale deal which bars the buyer and seller from talking about the pricing, making it impossible for any government to reveal any detail about the defence deals.
The delivery of the Rafale jets is scheduled to begin from September, 2019.
3. NGOs flay judge's citizenship view
Context
NGOs in Meghalaya have resented the plea by a judge of the State's High Court for granting citizenship to migrants from India's neighbourhood without any questions asked or production of documents.
The Khasi Students' Union said the idea would be disastrous for the indigenous communities in the Northeast. "The KSU is not against any humanitarian venture by the country, but it feels that prior to the implementation of any international humanitarian act, the humanitarian perspective of the microscopic indigenous communities of Northeast India should be taken into account," union's general secretary Donald Thabah said.
Background
The present government had introduced the Citizenship (Amendment) Bill, 2016, in Parliament which seeks to amend the Citizenship Act, 1955, and provide citizenship to migrants from Afghanistan, Bangladesh and Pakistan, who are of Hindu, Sikh, Buddhist, Jain, Parsi or Christian extraction. Several parties and organisations in the Northeast are protesting against this Bill.
The Meghalaya High Court has asked the Centre to bring in a law to let people of religious and ethnic minority communities from Afghanistan, Bangladesh and Pakistan be given citizenship without any cut-off year or any questions asked.
Allowing a writ petition by Amon Rana, an Army recruit who was denied domicile certificate by the Meghalaya government, Justice Sen said that the Centre should have a law allowing Hindus, Sikhs, Jains, Buddhists, Parsis, Christians, Khasis, Jaintias and Garos from neighbouring countries to live in India "with full dignity without making any cut-off year and be given citizenship without any question or production of any document".
The judge also included the Khasis, Jaintias and Garos among those he felt needed unconditional citizenship. A fraction of three principal matrilineal communities of Meghalaya inhabits adjoining areas of Bangladesh.
The Citizenship (Amendment) Bill, 2016
The Bill, introduced in the Lok Sabha on July 15, 2016, seeks to amend the Citizenship Act, 1955 to provide citizenship to illegal migrants, from Afghanistan, Bangladesh and Pakistan, who are of Hindu, Sikh, Buddhist, Jain, Parsi or Christian extraction.
However, the Act doesn't have a provision for Muslim sects like Shias and Ahmediyas who also face persecution in Pakistan.
The Bill also seeks to reduce the requirement of 11 years of continuous stay in the country to six years to obtain citizenship by naturalisation.
According to the Citizenship Act, 1955, an illegal immigrant is one who enters India without a valid passport or with forged documents. Or, a person who stays beyond the visa permit.
1. Lack of basic rights for the aged a concern: SC
Context
Terming the rights of the rising elderly population of the country an "emerging situation" not envisaged even in the Constitution, the Supreme Court on Thursday said the government could not tighten its purse strings in the name of "economic budgeting" to explain the inadequate welfare provided to senior citizens and the aged.
The court said it was a statutory right of every aged person under the Maintenance and Welfare of Parents and Senior Citizens Act of 2007 to be provided dignity, health and shelter. All the three are important components which make the fundamental right to life under Article 21.
The Centre also noted that there had been a steady rise in the population of senior citizens in India. It submitted in court that the number of elderly persons had increased from 1.98 crore in 1951 to 7.6 crore in 2001 and 10.38 crore in 2011. It is projected that the number of 60+ in India would increase to 14.3 crore in 2021 and 17.3 crore in 2026.
The welfare of Parents and Senior Citizens Act, 2007
Initiated by the Ministry of Social Justice and Empowerment, Government of India, the Act was enacted in order to provide more effective provision for maintenance and welfare of parents and senior citizens.
This Act makes it a legal obligation for children and heirs to provide maintenance to senior citizens and parents, by monthly allowance. This Act also provides simple, speedy and inexpensive mechanism for the protection of life and property of the older persons.
Maintenance is defined in the Act as including "provision for food, clothing, residence and medical attendance and treatment".
Who Can Claim Maintenance?
Parents – Parents mean biological, adoptive and step-parents. The age of parents is irrelevant to claim maintenance.
Grandparents – Grandparents include both maternal and paternal grandparents.
Senior Citizen – A senior citizen is an Indian citizen who is 60 years of age or older.
The only condition for claiming maintenance under this Act is that the persons must be unable to maintain themselves from their own earnings and property.
Who is legally obligated to pay the maintenance?
Adult Children and adult grandchildren, both male and female, are responsible for paying maintenance to parents and grandparents.
An application can be filed against any one or more of them. Senior citizens who do not have children or grandchildren can claim maintenance from a relative who is either possessing their property or who will inherit their property of the senior citizen after their death.
Category: INTERNATIONAL RELATIONS
1. Dissolution of House by Sirisena illegal: SC
Context
In a landmark case of the Sri Lankan judiciary ruling on the executive, the Supreme Court said on Thursday that President Maithripala Sirisena's move last month, dissolving Parliament and calling for snap polls, was illegal.
The seven-member Bench unanimously deemed Mr. Sirisena's action unconstitutional. Chief Justice Nalin Perera told a packed courtroom that the President's November 9 proclamation — sacking Parliament — was null and void and had no effect in law.
Background at a glance
First, President Maithripala Sirisena dismisses Prime Minister Ranil Wickramasinghe, who was his choice.
Then he installs as Prime Minister Mahinda Rajapaksa, the former President and someone whom Sirisena had defeated in the most recent election.
Sirisena realised that Wickramasinghe was popular, so he dissolved Parliament but the Supreme Court ruled it illegal. Sirisena still did not want to call Parliament. The Speaker refused to obey.
The outgoing Prime Minister knew he could win a vote of confidence and Rajapaksa could not win. Then Sirisena promised elections in January. Parliament was summoned by the Speaker. Rajapaksa lost the confidence vote.
Analysis of the situation
The judgment is a major blow to Mr. Sirisena, whose sudden decision on October 26 — dismissing the incumbent Prime Minister Ranil Wickremesinghe and appointing the former President Mahinda Rajapaksa in his place — sparked, arguably, the country's biggest political crisis since the civil war ended nearly a decade ago.
The bitter power struggle for seven weeks now has left the island without a legitimate government or Cabinet, while the economy and its key tourism sector have taken a severe beating.
South Asia has been the home of religions preaching nonviolence but its politics has been very violent. There have been regional disputes, competing nationhoods as well as communal conflicts.
India has asked that democratic values and constitutional process be respected. This is due to the fact that further chaos could derail Colombo's slow progress towards rebuilding its economy and healing the wounds of the civil war. After all, a peaceful neighbour is always beneficial for a country like India.
1. Bankers ask Das to ease PCA norms
Context
Chief executives of public sector banks, who met the new Reserve Bank of India (RBI) Governor Shaktikanta Das on Thursday, requested the central bank to relax the prompt corrective action (PCA) norms on the ground that it was hurting credit off-take.
Bad loans in the banking system have risen sharply over the last three years, with gross NPAs crossing the ₹10 lakh crore mark. The rise in NPAs has impacted banks' profitability and eroded their capital.
Prompt Corrective Action (PCA) framework
PCA is a process or mechanism to ensure that banks don't go bust.
Under it, RBI has put in place some trigger points to assess, monitor, control and take corrective actions on banks which are weak and troubled.
It was first introduced after global economy incurred huge losses due to failure of financial institutions during 1980s-90s.
According to latest PCA framework, banks to be placed under it are assessed on three parameters viz. Capital ratios, Asset Quality and Profitability.
Indicators to be tracked for these three parameters are CRAR (Capital to Risk weighted Assets Ratio)/Common Equity Tier I ratio, Net NPA (non-performing assets) ratio and Return on Assets (RoA) respectively.
If banks breach of any risk threshold mentioned above, it results in invocation of PCA against them.
RBI enforces these guidelines to ensure banks do not go bust and follow prompt measures to put their house in order.
It had tightened its PCA framework in April 2017 to turn around lenders with weak operational and financial metrics,
Depending on the risk thresholds set in PCA rules, banks placed under it are restricted from expanding number of branches, staff recruitment and increasing size of their loan book.
Other restrictions include higher provisions for bad loans and disbursal only to those companies whose borrowing is above investment grades.
Non Performing Assets (NPA)
The assets of the banks which don't perform (that is – don't bring any return) are called Non Performing Assets (NPA) or bad loans. Bank's assets are the loans and advances given to customers. If customers don't pay either interest or part of principal or both, the loan turns into bad loan.
According to RBI, terms loans on which interest or installment of principal remain overdue for a period of more than 90 days from the end of a particular quarter is called a Non-performing Asset.
However, in terms of Agriculture / Farm Loans; the NPA is defined as – For short duration crop agriculture loans such as paddy, Jowar, Bajra etc. if the loan (installment / interest) is not paid for 2 crop seasons, it would be termed as a NPA. For Long Duration Crops, the above would be 1 Crop season from the due date.
1. Migratory birds at Chilika face flu threat
Context
Lakhs of migratory birds which have congregated at the Chilika lake are facing a threat to their lives following the detection of avian influenza virus barely a few kilometres away from the Nalabana Bird Sanctuary.
Some crows and chickens were found dead inside poultry farms in Krushnaprasad block last week. Subsequently, samples were sent to the National Institute of High Security Animal Diseases, Bhopal, for testing.
The State government informed that the samples have tested positive for H5N1 virus and a massive culling operation would be undertaken from Friday inside private poultry farms in the affected villages.
The Puri district administration would cull birds within one km radius of the place where the carcasses were found. Besides, officers of animal husbandry department have been asked to intensify surveillance in 10 km-radius area.
Avian Influenza (H5N1)
H5N1 is a type of influenza virus that causes a highly infectious, severe respiratory disease in birds called avian influenza (or "bird flu").
Human cases of H5N1 avian influenza occur occasionally, but it is difficult to transmit the infection from person to person.
When people do become infected, the mortality rate is about 60%
Almost all cases of H5N1 infection in people have been associated with close contact with infected live or dead birds, or H5N1-contaminated environments
The virus does not infect humans easily, and spread from person to person appears to be unusual
Chilika Lake
It is Asia's largest brackish water lagoon. It is the largest coastal lagoon in India and the second largest coastal lagoon in the world
It lies in Odisha state on the eastern coast of India, at the mouth of the Daya River flowing into the Bay of Bengal.
Because of its rich bio-diversity and socio-economic importance, Chilika was designated as a Ramsar site in 1981 to afford better protection.
It was first waterbody in Indian to be designated as wetland of international importance under the Ramsar Convention.
It is the largest wintering ground for migratory birds on the Indian sub- continent.
It was put under Montreux Record (record for such sites where there has been or likely to be adverse ecological change due to manmade activities), but was later removed from it due to conservation efforts.
Rambha sector in the Chilika Lake is the ideal sector for dolphins to play, flock and mate because of the stillness of the water in the bay area.
Chilika, known for its exquisite natural beauty, attracts many tourists because of its dolphin population.
2. Come June, groundwater extraction will invite a fee
India is the largest user of groundwater in the world, and accounts for about 25% of the global water extraction.
In India, extracted groundwater is mainly used for irrigation – about 90% of the annual groundwater extraction. The rest is drawn for drinking, domestic and industrial uses.
In a bid to promote conservation of groundwater, the Central Ground Water Authority (CGWA) has notified a water conservation fee (WCF) that industries will need to pay on groundwater extraction starting from June.
As per the notification, industries extracting groundwater, including mining-dewatering units and those that use groundwater for packaged drinking water, will need to apply for a no-objection certificate (NOC) from the government. Individual households that draw groundwater using a delivery pipe of a greater than 1" diameter, too, will need to pay a WCF.
However, the agriculture sector — the largest consumer of groundwater in the country — will be exempt from the fees.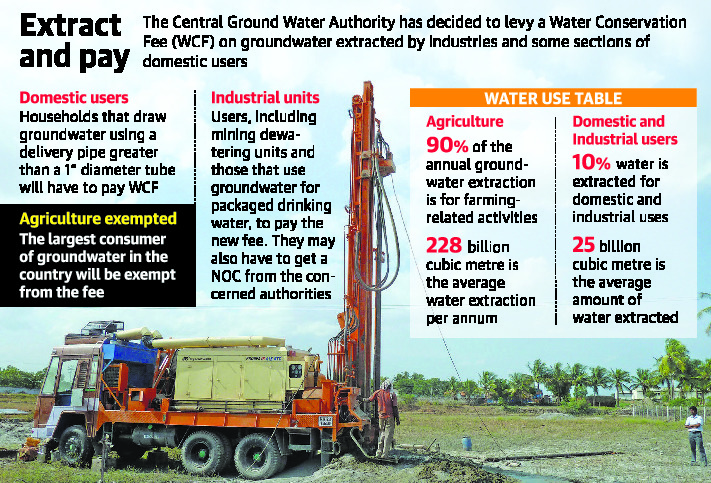 Nothing here for today!!!
Category: POLITY AND GOVERNANCE
1. The fear of executive courts (Judiciary)
What is in the news?
On 10th December, 2018, Justice S.R. Sen of the Meghalaya High Court observed in a judgment that "anybody opposing… Indian laws and the Constitution cannot be considered… citizens of the country." The case involved the denial of a domicile certificate.

Justice Sen, however, thought it fit to further note that in 1947 India "should … have been declared… a Hindu country", and that "our beloved Prime Minister" ought to legislate to grant automatic citizenship to (non-Muslim) religious minorities "who have come from Pakistan, Bangladesh and Afghanistan".

He also noted that "our political leaders" in 1947 "were too much in a hurry to get the independence… thus, creating all the problems today", and that "nobody should try to make India as another Islamic country".

In parting, Justice Sen directed the Assistant Solicitor-General to hand over a copy of his judgment "latest by 11-12-2018 to the Hon'ble Prime Minister, Hon'ble Home Minister, and Hon'ble Law Minister".
Editorial Analysis:
With regards to the observations made by Justice Sen, it is important to make a note of some of the observations made by certain experts in the field.  

Experts have remarked that Justice Sen's ill-advised and ill-judged verbal attack is only the latest in a series of instances where judges have inserted themselves into fraught political controversies. What compounds matters is that they have deployed the prestige of judicial office to lend weight to one side of the controversy. As a consequence, this marks an alarming trend.

As a matter of fact, there have been instances in the past as well where the judiciary has come under controversy- such as with Justice Mahesh Chandra Sharma of the Rajasthan High Court who had observed that peacocks don't have sex.

We normally think about judicial independence as independence from the government. Our Constitution is designed to ensure that judges can do their work "independent" of government influence: fixed salaries, security of tenure, and an appointments process that — through the Supreme Court's judgments — is insulated from executive control.
A Perspective on Judicial independence
Experts point out a broader perspective to the idea of Independence.

Further, it also requires that judges perform their constitutional role independent of personal biases, political and moral beliefs, and partisan ideologies.
It is important to note that of course, adjudication is a political task, and there is no doubt that a judge's political vision will inform her work. That, however, does not authorise the judge to turn into a politician.
Crucial Checks on Judicial Power:
At all times, judges are bound to maintain primary fidelity to the law and the Constitution: to the text of legal instruments, to the canons of legal interpretation, and to the body of judicial precedent that holds the field.
These are crucial checks on judicial power.
Therefore, judicial independence, depends on judges recognising that law, while being influenced by politics, is not reducible to it.

It is important to note that Law and adjudication must remain autonomous from partisan politics in important ways.

Further, the more we strengthen judicial independence in its first sense — independence from the government — the more attention we must pay to independence in this second sense.

This is because control brings with it accountability. Politicians, for example, remain "accountable" to the people in at least some sense, because they depend upon them in order to continue in office after five years.
Critics point out that judges who are insulated from any external control are accountable only to themselves, and their own sense of the limits of their constitutional role.
It is important to note that accountability only to oneself, however, is a very weak form of constraint. The temptation to overstep is always immense, more so when such immense power has been placed in one's own hands. It is here that legal culture plays a critical role in establishing judicial accountability.

By legal culture, experts refer to a set of unwritten, but clearly established, norms that determine what is or is not acceptable in the process of adjudication.
Further, a legal culture does not spring up out of a vacuum: it must be created and nurtured by judges, lawyers, legal academics, the press and the citizenry.
The causative factors of the crisis:
Certain important questions arise: Where, then, has the legal culture failed us?

Experts point out that the answer takes us back a few decades.

In the 1980s for example, there was a rapid expansion of judicial power. This expansion was motivated by a sense that the judiciary had long been a conservative institution, taking the side of landed interests against "the people". This needed to change.

In order to accomplish this, the Supreme Court began to dispense with procedural checks upon its power. Some of these steps were important and necessary, such as allowing "public interest" cases to be filed on behalf of those who were unable to access the courts.

Others, however, were double-edged swords, such as diluting the evidentiary standards required to prove disputed facts, and vastly expanding the courts' discretion to shape and fashion remedies.
A Brief Timeline:
By the 1990s and the 2000s, under the misleading label of "judicial activism", the court was beginning to engage in a host of administrative activities, from managing welfare schemes to "beautifying cities" to overseeing anti-corruption initiatives.
As a matter of fact, the constitutional court had become a Supreme 'Administrative' Court.
It is important to note that this, too, was justified on the altar of necessity: politicians were corrupt, bureaucrats were inefficient, and things didn't move. Someone had to come and clean it all up.

It is important to note that a combination of viewing the judiciary as an infallible solution to all social problems, and viewing procedure — that would otherwise constrain judicial power — as an irritant that stands in the way of a truer, purer justice has created the perfect storm that we see these days.
Concluding Remarks:
In conclusion, the record of the courts in protecting civil rights has been a mixed one. In far too many cases, courts have tended to defer to the executive and the government.

However, experts point out that judgments like the national anthem order, the Tirukkural order, the NRC process, and Justice Sen's recent foray raise an altogether more frightening prospect:

that of an "executive court".

By an executive court, experts imply a court whose moral and political compass finds itself in alignment with the government of the day, and one that has no compunctions in navigating only according to that compass.

Instead of checking and limiting government power, an executive court finds itself marching in lockstep with the government, and being used to set the seal of its prestige upon more controversial parts of the government's agenda.

What we currently need on an urgent basis is the return of a thriving legal culture, one that uncompromisingly calls out political posturing of the kind we have recently seen.

Only a principled consistency in requiring that judges must always give reasons for their judgment can halt the transformation of the constitutional court into an executive court

.
1. MHA to tech giants: check online abuse
The Ministry of Home Affairs (MHA) has approached U.S.-based search engine Google for sharing its Application Programming Interface (API) for identifying child sexual abuse material on social media platforms.
The MHA is also in talks with Microsoft to commercially acquire PhotoDNA, a tool that aids in finding and removing known images of child exploitation, according to technology giant's website.
In an affidavit filed in the Supreme Court, the MHA said that as many as 26 First Information Reports (FIRs)were registered based on complaints against child pornography and sexual harassment faced by women received on www.cybercrime.gov.in.
Over 2 lakh people have visited the website since the portal was launched on September 20 to receive complaints from citizens on objectionable online content related to child pornography, child sexual abuse material, and sexually explicit material such as rape and gang rape.
The MHA said that it has sent a draft agreement to U.S.-based National Center for Missing and Exploited Children, to access its "cyber tipline reports regarding missing and exploited children."
The MHA said it has shared keywords to identify objectionable content in the English, Hindi, Bengali and Kannada languageswith social media platforms.
The official said that the time limit given to social media platforms to take down such content after a request has been reduced from 72 to 36 hours.
2. Gandhi statue removed in Ghana
A statue of Mahatma Gandhi has been removed from Ghana's most prestigious university after complaints that "he was racist against black Africans".
India's former president Pranab Mukherjee had unveiled the statue of the global peace icon at the University of Ghana in Accra two years ago as a symbol of close ties between the two nations.
But lecturers soon began a petition calling for its removal, citing passages written by Mahatma Gandhi claiming that Indians were "infinitely superior" to black Africans.
The head of language, literature and drama at the Institute of African Studies, Obadele Kambon, said the removal was an issue of "self-respect".
"If we show that we have no respect for ourselves and look down on our own heroes and praise others who had no respect for us, then there is an issue," he said.
"If we indeed don't show any self-respect for our heroes, how can the world respect us? This is victory for black dignity and self-respect. The campaign has paid off."
3. SC bats for rights of death row convicts
Death row convicts should be allowed to meet with family, friends, lawyers and mental health professionals for a "reasonable period of time with reasonable frequency" like any other prisoner.
It is part of their fundamental right to dignity and equality, the Supreme Court held in a judgment on Thursday.
The court said prison manuals or laws depriving condemned prisoners of their basic rights should be nixed.
The judgment came after the court took suo motu cognisance of the rights of the incarcerated and conditions in prisons across the country.
One of the issues specifically pertained to the right of the condemned; the extension of their right to be treated on a par with other convicted prisoners and the facilities allowed to them.
The judgment, however, does not delve into questions like at what specific point a person becomes a death row convict — is it when he is sentenced to death by a trial court or much later when all his remedies have been exhausted and he waits for his execution at the hands of the State.
Referring to the Universal Declaration of Human Rights and the International Covenant on Civil and Political Rights and reiterating that right to life includes the "right to live with human dignity."
4. Scientists step in to save Punganur cow
The Punganur cow, considered one of the world's smallest breeds of cattle, is said to be on the verge of extinction due to cross-breeding conducted by farmers, according to livestock journals.
While R.W. Littlewood was the first to highlight the breed's vulnerable status in his 1936 book Livestock of South India, the Food and Agriculture Organisation (FAO) and the Animal Genetic Resources list the breed as facing extinction.
Animal genetics and breeding scientists from the NTR University of Veterinary Sciences in Gannavaram are now engaged in efforts to save the unique breed from extinction.
The Punganur cow is diminutive, with a height of 70 cm to 90 cm and weighing around 115 to 200 kg. In comparison, the famous Ongole bull stands tall at 1.70 metres and weighs 500 kg. Both breeds trace their origins to Andhra Pradesh.
The Livestock Research Station at Palamaner in Chittoor district is said to be the last bastion of the breed. LRS has instituted a programme to conserve the breed.
5. Post-poll, it's brain gain for Telangana
The 119-member new Telangana Assembly has an unusual surfeit of well qualified professionals and post-graduates, raising hopes of well-informed policymaking and high-quality debates.
Several professionals, including five medical practitioners, nine engineers and 13 lawyers will be discharging their responsibilities as legislators during this term.
In addition, 18 post-graduates and 26 graduates will be representing various constituencies in the State.
Of the 88 MLAs from the Telangana Rashtra Samithi (TRS), 70 have graduate and post-graduate qualifications.
1. 'Odisha lacks sincerity in monitoring child care homes'
The National Commission for Protection of Child Rights (NCPCR) on Thursday lashed out at the Odisha government for not making sincere efforts to monitor child care institutions.
In the wake of recent allegations of sexual harassment of children in a shelter home in Dhenkanal district, the NCPCR teams are scrutinising registration of CCIs and facilities available in those care homes.
National Commission for Protection of Child Rights (NCPCR)
NCPCR is a statutory body set up in 2007 under Commissions for Protection of Child Rights Act, 2005.
Its objective is to protect, promote and defend child rights in India including rights adopted in the United Nations Convention on the Rights of Children, 1989, ratified by India in 1992. (This convention defines child as a human being below 18 years of age).
It falls under the administrative control of the Ministry of Women & Child Development
The Child is defined as a person in the 0 to 18 years age group.
Iranian film The Dark Room, directed by Rouhollah Hejazi, won the Suvarna Chakoram (Golden Crow Pheasant) award at the 23rd International Film Festival of Kerala (IFFK), which concluded here on Thursday.
The film won the award, comprising a purse of ₹15 lakh, a sculpture and a citation, for an intimate exploration of relationships within a family at a time of change, creating a complete cinematic experience, and for its sensitive treatment of delicate issues.
Malayalam film Ee Maa Yau, directed by Lijo Jose Pellissery, was the big winner of the night, bagging three awards. It won the Rajatha Chakoram (Silver Crow Pheasant) award for the best director. The film also won the Audience Poll award for the best film and the Network for Promotion of Asian Cinema (NETPAC) award for the best Asian film in the competition category.
The Rajatha Chakoram award for debut director was won by Anamika Haksar for her film Taking the Horse to Eat Jelabis. Saumyanand Sahi won a special mention for beat cinematography for his remarkable work in capturing rarely seen images of old Delhi in this film.
Zakariya's Sudani from Nigeria won the International Federation of Film Critics award for the best Malayalam movie.
The Silence, directed by Beatriz Seigner, won a special jury mention for a touching tale of the dead, who disappear at a time of war and conflict, and of the living, who seek healing and reconciliation.
H. Practice Questions for UPSC Prelims Exam
Question 1. Consider the following statements:

The Constitution of India prescribes a one-month time frame within which the state legislatures should ratify or reject an amendment submitted to them.

There is no provision for holding a joint sitting of both the houses of parliament if there is a dead lock over the passage of constitutional amendment bill.
Which of the above statement(s) is/are correct?
Only 1
Only 2
Both 1 and 2
None of the above
See
Question 2. Who among the following constitutes in the Selection Committee for appointment of the 
members of CVC (Central Vigilance Commission) & CIC (Central Information Commission) both?
Prime Minister

Speaker of Lok Sabha

Chief Justice of India
Select the correct code:
Only 1

Only 1 and 2

Only 2 and 3

All of the above
See
Question 3. Which of the following is/are features of parliamentary form of government?
Separation of Power
Written Constitution
Collective Responsibility
Majority Party Rule
Select the correct answer using the codes given below:
Only 1, 3 and 4
Only 2, 3 and 4
All of the above
Only 3 and 4
See
I. Practice Questions for UPSC Mains Exam
"The Right to Information Act is not all about citizens' empowerment alone, it essentially redefines the concept of accountability. Discuss. (150 words; 10 Marks)
In a bid to promote conservation of groundwater, the Central Ground Water Authority (CGWA) has notified a water conservation fee (WCF) that industries will need to pay on groundwater extraction starting from June 2019. In this context, write a note on the importance of sustainable use of groundwater. (150 words; 10 Marks)
See previous CNA