TABLE OF CONTENTS
A.

 GS1 Related


SOCIAL ISSUES
1. Is 'compromise' the route that one stop centres should choose?


B.

 GS2 Related


INTERNATIONAL RELATIONS
1. At mini 2+2, India, U.S. review progress on pacts
2. India for Afghan-led peace talks
3. India to grow crops for UAE, Saudi Arabia


C.

 GS3 Related


ENVIRONMENT
1. Survey spots 3 new bird visitors
2. Train hits killed 49 elephants in 3 years
ECONOMY
1. Panel pulls up govt. for diverting coal cess
2. Govt. plans technology centres for MSMEs


D.

 GS4 Related




E. 

Editorials


GOVERNANCE
1. Basic income works and works well – On Universal Basic Income
INTERNATIONAL RELATIONS
1. A way out of the morass – On USA's plan to pull out of Afghanistan


F. 

Tidbits


1. Writers bag The Hindu Prize
2. Nobel-winning scientist loses honorary titles


G. 

Prelims Fact


H. UPSC Prelims Practice Questions
I. UPSC Mains Practice Questions

1. Is 'compromise' the route that one stop centres should choose?
Context: According to government data shared before Parliament, more than 1,90,000 women across the country have accessed these centres.
What is One Stop Centre/Sakhi centre?
One Stop Centre (OSC) approved under the Nirbhaya Fund is a Centrally Sponsored Scheme under the Ministry of Women and Child Development popularly known as Sakhi.
OSC are intended to support women affected by violence, in private and public spaces, within the family, community and at the workplace. Women facing physical, sexual, emotional, psychological and economic abuse, irrespective of age, class, caste, education status, marital status, race and culture are facilitated with support and redressal.
The OSC supports all women including girls below 18 years of age affected by violence, irrespective of caste, class, religion, region, sexual orientation or marital status. For girls below 18 years of age, institutions and authorities established under Juvenile Justice (Care and Protection of Children) Act, 2000 and the Protection of Children from Sexual Offences Act, 2012 are  linked with the OSC.
The scheme envisages an OSC for medical, legal, psychological and police help for victims of gender-based abuse such as sexual assault or domestic violence.
Findings:
So far, 234 OSCs have been set up and 485 more are in the pipeline to cover all 719 districts in the country.
Ajmer ranked third among all districts in Rajasthan in terms of crimes against women and recorded 1,303 such cases, According to National Crime Record Bureau (NCRB) data for 2015
Between October 2017 and December 2018, the centre has seen a total of 472 cases. Nearly 84% of these are cases of domestic violence and "compromise" is considered the most important way of resolving matters.
Category: INTERNATIONAL RELATIONS
1. At mini 2+2, India, U.S. review progress on pacts
Context: India and the U.S. reviewed the progress on finalizing two key agreements and defense cooperation during the 2+2 intercession meeting. The two sides also exchanged notes on developments in the Indo-Pacific region.
What is 2+2 dialogue?
The '2+2' dialogue is a meeting between the India Ministers for External Affairs and Defense, and the US Secretaries of State and Defense.
This "2+2" dialogue was meant to replace the Strategic and Commercial Dialogue between the foreign and commerce ministers of the two countries that was held during the previous Obama administration.
It is to focus on "strengthening strategic, security and defense cooperation" between the two countries.
Outcomes of 2+2:
The two agreements which were reviewed were the Industrial Security Annex (ISA) and the Basic Exchange and Cooperation Agreement for Geo-spatial Cooperation (BECA), a foundational agreement.
The third foundational agreement, Communications Compatibility and Security Agreement, was signed on the sidelines.
Defense cooperation such as the greater Maritime Domain Awareness (MDA) and the first tri-service exercise were also reviewed.
Why are these agreements important for India?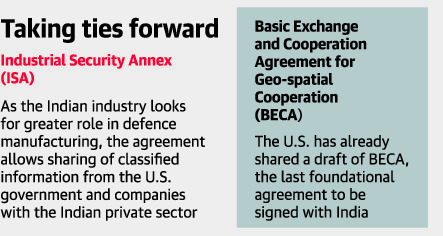 The ISA is particularly essential as the Indian industry looks for a greater role in defense manufacturing.
It allows sharing of classified information from the U.S. government and American companies with the Indian private sector, which is so far limited to the Indian government and the defense public sector undertakings.
2. India for Afghan-led peace talks
Context: At the India-Central Asia Dialogue at Samarkand, India supported the efforts of the government and the people of Afghanistan to build an inclusive nation at a meeting with the Foreign Ministers of Central Asian countries and Afghanistan.
India-Afghanistan outcome
India will support for a peace process that will help end the war of Afghanistan.
India's position will remain unchanged regarding peace building in Afghanistan.
A joint statement issued after the Samarkand meeting highlighted the opportunities that the collaborative platform would provide for the people of Afghanistan and asked for Kabul's participation.
The regional Ministers described Afghanistan as a "land link" in the region that will help in connectivity among the nations.
3. India to grow crops for UAE, Saudi Arabia
Context: The UAE and Saudi Arabia had decided to use India as a base to address their food security concerns at a summit of the Confederation of Indian Industry.
Background:
The UAE and Saudi Arabia will use India as a base in addressing their social security concerns. India's export policy identifies the potential of agriculture along with horticulture, dairy, plantation and fisheries.
The farm-to-port project will be similar to a special economic zone but in the style of a corporatized farm, where crops would be grown keeping a specific UAE market in mind.
The concept has been accepted by both governments.
 Confederation of Indian Industry 
The Confederation of Indian Industry (CII) works to create and sustain an environment conducive to the growth of industry in India, partnering industry and government alike through advisory and consultative processes.
CII is a non-government, not-for-profit, industry-led and industry-managed organization, playing a proactive role in India's development process.
It was founded in 1895, it has around 9000 members, from the private as well as public sectors, including SMEs and MNCs, and an indirect membership of over 300,000 enterprises from around 265 national and regional sectoral industry bodies.
As a developmental institution working towards India's overall growth with a special focus on [email protected] in 2022, the CII theme for 2018-19, India RISE: Responsible. Inclusive. Sustainable. Entrepreneurial emphasizes Industry's role in partnering Government to accelerate India's growth and development.
The focus will be on key enablers such as job creation; skill development; financing growth; promoting next gen manufacturing; sustainability; corporate social responsibility and governance and transparency. 
1. Survey spots 3 new bird visitors
Context: A waterbird survey conducted in the Upper Kuttanad region has recorded 16,767 birds of 47 continental and local species.
Background:
The survey was jointly organized by the Social Forestry wing of the Forest Department, Kottayam Nature Society, and Alappuzha Natural History Society.
The Asian Waterbird Census is part of the global International Waterbird Census carried out each January as a voluntary activity.
The survey would help understand

the changes to wetland systems,
change in migratory pattern of birds,
Impact of climate change.

The information would be used to promote the designation and management of protected areas, Ramsar Sites, Important Bird and Biodiversity Areas, and so on.
Key findings:
Three new species, Greater flamingo, Grey-headed lapwing, and Blue-cheeked bee-eater were spotted by the survey, conducted as part of the annual Asian Water bird Census.
However, compared to the previous years, the number of winged visitors to the region has declined drastically. In 2017, the survey recorded 28,198 birds whereas 41,576 were spotted last year.
According to the survey, the August deluge and subsequent delay in preparing paddy fields for the Puncha crop season could be the reason behind the sharp fall.
About Asian Waterbird Census (AWC)
The AWC was initiated in 1987 in the Indian subcontinent and since has grown rapidly to cover major region of Asia, from Afghanistan eastwards to Japan, Southeast Asia and Australasia.
The AWC is an integral part of the global waterbird monitoring programme, the International Waterbird Census (IWC) coordinated by Wetlands International.
It runs in parallel with other regional programmes of the International Waterbird Census in Africa, Europe West Asia, the Neotropics and the Caribbean.
Its objectives are:
to obtain information on an annual basis of waterbird populations at wetlands in the region during the non-breeding period of most species (January), as a basis for evaluation of sites and monitoring of populations
to monitor on an annual basis the status and condition of wetlands
to encourage greater interest in waterbirds and wetlands amongst citizens
The information collected is available to a wide range of government agencies and non-government organizations and contributes to conservation activities from the local to global level.
2. Train hits killed 49 elephants in 3 years
Context: Environment Ministry provides numbers on wild animals killed in road and train accidents.
In 2016, the Ministry of Environment, Forest and Climate Change (MOEFCC) released 'Eco-friendly measures to mitigate impacts of linear infrastructure', an advisory document for mitigating human-animal conflicts. Despite this advisory, and many others issued by conservationists and organizations, deaths of wild animals in road and railway accidents have continued unabated.

'Eco-friendly measures to mitigate impacts of linear infrastructure' document:
The Wildlife Institute of India prepared a technical document for rail, road and power transmission line planners and manager's forest and wildlife managers and wildlife biologists and other target groups.
This guide aims to give clear messages about the objectives and relevance of planning green infrastructure.
It seeks to serve as a tool to enable road and rail agencies to work together with conservation agencies to maximize the opportunities presented by transportation and power line projects, to minimize environmental impacts and enhance biodiversity and ecosystem services by promoting the development of green infrastructure.
The scope of the guidance material is comprehensive: it provides a wide range of information for those professionals involved in planning, locating, designing, implementing, operating and maintaining roads, railways, power lines and other linear infrastructure.
The inclusion of numerous photographs and illustrations gives invaluable visual cues, both in terms of potential impacts on wildlife and to guide the design of appropriate measures to avoid or minimize them.
1. Panel pulls up govt. for diverting coal cess
Context: The 42nd standing committee on energy in its report on stressed gas-based power plants tabled in Parliament has pulled up the government for diverting coal cess to compensate States for revenue loss post-GST, and recommended financial support to the stressed gas-based power projects in the country from National Clean Energy Fund (NCEF).
About NCEF 
Through Finance Bill 2010-11 a corpus called National Clean Energy Fund (NCEF) was created out of cess on coal pproduced/imported ("polluter pays" principle) for the purposes of financing and promoting clean energy initiatives, funding research in the area of clean energy or for any other purpose relating thereto. Subsequently, the scope of the fund has been expanded to include clean environment initiatives also.
The projects include innovative schemes like Green Energy Corridor for boosting up the transmission sector, Namami Gange, Green India Mission, Jawaharlal Nehru National Solar Mission (JNNSM)'s installation of solar photovoltaic (SPV) lights and small capacity lights, installation of SPV water pumping systems, SPV Power Plants, Grid Connected Rooftop SPV Power Plants, pilot project to assess wind power potential, etc.
Recommendations of the committee:
It recommended that financial support be extended to gas-based power projects from the NCEF. The Ministry of Power should pursue this matter with the Ministry of Finance, said the panel.
The committee said that the fund should be used to support clean energy initiatives and it should not be diverted to compensate GST losses. 
2. Govt. plans technology centres for MSMEs
Context: 20 technology centres, along with extension centres across the country will be developed by The Ministry of Micro, Small and Medium Enterprises (MSME) in another 3-5 years.
What are technology centres?
Technology Centres are collaborative entities established and led by industry. They are resourced by highly-qualified researchers associated with research institutions who are empowered to undertake market focused strategic R&D for the benefit of industry.
They have modern technology machinery and testing equipment and the services are offered to industries at a competitive price.
With the development of technologies such as virtual reality and augmented reality, the manufacturing units in the MSME sector will have access to these.
The Ministry is creating trained manpower in virtual reality through the National Small Industries Corporation (NSIC). It has also developed training modules that use virtual reality and these will be launched across the country through the NSIC in a couple of months.
Nothing here for today!!!
1. Basic income works and works well – On Universal Basic Income
Background:
Universal Basic Income (UBI):
Universal Basic Income is a periodic, unconditional cash transfer to every citizen in the country. Here, social or economic positions of the individual are not taken into consideration. The concept of universal basic income has three main features. They are as following:
UBI is universal in nature. It means UBI is not targeted.
The second feature of UBI is cash transfer instead of in-kind transfer.
The third feature is that UBI is unconditional. That means one need not prove his or her unemployment status or socio-economic identity to be eligible for UBI.
Basic Income Pilot Projects:
In 2010-2013 Indian policymakers conducted two important studies testing the impact of unconditional cash transfers in Madhya Pradesh and Delhi.
The first study conducted from January to December 2011 in New Delhi tested the impact of cash transfers when offered in conjunction with existing public welfare.
The Indian government in partnership with Self-Employed Women's Association (SEWA) and the Madhya Pradesh state government, carried out a controlled trial. This experiment gave randomly selected households, a fixed amount per month.
Under this pilot project, over 6,000 men, women and children were provided with modest basic incomes, paid in cash, monthly, without conditions.
The money was not much, coming to about a third of subsistence. But it was paid individually, with men and women receiving equal amounts and with children receiving half as much, paid to the mother or surrogate mother.
The pilots involved the (SEWA) and financial assistance from UNICEF and the UNDP.
Outcomes of the pilot project:
The outcomes exceeded expectations, partly because everybody in the community, and not just select people, received their own individual transfer.
Nutrition improved
Sanitation improved
Health and health care improved
School attendance and performance improved
Women's status and well-being improved
Position of the disabled and vulnerable groups improved by more than others.
The amount and quality of work improved.
Above all, the basic incomes improved the community spirit and were emancipatory. Critics said it would be a waste of money, but they were proved wrong.
Details:
Economic Survey for the year 2016-17 has an entire chapter dedicated to the discussion on Universal Basic Income (UBI). The chapter speaks of how a basic income could be rolled out across India, and is affordable.
Its main author, former Chief Economic Adviser Arvind Subramanian, and others such as Professor Pranab Bardhan have proposed ways of paying for it — primarily by rolling back existing wasteful, distortionary, and mostly regressive subsidies.
Has the time come for implementation of Universal Basic Income in India?
The international debate on basic income has advanced considerably in the past five years. Experiments have been launched in countries of different levels of per capita income, which include Canada, Finland, Kenya, Namibia, the Netherlands, Spain and the U.S., with plans being drawn up in England, Scotland, South Korea and elsewhere. India could take the lead.
It has the technological capacity, the financial resources and, above all, the need for a simple, transparent scheme to liberate the energies of the masses now mired in economic insecurity, deprivation and degradation. And now is a moment of transformative potential.
Arguments for Universal Basic Income:
A basic income would be a more equitable and economically rational way of addressing what is undoubtedly an unfolding rural tragedy, in place of farm loan waivers. No doubt farm loan waivers would lessen the burden on a hard-pressed social group, and lessen rural poverty, but it is a populist measure. It will be popular, but will not alter structures and is bad economics.
The beauty of moving towards a modest basic income would be that all groups would gain. That would not prevent special additional support for those with special needs, nor be any threat to a progressive welfare state in the longterm.
UBI would give individuals freedom to spend the money in a way they choose.
UBI would help them to choose the kind of work they want to do, rather than forcing them to do unproductive work to meet their daily requirements.
UBI will result in equitable distribution of wealth. Only poor will receive the full net benefits.
UBI is easy to implement. There is no need to identify the beneficiaries. Thus it excludes errors in identifying the intended beneficiaries – which is a common problem in targeted welfare schemes.
It promotes efficiency by reducing wastages in government transfers, thereby reducing the scope for corruption.
Many social sector schemes could be replaced by UBI, thereby cutting down bureaucratic costs and time.
UBI will facilitate financial inclusion, as transferring basic income directly into bank accounts will increase the demand for financial services.
Arguments against Universal Basic Income:
An unconditional minimum amount every month could make people lazy and breed dependency. 
There are chances that the money will be spent on goods such as alcohol, tobacco, drugs etc.
Fiscal burden on government would be high. Also, as Economic Survey 2016-17 stated, once implemented, it may become difficult for the government to wind up a UBI in the case of failure.
The UBI is funded by higher taxes, especially by the indirect taxes, it will result in inflation. 
Challenges:
Implementation of basic income will be a serious but manageable challenge.
It will require goodwill, integrity, knowledge and humility about what will be inevitable mistakes.
It is essential to obtain local cooperation and awareness at the outset, and the backing of key local institutions.
With inadequate financial service infrastructure and financial inclusion, it would be difficult for the people to access their benefits.
Financing the basic income is another challenge. There are chances that UBI would become an add-on to existing subsidies rather than a replacement.
Way forward:
If properly planned, it is possible to introduce a comprehensive scheme even in rural or urban low-income communities, without too much cost. 
It is strongly recommended that if the government is to go ahead, it should phase in the scheme gradually, rolling it out from low-income to higher-income communities, after local officials have been trained and prepared.
It is also recommended that the authorities should not select particular types of individuals and give it only to them. It is tempting to say it should go only to women, low-income farmers, or vulnerable social groups. That would be wrong. It would involve expensive and corruptible procedures, and risk evoking resentment in those arbitrarily excluded, who would probably be equally in need, perhaps more so.
If money is given only to women, men will demand a share; some women will give in, some will resist; it will be divisive. It was found in the pilots that if men and women all have an equal individual amount, it promotes better and more equal gender relations. Moreover, giving to all in the community fosters solidarity within households and the wider community, apart from enabling multiplier effects in the local economy.
India has the technological capacity, the financial resources, and the need for a simple, transparent basic income scheme. And now is a moment of transformative potential in the country.
Category: INTERNATIONAL RELATIONS
1. A way out of the morass – On USA's plan to pull out of Afghanistan
Background:
U.S. President Donald Trump has announced his decision to reduce American troop strength in Afghanistan, 14,000 at present, by half.
This decision will have major consequences for peace in Afghanistan and the neighborhood, which may result into chaos, a gradual descent into a civil war is likely as various regional stakeholders try to reshape the battlefield in accordance with their own strategic priorities counting on American forces to eventually leave
The development has energised the principal stakeholders in Afghanistan to make calculated efforts to place themselves in as favourable a position as possible in an Afghanistan post-American withdrawal. India should also be thinking of what steps it should take to protect its interests in that situation.
Details:
Gharekhan, a former Indian Ambassador to the United Nations, and Hamid Ansari, the Vice-President of India (2007-17), a former Indian Ambassador to Afghanistan and a Permanent Representative to the UN had previously suggested that the only way out of the complicated situation in Afghanistan would be to re-place Afghanistan in its traditional mode of neutrality.
For that, two things were essential.

The Afghans themselves must declare unequivocally that they would follow strict neutrality in their relations with external powers.
The outside powers must commit themselves to respect Afghanistan's neutrality. In other words, external powers must subscribe to a multilateral declaration not to interfere in the internal affairs of Afghanistan together with an obligation on Afghanistan not to seek outside intervention in its internal situation.

Further, the idea that the agreement on the Neutrality of Laos, concluded in 1962, could provide a model for the neutralisation of Afghanistan was also presented. However, the present might be an appropriate time to revisit that proposal.
What can be India's approach?
Engage with the Taliban:

One thing that should already have been done and must be done is to engage in dialogue with the Taliban. There is no doubt that the Taliban will be a major player in the politics of Afghanistan in the coming months and years. They already control more than 50% of the country and are getting stronger and bolder by the day.
They are also engaged in direct talks with China, Russia, the Central Asian states and others.
The Americans have also begun sustained dialogue with the Taliban.
The Taliban have refused to talk to the Kabul government so far, but as and when the Americans pull out, as they are justified in doing for reasons of their own national interest, they might agree to engage with the Ashraf Ghani government.
In any future scenario, the Taliban are guaranteed to play an important, perhaps even a decisive role in the governing structures of the country.
New Delhi has so far refrained from establishing formal contacts with the Taliban out of sensitivity for the Kabul government not wanting to talk directly to the Taliban as long as the Taliban refuse to acknowledge its legitimacy.
Even Iran, a Shia regime, has established official dialogue with the Taliban, a staunchly Sunni movement. It would not be difficult for our agencies to establish contacts that would facilitate initiating an official dialogue with Taliban; if needed, Iran could help in this even if it might displease the Americans. After all, the Americans have not always been sensitive to our concerns, in Afghanistan or elsewhere and Mr. Trump has publicly shown unawareness of our substantial development assistance to it.
Promotion of regional compact among the neighbouring countries:
The international community needs to think of how to establish a mechanism which might offer a reasonable opportunity to the Afghan people to live in peace, free from external interference.
Perhaps the only way in which this could be done is to promote a regional compact among all the neighbouring countries as well as relevant external powers, and with the endorsement of the UN Security Council, to commit themselves not to interfere in Afghanistan's internal affairs.
India will need to talk to China about cooperating in Afghanistan; Chinese President and Indian Prime Minister already agreed in Wuhan, in April 2018, on working on joint projects there.
Pakistan is highly suspicious of India's role in Afghanistan. A multilateral pact, with India subscribing to it will put to rest, at least to some extent, Pakistan's apprehensions.
Pakistan should have no objection to formally agreeing to Afghanistan's neutrality.
There is the most relevant precedent of the Bilateral Agreement on the Principles of Mutual Relations, in particular on Non-interference and Non-intervention, signed in Geneva in 1988 between Pakistan and Afghanistan.
In that agreement, the parties undertook, inter alia, to respect the right of the other side to determine its political, social and culture system without interference in any form; to refrain from over throwing or changing the political system of the other side; to ensure that its territory was not used to violate the sovereignty, etc of the other side, to prevent within its territory the training, etc of mercenaries from whatever origin for the purpose of hostile activities against the other side.
As a document on non-interference, it could hardly be improved upon. Pakistan probably would agree to a document with Afghanistan in whose governance the Taliban will play an important role, which would broadly be similar to the one it had concluded with an Afghan regime which it did not approve of.
The Bonn Agreement of 2001, which made Hamid Karzai the interim chief of Afghan government, contains a request to the United Nations and the international community to 'guarantee' non-interference in the internal affairs of Afghanistan, a request not acted upon so far.
Concerns:
A regional pact on non-interference and non-intervention ought to be welcomed by all the regional states, as:
Russia has reason to worry about a lack of stability in Afghanistan because of its concerns regarding a spread of radicalism as well as the drug menace.
China has even stronger concerns, given the situation in its western-most region.
The U.S. might have apprehensions about China entrenching itself in strategically important Afghanistan, but there is little it can do about it; a regional agreement on non-interference might give the U.S. at least some comfort.
Conclusion:
It is early days to conclude whether the situation in Afghanistan has entered its end game. In any case, it would be prudent to assume that the U.S. will definitely leave Afghanistan in the next two years, likely to be followed by other western countries.
1. Writers bag The Hindu Prize
Context: Awards by The Hindu were awarded for excellence in Indian writing in English.
Awards:
English writer Neelum Saran Gour, author of Requiem in Raga Janki and Bengali writer and socio-political activist Manoranjan Byapari, author of Interrogating my Chandal Life: An Autobiography of a Dalit, bagged The Hindu Prize 2018 for fiction and non-fiction respectively.
The Hindu Young World-Goodbooks Award for Best Book Fiction was awarded to Venita Coelho for Boy No: 32.
Mamta Nainy's A Brush with Indian Art received The Hindu Young World-Goodbooks Award for Best Book Non-Fiction.
The Hindu Young World-Goodbooks Award for Best Picture Book: Story went to Vinayak Varma for his work in Angry Akku.
The Hindu Young World-Goodbooks Award for Best Picture Book: Illustration went to Rajiv Eipe for his work in Ammachi's Amazing Machines.
2. Nobel-winning scientist loses honorary titles
Context: The co-discoverer of the DNA helix, father of the Human Genome Project and a renowned Nobel laureate James Watson, has been stripped of honorary titles following "reprehensible" remarks on race and ethnicity.
Background:
In an interview to a British newspaper, the 90-year-old geneticist said that people of African descent tend to have lower intelligence and resigned soon after.
However, in the new documentary titled American Masters: Decoding Watson, when asked about his views on race in the decade since his departure from the lab, Mr. Watson said he stood by his former remarks, citing the difference in IQ tests results to suggest black inferiority.
What was the Human Genome Project?
The Human Genome Project (HGP) was the international, collaborative research program whose goal was the complete mapping and understanding of all the genes of human beings.
All our genes together are known as our "genome."
The HGP has revealed that there are probably about 20,500 human genes.
The completed human sequence can now identify their locations.
This ultimate product of the HGP has given the world a resource of detailed information about the structure, organization and function of the complete set of human genes.
This information can be thought of as the basic set of inheritable "instructions" for the development and function of a human being.
Nothing here for today!!!
H. Practice Questions for UPSC Prelims Exam
Question 1. Consider the following for Sakhi centres:

One Stop Centre (OSC) approved under the Nirbhaya Fund is a Centrally Sponsored Scheme under the Ministry of Women and Child Development.
The OSC supports all women including girls below 18 years of age affected by violence, irrespective of caste, class, religion, region, sexual orientation or marital status.
The scheme envisages an OSC for medical, legal, psychological and police help for victims of gender-based abuse such as sexual assault or domestic violence.
Which of the following is/are correct?
Only 2
Only 1
Only 1 and 2
All of the above
See
Question 2. Consider the following statements about 2+2 dialogue:
The '2+2' dialogue is a meeting between the India Ministers for External Affairs and Defense, and the US Secretaries of State and Defense.
This "2+2" dialogue was meant to replace the Strategic and Commercial Dialogue between the foreign and commerce ministers of the two countries that was held during the previous Obama administration.
It is to focus on "strengthening strategic, security and defense cooperation" between the two countries.
Which of the following is/are correct?
Only 1
Only 3
Only 1 and 3
All of the above
See
Question 3. Consider the following statements about Asian Water bird Census:
The AWC is an integral part of the global water bird monitoring programme, the International Water bird Census (IWC).
The AWC was initiated in 1987 in the Indian subcontinent and covers the entire East Asian – Australasian Flyway and a large part of the Central Asian Flyway
It is coordinated by Wetlands International.
Its objective is to monitor on an annual basis the status and condition of wetlands.
Which of the following is/are correct?
Only 1
Only 3
Only 1, 2 and 3
All of the above
See
Question 4. Consider the following about Law Commission of India:

It is a non-statutory body constituted by the Government of India from time to time.
It is reconstituted every three years.
The current Law commission is the 22nd Law Commission of India.
Which of the following is/are correct?
Only 1
Only 3
Only 1 and 2
All of the above
See
Question 5. Which of the following countries do not share its border with Uzbekistan?

Tajikistan
Turkmenistan
Pakistan
Afghanistan
See
I. Practice Questions for UPSC Mains Exam
Discuss the importance of India-Central Asia Dialogue recently held in Samarkand, Uzbekistan.
How far the One Stop Centre have been successful in solving crimes against women. Analyze.
See previous CNA