TABLE OF CONTENTS
A.

 GS1 Related




B.

 GS2 Related


GOVERNANCE
1. Sabarimala temple bar unreasonable: SC


C.

 GS3 Related




D.

 GS4 Related




E. 

Editorials


SOCIAL ISSUES
1. India's linguistic composition are inconsistent with global ideas
ECOLOGY AND ENVIRONMENT
1. Formaldehyde contamination of fish
INTERNATIONAL RELATIONS
1. Rocky summit: when Trump met Putin


F. 

Tidbits


1. India's growth to remain robust
2. LS clears detention policy
3. Two-constituency norm reasonable: govt. tells SC
4. Three in five HIV-carriers now have access to drugs: UN
5. 'India lags in routine immunisation programme'


G. 

Prelims Fact


H. UPSC Prelims Practice Questions
I. UPSC Mains Practice Questions 

Nothing here for today!!!
1. Sabarimala temple bar unreasonable: SC
Tagging a woman's right to enter the famous Sabarimala temple with her menstrual cycle is unreasonable, the Supreme Court's Constitution Bench observed.
The Bench led by Chief Justice of India Dipak Misra asked whether exclusion of women aged between 10 and 50 from entering a temple because they are considered impure amounts to the practice of untouchability, a social evil abolished by law.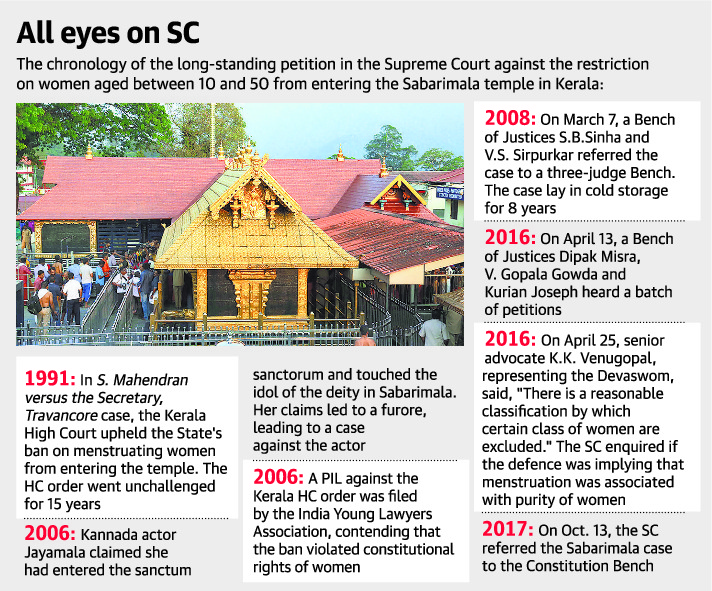 Background
The Bench is hearing the question whether the fundamental right of women to pray at the place of their choice can be discriminated against solely based on a biological factor (menstruation) exclusive to the female gender.
A batch of petitions has challenged the centuries' old prohibition on women of a certain age from entering Sabarimala temple.
The Kerala government pointed out to the Bench that the State supported entry of women into the Sabarimala temple. In 2016, the State had opposed in the Supreme Court.
On October 13, 2017, the top court had referred the case to a Constitution bench after framing five significant questions including whether the practice of banning entry of women in the temple amounted to discrimination and violated their fundamental rights under the Constitution. These questions included:
"Whether the exclusionary practice which is based upon a biological factor exclusive to the female gender amounts to 'discrimination' and thereby violates the very core of Articles 14, 15 and 17 and not protected by 'morality' as used in Articles 25 and 26 of the Constitution."
Whether the practice of excluding such women constitutes an "essential religious practice" under Article 25 of the Constitution and whether a religious institution can assert a claim in that regard under the umbrella of right to manage its own affairs in the matters of religion.
Whether the Ayyappa temple has a denominational character and "if so, is it permissible on the part of a 'religious denomination' managed by a statutory board and financed under Article 290-A of the Constitution out of Consolidated Fund of Kerala and Tamil Nadu to indulge in such practice violating constitutional principles/morality embedded in Articles 14, 15(3), 39(a) and 51-A(e)".
Whether Rule 3 of Kerala Hindu Places of Public Worship (Authorisation of Entry) Rules permits 'religious denomination' to ban entry of women between the age of 10 to 50 years. "And if so, would it not play foul of Articles 14 and 15 (3) of the Constitution by restricting entry of women on the ground of sex."
Whether this rule is ultra vires the Kerala Hindu Places of Public Worship (Authorisation of Entry) Act, 1965 and, "if treated to be intra vires, whether it will be violative of the provisions of Part III of the Constitution."
CJI Misra
Chief Justice Misra said that there is no concept of private mandirs (temples). Once a temple is opened, everybody can go and offer prayers there. Nobody, man or woman, can be excluded.
The Chief Justice noted that the Sabarimala temple drew funds from the Consolidated Fund, had people coming from all over the world, and thus, qualified to be called a public place of worship.
In a public place of worship, a woman can enter, where a man can go. What applies to a man, applies to a woman.
Chief Justice Misra pointed out that there were many temples who allowed visitors only to a certain point, but there are none who ban entry to the temple in total.
Justice Chandrachud
Justice D.Y. Chandrachud said women and their physiological phenomena are creations of God. If not god, of nature. Why should this (menstruation) be a reason for exclusion for employment or worship or anything?
Any religion which excludes women on the basis of their age, sex or menarche is irrelevant.
He quoted Article 25(1) which mandates freedom of conscience and right to practise religion. It says all persons are equally entitled to freedom of conscience and the right freely to profess, practise and propagate religion.
This means that the right as a woman to pray is not even dependent on a legislation. It is their constitutional right. Nobody has an exclusionary right of entry to a temple.
Other arguments
Justice Rohinton Nariman, also on the Bench, observed that the Constitution upheld the ideals of liberty of thought, expression, belief and faith, be it man or woman.
Justice Nariman said the prohibition on women aged between 10 and 50 is arbitrary. He said menstruation can also happen as early as nine and extend to late fifties.
Jaising submitted that Rule 3(b) of the Kerala Hindu Places of Public Worship (Authorisation of Entry) Rules, 1965 allows a religious denomination to ban entry of women between the age of 10 to 50 years.
She said the discrimination was a violation of the fundamental rights to equality and gender justice.
She said the right to enter a temple extends to all Hindus, regardless of caste, sex or gender. What is good law for Harijans is good law for women.
When Justice Chandrachud initially told Ms. Jaising that the petitioners should rather focus on Article 25 (freedom of religion) than Article 17 (abolition of untouchability) of the Constitution, Ms. Jaising responded that menstruating women are even not allowed to intermingle within their own family. This is untouchability!
On Rule 3(b) and the right of a religious denomination to ban women from entering temples, Ms. Jaising said that the freedom of conscience resides in humans. Institutions only have the right to manage their affairs. Denomination have no right under Article 25.
Senior advocate Raju Ramachandran said the prohibition on menstruating women amounts to drawing out a forced declaration from women about their menstruation. This is a violation of their dignity and privacy and amounts to involuntary disclosure.
Nothing here for today!!!
Nothing here for today!!!
1. India's linguistic composition are inconsistent with global ideas
Census data appear to inadequately reflect India's linguistic composition, and are inconsistent with global ideas
The death of a language is literally concealed in silence. So a language is not visible and fails to move anyone except its very last speaker who nurtures an unrequited hope of a response.
When a language disappears it vanishes forever, taking with it knowledge gathered over centuries. With it goes a unique world view.
This too is a form of violence. Large parts of culture get destroyed completely through slight shifts in policy instruments than through armed conflicts.
The destruction of culture can be caused by as small as a bureaucrat's benign decision. Even a well-intentioned language census can do much damage.
Background
Over the last many decades, successive governments have carried out a decadal census. The 1931 Census was a landmark as it held up a mirror to the country about the composition of caste and community.
War disrupted the exercise in 1941, while it was a rather busy year for the new Indian republic at the time of the 1951 Census It was during the 1961 census that languages in the country were enumerated in full.
India learnt that a total of 1,652 mother tongues were being spoken. Using ill-founded logic, this figure was pegged at only 109, in the 1971 Census. The logic was that a language deserving respectability should not have less than 10,000 speakers.
This had no scientific basis nor was it a fair decision but it has stuck and the practice continues to be followed.
The Census of India made public the language data
The Census of India made public the language data based on the 2011 Census, which took into account 120 crore speakers of a very large number of languages.
It has been classified as

Raw returns
Labels
Others
"Raw returns": During the census, citizens submitted 19,569 names of mother tongues technically called "raw returns". Based on previous linguistic and sociological information, the authorities decided that of these, 18,200 did not match "logically" with known information.
"labels": A total of 1,369 names — technically called "labels" — were picked as "being names of languages". The "raw returns" left out represent nearly 60 lakh citizens. And because of the classification regime, their linguistic citizenship has been dropped.
"Others": In addition to the 1,369 "mother tongue" names shortlisted, there were 1,474 other mother tongue names. These were placed under the generic label "Others". As far as the Census is concerned, these linguistic "Others" are not seen to be of any concern.
But the fact is that they have languages of their own. The classification system has not been able to identify what or which languages these are and so they have been silenced by having a safe label slapped on them.
Scheduled and Non Scheduled languages
The 1,369 have been grouped further under a total of 121 "group labels", which have been presented as "Languages". Of these, 22 are languages included in the Eighth Schedule of the Constitution, called "Scheduled Languages".
The remainder, 99, are "Non-scheduled Languages". An analysis shows that most of the groupings are forced. For instance, under the heading "Hindi", there are nearly 50 other languages. Bhojpuri (spoken by more than 5 crore people, and with its own cinema, theatre, literature, vocabulary and style) comes under "Hindi".
There is a similar and inflated figure for Sanskrit by counting the returns against the question about a person's "second language".
English use
As against this, the use of English is not seen through the perspective of a second language. Counting for this is restricted to the "mother tongue" category — in effect bringing down the figure substantially.
Given the widespread use of English in education, law, administration, media and health care, a significant number of Indians use English as a utility language.
To some extent it is the language of integration in our multilingual country.
The Census informs us that a total of 2,59,678 Indians speak English as their "mother tongue" — numerically accurate and semantically disastrous.
Focus point from UNESCO's perspective
The language Census may not attract as much attention as news about fuel prices. But in the community of nations, the Indian census is bound to be discussed. A body such as UNESCO will look at it with interest.
UNESCO has progressively developed its vision and deepened its understanding of global linguistic diversity.
UNESCO tries to highlight the key role that language plays in widening access to education, protecting livelihoods and preserving culture and knowledge traditions.
In 1999/2000, it proclaimed and observed February 21 as International Mother Language Day, while in 2001 the 'Universal Declaration on Cultural Diversity' accepted the principle of "Safeguarding the linguistic heritage of humanity and giving support to expression, creation and dissemination in the greatest possible number of languages."
In pursuit of these, UNESCO has launched a linguistic diversity network and supported research.
It has also brought out an Atlas of the World's Languages in Danger, which highlights the central place of language in the world's heritage.
Is our language census consistent with these ideas and principles?
The Census in India should adequately reflect the linguistic composition of the country. It is not good practice when data helps neither educators nor policy makers or the speakers of languages themselves.
The Census, a massive exercise that consumes so much time and energy, needs to see how it can help in a greater inclusion of the marginal communities, how our intangible heritage can be preserved, and how India's linguistic diversity can become an integral part of our national pride.
Category: ECOLOGY AND ENVIRONMENT
1. Formaldehyde contamination of fish
Context
Reports of traces of the chemical formaldehyde in fish in several States highlight both the uncertainties of science, and the importance of clear risk-communication.
Details about issues?
In June, the Kerala government found formaldehyde-laced fish being transported into the State.
The study revealed around 5-20 ppm of the chemical in freshwater and marine fish in two of the city's markets. Next, Goa reported similar findings. But its Food and Drugs Administration later said the levels in Goan samples were on a par with "naturally occurring" formaldehyde in marine fish.
This triggered suspicions among residents, who accused the government of playing down the health risk.
Concerns
The Food Safety and Standards Authority of India has banned formaldehyde in fresh fish, while the International Agency for Research on Cancer labelled the chemical a carcinogen in 2004
The evidence of the IARC relied on mainly consists of studies on workers in industries such as printing, textiles and embalming.
Such workers inhale formaldehyde fumes, and the studies show high rates of nasopharyngeal and other cancers among them. But there is little evidence that formaldehyde causes cancer when ingested orally.
A 1990 study by U.S. researchers estimated that humans consume 11 mg of the chemical through dietary sources every day.
Why is formaldehyde in fish a problem?
Fresh fish should not have preservatives, and the presence of formaldehyde points to unscrupulous vendors trying to pass off stale catch as recent.
The lack of evidence linking ingested formaldehyde with cancer doesn't necessarily make the chemical safe. At high doses, it causes gastric irritation. Plus, the lack of data could merely mean that not enough people are consuming formaldehyde regularly enough for its carcinogenic effects to show.
When certain marine fish are improperly frozen during transit, formaldehyde forms in them naturally. But this formaldehyde binds to the tissue, unlike added formaldehyde, which remains free.
Did the Goan FDA measure free formaldehyde or bound formaldehyde?
Measuring free formaldehyde versus bound formaldehyde can be one way of distinguishing a contaminant from a naturally occurring chemical.
If it measured the sum of both, on what basis did it conclude that the chemical came from natural sources? Some formaldehyde consumption may be unavoidable for fish- lovers, and it may not be a health risk either.
Conclusion
Concerns over formaldehyde contamination of fish need to be addressed scientifically.
But the line between safe and unsafe consumption should be drawn by experts, in a transparent manner.
Category: INTERNATIONAL RELATIONS
1. Rocky summit: when Trump met Putin
Context
A summit between the leaders of the world's strongest nuclear powers, which fought the Cold War for decades, is an opportunity to discuss
Areas of shared interest,
Find ways to dial down mutual tensions and
Work together to address global issues.
Controversies
But well before Donald Trump and Vladimir Putin sat down for their first formal summit meeting, in Helsinki, there were concerns that it would be overshadowed by allegations of Russian interference in the 2016 U.S. presidential election.
The uproar in Washington over Mr. Trump's remarks on the Russian meddling scandal — with even accusations of treason — and his subsequent U-turn suggest that such concerns were valid.
Trump could have certainly managed the summit better by addressing genuine concerns in the U.S. over allegations of Russia's election meddling.
Days earlier, the U.S. Justice Department indicted 12 Russian intelligence officials for hacking and leaking emails of top Democrats.
Contentious issues
The new Strategic Arms Reduction Treaty (START) is set to expire in 2021 and Russia has shown interest in extending it. For a consensus, high-level talks between the U.S. and Russia are needed.
From the crisis in Ukraine to the civil war in Syria, Russia-U.S. cooperation is vital to finding lasting solutions.
The Iran nuclear deal, for which Mr. Putin and Barack Obama worked together despite differences, is in a shambles.
Most of these issues, including the threat posed by nuclear weapons and intercontinental ballistic missiles, were discussed at the summit.
Way forward
It's not clear whether the talks will lead to any significant change in policies. Since the Ukraine crisis, the West has tried different methods, including sanctions and pressure tactics, to isolate Russia and change its behaviour.
But those methods have proved largely unsuccessful as Russia is now a far more ambitious foreign policy power with an enhanced presence in Eastern Europe and West Asia — even if its sanctions-hit economy is struggling.
Instead of continuing a policy that has failed and ratcheted up global tensions, the Western alliance should junk its Cold War mentality and engage with Russia; Russia, in turn, will have to shed its rogue attitude and be more open and stable in its dealings.
The stakes are high and the bitterness of the past should not hinder U.S.-Russia relations. That should have been the message from Helsinki.
F. Tidbits
1. India's growth to remain robust
The IMF forecast a growth rate of 7.3% in 2018 and 7.5% in 2019 for India, which was down by 0.1% and 0.3%, respectively, than its April projections.
India's growth remains quite robust into the future, the International Monetary Fund (IMF) has said despite slightly downgrading the country's growth projection for 2018-19 due to high oil prices and a tight monetary policy regime.
Factors
For India, the main factor is the rise in oil prices, and India is an oil importer.
But also, the general tightening in global financial conditions is playing a role in affecting India's growth.
With tighter global financial conditions and higher oil prices bringing rising inflationary pressures, the monetary policy has tightened.
A Bill to amend the Right to Education (RTE) Act to abolish the 'no detention policy' in schools was passed in the Lok Sabha.
Under the current provisions of the RTE Act, no student can be detained till class 8 and all students are promoted to the next grade.
New rules
It would be at the discretion of the States whether to continue with no detention or not.
The States would decide at what level and who would conduct the examination.
3. Two-constituency norm reasonable: govt. tells SC
A Bench led by Chief Justice of India Dipak Misra is hearing the petition filed by advocate Ashwini Upadhyay seeking a declaration that Section 33(7) of the Representation of the People Act of 1951, which allows candidates to contest from two constituencies at a time, as invalid and unconstitutional.
Upadhyay has asked the court to direct the Centre and the Election Commission to discourage independent candidates from contesting parliamentary and Assembly elections.
The government objected to a plea to stop candidates from contesting from two different constituencies, saying such a limitation infringes on a person's right to contest the polls and curtails the polity's choice of candidates.
The government told the Supreme Court that one-candidate-one-constituency restriction would require a legislative amendment.
The government supported Section 33 (7) of the Representation of the People Act of 1951 which restricts candidates to contesting from two constituencies. Before the amendment, candidates could contest from any number of constituencies.
Election Commission
The poll body informed the Supreme Court that it had proposed the amendment of Section 33(7) way back in July 2004. It was one of the 22 urgent electoral reforms the Election Commission had suggested to a Rajya Sabha Parliamentary Standing Committee.
The poll body had pointed out that there have been cases where a person contests election from two constituencies, and wins from both. In such a situation he vacates the seat in one of the two constituencies.
The consequence is that a by-election would be required from one constituency involving avoidable labour and expenditure on the conduct of that by-election.
The EC concluded that the law should be amended to provide that a person cannot contest from more than one constituency at a time.
The poll body suggested that a candidate should deposit an amount of ₹ 5 lakh for contesting in two constituencies in an Assembly election or ₹ 10 lakh in a general election.
This would be used to conduct a by-election in the eventuality that he or she is victorious in both constituencies and has to relinquish one.
4. Three in five HIV-carriers now have access to drugs: UN
Almost three in five people infected with HIV, or 21.7 million globally, took antiretroviral therapy in 2017 — a new record for anti-AIDS drug access, the UNAIDS said.
There were 36.9 million people living with the immune system-attacking virus in 2017, of whom 15.2 million were not getting the drugs they need — the lowest number since the epidemic exploded, the joint UN programme on HIV/AIDS reported.
The number of people on antiretroviral therapy (ART) grew from 19.4 million in 2016 to 21.7 million last year — up from a mere 6,11,000 in the year 2000 and 2.1 million in 2005.
Concerns
Hailing progress in curbing new infections and deaths, the agency nevertheless lamented the mounting human toll: almost 80 million infections and 35.4 million lives lost since the first cases became known in the early 1980s.
Progress made to date risks being halted, even reversed, if funding and world attention is allowed to dwindle, the agency warned.
In 2017, about $20.6 billion was available for AIDS programmes in low-and middle-income countries which funded about 56% from their own budgets.
Under Donald Trump, the U.S. administration — a major funder of AIDS programmes historically, has threatened to cut spending.
Despite more than three decades of research, there is no cure or vaccine and HIV-positive people have to take lifelong treatment that can be expensive and have nasty side-effects.
ART inhibits the virus and can limit its spread between people — mainly through sex — but does not kill it.
UNAIDS reported large variation between world regions in the battle against the killer virus.
In West Asia and north Africa, for example, less than a third of people with HIV have access to ARV, only 36% of those in eastern Europe and central Asia, and 40% in west and central Africa.
For west and central Europe and North America, the number is 78%, with about 1.7 million out of 2.2 million infected people on ARV.
In east and southern Africa — home to 53% of people living with HIV in the world — deaths declined by 42% from 2010 to 2017, thanks largely to the widespread rollout of treatment.
However, there has been no reduction in AIDS-related mortality in eastern Europe and central Asia since 2010, and deaths from AIDS-related illness increased by 11% in the West Asia and North Africa.
5. 'India lags in routine immunisation programme'
An estimated 19.9 million infants worldwide did not receive routine services such as three doses of diphtheria-tetanus-pertussis (DTP3) vaccine in 2017.
Around 60% of these children live in 10 countries — Afghanistan, Angola, Democratic Republic of the Congo, Ethiopia, India, Indonesia, Iraq, Nigeria, Pakistan and South Africa.
This was revealed in a report released by the World Health Organization and UNICEF on immunisation estimates.
Statistics
It noted that global vaccination coverage — the proportion of the world's children who receive recommended vaccines — has remained the same over the past few years.
Besides this, an additional 4.6 million infants were vaccinated globally in 2017 compared to 2010 due to global population growth.
The report stated that more efforts are needed to reach universal immunisation coverage.
Of the 19.9 million infants who are not fully vaccinated with DTP3, almost eight million or 40% live in fragile or humanitarian settings, including countries affected by conflict.
And about 5.6 million of them live in just three countries — Afghanistan, Nigeria and Pakistan, where access to routine immunisation services is critical to achieving and sustaining polio eradication.
New vaccines
Meanwhile, newly available vaccines are being added as part of the life-saving vaccination package. These include ones that offer protection against meningitis, malaria and even Ebola.
Human papillomavirus (HPV) is the most common viral infection of the reproductive tract and can cause cervical cancer, other types of cancer, and genital warts in both men and women. The HPV vaccine was introduced in 80 countries in 2017.
Nothing here for today!!!
H. Practice Questions for UPSC Prelims Exam
Question 1. Consider the following statements with respect to the no-confidence motion:
A no-confidence motion can be moved by any member of the two Houses.
A notice for a no-confidence motion against a government is accepted only if at least 50 members of the Lower House support it.
The Speaker has to announce the date for discussion for the motion.
Which of the above statement/s is/are incorrect?
i) only
ii) only
i) and ii) only
None of the above
See
Question 2. Which of the following statements is incorrect?
Corporate bonds are characterized by higher yields because there is a higher risk of a company defaulting than a government.
Angel bonds are investment-grade bonds that pay a lower interest rate because of the issuing company's high credit rating.
Both a and b
None of the above
See
Question 3. Consider the following statements:
The Red Panda is a mammal native to the eastern Himalayas and southwestern China.
It has been classified as endangered by the IUCN.
In India, it is found in Sikkim, Arunachal Pradesh, West Bengal and parts of Meghalaya.
Which of the above statement/s is/are correct?
i) and ii) only
ii) and iii) only
i) and iii) only
All of the above
See
Question 4. Which of the following statements is incorrect?
The Fair and Remunerative Pricing is used in sugarcane industry.
It is the minimum price which the sugar mills have to pay to the farmers for their sugarcane.
This is based on the Rangarajan Committee report of reorganising the sugarcane industry.
None of the above
See
I. UPSC Mains Practice Questions
Among the several indicators of status of women in a given society is the nature and extent of legal measures taken to grant them certain legal rights and status. Discuss the main provisions of the Indian Constitution having bearing on women's social, economic and political status.

Caste is a divisive, dangerous and destructive force. Illustrate with examples.
Also, check previous Daily News Analysis
"Proper Current Affairs preparation is the key to success in the UPSC- Civil Services Examination. We have now launched a comprehensive 'Current Affairs Webinar'. Limited seats available. Click here to Know More."
Enroll for India's Largest All-India Test Series