The UPSC Mains 2020 kicked off on January 8, 2021, with the Essay Paper. The Essay Paper is counted for merit ranking in the UPSC scheme of things. The UPSC Mains consist of 9 papers in total. The UPSC 2020 Mains will go on till 17th January 2021.
The Essay Paper consists of two sections of four essay topics each. Candidates will have to write one essay each from both sections. The total marks for the Essay Paper are 250 (125 marks for each essay). Candidates should write essays in about 1000 – 1200 words.
UPSC 2020 Mains Essay Question Paper:- Download PDF Here
The Essay Topics asked in the UPSC Mains 2020 are given below.
UPSC 2020 Mains Essay Paper
Section A
Life is a long journey between human being and being humane.

Mindful manifesto is the catalyst to a tranquil self.

Ships do not sink because of water around them, ships sink because of water that gets into them.

Simplicity is the ultimate sophistication.
Section B
Culture is what we are, civilisation is what we have.

There can be no social justice without economic prosperity but economic prosperity without social justice is meaningless.

Patriarchy is the least noticed yet the most significant structure of social inequality.

Technology as the silent factor in international relations.
You can download the previous years' UPSC question papers in the linked article.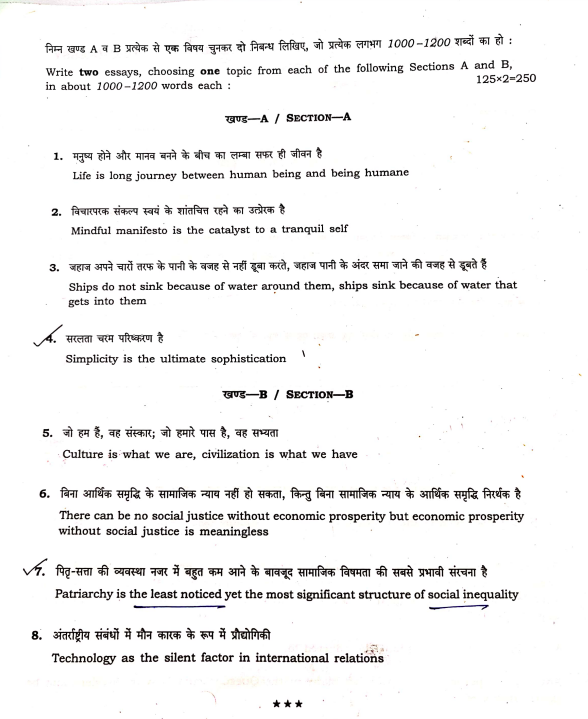 You can download the UPSC 2020 Mains essay question paper here.
UPSC Mains 2020 Essay Paper:- Download PDF Here