Table of Contents:
1. June rain shortfall has no bearing on monsoon performance, say weathermen
1. Automation to hit textile sector jobs
2. Nine Italians, seven Japanese killed in Dhaka attack
3. Colombo considering various options to resolve fishermen problem: Defence Secretary
1. 119 dead as car bomb rips through Baghdad shoppers
2. NDRF trains one lakh people in one month for better reach
3. Remote Pacific nation threatened by rising seas
4. To Read:New RBI Governor faces five priority areas
2. Twenty-five years of tinkering
1. PIB
a) PM's address at the 300th Martyrdom Anniversary Commemoration Event of Baba Banda Singh Bahadurji
b) BRICS Working Group meeting on "Energy Saving and Energy Efficiency" tomorrow
a) Is globalisation over? Free movement of labour is last frontier
b) Pulses prices pain forcing desperate Centre into loss-making proposition
b) Empower through 'e-panchayats'
a) BSM sector needs quick change in policy to realize its full potential
5. Quick Bits and News from States
a) Entry-level jobs pay more in Central government
b) Fisheries subsidies: India wants WTO to provide relief to small fishermen
c) With IWTTP in place, Tripura to get food, fuel via Bangladesh
.
+++++++++++++++++++++++++++++++++++++++++++++++
Useful News Articles
A. GS1 Related
1. June rain shortfall has no bearing on monsoon performance, say weathermen
Topic: Monsoon Forecasting
Category: Geography
Key points :
In spite of monsoon rains during June short by 11% of what is usual, meteorologists are optimistic this year since the threat of an El Nino has receded
"There is good progress. However, the intra-seasonal variability especially during June and July is exactly what makes each monsoon unique," IMD said
Regions like Eastern Madhya Pradesh and Jharkhand were short on rain partly because rain bearing systems in China (that also brought rains to Uttarakhand) were preventing the monsoon clouds from firming over the region. That and the lack of rains over north Gujarat so far has meant that weather forecasters are still unsure about what the monsoon can throw up
And then there are the breaks. While July and August are the most bountiful months of the monsoon season, it's also the time the monsoon takes a hiatus — called a 'break' in the parlance — that can last for as much as a week. Such breaks are impossible to forecast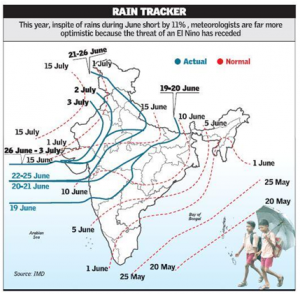 B. GS2 Related
1. Automation to hit textile sector jobs
Topic: Labour Issues
Category: Governance
Key points :
Textile and apparel industry is likely to create only 29 lakh jobs compared to the government's target of one crore new jobs, even as the sector's market size is expected to grow by 40 per cent to $142 billion in the next five years, says an E &Y report
The spinning, autoconers and auto-splicers divisions have replaced a job of 20 workers by 2 workers. The inter-fiber shift moving from relatively labour intensive spun yarn to synthetic filament segment also leading to lower job creation, it said
As per a World Bank report, 69 per cent of the jobs in India are at a higher risk of being replaced by automation. The report pointed out that because of absence of FTAs with the EU, Australia and Canada, almost 55 lakh jobs are lost to added exports that would have been generated if the FTAs were signed. The study was done to bring out the employment potential of the textile sector, especially in rural India by developing non-migratory models of manufacturing like 'hub & spoke' model being popularised in countries like Bangladesh, Cambodia and Myanmar
The Cabinet had last month approved a Rs.6,000 crore package for textiles and apparel sector with an aim to create one crore new jobs in three years and attract investments of $11 billion. E&Y report said the technological advancement leading to increased efficiency may reduce job opportunities. From a high of 40 workers being employed by the industry, it has now declined to 25 workers per Rs.1 crore
2. Nine Italians, seven Japanese killed in Dhaka attack
Topic:Bangladesh
Category: : India's Neighbourhood
Key points:
Identity of 20 hostages killed in Friday's terror attack in an upmarket Dhaka restaurant is now known: Nine of them are from Italy and were mostly attached to the textile industry, while seven Japanese citizens were associated with various engineering and construction companies. One Indian student and three Bangladeshis are also among the cafe visitors who were killed on Friday night
3. Colombo considering various options to resolve fishermen problem: Defence Secretary
Topic: Sri Lanka
Category:India's Neighbourhood
Keypoints:
Even as the arrest of Tamil Nadu fishermen continues for alleged poaching in Sri Lankan waters, Colombo is considering various options including licensed fishing to break the stalemate over the vexatious fishermen problem
Tamil fishermen of the Northern Province, which is struggling to return to normality after a civil war of over 25 years, have been complaining that fishermen from Tamil Nadu, while engaged in illegal poaching, are using mechanised bottom trawling. This is causing havoc to the marine eco-system as it scrapes the seabed
Even though authorities of the Indian government know that fishermen from Tamil Nadu do cross the International Maritime Boundary Line (IMBL), a ban on fishing beyond the IMBL could threaten the livelihoods of hundreds of fishermen
It is for these reasons that the Indian government has been insisting that the fishermen problem be viewed from humanitarian and livelihood dimensions and not just in a narrow, legal way.The Defence Secretary of Sri Lanka said everything is under consideration
C. GS3 Related
Topic: West Asia
Category: Terrorism
Key points:
A suicide car bombing claimed by the Islamic State group ripped through a busy Baghdad shopping district, killing at least 119 people in the deadliest attack this year in Iraq's capital
The blast hit the Karrada district early in the day as the area was packed with shoppers ahead of this week's holiday marking the end of the Muslim fasting month of Ramadan
It came a week after Iraqi security forces recaptured Fallujah from IS, leaving Mosul as the only Iraqi city under the jihadist group's control
2. NDRF trains one lakh people in one month for better reach
Topic: NDRF
Category: Disaster Management
Key points:
To ensure resilience and better preparedness against disasters, the National Disaster Response Force (NDRF) has trained over a lakh people across the country in one month on the do's and don'ts during man-made or natural emergencies
In the month-long Community Awareness Programme from June 1 to 30, a total of 1,07,112 people in 22 States were trained in basic understanding of disaster management and combat by the NDRF in 482 sessions. The force also trained school students
The aim of this first-of-its kind exercise was to sensitise the vulnerable sections to disasters and bring about a sense of community capacity building
3. Remote Pacific nation threatened by rising seas
Topic: Climate change
Category: Environment
Key points:
A World Bank study lays out Kiribati's (a pacific island) future in apocalyptic detail. Causeways would be washed away, crippling the economy; degraded coral reefs, damaged by warming water, would allow stronger waves to slam the coast, increasing erosion, and would disrupt the food supply, which depends heavily on fish supported by the reefs. Higher temperatures and rainfall changes would increase the prevalence of diseases like dengue fever and ciguatera poisoning
D. GS4 Related
E. Important Editorials: A Quick Glance
Topic: Bangladesh
Category: India's Neighbourhood
Keypoints:
Bangladesh has been in mourning for over a year, as it loses its grip on a society that had been built on secularism and compassion. For over a year now, there has been a rise in religious intolerance and targeted violence against secularist and rational voices. Bloggers, academics, priests, spiritual leaders, LGBTQ+ activists, religious minorities, aid workers, tailors — all killed for not fitting a specific definition of piousness by Islamic extremists. Following this painful trend in violence, the attack on Dhaka's Holey Artisan Bakery/cafe has raised the bloodshed to unseen levels. Yet it would be foolish to consider it an isolated incident
Since early 2015, attacks on religious minorities and critics of Islamic extremism have been focussed on one or, in a handful of cases, two individuals being killed by mobs
Foreigners had been targeted in these attacks as well. The Islamic State and al-Qaeda have been competing to take credit for the string of murders, but there is no definitive proof of either group's involvement. Both groups have also claimed responsibility for the siege in the capital's wealthy Gulshan district this weekend, although both local intelligence and foreign agencies such as the U.S. State Department are yet to authenticate the claims. Like in previous attacks, the perpetrators' exact motives are still to be determined
What sets it apart, however, is the sheer scale of the violence. Blades have given way to guns, and single targets have been replaced by an entire building of casualties
Terrifyingly, this would indicate that extremist forces have become emboldened by the lack of response to the previous killings. The fact that they chose a target in the heart of the diplomatic zone, with few avenues of escape and with the hallmarks of a reckless suicide attempt rather than traditional hostage-taking, only lends credence to this fear. July 1 was not the first incident of violence by any means, but it certainly marks a turning point.
The rescue of at least 13 hostages, with some reports claiming a higher number of 18, has been heralded by the authorities as a sign of success. Government officials, including the Prime Minister, have condemned the attack wholeheartedly but have said that they are largely pleased with the attempts of the security forces. Unfortunately, that confidence is not easily shared
Muddying the waters even further has been the refusal by both government and Opposition to tackle the issue of growing extremism. The former has been steadfast in its vague accusations against the Opposition parties, refusing to consider any links with other organisations as well as the rise in extremist ideology more widely. It does not help that it has openly stated in the past that citizens should be careful not to hurt religious sentiment, effectively blaming free-thinkers for their own demise, with many of the perpetrators of the individual killings yet to be caught
However, it would be naive to suggest that the Opposition parties have not played a part. Having exploited political Islam as part of their platform for decades, they perfected the colonial legacy of using religious prejudice and scapegoating in the socio-political landscape. That they have vocally criticised the government, and the government alone, for the recent violence shows that scoring political points has become the end-game for both sides rather than actually solving the problem
Additionally, the wider global influence of reactionary pan-Islamism from West Asia, especially in the light of growing distrust of Muslims in the wake of the War on Terror, has had a toxic effect. Bangladesh has been inching towards a dangerous precipice for a long time, and the latest attack may have given it a bigger push than anyone could have predicted. More people and places in the country will now perceive themselves to be unsafe
"Stay safe" is becoming the most common way to say farewell. Making matters even worse is the identities of the attackers. While their affiliations are still unconfirmed — one hostage-taker is in custody and awaits interrogation — it is looking likely that they were all from urban, largely well-to-do backgrounds
This goes against the stereotypical profile of extremists indoctrinated through religious education in madrasas. If the assailants do indeed go against the grain, then the extent to which extremism has taken hold needs to be seriously reconsidered
Bangladesh was founded on the principle of secularism. Despite its Muslim-majority population, its social fabric has been strongest when the multitude of cultures and faiths within its borders has coexisted. Instead of taking recourse to superficial platitudes, the authorities need to unite in their efforts to tackle what is fast turning into the single greatest threat to the nation since its independence
Topic: Energy sector
Category: Governance
Key points:
The World Bank's agreement with the India-led International Solar Alliance (ISA) to help it mobilise a trillion dollars in investments by 2030 and its billion-dollar programme to support Indian initiatives for expanded solar generation are significant steps in the global transition to a clean energy pathway
While the cost of solar power has been declining, one of the biggest obstacles to a scale-up in developing countries has been the high cost of finance for photovoltaic projects. That problem can be addressed by the ISA through the World Bank partnership, as the agreement will help develop financing instruments, reduce hedging costs and currency risks, and enable technology transfer
India has raised its ambitions five-fold since the time it launched the National Solar Mission, and the target now is an installed capacity of 100 gigawatts by 2022 out of a total of 175 GW from all renewables
Strong policy support is also necessary to improve domestic manufacture of solar cells and panels, which has remained unattractive because cheap imports are available
India's efforts have also suffered a setback, with the adverse WTO ruling against the stipulation of a prescribed level of domestic content for solar projects. Developing a strong solar manufacturing industry is essential for sustained economic growth, and to connect those who never had the boon of electricity
Support from the World Bank for large-scale and rooftop solar deployments, innovative and hybrid technologies, and storage and transmission lines presents an opportunity for India to go the German way and achieve energy transition
For instance, the $625-million grid-connected rooftop solar fund could help strengthen State-level programmes for net metering. A transparent regime that enables individuals and communities to plug into the grid without bureaucratic hurdles would unlock small-scale private investment
There are several pointers from Germany's experience as a leading solar- and wind-powered nation to prepare for a major ramping up of these green sources. Arguably, the strength and reliability of a power grid capable of handling more power than is available are fundamental to induct higher levels of renewable power
The emphasis here must also be on improving transmission lines: the World Bank programme promises to provide the necessary linkage to solar-rich States
Making power grids intelligent to analyse and give priority to use the output of renewables, accurately forecast the weather to plan next day generation, and viability mechanisms for conventional coal-based plants are other aspects that need attention
Innovation in battery technology is a potential gold mine for the solar alliance and for India to exploit
2. Pause for a reality check.
Topic: India and Iraq
Category: International Relations
Key points:
Recent visits of our Prime Minister to the United Arab Emirates, Saudi Arabia, Iran, Afghanistan and Qatar have, undoubtedly, helped strengthen relations with these countries, especially in the area of economics and trade. Each one of these countries has also been desirous of partnering India in development-related activities, recognising India's current importance in Asia and the region\
However, the same cannot be said of strategic and security relations. Here, certain brakes require to be applied to diplomatic hyperbole. For instance, mere mention in joint statements of shared security and strategic concerns, common ideals and convergence of interests, enhanced defence ties, etc do not translate into a strategic relationship. In such matters there is need to tread with caution
Most countries of West Asia have their own security and strategic construct. India is not visualised — nor does India see itself — as a "net provider of security" in the region and, consequently, India does not figure prominently in these countries' security and strategic plans. There are again certain limits to intelligence and counter-terrorism cooperation, as serious differences exist between many of these countries and India on what constitutes terrorism and who can be described as a terrorist. Saudi Arabia, for example, needs to be seen as a dilettante in security matters — flirting with different nations, most noticeably the U.S., and frequently leaning towards Pakistan. Hence, when the India-Saudi Arabia joint statement talks of the two countries' responsibilities to promote peace, security and stability in the region, it conveys different meanings for the two countries. For Saudi Arabia, locked in a near existential conflict with Iran — with which it has ideological, doctrinal and hegemonistic issues — Iran is the main enemy. For India, Iran is a friend, and the threat of terrorism emanates from Pakistan, which remains intent on employing terror as a strategic instrumentality to destroy India. Hence, it is best to avoid an excess of exuberance in such matters
Much of this applies in equal, if not greater, measure to the current euphoria regarding our relations with Iran. Dealing with an ancient civilisation like Iran tends to be complex and complicated. The affinity between Persian and Indian civilisations is a historical fact. That India is home to the second largest Shia population in the world is well known. The umbilical links between Qom (Iran) and centres of Shia orthodoxy in India may be less known, but do exist. Yet, Iran maintains a certain wariness in its relations with India. Many attribute this to India's negative vote in the Atomic Energy Agency earlier on, and to India's implicit adherence to U.S. sanctions against Iran more recently. Other reasons possibly exist, but clearly New Delhi needs to work far more strenuously to regain Tehran's confidence. One high-profile visit by the Prime Minister, or the inking of the Chabahar port agreement, may not be enough
A reference in the India-Iran joint statement to the importance of regional connectivity linked to the development of Chabahar port is being mistakenly viewed by some people as a declaration of strategic intent. Chabahar port was solely intended to be an alternate trade and transit route to Afghanistan and conceived as such at the turn of the century. It aimed to circumvent Pakistan's embargo on movement of goods from India to Afghanistan with no strategic overtones. The transit corridor involving Chabahar to Zaranj to Delaram (Afghanistan) was to be complemented by another International North-South Transit Corridor from the Iranian port of Bandar Abbas into Central Asia. The delay in setting up Chabahar port has, however, reduced its economic value and utility, with China's One Belt One Road (OBOR) initiative — to which both Pakistan and Iran subscribe — threatening to outflank it
Another impression that the establishment of Chabahar port gives India a strategic advantage vis-à-vis China is equally misleading. Comparison with Gwadar port makes this obvious. China's investment in Gwadar port dwarfs what India proposes to invest in Chabahar. Moreover, China's relations with Iran are today on an upswing. Chinese President was the first major world leader to visit Iran after the lifting of sanctions, signing more than a dozen deals, including the OBOR initiative. Iran has openly welcomed both China's OBOR initiative and Maritime Silk Road initiative, and sees major economic benefits to itself once they are completed
China's trade with Iran is of the order of $52 billion, much higher than the $9 billion trade between India and Iran. China expects to raise this to nearly $600 billion over the next decade. Not to be ignored is the Pakistan factor, adding further grist to China's efforts. This includes dangling the possibility of an Iran-Pakistan-China gas pipeline
Unfortunately, Afghanistan, for which Chabahar port was intended to be the lifeline, is in dire straits today and its future in jeopardy. India's investment in Afghanistan has been substantial (for which it paid a heavy price in terms of both development assistance and the loss of human lives), including the Rs.1,700 crore Salma dam in the strategically vital Herat province (opened by the Prime Minister on June 4 this year); the new Afghan Parliament building; and the 218-km long Zaranj-Delaram Highway in western Afghanistan — but it faces the prospect of losing out on all that it has invested
Currently, large swathes of Afghanistan are under Taliban control. Constant attacks on government and other targets have eroded the credibility of the National Unity Government. Afghanistan's experiment of forming a government with Ashraf Ghani as President and Abdullah Abdullah as Chief Executive does not appear to be succeeding. Mr. Ghani, a one-time U.S. acolyte, has tended to alternate between aligning with Pakistan and opposing it. Unlike his predecessor, Hamid Karzai, he displays little preference for India. Some Afghan leaders now seem to be leaning towards the China-dominated Shanghai Cooperation Organisation and give it a key role in a future security architecture
Collapse of the National Unity Government will almost certainly lead to a surge in Taliban-directed activity. Countries that have propped up the National Unity Government might even offer an olive branch to the Taliban and involve Taliban members in a future Afghan government. This would then enable the Tehrik-e-Taliban Pakistan, the Haqqani network and the Islamic State (IS) to further enlarge their presence inside Afghanistan. A Talibanised Afghanistan could well become a staging post for launching attacks against India. The possibility of regional instability, which Pakistan could use to its advantage and to India's detriment, cannot also be disregarded
These developments constitute a strategic reversal for India. In the new order of things, India faces the danger of being relegated to a "bit player", with little or no influence. India has been kept out of the newly created Quadrilateral Coordination Group which consists of the U.S., China, Pakistan and Afghanistan to discuss Afghanistan's future. Left with few options and with the anticipated proliferation of Islamist extremist groups including the al-Qaeda and the IS, India's focus would need to shift from development to finding ways and means to ensure that Afghanistan does not turn into a major crucible for myriad terrorist groups, specially the IS and the al-Qaeda in the Indian Subcontinent (AQIS)
Consequently, the dividend that India expects from the development of Chabahar port may well prove to be highly evanescent. Hence, premature celebrations are best avoided. As India's prospects recede, the economic advantages accruing to China from the OBOR — which incorporates Pakistan, Afghanistan and Iran — would increase. This would further diminish whatever elbow room exists for India in that country and in the region
The Indian Express
Topic: Education
Category: Governance
Key points:
Post-independence India adopted, and to some extent, adapted an educational system bequeathed by the British to meet its own need for engineers, doctors, civil servants — a whole array of professionals who would, in the Nehruvian vision, help India catch up with the "developed" world. While we have more than succeeded in achieving that goal, the requirements of the new global marketplace are constantly being redefined. If we are to keep abreast and compete, it is vital that our education system respond appropriately
What are the specific changes we are looking at?
First of all, education must be delinked from any ideology. An education system, so trapped, can never deliver the real goods. School education must also be delinked from the job market — at least in the very direct manner that it is today. The current ethos seems to be to use schools to prepare for a career, mainly in engineering and medicine. Unless this mindset changes, school education will remain a slave of the "tuition mafia". Schools must provide a liberating experience, not a confining one. The child must be able to explore the wonderful world around, be it through poetry, math, music or history, or indeed all of them. She or he will then be equipped to make a choice of career, based on a real and deep understanding of the world
This, in turn, will call for a serious revamping of curriculum to move away from the current content and test and teacher-driven model to one that enhances curiosity, creativity, and sharpens the ability to apply that knowledge to the real world
We will have to invest heavily in teacher-training. Teaching should be an "aspirational" career and those making that choice must be professionally trained and handsomely remunerated. Perhaps there is some merit in the idea of creating an "elite corps" like the IAS with several top-class training academies all over the country. The private sector must be encouraged, but closely monitored. Today's investors unfortunately view a school only through the profit-prism
And if we are to fulfill our oft-declared ambition to be a global leader, we cannot afford to be steeped in the prejudices of caste, class, region and religion. To be politically, economically and civilisationally global, we will have to globalise our souls. School education is where this crusade begins. Teachers and parents together will have to be the crusaders
Dishonesty and greed are great barriers to growth, and our education system will have to hammer home the fundamental truth that genuine wealth creation happens only when resources are equitably distributed
Along with honesty go many other attributes that make a country truly "evolved". Simple things like observing civic niceties with regard to traffic rules, public property, environment, respecting diversity, empathy and gender sensitivity must become part of the DNA of school education and not just a boring lesson in a civics book
The time has come, as the jargon goes, to make a "paradigm shift" in the way we view school education
Yes, we do need our doctors, engineers and lawyers. But equally, if not more importantly, we need a society based on honesty, equity and justice. It is not enough to "make in India". We must "make good people in India"
2. Twenty-five years of tinkering
Topic: Agriculture
Category: Governance
Key points:
July, this year, marks the silver jubilee of economic reforms. It is time to take stock of our major successes and failures. It is well-known that the foreign exchange crisis, with reserves falling to as low as $1.5 billion, triggered fundamental changes in economic policies in India. Three major policy changes were: Depreciation of the rupee by more than 40 per cent, liberal trade policies with substantial cuts in import tariffs of industrial products, and de-licensing of a host of industries
There have been major successes on all three counts. What was the impact of the economic reforms on agriculture? The first big policy change that was attempted in agriculture pertained to fertiliser: Raising urea price by 40 per cent in order to cut fertiliser subsidy. That created an uproar, even in the Congress party, forcing a rollback to 30 per cent. Subsequently, a joint parliamentary committee was set up on pricing of fertilisers. The committee recommended freeing up of potassium and phosphorous fertilisers from subsidies, but also suggested a 10 per cent reduction in urea prices. This set the stage for unbalanced fertiliser use as well as swelling the fertiliser subsidy
Thereafter, several committees looked into this issue, but none could recommend decontrolling urea prices. As a result, this sector suffers from large inefficiency, urea is diverted to non-agricultural uses and to neighbouring countries, while the subsidy burden continues to rise
The fertiliser subsidy in the Union budget for the fiscal year 2017 is about Rs 70,000 crore. But there are also pending bills of more than Rs 45,000 crore against the fertiliser industry. The government is trying to increase fertiliser production by pumping in more resources in sick units. That is an inefficient strategy
Data from Bihar gives us some idea of fertilisers getting diverted to neighbouring countries. In FY 2013, fertiliser consumption in Bihar was about 200 kg/ha, way above the all-India average of 131 kg/ha. But figures of wheat and rice production are not commensurate with such levels of fertiliser consumption. Directorate of Economics and Statistics data shows that wheat cultivation in the state required 125 kg of fertiliser per hectare (ha) while paddy consumed 97 kg per ha. What accounts for such a large difference is anybody's guess. Very likely, much of the fertiliser is going to Nepal.
Can the government take fertiliser sector reforms to their logical conclusion? The road map is reasonably clear. It is time to transfer fertiliser subsidy to farmers' bank accounts on per hectare basis, and decontrol the fertiliser sector completely. This will make the subsidy crop-neutral, help those who want to grow crops other than wheat and rice, and promote organic farming. China has done that already
Unfortunately, there was no reform package for agriculture as a sector — unlike industry and trade policy. There was only minor tinkering with agriculture policies, as in the case of fertiliser pricing or opening up exports of rice in1994. Two years after opening up of rice exports, India became the second largest exporter of grain in the world. This encouraged the government to open exports of wheat in 1995. But this caused domestic prices of wheat and rice to rise and led the government to ban wheat and rice export in 1997. The ban continued for almost five years
These hiccups notwithstanding, India has emerged as the largest exporter of rice in the world. Between FY 2013 and FY 2015, Indian rice exports amounted to more than 10 million metric tonnes on an average. This led to major transformation in the rice milling industry. The industry today uses better technology, including sortex machines
However the biggest gain to agriculture came from the improvement in the terms of trade. The correction of the over-valued exchange rate of the rupee in 1991 and the slashing of industrial tariffs ended the "implicit taxation" of agriculture from these indirect policies. Terms of trade for agriculture improved. This resulted in higher private investments in agriculture and agri-GDP grew by 4.8 per cent per annum from FY1993 to FY1997. But once export controls were back and East Asia was hit by a crisis in 1997, agricultural growth suffered. It has not come back to the 4.8 per cent level
Agriculture witnessed severe crisis in the first two years of the present government. Agriculture growth collapsed to 0.5 per cent. This is partly because of back-to-back droughts and falling global agri-prices, but the crisis has also to do with the fact that there is no champion for agriculture in the cabinet. It is time for the PM to pay attention to this and complete the unfinished agenda of agri-reforms. The government surely needs to go beyond fertilisers and extend reforms to agricultural markets, boost investments and create institutions that research and promote agriculture. If the PM can increase agri-growth beyond 4 per cent per annum, he is likely to reap rich dividends
Others:
A. PM's address at the 300th Martyrdom Anniversary Commemoration Event of Baba Banda Singh Bahadurji
PM's address at the 300th Martyrdom Anniversary Commemoration Event of Baba Banda Singh Bahadurji
Banda Singh Bahadur (born Lachman Dev, also known as Banda Bahudar, Lachman Das and Madho Das) (27 October 1670 – 9 June 1716, Delhi) was a Sikh military commander.At age 15 he left home to become an ascetic, and was given the name ''Madho Das''. He established a monastery at Nānded(Maharashtra), on the bank of the river Godavari, where in September 1708 he was visited by, and became a disciple of, Guru Gobind Singh, who gave him the new name of Banda Singh Bahadur. Armed with the blessing and authority of Guru Gobind Singh, he assembled a fighting force and led the struggle against the Mughal Empire. His first major action was the sack of the Mughal provincial capital, Samana(Patiala,Punjab), in November 1709. After establishing his authority in Punjab, Banda Singh Bahadur abolished the zamindari system, and granted property rights to the tillers of the land. He was captured by the Mughals and tortured to death in 1716.
B.BRICS Working Group meeting on "Energy Saving and Energy Efficiency" tomorrow The first meeting of the BRICS Working Group on "Energy Saving and Energy Efficiency" will be held in Visakhapatnam during 4th-5th July, 2016. Participation from all BRICS countries, viz., Brazil, Russia, China and South Africa has been confirmed.
During the two day deliberations, the BRICS countries will make presentations on measures taken by them in the field of energy saving and energy efficiency. India will also showcase its efforts in energy saving, energy efficiency, in particular the LED street lighting programme and PAT (Performance Achievement & Trade) programme for Industrial energy efficiency.
The meeting of the BRICS Ministers of Energy was held in Moscow on 20th November 2015, wherein the BRICS energy Ministers signed a Memorandum of Mutual Understanding in Energy Saving and Energy Efficiency, agreed to pursue their energy cooperation through joint research and technology projects; technology transfer; conferences, lectures and seminars; and exchange of experience and best practices.
2. The Financial Express:
 Is globalisation over? Free movement of labour is last frontier
Topic: Trade
Category: Economy
Key points:
The shock of the British referendum to withdraw from the EU—Brexit—has been felt around the world. There has been no lack of explanations. Are the people who voted for Brexit those who were left out of the benefits of globalisation? Is this the end of globalisation?
The principal objection of the Brexiters to the EU is the requirement that there has to be free movement of labour across the EU. Thus, anyone from Romania or Hungary can come to the UK freely and work. The EU has four freedoms at its core: free movement of capital, goods ,services and labour. It was clear that while the UK citizens like three out of four freedoms—what they call access to the single market, they do not like free labour movement
There is a paradox here. When the latest wave of globalisation began in the early 1990s , there was much talk of a 'borderless world' or a 'flat Earth'. But this was always a fantasy. Nation-states remain the units in which people live. Their political loyalty is commanded by their country and their economic well-being depends on good performance of the domestic economy. Thus, globalisation benefited national economies by encouraging free movement of capital and goods. There has been difficulty in guaranteeing mobility of services since professional qualifications are not standard across the world. Doctors trained in Poland need to prove their competence to work in France
When it comes to free movement of labour, there have always been restrictions. This is especially true of unskilled labour. Nation-states devise obstacles to free movement—passports, visas, medical examination, etc. In the previous wave of globalisation, before the First World War, there were no passports. There were few nation-states as there were mostly empires. That phase of globalisation foundered on imperial rivalry
Now, there are many nation-states and no empires. There has also been a growth in democratic polities. We also have the expectation that the state is responsible for the welfare of their citizens. The welfare state was created as a response to the two World Wars and the Great Depression during the inter-war period. This makes citizens insist that the political system look after them
Movements of capital and goods and services benefits everyone. Free movement of labour benefits the migrant worker and the employers and consumers of the fruits of his labour services. But it does not necessarily benefit the citizen-worker who is competing for the same jobs. As a consumer, he may benefit but not as a supplier of labour services. If the economy is growing and providing full employment, the competition is muted and there is tolerance of the migrant worker. But come recession, the antagonism goes deep. While the better-off can afford to be internationalist, the poorer worker is, and needs to be, a fervent nationalist
The reaction against immigration which the Brexiters demonstrated is a result of the eight-year-long recession the citizens have suffered since the Lehman Brothers crisis. Immigrants from Poland came in thousands before 2008, but they were absorbed. Many went back when the economy stagnated. But even with the recession, the UK has managed to preserve full employment though there has been no growth in real wages
There is a similar reaction in the US .There is a huge resistance to labour market reform in France. There is an EU-wide crisis concerning refugees from Syria and economic migrants from Africa
Free movement of labour is the last frontier which globalisation has to guarantee. This would be easy if the entire globe was a single political and economic entity. Otherwise, there will be local resistance to globalisation as we are witnessing.
But this is only as far as the developed countries are concerned. For the rest of the world, the free movement of capital has promoted rapid industrialisation. Manufacturing industry has migrated from the North to the South ever since the oil-price shock of 1973. If we now speak of emerging economies, it is thanks to globalisation. The Chinese economy thrived thanks to globalisation which opened up Western markets to exports from developing countries and capital migrated to help build the export hubs. Developing economies are also exporters of labour and they benefit from remittances sent by their citizens working abroad
In climate change debates, it was the rich countries which wanted to trade growth for environment while the poor countries were reluctant. Now, the rich countries want to restrict labour mobility but like the other three freedoms. It is the task of the poorer countries to insist that all four freedoms matter for the sake of universal well-being
b)  Pulses prices pain forcing desperate Centre into loss-making proposition
Topic: Agriculture
Category: Governance
Key points:
The announcement by the government that a determined drive is launched to source pulses from M3 (Mozambique, Malawi and Myanmar) countries via the government-to-government route—through PSUs—officially confirms that India desperately needs pulses due to continuous decline in its annual output. The severity of shortages, as of now, of about 5 million tonnes (lentils, chickpeas and peas)—though in public domain (output of 17-18 MT versus usage of 23MT)—is officially endorsed and made known worldwide
The mismatch in the production and consumption will exacerbate in the future and so will the market prices. It is quite queer that what we cannot manage domestically, we are expecting lesser developed nations to do for us, especially in agriculture.
The official ban on chana futures in NCDEX in June 2016, to avoid hyper-speculation, also reinforces the fear of the government of impending scarcity of about 2-2.5 MT of chickpea. The seriousness of the policy-makers to contain pulses inflation through market intervention by acquiring government stocks and to prevent speculative hoarding cannot be doubted. Prudence lies in also quickening the pace of import of yellow peas and chickpeas from Canada, the US, Australia, France, Ukraine, etc, which can be delivered faster locally through distribution channels
Pulses are not easily obtainable in world market, and are quite distinct from other agro commodities like edible oil, wheat, sugar, corn, etc, which are accessible in plenty internationally with multiplicity of sellers and are trading at future exchanges. Thus, competitive values can be assessed
Some times it is believed that crude-oil-importing PSUs like Indian Oil Corporation and others conclude mega-million-dollar contracts easily and therefore procurement of pulses likewise should not pose a problem. Crude oil is available abundantly at internationally-quoted prices in all oil exchanges—CME (Chicago Mercantile Exchange), DME (Dubai Mercantile Exchange) and ICE (International Commodity Exchange). This lends transparency to contracts, which can be objectively audited. The Metals and Minerals Trading Corporation also concludes annual contracts of iron-ore with Japan, but then there is a basis of assessment by comparing with Australian, Brazilian or South African ore
Pulses have no such mechanism of spot or futures trade anywhere in the world. The price discovery in M3 countries is totally opaque and may not match for the same type of pulses. Lentil prices may vary in broad spectrum of $400-1,500 landed, depending upon dynamics of market. Since India cannot buy surreptitiously the way China does, our demand and urgency is well-publicised to our disadvantage
It is a figment of imagination that by considering such government-to-government import deals of pulses, the supply-demand gap could be totally bridged. First, the total surplus available with these three countries may be less than 2 MT and that they have other international buyers too to sell, including Indian private trade. If India insists that the entire extra production be made available to the government, they will demand a steeply hiked price compared to the ruling trading values which will require greater subvention in local market. The cost of acquisition then cannot be readily compared with other origins, and fundamentally the deal gets so structured that loss must be made. Terms of payment may involve advance payment, which entails greater risk if delivery is defaulted
Unlike India, these M3 countries do not have public sector entities as counter-parties for contracting and implementation. Will then Indian PSUs finalise business with private traders "nominated" by M3 countries? In any case, even if 1 MT is annually imported by the government from M3 countries, it would be a creditable achievement
Dispatching a delegation initially, doing recce about the sellers and exploring logistic modalities may be fine. But for finalising terms of trade, the leader of the delegation should be vested with authority to conclude contract on the basis of a single bid from each of these countries, which will eventually happen. The current system in the government does not allow flexibility of finalisation of sale without a tender, and requires at least three bids at the same time/day. Any reference for decision-making to an inter-ministerial committee will be counterproductive.
If India wishes to have a government-to-government deal, it will have to modify procedures and rules for such a purchase.
* Counter-parties from M3 countries can be their official undertaking or "nominated private parties". What has been their past experience of trade in pulses has to be left to the discretion of M3 countries, though the Indian side may have informal evaluation of their capabilities to perform. This will need acceptance from Indian authorities
* Dispense with the tender system and rely upon "negotiated" price, tonnage, quality, delivery or terms of payment on an annual basis. For this, suitable relaxation is required from a competent authority (permission from such a deviation from India's bureaucratic system looks improbable).
* Since private parties will also be importing in parallel in small lots—and may be at "cheaper prices"—the price/terms negotiated by PSUs may not be subject to scrutiny by audit/vigilance. This is because for a large tonnage on an annualised basis the price of pulses will be much higher than those negotiated by private players for smaller tonnages and shorter delivery. Will audit not question such a loss to national exchequer?
* Any dispute resolution/litigation in India as per Indian terms may "not" be agreed to by M3 countries. Discretion to this effect needs authorisation.
* The quantum of subsidy for disposal of pulses on government account may be decided well in advance, for quick disposal at discounted prices. If the government dithers or drags on subsidy, landed cargo will remain warehoused and market will remain starved
* The entire gamut of this operation means buying at high prices and selling at low prices, at a loss depending upon market conditions, by debit to the Consolidated Fund of India. Will that be politically-convenient, though such a loss can be justified for socio-economic reasons?
Without these radical deviations authorised in black and white, the success of government-to-government transactions is highly doubtful. Even if one or two contracts are concluded, they will not be able to withstand scrutiny of integrity by audit and vigilance
3. The Business Line:
Topic: India and Africa
Category: International Relations
Key points:
June 2016 has seen an unprecedented intensification of India's relationship with Africa. In the first week, Vice President Hamid Ansari visited Tunisia and Morocco. In the second week, President Pranab Mukherjee launched his whirlwind tour of Western and Southern Africa, covering Ghana, Cote d'Ivoire and Namibia. And, in July, Prime Minister Narendra Modi will visit Kenya, Mozambique, Tanzania and South Africa.
Ever since the Third India-Africa Forum Summit (IAFS) in 2015, the prime minister has been building bridges with African countries, soliciting support for a host of multilateral initiatives. It's also unabashedly about business, a good example of geo-politics meeting geo-economics. For instance, Ansari's visit to Morocco and Tunisia are key, because India imports phosphate — a critical raw material for fertiliser production — from these countries. Ansari also inaugurated an India-Morocco Chamber of Commerce during his trip to Rabat
The President's visit provided an opportunity for advocacy of India's business interests.India's cumulative investments in Ghana are over $1 billion and two-way trade during 2015-16 amounted to $3 billion
Simultaneously, there is a strategic shift in India's development diplomacy for the continent. Exim Bank, for example, is likely to focus more on service exports now, rather than compete with China for infrastructure projects in Africa. Exim Bank is looking to disburse close to ₹10,000 crore in Africa over the next three years as both commercial and concessional credit. Service exports aim to build on India's traditional strengths in Africa and would include healthcare, education and information technology services
Exim Bank is also looking to sharpen focus on another area of India's traditional exports to Africa: project exports. It has requested the RBI to ease regulatory and compliance guidelines regarding minimum equity capital, leverage and the maximum that the bank can lend to a single borrower
These actions are in line with promises made during the Third IAFS in October 2015. The first two editions — in 2008 and 2011 — made numerous promises but fell short on follow-up and delivery
The last summit, held in October 2015, saw a strategic shift in focus it sought to create a global alliance of solar-rich countries. But, most importantly, it also created a formal monitoring mechanism which will meet at regular intervals and review progress of various projects in different stages of completion
It seems that there is finally some recognition of the critical role Africa can play in both India strategic calculus and in its trade and investment expansion plans. Hopefully, this investment energy will not be a one-off spurt
b) Empower through 'e-panchayats'
Topic: Panchayati Raj Institutions
Category: India's Neighbourhood
Key points:
Cutting edge technology is, no doubt, empowering. The right application of technology can boost productivity in all sectors of the economy: agriculture, manufacturing, services, business and governmental activities. Technology enables informed decision-making, stakeholder participation and efficient service delivery and can help ensure transparency, accountability, and rule of law leading to inclusive good governance
The potential impact of leading technologies is estimated to be $550-1,000 billion annually by 2025, targeted to improve the lives of about 680 million, constituting 56 per cent of India's population lacking basic human needs
Against the backdrop of the Fourteenth Finance Commission's recommendation and earmarking a grant of more than ₹2 lakh crore from the Union Government directly to about 2.5 lakh gram panchayats, the question arises: How can people at the bottom of the pyramid be empowered by devolution of powers?
The National e-Governance Plan was meant to make government services accessible to the citizens through common service delivery outlets. Now, e-Panchayat, a component of Mission Mode Projects (MMP), has been launched by the ministry of panchayati raj. The project envisages empowering people in villages by improving governance at the third tier of government for rural local bodies at gram panchayats, block panchayats and district panchayats
E-Panchayat aims to transform panchayat functioning holistically by applying cost effective integrated technological solutions to overcome challenges including issues such as inadequate physical infrastructure, poor human resources and poor power supply. The more complex constraints are extant grassroots political, economic, and social power structures; and gender, age, caste, communal and other sectarian divides
Many States such as Gujarat, West Bengal, Karnataka, Kerala, Andhra Pradesh, Madhya Pradesh and Goa have taken e-initiatives at the panchayat level, but a nation-driven, integrated, holistic approach is required to make a dent on the functioning of panchayats and thereby improving the livelihoods of people. The e-Panchayat programme hopes to ensure people's participation in decision-making. To improve the functioning of panchayats in the country, it is imperative that people should be involved in identifying and prioritising projects, programmes, schemes and welfare activities pertaining to them
The panchayat planning process, budget, accounts, and the maintenance of books of accounts physically or online should capture the entire fund flow from the Centre, States, other bodies and own funds identifying the sources and application of expenditures
The plan outlay should be linked to development works, projects, programmes and activities and services with functionaries to achieve the targeted, specified, measurable, realistic timely outputs and outcomes. E-Panchayat must integrate State-specific software and central software to enable effective monitoring, transparency, rule of law, and accountability. Internal audits, oversights, social audits and CAG audit should be geared towards actualising the intended objectives
E-Panchayat is about automating the workflow processes of all panchayats covering about 30 lakh elected people's representatives and several lakh PRI functionaries. Information and Service Needs Assessment (ISNA), Business Process Reengineering (BPR) and Detailed Project Reports (DPR) for every State/UT as a whole can help radical transformation through decentralised local governance
Cloud-computing, mobile applications, m-governance, work automation, digital payments based on digital identity can penetrate hitherto remote localities
The poor can access e-health care, e-learning, and e-agricultural extension services. Technology enables informed decision-making; intelligent transportation; generation, transmission and distribution of power supply; boosting productivity in farming; and increasing access to clean drinking water. The Internet of Things and connecting sensors to online monitoring can be revolutionary for transforming India
Simplifying unwarranted policies and regulations at all levels has helped India become the fastest growing economic power. Investment by way of FDI, FII, Indian nationals and NRIs is on the rise
The transformative technologies, if implemented rightly, can help governance become cost effective, participatory, and citizen-centric, while at the same time empowering the poor
4. The Economic Times:
a) BSM sector needs quick change in policy to realize its full potential
Topic: BSM Sector
Category: Economy
Key points:
It is most unfortunate that myopic policy and outdated rules keep the beach sand minerals (BSM) sector hugely constrained and functioning well below potential despite their high and rising strategic and commercial importance. BSM are a group of deposits, namely ilmenite, rutile, zircon, monazite, leucoxene, garnet and sillimanite, found across beaches in peninsular India
But they all continue to be misclassified as "atomic minerals" in the law, with the result that routine approvals take 7-8 years, with the green signal required from as many as 28 departments both at the Centre and states
Some 65-70% of BSM constitute ilmenite, which yields strong-metal titanium used to make paint and tough metal alloys
India has about 30% of global reserves of BSM, but the production-to-reserve ratio here has been the lowest in the world at 0.002; the sector was opened up to private sector participation as late as 1998
What is worse, in a back to the future move, the Atomic Minerals Concession Rules, 2016, propose to abruptly restrict BSM mining only for the public sector if the deposits have equal or more than 0.75% monazite. This is draconian and worse
Thankfully, since 2007, ilmenite, rutile, zircon and leucoxene are no longer officially classified as atomic minerals. Yet, the Mines and Minerals (Development and Regulation) Amendment Act, 2015, has not incorporated the change. This needs to be done pronto. We clearly need proactive regulation and oversight of BSM
There is no reason why, say, the output of ilmenite here remain in the low single digits of global production. A business-like policy framework can result in billions of dollars in output and value-added and give rise to huge employment. Besides, BSM do not require conventional mining, blasting or trenches, etc, as the sand is duly restored
5. Quick Bits and News from States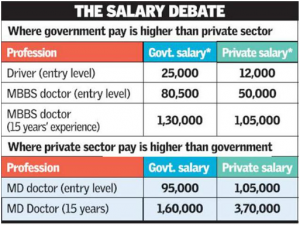 b) Fisheries subsidies: India wants WTO to provide relief to small fishermenCiting the vulnerability of its small-scale fishing fleet and the need to ensure food security, India has demanded special and differential treatment in fishery subsidy disciplines being negotiated at the World Trade Organization (WTO) so that support to small and marginal fishermen gets exempted.
In a recent meeting in Geneva on laying ground rules for negotiation of a global agreement to check over-fishing, New Delhi also insisted that developing countries be given capacity-building assistance to help in implementation.
c) With IWTTP in place, Tripura to get food, fuel via Bangladesh With formal inauguration of the revised Inland Water Transit and Trade Protocol (IWTTP) having provision of third-country access with Bangladesh, steps have been taken to ship essential commodities including foodgrains and fuel to Tripura via the neighbouring country, a minister said today.
Initiatives have been taken to bring the essential commodities, including fuel and foodgrains, by using the waterways of Bangladesh through Ashuganj port on the river Meghna
F. Concepts-in-News: Related Concepts to Revise/Learn:
IMD
El-Nino
International Maritime Boundary Line
IS
NDRF
Kiribati
International Solar Alliance
National Solar Mission
Photovoltaic Cell
OBOR
Maritime Silk Board
Chabahar Port
NCDEX
Consolidated Fund of India
G. Fun with Practice Questions 🙂
Question 1: Which of the following is/are Beach Sand Minerals (BSMs)?
Ilmenite
Garnet
Monazite
Zircom
a) 1 and 2 only
b) 3 and 4only
c) 1, 2 and 3
d) All the Above
Question 2: Which of the following statements is/are correct?
All revenues received by the Union government as well as all loans raised by issue of treasury bills and all moneys received by the Union Government in repayment of loans shall form a consolidated fund called the Consolidated Fund of India
The Comptroller and Auditor General of India audits these Funds and reports to the Parliament when proper accounting procedures have not been followed
a)1 only
b)2 only
c)Both 1 and 2
d)Neither 1 nor 2
Question 3: Which of the following is/are correct about a photovoltaic (PV) system?
The photovoltaic effect put to use in a PV system refers to photons of light exciting electrons into a higher state of energy, allowing them to act as charge carriers for an electric current
Some of the materials presently used for photovoltaics include monocrystalline silicon, polycrystalline silicon, amorphous silicon and cadmium telluride
a)1 only
b)2 only
c) Both 1 and 2
d)Neither 1 nor 2
Question 4: Thezones of maritime boundaries as expressed in concentric limits surrounding coastal and feature baselines is/are:
Territorial sea—the zone extending 12 nm. from the baseline.
Contiguous zone—the area extending 24 nm. from the baseline
Exclusive Economic Zone—the area extending 200 nm. from the baseline except when the space between two countries is less than 400 nm
a) 1 only
b)2 only
c) 3 only
d)All the Above
Question 5: Which of the following is/are islands located in the Pacific Ocean?
Cook islands
Fiji islands
Vanuatu
Aleutian islands
a) 1 and 2 only
b)2 and 4only
c) 1,2 and 3
d)All the Above
"Proper Current Affairs preparation is the key to success in the UPSC- Civil Services Examination. We have now launched a comprehensive 'Online Current Affairs Crash Course'.
Limited seats available. Click here to Know More."