11 December 1882
Birth of great poet Subramanya Bharathi
---
What happened?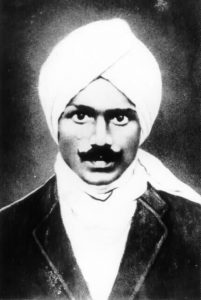 Great Tamil poet and nationalist Mahakavi Subramanya Bharathi was born on 11 December 1882 at Ettayapuram town in present-day Thoothukudi district of Tamil Nadu. Read more about the life and contribution of Subramanya Bharathi for the IAS exam
Biography
"Dear Illusion,
I have realized, I am captive to none.
I fear not your strike, but shall destroy your might"    ——– Subramanya Bharathiyar
Chinnaswamy Subramanya Bharathi, also called Bharathiyar was born to Chinnaswamy Iyer and Lakshmi Ammal. He was called Subbiah in his childhood.
He started writing poetry in Tamil at the tender age of seven. At the age of 11, he won a debate in the court of Ettayapuram Raja and was bestowed the title 'Bharathi' (meaning blessed by Goddess Saraswati) since he impressed all the eminent men present in the court with his intellect and erudition.
Bharathi was married to Chellamal when he was 15 and his bride was merely 7. After that, he spent 2 years in Benares and learnt Sanskrit, English and Hindi there. His stay in Benares changed his outward appearance. He started growing a beard and wore a turban impressed by the Sikh religion. He also gained a bold swing in his gait. His world expanded from the little town in South India to the great stretches of India and beyond.
It was in Benares that Bharathi was exposed further to Hindu spirituality and the idea of nationalism.
He also attended Congress sessions.
He also worked as an editor of magazines and newspapers. He also contributed to these journals. His poems and hymns were based on diverse themes like patriotism, relationship between man and god, Russian and French revolutions, children, devotional, etc. These magazines included Swadeshamitran, India and Bala Bharatham.
At the historic Surat session of the Congress in 1907 when the party split into extremists and moderates, Bharathi sided with Bal Gangadhar Tilak and supported armed resistance against the authorities.
In 1908, Bharathi fled to Pondicherry, then under the French, when faced with the prospect of arrest owing to his writings in 'India'.
In Pondicherry, he edited and published journals India, Vijaya, Bala Bharatham and Suryodayam. In 1909, the British government banned 'India' and 'Vijaya' in India.
Bharathi also met great leaders like Aurobindo, Lala Lajpat Rai and V V S Aiyar while in Pondicherry. He started learning Vedic literature here. He translated Vedic hymns, Bhagavad Gita and Patanjali's Yoga Sutra into Tamil.
In 1918, when Bharathi entered India, he was arrested. He was released after 3 weeks following the intervention of Annie Besant and C P Ramaswamy Aiyar.
In 1919, he met Mahatma Gandhi. One year later in 1920, he resumed being the editor of Swadeshamitran in Chennai. He spent the last few years of his life in Triplicane, Chennai.
Subramanya Bharathi was an advocate of women's rights and also against the caste system. According to him, Indian society would have to be united before being liberated from foreign rule. He condemned certain Shastras that denigrated women. He believed in the equality of humankind and criticised many preachers for mixing their personal prejudices while teaching the Gita and the Vedas.
He is considered the foremost poet in not only modern Tamil language but in all of Tamil history. He is widely regarded as the pioneer of modern Tamil literature. He used simple but effective words and rhythm. As a poet, his theme ranged from patriotism to nature, from romance to philosophy, from devotion to self-respect. He also wrote also of the need for scientific advancements if the country was to move ahead.
His famous poems include Achamillai Achamillai, Suttum Vizhichudadar, Agni Sthomam, etc.
He was a polyglot and translated the speeches of Aurobindo, Swami Vivekananda and Tilak into Tamil.
He wrote on not only Hindu deities but also on deities from other religions.
His poems have and continue to inspire millions of people around the globe. He is fondly called 'Mahakavi' or 'Great Poet'.
Bharathi was struck by ill-health due to his arrests. He passed away on 11 September 1921 aged just 38.
In 1949, he became the first poet whose works were nationalised by the state government.
Also on this day




---