TABLE OF CONTENTS
A.

 GS1 Related




B.

 GS2 Related


POLITY
1. Rape of minors to attract death in M.P.
2. Martial arts to be part of govt. school curriculum
3. 21st century India cannot shun leprosy patients, says Supreme Court
4. Finalising policy against drug abuse, govt. tells SC
INTERNATIONAL AFFAIRS/BILATERAL RELATIONS
1. In Pakistan, Mattis stresses on 'eliminating terror'
2. China invites more countries to take part in CPEC project


C.

 GS3 Related


ECONOMY
1. Opening bank account in new city to get tough
2. Centre prepares to redefine 'employment'


D. 

GS4 Related




E. 

Prelims Fact


F. UPSC Prelims Practice Questions
G. UPSC Mains Practice Questions 
Nothing here for Today!!!
1. Rape of minors to attract death in M.P.
 In news: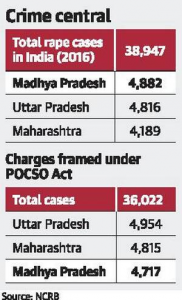 The Madhya Pradesh Assembly unanimously passed a Bill awarding death to those found guilty of raping girls aged 12 and below.
Key Fact: Madhya Pradesh becomes the first State where those convicted of such rapes will face the gallows.
Capital punishment would be awarded to convicts under Section 376 (A), which is related to rape, and Section 376 (D, A), pertaining to gang-rape.
2. Martial arts to be part of govt. school curriculum
 In news:
The State and the Central governments have decided to impart self-defence courses for girls in all government-run schools in the State.
Martial arts will be a subject in the curriculum which helps to improve their self-defence mechanism.
The theme of introducing self-defence skills and martial arts is to enlighten the girls on self-protection techniques and also to attain physical fitness among adolescent girls.
Self- defence training would be imparted to the girl students of eighth and ninth classes.
About 3.88 lakh students would be provided training during 2017-18, in 5,605 schools in the State.
The pilot project would be implemented in all Mandal Praja Parishad Upper Primary, Zilla Parishad High Schools, Kasturba Gandhi Balika Vidyalayas, municipal, social and tribal welfare and model schools in all the districts.
The District Educational Officers (DEOs) have been asked to take measures for successful implementation of the project and the headmasters should allocate two hours per week for the trainers in each school.
3. 21st century India cannot shun leprosy patients, says Supreme Court
 In news:
Supreme Court order:
Twenty-first century society cannot justify shunning persons affected by leprosy or keeping them hidden in homes and away from the mainstream.
The court has asked the Centre to respond in eight weeks to a call to repeal 119 Central and State laws in practice since the 1950s that discriminate against leprosy patients, stigmatise and isolate them despite the fact that modern medicine completely cures the disease.
The court has asked the government to explain the continued existence of these laws, which, in a way, deny the truth that modern medicine cures leprosy.
Petition:
PIL was filed by Vidhi Centre for Legal Policy.
It has found out that these statutory laws continue to recognise superstitions that leprosy is "infectious and has something to do with genetics".
The petition has urged the court to intervene and pave the way for recognising the fundamental right to equality, dignity and equal opportunity of persons affected by leprosy.
Discrimination:
There are 119 laws that discriminate against persons affected by leprosy in broadly the following five ways:
(i) cause stigmatisation and indignity to persons affected by leprosy
(ii) isolate/segregate persons affected by leprosy
(iii) deny them access to public services
(iv) impose disqualifications on them under personal laws, or
(v) bar them from occupying or standing for public posts or office.
These laws rob persons affected by leprosy by denying them equal treatment under personal laws, in matters of employment and appointment or election to public office, as well as access to and free movement in public place.
Basic Information:
Leprosy, also known as Hansen's disease (HD), is a long-term infection by the bacterium Mycobacterium leprae or Mycobacterium lepromatosis.
Initially, infections are without symptoms and typically remain this way for 5 to 20 years.
Symptoms that develop include granulomas of the nerves, respiratory tract, skin, and eyes. This may result in a lack of ability to feel pain, thus loss of parts of extremities due to repeated injuries or infection due to unnoticed wounds. Weakness and poor eyesight may also be present.
Leprosy is spread between people. This is thought to occur through a cough or contact with fluid from the nose of an infected person. Leprosy occurs more commonly among those living in poverty. Contrary to popular belief, it is not highly contagious.
Leprosy is curable with a treatment known as multidrug therapy. The treatments are provided free of charge by the World Health Organization.
4. Finalising policy against drug abuse, govt. tells SC
 In news:
The Centre has informed the Supreme Court that it is finalising a National Policy on Drug Demand Reduction to combat the rising menace of drug and alcohol abuse, especially among children.
The Ministry of Social Justice and Empowerment has assigned the National Drug Dependence Treatment Centre under the All India Institute of Medical Sciences to conduct a national survey on the extent and pattern of substance use. A final report is expected by March 2018.
Background:

December 14, 2016 judgment: the Supreme Court had ordered the Centre to complete within six months a national survey and generate a national database on substance abuse.
The court had said the harmful effects of drugs, alcohol and tobacco abuse among children should be made a specific content in the school curriculum under the aegis of New Education Policy proposed by the Centre.
Key Fact: The verdict quotes from the Census 2011 that 24 crore children, constituting 24% of the population of the country, are adolescent. They constitute a vulnerable age group for social, educational, moral and physical development. Protecting children from wide-spread prevalence of substance abuse is one of the biggest policy challenges facing India.
Petition: The December 2016 judgment was based on a petition filed by NGO Bachpan Bachao Andolan highlighting that the fundamental rights of children, especially those suffering from and involved in substance use and abuse, were violated due to non-compliance with the government's action plan for reduction in drug demand and supply.
Category: INTERNATIONAL AFFAIRS/BILATERAL RELATIONS
1. In Pakistan, Mattis stresses on 'eliminating terror'
 In news:
U.S. Secretary of Defence General James Mattis met Pakistani Prime Minister Shahid Khaqan Abbasi and underscored the importance of continuing and deepening cooperation for the common objective of "eliminating terrorism" from the region.
Abbasi underlined the need for a broad-based engagement to strengthen partnership and enhance cooperation between the two countries.
The Pakistani Prime Minister said no other country benefits more from peace and stability in Afghanistan than Pakistan. He agreed with Secretary Mattis that both Pakistan and the U.S. have common stakes in securing peace and security in Afghanistan for the long-term stability of the broader region.
The Pakistani Prime Minister also appreciated the U.S. resolve not to allow the use of Afghan soil against Pakistan.
2. China invites more countries to take part in CPEC project
 In news:
China has thrown open its economic corridor with Pakistan for investment by third countries after successfully commissioning a power plant near Karachi.
China has invited other countries to participate in the corridor on the "principle of equality and voluntarism,".
China-Pakistan Economic Corridor (CPEC) is a flagship of China's trans-continental Belt and Road Initiative (BRI).
Focus on energy projects
China has been focusing on energy projects as part of its plan to build comprehensive infrastructure — the first essential step to industrialise Pakistan.
Earlier in May, the Sahiwal coal-fired plant in Punjab had been commissioned, generating more than 1000 MW of electricity.
By 2019, another 1320-MW would be generated in two stages at a coal-fired plant in Balochistan.
Under CPEC, hydel power projects along the Jhelum river or its tributaries, mainly in Pakistan Occupied Kashmir (POK) are expected to yield at least 2700 MW.
Basic Information:
China–Pakistan Economic Corridor is a collection of infrastructure projects that are currently under construction throughout Pakistan.
CPEC is intended to rapidly modernize Pakistani infrastructure and strengthen its economy by the construction of modern transportation networks, numerous energy projects, and special economic zones.
A vast network of highways and railways are to be built under the aegis of CPEC that will span the length and breadth of Pakistan.
1. Opening bank account in new city to get tough
 In news:
If you are going to move cities, you will need to submit proof of your new address as validated by your passport, driving licence or voter card, within three months of opening a bank account.
This requirement stems from a change in the anti-money laundering rules as notified by the Finance Ministry that mandates five specific documents as proof of 'present' address that a customer needs to submit to a bank branch for opening a new account.
The five officially valid documents — passport, driving licence, voter's identity card, job card issued by NREGA signed by an officer of the State government, letter issued by the National Population Registrar containing details of name and address — that can be accepted by banks as proof of present, or current, address
Practice at present:
At present, one needs to submit a proof of identity and proof of address. There are six official valid documents for proof of identity — passport, driving licence, voter identity card, PAN card, Aadhaar card and NREGA job card.
For proof of address, the RBI has allowed banks to accept documents such as rent agreement and utility bills.
2. Centre prepares to redefine 'employment'
 Context:
For the past three and half years, the government has had a battle on its hands when it came to providing an enabling ecosystem for adequate job creation.
The government's own data showed that job creation in the formal sector was slowest in almost a decade, but it has said that it felt the ground reality on jobs was not being 'properly' captured as the existing system takes into account only the formal sector.
In news:
Commerce and industry Minister Suresh Prabhu has said: all the economic activity in India, including in the Micro, Small and Medium Enterprises (MSME) and informal sectors, will soon get properly captured.
Task Force on Improving Employment Data: A task force was set up in May this year under the chairmanship of the then Vice Chairman of NITI Aayog, Arvind Panagariya.
Terms of reference: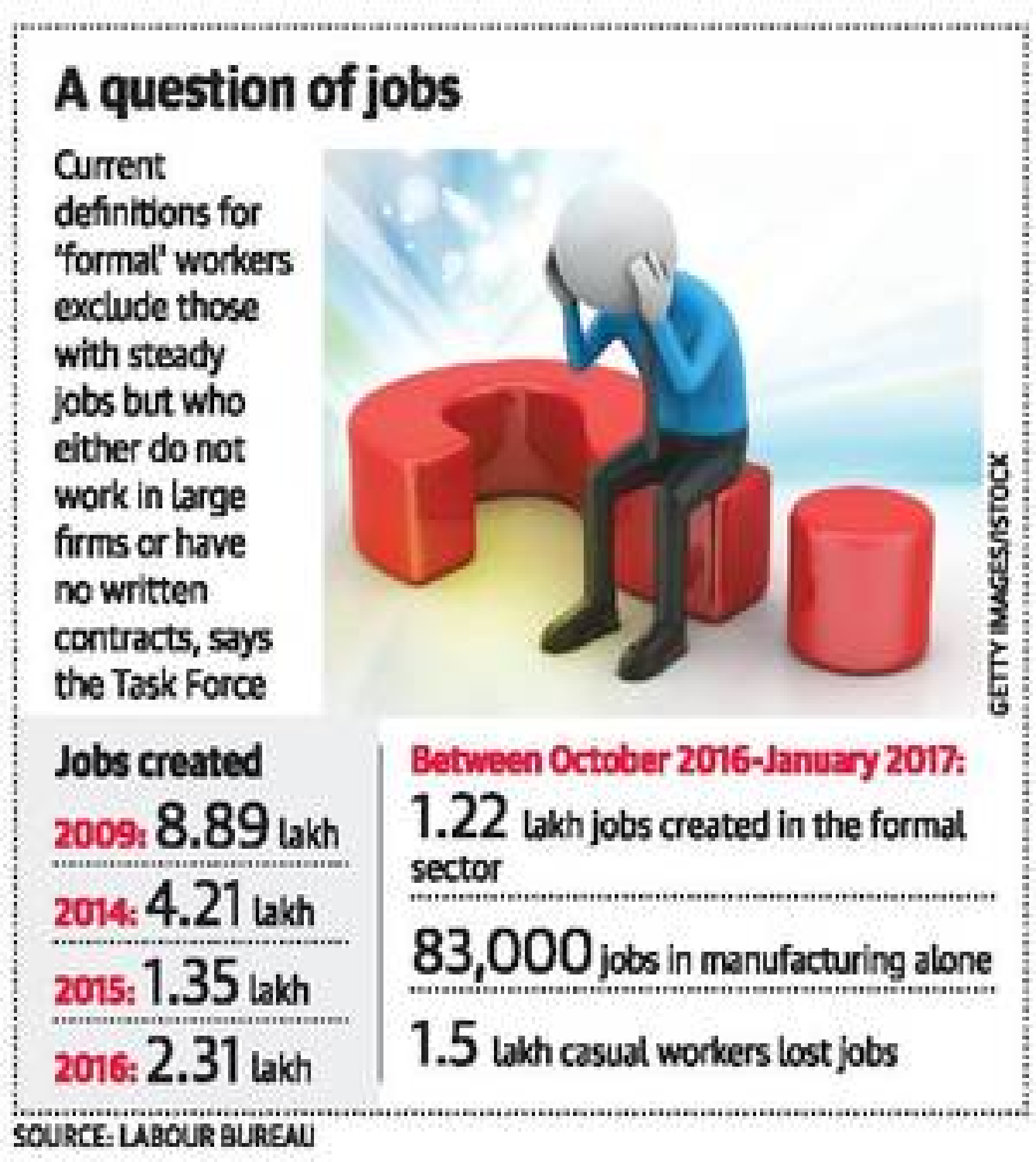 Assess the existing data systems and sources that provide information on jobs and job creation and then identifying alternate sources that could provide such data. Recommending mechanisms for capturing information on jobs and job creation on a regular basis for both the informal and formal sectors.
What could be expected?
Change in the definition of employment/workers as well as ways to include and measure employment in the informal sector as well.
Draft report by the task force:
According to the draft report, there is no fixed definition of formal workers currently in India.
It said all definitions were highly restrictive, and exclude many workers who have decent and steady jobs but either do not work in large enough enterprises or do not have written contracts.
The task force said it was desirable to adopt a new, more 'pragmatic' definition of formal workers.
What next?
The plan now is to include workers covered the Employees' State Insurance Act, 1948 (or other similar insurance), Employees' Provident Funds and Miscellaneous Provision Act, 1952 (or other similar social security scheme), workers having coverage under private insurance or pension schemes or provident funds as well as workers subject to tax deduction at source on their income through submission of Form 16 or similar Income Tax form.
The panel had identified the Micro Units Development and Refinance Agency (MUDRA) scheme, which provides small, unsecured loans to enterprises, as an important source of job creation.
According to a report by the SKOCH Group on September 6, the MUDRA scheme had led to a total of 54,479,763 jobs being generated in just over two years. These included 37,753,217 direct jobs and 16,726,545 indirect jobs.
Nothing here for Today!!!
Nothing here for Today!!!
F. Practice Questions for UPSC Prelims Exam
Question 1. Which of the following organizations bring out the publication known 
as 'World Economic Outlook'?
The International Monetary Fund
The United Nations Development Programme
The World Economic Forum
The World Bank
See
Question 2. Consider the following statements with reference to Shared Value 
Summit (SVS-2017) which was organized at New Delhi
The theme of the summit was "Equity and Empowerment".
The purpose of the summit is to encourage businesses to adopt the practice of shared value by imbibing the spirit of inclusivity in their business models.
The summit aims to provide a platform to identify and address the barriers that exist to equality and empowerment in the Indian society.
Choose the correct statements from the options given below:
1 and 2
2 and 3
1 only
All are correct
See
Question 3. Recently, 2017 Konark Dance Festival has been started in which 
particular state?
Andhra Pradesh
Odisha
Tamil Nadu
Karnataka
See
Question 4. Anekantavada is a core theory and philosophy of which one of the following?
Buddhism
Jainism
Sikhism
Vaishnavism
See
Question 5. What is xenotransplantation?
The process of grafting or transplanting organs or tissues between members of different species
The process of grafting or transplanting organs or tissues between members of same species.
The process of grafting or transplanting organs or tissues in plants
None of the above
See
G. UPSC Mains Practice Questions
GS Paper I
Distinguish between religiousness/religiosity and communalism giving one example of how the former has got transformed into the latter in independent India.
GS Paper II
"The local self government system in India has not proved to be effective instrument of governance". Critically examine the statement and give your views to improve the situation.
Also, check previous Daily News Analysis
"Proper Current Affairs preparation is the key to success in the UPSC- Civil Services Examination. We have now launched a comprehensive 'Current Affairs Webinar'. Limited seats available. Click here to Know More."
Enroll for India's Largest All-India Test Series