TABLE OF CONTENT
A.

 GS1 Related


Art and Culture
1. Demand for religion status for Lingayat gains momentum


B.

 GS2 Related


Polity
1. Get real on Swachh: on manual scavenging
2. IIITs now Institutes of National Importance 
3. SC wonders whether privacy could be an absolute right  
4. Ministry, NITI Aayog moot privatisation of select services in district hospitals
International Relations
1. Australia and India: partners in regional security and prosperity
2. U.S. Senate Committee for bigger Indian role in Afghanistan


C.

 GS3 Related


Economics
1. New social security net planned
Environment and Ecology
2. World's northernmost corals bleached


D. 

GS4 Related




E. 

Concepts-in-News: Related Concepts to Revise/Learn




F. 

Bills/Acts/Schemes/Orgs in News
G. UPSC Prelims Practice Questions
H. UPSC Mains Practice Questions 

UPSC Current Affairs 2017: News Analysis
1. Demand for religion status for Lingayat gains momentum
Context
The demand for independent religion status for Lingayats once again gathered new momentum.
Lakhs of people belonging to Lingayat community took to the streets in Bidar – Karnataka.
Their anger was not just against those who projected Lingayat community as an integral part of Hinduism but also those who argued Lingayat and Veerashaiva were one and the same.
Lingayat and Veerashaiva
The heads of the different Lingayat mutts who arrived from different parts of the country to participate in the agitation invariably asserted that Lingayats had been neither part of the Hindu religion nor were a synonym for the Veerashaiva sect.
There are two main religious streams in Hinduism — Shaivas and Vaishnavas. Veerashaiva is one among the seven sects of Shaivas. Both Shaivas and Vaishnavas uphold Vedas, Agamas, Shastras and Puranas and follow the Vedic religious practices. However, Lingayat religion founded by Basaveshwara vehemently opposed them.
Lingayats are spread across Karnataka, Maharashtra, Telangana, Andhra Pradesh and other States. Historically, ours is an independent religion founded by Basaveshwara in the 12th century. It has never been a part of Hinduism. Contrarily, it fought Hinduism.
1. Get real on Swachh: on manual scavenging
Context:
Despite the most stringent penal provisions in the law against manual scavenging, it continues in parts of India.
Recently Madras High Court ordered the Centre and the Tamil Nadu government to ensure the strict enforcement of the Prohibition of Employment as Manual Scavengers and their Rehabilitation Act, 2013, in the wake of the death of 30 people engaged in the activity in the State.
Current Issue
Vigorous national campaign for the rehabilitation of those engaged to manually clean insanitary latrines, and urban structures into which human excreta flows without sewerage, has been unable to break governmental indifference and social prejudice.
Why manual scavenging still persists?
Because of the continued presence of insanitary latrines, of which there are about 2.6 million that require cleaning by hand.
In spite of a legal obligation, State governments are not keen to demolish and rebuild old facilities lacking sanitation.
Government hasn't conducted a full census of both the latrines and the people engaged in clearing such waste.
The Central government, which runs the self-employment scheme for the rehabilitation of these workers, has reduced funds from ₹448 crore in the 2014-15 budget to ₹5 crore this year.
Even high allocation in the past also did not utilise effectively.
Social prejudices that impedes solutions
Many communities still regard the inclusion of a sanitary toilet as ritual and physical pollution of the house.
Even the less conservative are ready to accept only large, expensive and unscientific structures much bigger than those recommended by the WHO
Entrenched belief in the caste system, that assumes Dalits will readily perform the stigmatised task of emptying latrines.
Way forward:
Effective implementation of the law requires willingness of the courts to fix responsibility on State governments, and order an accurate survey of the practice especially in those States that claim to have no insanitary latrines or manual scavenging.
Raising the confidence level among those engaged in manual cleaning, even official data show their reluctance to take up self-employment.
Empowerment holds the key to change.
Break the caste barriers through education and economic uplift.
Compensation for the families of those who died in the course of the humiliating and hazardous work should be paid immediately.
2. IIITs now Institutes of National Importance
In news:
The Lok Sabha passed a Bill to declare the Indian Institutes of Information Technology (IIIT) established under the public-private partnership (PPP) route as Institutes of National Importance (INIs).
3. SC wonders whether privacy could be an absolute right
Context: The decision of the nine-judge Bench on whether privacy is a fundamental right or not will be pivotal to the petitioners' challenge that Aadhaar, which mandates citizens to part with their biometrics, is unconstitutional.
In news:
Supreme Court Observation: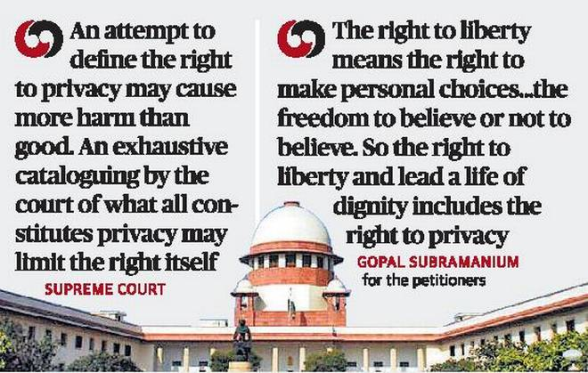 Right to privacy is not absolute and cannot prevent the state from making laws imposing reasonable restrictions on citizens.
'Right to privacy' is too 'amorphous' a term. To recognise privacy as a definite right, it has to first define it. But this would be nearly impossible as an element of privacy pervades all the fundamental rights enshrined in the Constitution.
An attempt to define the right to privacy may cause more harm than good.
An exhaustive cataloguing by the court of what all constitutes privacy may limit the right itself.
Attorney-General response:
'A common law': right to privacy is merely a common law right and the Constitution makers "consciously avoided" making it a part of the fundamental right.
4. Ministry, NITI Aayog moot privatisation of select services in district hospitals
Radical 'privatisation project'
The Union Health Ministry and the NITI Aayog have developed a framework to let private hospitals run select services within district hospitals, on a 30-year lease.
Framework prepares in consultation with the World Bank.
The government will be allowing a single private partner or a single consortium of private partners to bid for space in district level hospitals, especially in tier 2 & 3 cities.
Under this Public Private Partnership (PPP), care for only three non-communicable diseases — cardiac disease, pulmonary disease, and cancer care — will be provided.
According to the draft model contract, private hospitals will bid for 30-year leases over portions of district hospital buildings to set up 50- or 100-bed hospitals in smaller towns across the country. The State governments could lease up to five or six district hospitals within the State.
Viability gap funding: the State governments will give Viability Gap Funding (VGF), or one-time seed money, to private players to set up infrastructure within district hospitals. The private parties and State health departments will share ambulance services, blood banks, and mortuary services.
There will be no reserved beds or no quota (sic) of beds for free services in these facilities.
Criticism:
The policy document has come under sharp criticism for the Ministry's failure to consult with key stakeholders from civil society and academia.
The government is planning to hand over critical public assets without gaining anything much in return.
NITI Aayog has no locus standi to make health policy, which is a state subject in India. The logic behind shutting down the Planning Commission was to ensure that policies are not centralised. NITI Aayog was to be an advisory body but here they are rushing through a policy that will essentially hand over public assets to the private sector, leading to a further dismantling of the public services available for free.
Only Below Poverty Line (BPL) patients and those in insurance schemes will be able to access free care. This would effectively exclude hundreds of millions of the Indian population from vital hospital services.
Category: INTERNATIONAL RELATIONS
1. Australia and India: partners in regional security and prosperity
Context
Rising ties between India and Australia
Importance of Indo-Australian relationship:
India is Australia's ninth largest trading partner, with boundless potential for growth
Indian-origin residents are the fourth largest group of overseas-born Australians
Australia-India Exercise (AUSINDEX): Military cooperation between Australia and India includes the regular joint naval exercise AUSINDEX
Areas that needs to be focused upon:
India and Australia need to build and strengthen international institutions that promote cooperation
And manage competing interests in fair and transparent ways, in order to maintain regional and global stability
What Australia wants from India?
Australia looks forward to India liberalising its trade and investment regime further to realise its economic growth prospects and increase its influence in the region
The way forward
India and Australia need to increase bilateral cooperation and collective efforts with other like-minded countries
Together both countries can shape a future region in which strong and effective rules and open markets deliver lasting peace and prosperity
2. U.S. Senate Committee for bigger Indian role in Afghanistan
In news:
The U.S. Senate Committee on Armed Forces observation:
India has a "critical role" to play in breaking the stalemate in Afghanistan.
It also pitched for enhancing trilateral cooperation among Afghanistan, India and the U.S.
In a report accompanying the National Defence Authorisation Act (NDAA) 2018, the committee also called for enhancing the overall defence cooperation between the U.S. and India, and eventually joint naval patrol of the Indian Ocean.
The Senate Committee also pulled up the Department of Defence for not making faster progress in improving cooperation between India and the U.S.
Afghanistan and regional stability:
The committee is concerned by the current stalemate in Afghanistan, and believes that the United States should leverage the capabilities of allies and partners to more effectively secure regional stability and security.
The committee believes that the United States needs to recommit to the fight in Afghanistan and that India, as a major defence partner of the United States and a contributor to regional security, has a critical role to play in this effort.
C. GS3 Related
---
1. New social security net planned
In news:
The Union government plans to introduce a universal social security network for workers in both the informal and formal sectors.
The scheme will be rolled out in a phased manner.
Amnesty scheme
The government brought in an amnesty scheme for employers who were earlier not part of the Provident Fund regime.
20 lakh new employees were included as part of the amnesty scheme and 80 lakh contract labourers, including construction workers and those engaged by the public sector units at the Centre and the States, were also registered.
Key fact: EPF security network currently covered 4.8 crore contributory members and had a corpus of over ₹10.43 lakh crore.
Category: ENVIRONMENT AND ECOLOGY
1. World's northernmost corals bleached
Context:
Bleaching has damaged the world's northernmost coral reef in Japan, the latest example of a global phenomenon scientists have attributed to high ocean temperatures.
Coral bleaching
About 30% of the coral reef off the coast of Tsushima island in Japan, which lies in the temperate zone some 1,000 km southwest of Tokyo, suffered bleaching
Early in 2017, the rise in water temperature caused significant bleaching in the Great Barrier Reef in Australia for the second consecutive year.
Since 2015, all tropical coral reefs have seen above-normal temperatures, and more than 70% experienced prolonged high temperatures that can cause bleaching.
Coral reef-advantages:
Healthy coral reefs protect shores from storms.
Offer habitats for fish and other marine life, including ecologically and economically important species.
Recovery option:
After coral dies, reefs quickly degrade and the structures that coral build erode. While coral can recover from mild bleaching, severe or long-term episodes are often lethal.
According to U.S. National Oceanic and Atmospheric Administration coral reef bleaching may be easing after the three years of high ocean temperatures, the longest such period since the 1980s.
Satellite data showed widespread bleaching was no longer occurring in all three ocean basins — Atlantic, Pacific and Indian —"indicating a likely end to the global bleaching event".
Basic Information:
Coral reefs
Coral reefs are large underwater structures composed of the skeletons of coral, which are marine invertebrate animals.
The coral species that build coral reefs are known as hermatypic or "hard" corals because they extract calcium carbonate from seawater to create a hard, durable exoskeleton that protects their soft, sac-like bodies.
Each individual coral is referred to as a polyp. New coral polyps live on the calcium carbonate exoskeletons of their ancestors, adding their own exoskeleton to the existing coral structure.
Nothing here for Today!!!
E. Concepts-in-News: Related Concepts to Revise/Learn
---
F. Bills/Acts/Schemes/Orgs in News
---
Nothing here for Today!!!
G. Practice Questions for UPSC Prelims Exam
---
Question 1. Recently government announced Industry-Academia Collaborative Mission, the 
main focus area of this mission is _______.
Accelerate discovery research to early development for biopharmaceuticals
Accelerate discovery research to early development for GM food crops.
Accelerate discovery research to early development for biopesticides.
None of the above.
See
Question 2. A Stem cell is having a property to make cells from all three basic body layers, so 
they can potentially produce any cell or tissue the body needs to repair itself. Which Stem 
cell is having this property?
Pluripotent stem cell
Multipotent Stem cell
Totipotent stem cell
None of the above
See
Question 3. Global Burden of Disease report is published by _______.
U.N.H.R.C
U.N.D.P
W.H.O
None of the above
See
Question 4. Consider the following statement regarding National Investment Infrastructure 
Fund(NIIF):
It is a company registered under Companies Act 2013
It is a trust registered under Indian Trust Act 1882
It is a cooperative established under Multi-State Cooperative Society Act 2002
None of the above
See
"Proper Current Affairs preparation is the key to success in the UPSC- Civil Services Examination. We have now launched a comprehensive 'Online Current Affairs Crash Course'. Limited seats available. Click here to Know More."
G. UPSC Mains Practice Questions
---
GS Paper II
"Right to privacy is merely a common law right and the Constitution makers consciously avoided making it a part of the fundamental right" Examine?
Recently, the Union Health Ministry and the NITI Aayog have developed a framework to let private hospitals run select services within district hospitals, on a 30-year lease.If implemented, these proposals could threaten to take India away from Universal Health COverage, a key sustainable development goal, rather than towards it- Examine? 
GS Paper III
How are coral reefs formed? Assess the impact of climate change and anthropogenic factors on coral reefs.
---
Practice More: Enroll for India's Largest All-India Test Series