TABLE OF CONTENTS
A.

 GS1 Related




B.

 GS2 Related


POLITY
1. Citizenship Bill may have to wait for House nod
2. Centre notifies Cauvery authority
INTERNATIONAL RELATIONS
1. PM affirms India's 'strategic autonomy'
2. India may seal Spike missile deal with Israel
3. Singapore a strategic partner: PM


C.

 GS3 Related


ECONOMY
1. Power firms win court reprieve from RBI's strict norm on NPAs
2. India's manufacturing PMI eases in May
3. GST collections dip to Rs.94,016 cr. in May


D.

 GS4 Related




E. 

Editorials


INTERNATIONAL RELATIONS
1. The democracy project in Bangladesh
POLITY AND GOVERNANCE
1. The Error in Zero Tolerance


F. 

Prelims Fact


G. UPSC Prelims Practice Questions
H. UPSC Mains Practice Questions 

Nothing here for today!
1. Citizenship Bill may have to wait for House nod
The Citizenship (Amendment) Bill, 2016, is unlikely to be tabled in the monsoon session of Parliament as the Joint Parliamentary Committee (JPC) that is examining the legislation intends to have wider consultations.
JPC chairperson Rajendra Agrawal said that the Bill needed further intensive discussions and the JPC would seek the advice of legal and constitutional experts.
The Bill proposes citizenship to six persecuted minorities — Hindus, Jains, Sikhs, Parsis, Christians and Buddhists — from Pakistan, Afghanistan and Bangladesh who came to India before 2014.
Resistance in Assam
There has been strong resistance to the Bill in Assam as it seeks to grant citizenship to non-Muslims from Bangladesh.
Several political and civil groups have said the Bill would pave the way for giving citizenship to illegal Hindu immigrants from Bangladesh, in violation of the Assam Accord, 1985.
The JPC that visited Assam faced protests as indigenous groups see the Bill as a move to legitimise Hindus who have migrated from Bangladesh after 1971.
National Register of Citizens
As per the orders of the Supreme Court, the next draft of the National Register of Citizens (NRC) is to be published on June 30, and this has also created hurdles to the passage of the Bill.
A total of 3.29 crore people applied for inclusion in the NRC. In the first list, around 1.9 crore names were included.
Agrawal said the JPC would wait for the NRC process to be completed.
The NRC is being updated to weed out illegal migrants who came to the State after the 1971 war when Bangladesh liberated itself from Pakistan.
The cut-off date for NRC is midnight March 24, 1971 and all those who migrated to Assam from Bangladesh before this period would get Indian citizenship as per the Assam Accord.
Divergent views have emerged and in some areas there is support for the Bill and in some there is fierce opposition.
Agrawal said that they will address everyone's concern, be it Assam or any other State.
In Gujarat and Rajasthan there is huge support for the Bill.
They have to consider the question: when the NRC is finalised in Assam, what will be done and can be done for those people who become stateless?
Facts
12,100 Hindu immigrants from Pakistan were granted long-term visas since 2012. LTVs are precursors to citizenship based on the report given by the State governments.
Through an executive order in 2015, the Home Ministry relaxed the provisions for persecuted religious minorities from the three neighbouring countries in respect of their entry and stay in India without proper documents or after the expiry of relevant documents.
Since 2015, around 150 Bangladeshi Hindus were also granted LTVs.
There have been no exact numbers of such minority refugees from these countries but officials put the figure at around two lakh Hindu and Sikh refugees from Bangladesh, Pakistan and Afghanistan living in India.
There are 400 Pakistani Hindu refugee settlements in cities like Jodhpur, Jaisalmer, Bikaner and Jaipur. Hindu refugees from Bangladesh mostly live in West Bengal and North East States.
Meanwhile, in Guwahati, Assam Chief Minister Tarun Gogoi met representatives of the All Assam Students' Union and 27 organisations of indigenous communities opposed to the Bill and assured them that his BJP-led government would not take any step against the interest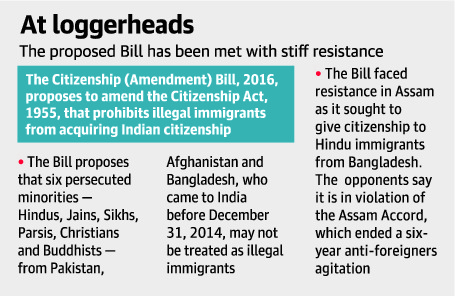 2. Centre notifies Cauvery authority
Category: INTERNATIONAL RELATIONS
1. PM affirms India's 'strategic autonomy
India's principle of strategic autonomy remains strong, Prime Minister Narendra Modi said, drawing an equivalence in ties with Russia, the U.S. and China and cautioning against a return to the age of great power rivalries, at a conference in Singapore.
The speech by Mr. Modi, the first Indian Prime Minister to have accepted an invitation to address the Shangri-La dialogue, which draws Defence Ministers from the Asia-Pacific region each year, was awaited with much anticipation due to the timing of the conference.
In the past year, India has increased its engagement with the ASEAN region, joined a quadrilateral grouping with the U.S., Japan and Australia for the Indo-Pacific, as well as reached out to China and Russia and will join the SCO grouping this month.
The Indo-Pacific strategy
Amid India's varied strategic moves, as well as the flux in the region, Mr. Modi's speech was expected to clarify India's position on the Indo-Pacific strategy which is often seen as a platform to contain China's moves in the South China Sea.
However, Mr. Modi denied the Indo-Pacific was part of a strategy and called it a natural geographical region, placing the 10 countries of South East Asia (ASEAN) at the centre of the forum.
Referring specifically to relations between India and Russia, U.S., and China separately, Mr. Modi made it clear that he believed India, like Singapore didn't stand behind one power or the other.
China
In his keynote address at the Shangri-La Dialogue, he also called the relationship with China a multi-layered one, as he drew out his seven-point vision for the Indo-Pacific region (Indian Ocean and Pacific Ocean).
India and China have displayed maturity and wisdom in managing issues and ensuring a peaceful border, said the PM.
Modi's words were significant, days before another visit to China's Qingdao city to attend the SCO summit, a visit which comes a few weeks after he travelled to Wuhan to meet President Xi Jinping.
Russia
India and Russia share their views on the need for a strong multi-polar world order for dealing with the challenges of these times.
USA
At the same time, India's global strategic partnership with the United States has overcome the hesitations of history and continues to deepen across the extraordinary breadth of their relationship.
2. India may seal Spike missile deal with Israel
India is likely to soon finalise with Israel purchase of a batch of Spike anti-tank guided missiles, months after scrapped a previously negotiated deal to procure them from that country.
In November last, the Defence Ministry decided to retract the process to acquire Spike missiles from an Israeli firm for $500 million.
However, before Israeli PM Benjamin Netanyahu's visit here in January, India said it was considering purchase of the missiles from Israel through the government-to-government route.
Watch BYJU'S video on India-Israel Relations
3. Singapore a strategic partner: PM
India and Singapore agreed to deepen their economic and defence ties as they signed eight agreements, one on logistics cooperation between their Navies, after wide-ranging talks between Prime Minister Narendra Modi and his counterpart, Lee Hsien Loong.
Mr Modi said that India-Singapore relations fulfil the criterion of strategic partnership in the true sense and that there is no uneasiness in their relationships, rather it has only warmth, harmony and faith.
The two countries signed an implementation agreement between their Navies on mutual coordination, logistics and services support for visits of naval ships, submarines and naval aircraft — including ship-borne aviation assets.
Both Prime Ministers welcomed the exchange of the Implementing Arrangement between the Navies of both countries concerning mutual coordination, logistics and services support, and called for the early renewal of the Army Bilateral Agreement.
Maritime exercises
Appreciating India's leading role in the Indian Ocean region, both sides agreed to New Delhi's proposal for continuous and institutionalised naval engagements in their shared maritime space, including establishing maritime exercises with like-minded regional or ASEAN partners.
Singapore India Maritime Bilateral Exercise (SIMBEX)– 25 Years
Singapore India Maritime Bilateral Exercise (SIMBEX)is an annual bilateral naval exercise conducted by the Indian Navy and the Republic of Singapore Navy (RSN).
CECA review
Mr Modi said that they have been able to conclude successfully the second review of the Comprehensive Economic Cooperation Agreement (CECA), but that's not just their target and goal but only a means to an end.
The officials will soon begin discussions on upgrading and reforming this agreement.
Modi and Mr. Lee exchanged views on the regional and global challenges and reiterated their principled position on maritime security and expressed commitment to a rules-based order.
The two leaders also agreed on the need to maintain an open, stable and fair international trade regime.
They also reiterated their strong commitment to combat terrorism.
Modi welcomed the progress towards realisation of the ASEAN community and expressed full support for ASEAN's unity, centrality and leadership in the evolving regional architecture.
Lee said that India and Singapore were collaborating on technology, smart cities and skills development.
He reaffirmed Singapore's continuing support for India as a permanent member in a reformed United Nations Security Council.
Technology breaks social barriers
Prime Minister Narendra Modi stressed the importance of technology and innovation in every sphere of life.
A technology-driven society breaks social barriers.
Technology has to be affordable and user-friendly.
We should not see every disruption as destruction. People were apprehensive about computers but see how computers changed human history.
Technology is aiding human creativity.
Various social media platforms have given voice to millions.
Modi gifts replica of Buddhagupta stone
Prime Minister Narendra Modi gifted Singapore Prime Minister Lee Hsien Loong a replica of the 5th century CE Buddhagupta stone.
Buddhagupta stone
The original stone, housed in the Indian Museum in Kolkata, bears a Sanskrit inscription in Pallava script and serves as important evidence of the transmission of Buddhism from India to southeast Asia.
A replica of the stone is also housed in the National Museum in Kuala Lumpur.
It was discovered by Lt. Col. James Low of the East India Company in Bujang Valley, Kedah, in 1834 in the ruins of what was believed to be a Buddhist monument.
A sangha of local and Indian monks, supported by Malays and Indian merchants, used to live along the coast.
1. Power firms win court reprieve from RBI's strict norm on NPAs
In a major relief to the stressed power sector, the Allahabad High Court has ruled that a Reserve Bank of India (RBI) circular mandating that an account be categorised as being in default if there was even a day's delay in servicing debt would not be applicable to the power sector for the time being.
The Court directed the finance ministry to hold meetings in June with power producers to hear their contention.
Background
The RBI had directed banks to classify even one-day delay in debt servicing as default and asked lenders to put a resolution plan in place within 180 days of default for accounts where the exposure exceeds Rs.2,000 crore.
In the power sector, 34 projects with capacity of more than 40,000 MW are classified as 'stressed', according to the Department of Financial Services.
Way forward
The power sector is not a free market, it's a regulated market where fuel supply, PPAs, regulatory clearance, payments by discoms are determined by the government agencies.
The new promoter will also have the same set of problems unless these issues are resolved.
2. India's manufacturing PMI eases in May
India's manufacturing sector activity eased in May as new work orders rose at a weaker pace, while rising inflationary pressures might prompt the Reserve Bank of India (RBI) to hike interest rates.
The Nikkei India Manufacturing Purchasing Managers Index (PMI) fell from 51.6 in April to 51.2 in May.
The latest PMI survey signalled a further, albeit slower, improvement in the health of the manufacturing sector in May.
This was reflective of weaker expansions in output, employment and new business.
This is the tenth consecutive month that the manufacturing PMI remained above the 50-point mark.
In PMI parlance, a score above 50 means expansion, while a score below that denotes contraction.
Inflationary pressures (Global oil prices)
On the prices, a build-up of inflationary pressures re-emerged as input cost and output inflation was at the strongest since February due to the upswing in global oil prices.
As a net importer of crude oil, this could potentially destabilise India's recovery, particularly in private consumption.
At the same time, high oil prices will lead to a further depreciation of the Indian rupee and a wider current account deficit.
Consequences
In an effort to contain inflation and maintain financial stability, it is likely that the RBI will raise interest rates over the months to come.
Status quo
In its first bi-monthly monetary policy for 2018-19 in April, the RBI had left the repo rate unchanged at 6%.
The MPC (monetary policy committee) maintained status quo for the fourth consecutive time since August last year.
Trends – Weak or strong?
Meanwhile, amid reports of greater demand from international markets, Indian manufacturers reported the strongest gain in new export orders since February.
On the employment front, firms raised their staffing levels in May but at a softer pace, reflecting weaker trends observed in output and new orders.
3. GST collections dip to Rs.94,016 cr. in May
Collections from the Goods and Services Tax (GST) in May eased to Rs.94,016 crore, from the Rs.1.03 lakh crore collected in April.
Though the current month's revenue collection is less compared to last month's revenue, still the gross revenue collection in the month of May (Rs.94,016 crore) is much higher than the monthly average of GST collection in the last financial year (Rs.89,885 crore).
Year-end effect
The April revenue figure was higher because of the year-end effect.
Out of the Rs.94,016 crore, Central GST collections comprised Rs.15,866 crore, State GST Rs.21,691 crore, integrated GST Rs.49,120 crore (including Rs.24,447 crore collected on imports) and cess Rs.7,339 crore.
With e-waybills being introduced on April 1, 2018 for interstate supplies and by June 1, 2018 for intrastate supplies, tax collections in the coming months may increase.
Nothing here for today!!!
Category: INTERNATIONAL RELATIONS
1. The democracy project in Bangladesh
What is the News?
Bangladesh, Lebanon, Mozambique, Nicaragua and Uganda are the "new" autocracies, according to Germany's Bertelsmann Foundation. In its "Transformation Index 2018 (BTI)", it has rated 58 out of 129 developing nations as autocracies.
About BTI
The BTI measures and compares transition processes in 129 transformation countries with data collected between 2015 and 2017 and establishes their global rating based on detailed country reports.
The Bertelsmann Stiftung's Transformation Index (BTI) thus systematically places political decision-makers' steering capability at the heart of its analysis and, as a result, is the only index in the world that measures and compares the quality of governance with self-collected data.
The BTI has, since 2006, been measuring quality of democracy, market economy and governance in 129 developing and transformation countries.
Basics of Bangladesh Politics
The three major parties in Bangladesh are the Bangladesh Nationalist Party (BNP) and Bangladesh Awami League and Jatiya Party.
BNP finds its allies among some Islamist parties like Jamaat-e-Islami Bangladesh while the Awami League aligns itself traditionally with leftist and secularist parties.
Another important player is the Jatiya Party, headed by former military ruler Hossain Mohammad Ershad.
The Awami League-BNP rivalry has been bitter and punctuated by protests, violence and murder.
Student politics is particularly strong in Bangladesh, a legacy from the liberation movement era. Almost all parties have highly active student wings, and students have been elected to the Parliament.
BTI Report on Bangladesh
Due to the worsened quality of elections, the formerly fifth largest democracy is classified as an autocracy again.
These developments are worrying for citizens because corruption, social exclusion and barriers to fair economic competition continue to be more prevalent in autocracies."
A project manager for the BTI at the Bertelsmann Foundation claims the report is balanced as it has flagged "positive developments" in the economic realm in terms of economic output, macroeconomic stability, market-based competition and private enterprise and also "negative developments" in the political realm such as free and fair elections, the separation of powers and the independence of the judiciary.
A long journey
Since the restoration of democracy after the fall of the H.M. Ershad-led military junta in 1990, Bangladesh has witnessed a change of government every five years.
The polls were held under a neutral caretaker administration until the Awami League came to power in December 2008 and scrapped the system using its decisive majority in Parliament.
This was necessary because the military-backed caretaker administration put in place earlier had overshot its brief and instead of holding an immediate poll, ruled Bangladesh for two years without any mandate.
In the last eight years of Awami League, Bangladesh has achieved phenomenal economic growth and inclusive social and human development in areas such as gender empowerment and public health care.
But the West, especially the U.S., has sought to punish Prime Minister Sheikh Hasina for not allowing a free run to the ambitions of Nobel laureate Mohammed Yunus.
The BNP leader, Khaleda Zia, had boycotted the 2014 election to protest the absence of a caretaker administration; in any case the campaign of violence unleashed during the BNP's reign in the early 2000s cannot be forgotten.
It is odd that this systematic lethal campaign directed against the Awami League, a party that had led the country to freedom, did not amount to a murder of democracy for the West, but when BNP-Jamaat leaders are jailed for leading and instigating violence, the West has cried 'murder of democracy'.
Conclusion
The Awami League government's success in turning around the economy and health care must not be overlooked. Our democracies in Asia have many limitations but there is no reason to let the West use that to misrepresent or subvert these national sovereignties.
Category: POLITY AND GOVERNANCE
1. The Error in Zero Tolerance
What is the issue?
Close on the heels of the recently concluded Commonwealth Games at Gold Coast, Australia, where the Indian contingent got rapped for alleged violations of the "No Needle Policy", the Athletics Federation of India (AFI) has reportedly decided to implement a similar policy.
What is CWG's no-needle policy?
Needles must not be used except by medically qualified practitioners for treatment of injury, illness or other medical conditions those requiring auto-injection therapy for an established medical condition, e.g. for insulin dependent diabetes.
Every Commonwealth Games Association (CGA) must ensure that needles are stored in a central secured location, access to which is restricted to authorized medical personnel of the CGA delegation.
Athletes with a valid TUE (therapeutic use exemption) for use of insulin, and nonathletes requiring other forms of auto-injection may keep appropriate materials with them if safely stored and disposed of in accordance with the following:
All used needles and associated materials (vials, syringes, and swabs) are disposed of in an appropriate bio-hazards container
Whenever an athlete receives an injection during the Games, the attached "Injection Declaration Form" (IDF) is duly completed and forwarded to the CGF Medical Commission no later than noon the day following such injection.
Analysis of the Policy
Zero tolerance is welcome. The culture of casual doping amongst athletes needs to change.
The reasons for the malaise are many — peer pressure, irresponsible advisers and fellow athletes, unscrupulous coaches, easy availability, poorly administered federations and, of course, human fallibility.
Indian anti-doping rules mirror the WADA code and prescribe a framework of strict liability. For this, the athlete first needs to establish how the prohibited substance entered his/her system. This burden is justifiably onerous. In reality, it disables an athlete caught in inadvertent doping. Inadvertent doping is due to contaminated or mislabelled supplements, misguided medical treatment and at worst, sabotage.
Harmless food supplements like proteins or vitamins used by athletes are often from unreliable sources like private shops or online purchase.
A recent initiative by the Foods and Safety Standards Authority of India (FSSAI) and National Anti-Doping Agency (NADA) to test and certify supplements is still to be fully operationalised. Ideally, the government should create a source for safe permitted supplements. It would curb accidental doping.
An athlete accused of inadvertent doping cannot get supplements tested for contamination, having no access to authorised laboratories. The National Dope-Testing Laboratory (NDTL) is accessible only to NADA or the government.
Any anti-doping initiative should aggressively focus not only on detection but also on education and awareness. Athletes, support staff, federations, sports medical personnel must be equipped with well-conceived literature, consultation and workshops. Current efforts are inadequate. NADA's efforts need to be supplemented by a cadre of indigenous anti-doping experts.
Suggested Reforms
First, as a policy, this will be separate from the Anti-Doping Rules and will have to be implemented in silos.
Second, the infringement of policy can lead to a disciplinary action but not an anti-doping sanction.
Third, an impenetrable infrastructure needs to be put in place first, so that cases of sabotage (simply planting a needle in a competitor's room) does not become rampant.
Finally, there is an argument for restorative, rather than simply retributive justice. A framework must be created to constructively counsel athletes to understand the real causes, degrees of fault and administrative lapses.
Merely subjecting them to an arduous legal process before NADA is not a long-term solution. We must recognise the socio-cultural reality of our sportspersons. Quite a few are from semi-urban or rural backgrounds. To them, sports is the only route to a better economic status. Literacy and language are serious impediments. They are subject to the whims and dictates of administrators. Amidst such intense pressure, they compete and carry our nation's hopes. But when they err, or are accused of doing so, we disclaim all responsibility.
Conclusion
Making doping a criminal offence, as was once proposed, is an untenable idea which would subject athletes to an already crippled criminal justice system. A nation with a burgeoning young population cannot let inertia put it on a murky sporting track.
Nothing here for today!
G. Practice Questions for UPSC Prelims Exam
Question 1. Consider the following statements:
Parliament is empowered to regulate Right of Citizenship under Article 11.
Parliament can make laws with respect to termination and acquisition of citizenship.
Which of the above statement/s is/are correct?
1 only
2 only
Both 1 and 2
None
See
Question 2. Consider the following statements:
Fundamental duties were recommended by Sardar Swarn Singh committee.
Part IVA was added by the 76th amendment act.
Fundamental duties apply to the people of India.
Which of the above statement/s is/are correct?
1 only
1 and 2 only
1 and 3 only
All of the above
See
Question 3. Consider the following statements:
Lord Curzon issued the order to partition Bengal on 16 October, 1905.
Ease in administration was cited as the reason behind this decision but actually it was meant to curb the rising nationalist sentiments in Bengal.
The anti-partition movement was formally initiated in August, 1905.
Which of the above statement/s is/are correct?
1 and 2 only
2 only
2 and 3 only
All of the above
See
Question 4. Out of desperation, Indian youth resorted to the cult of bomb and individual 
heroic acts. Which of the following led to the growth of revolutionary nationalism?
Government repression.
Failure of Indian leadership to provide a positive lead to the people.
Influence of print media.
Options:
1 and 2 only
2 and 3 only
1 and 3 only
All of the above
See
Question 5. Consider the following statements:
Ramsar Convention was signed in Iran in 1971.
It is an intergovernmental treaty which provides the framework for national action and international cooperation for the conservation and wise use of wetlands and their resources.
Ramsar Convention is the only global environment treaty dealing with a particular ecosystem.
Which of the above statement/s is/are correct?
1 and 2 only
1 and 3 only
2 and 3 only
All of the above
See
H. UPSC Mains Practice Questions
The socio-cultural awakening in Indian society in the 19th century was a result of interaction with the West. In light of the above statement, discuss the trends that emerged in Indian socio-cultural discourse.
Introduction of Goods and Services Tax has altered the Centre-State relations considerably. Discuss constitutional aspect of the changing relations.
Also, check previous Daily News Analysis
"Proper Current Affairs preparation is the key to success in the UPSC- Civil Services Examination. We have now launched a comprehensive 'Current Affairs Webinar'. Limited seats available. Click here to Know More."
Enroll for India's Largest All-India Test Series