Every year IBPS conducts a National level examination to recruit candidates into Public sector banks in India. Proper preparation for the IBPS Exams will help them achieve the dream of getting into the banking sector.
Those candidates who are confident, are all busy in their final stage of bank exam preparation. And those who are having doubts about the pattern, clearing the cut-offs, difficulty or scoring well are in a confused state.
This article gives an idea about the 15 strategic plan to help the candidate in their final preparation for the PO Exam.
To know more about the government exams, refer to the linked article.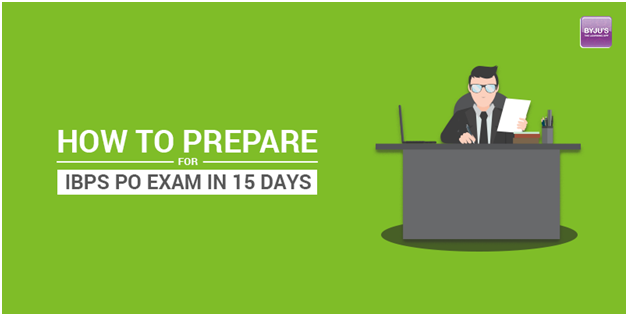 Study plan for 15 days for IBPS PO
The 3 major requirements for proper preparation for the bank exam are:
Accuracy

Time management 

Speed 
Candidates should be very careful while preparing for the topics necessary for the IBPS PO exam.
Accuracy: Make sure that you increase the number of the correct answers and minimize the wrong attempts so that the marks per correct answer will be valued.
Time Management: This is the most important part of the examination, it depends upon how you attempt the question, how you manage to give time to sections that need more time which can get over in few minutes.
Speed: This part is the part which can give you confidence and help you to crack IBPS PO examination.
Candidates who have a high speed with accuracy will manage the time easily. Candidates can increase their speed by solving more and more problems, keeping the track of time.
Important IBPS Topics:
The most important subjects to focus during the last 15 days are:
Quantitative Aptitude & Data Interpretation: Everyone should know the syllabus of these two sections. Focus on the Data Interpretation part more, because this part is one of those, which will affect your score.
There must be 15 questions from data interpretation. Candidate must set up a minimum target of 25/35.
Important topics:
Simplification

Number Series

Ratio and Proportion

Quadratic Equations and Inequalities

Time and Work

Time and Distance
Reasoning: Candidates have to work out efficiently on the alphabets, logical reasoning, and directions related questions. This is the easiest and most scoring part in the PO Exam.
Topics to be covered in reasoning are:
Input-output

State assumptions

Conclusion based Questions

Coding-Decoding
There is a total of 10 to 15 number of questions. One of the most difficult parts of reasoning is the puzzles, but keep in mind all the topics in reasoning are not difficult.
If you get three questions from the puzzles section, then surely one of them will be very easy. The puzzle section needs a lot of practice and we just have 15 days left so, now you have to focus on the topics that are easy and needs less practice than that of the Puzzle.
Blood relation questions are also quite complicated, but if you start solving it from the end part of the question, it will be easier for you. Here also keep the target of attending 25 questions out of 35.
English: Improve your error-correction, Rearrangement based questions, finding the grammatical error. Improve your reading skill by reading 20 minutes daily, there are questions, which are very easy to solve in this section, but all you need is to increase your speed.
Comprehensions are long and need time, there are portions like antonym and synonyms, which are easy to solve, for that, you have to build your vocabulary.
All this can be achieved by frequently practising previous year question papers, solving the mock papers.
The major reason for solving mock papers is that it will strengthen candidates to remember major topics; they will be familiar with the IBPS exam pattern and the time limit for each section. It will also determine how much a candidate has to improve on their speed, and by that, they can learn time management.
Solve at most 50 to 60 mock papers in this last 15 days, and while solving the mock papers keep the time and previous year cut off in your mind so that it will be helpful for you to clear both the sectional and overall cutoff.
Candidates should be updated regularly on important exam related aspects through the official IBPS Notification.
After solving, the mock papers analyze it. You will be able to know how much you have attempted; how many are correct and wrong. Work on the wrong ones for that particular day after solving the mock papers.
For further preparation, tips and queries contact Byju's.