The Indian Space Research Organisation (ISRO) has developed the much awaited Small Satellite Launch Vehicle (SSLV). The SSLV is expected to have its maiden developmental flight in the month of April of the year 2022. Till now the small satellites were being launched along with the bigger ones through PSLV (Polar Satellite Launch Vehicle) which was adding an unprecedented amount of waiting time for the small satellite developers.
The topic has a high probability of being asked as a Current Affairs Question as well as Science and Technology Questions in IAS Prelims and Mains.
Note: As UPSC 2023 approaches, use BYJU'S free Daily Video Analysis of The Hindu Newspaper to augment your preparation.

About ISRO's SSLV
The SSLV seeks to serve the rapidly growing market for the launch of small satellites into the LEO (Earth's low orbits) which has emerged in recent times to serve the requirements of the developing nations, universities/institutions for small satellites, and private firms.
ISRO's SSLV is capable of carrying satellites weighing less than or equal to 500 kg.
The launch vehicle will carry the small satellites into 500 km LEO (Low Earth Orbit).
Manufacturing of SSLV is the responsibility of the commercial arm of ISRO i.e. NSIL (New Space India Limited).
SSLV is ISRO's lightest launch vehicle, weighing around 110 tons.
Contrary to PSLV's 70 days time to get integrated, the SSLV takes only 72 hours.
SSLV needs only 6 people to integrate it.
SSLV of ISRO is a three stage launch vehicle.
The launch vehicle uses solid fuel in all its stages of flight.
The vehicle also features both vented and closed interstage.
Note: Keep yourself up to date with the newest UPSC current affairs, where we explain the key news in an easy-to-understand way.
Note: You can make your current affairs revision robust using Free Monthly Magazines by BYJU's.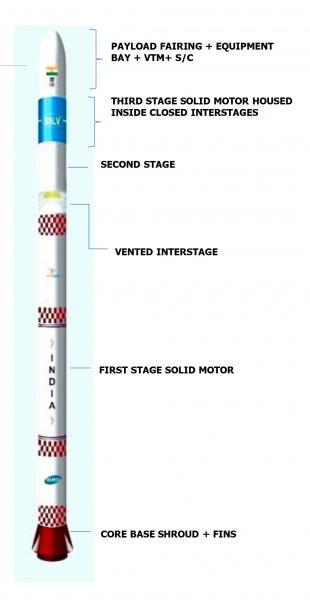 Model Diagram of the Indian Space Research Organisation's Small Satellite Launch Vehicle (SSLV)
Note: You may visit the attached link to attempt practice quizzes on current affairs.
Advantages of SSLV
Among many, the Small Satellite Launch Vehicle of ISRO has following advantages for Indian Space industry:
Drastic reduction of the turnaround time.
Launch on Demand fulfilment.
Realisation and operating cost optimisation.
Multiple satellites can be accommodated with ease.
Least amount of launch infrastructure requirements.
Heritage of proven design practises.
Knowledge of various satellite launch vehicle programs in India as well as basic facts and differences related to PSLV, GSLV, SSLC etc. are important from UPSC prelims point of view.
Note: IAS exam could ask basic details about this topic as it has been in the news recently.
Note: Visit the attached link to see the Questions on Science and Technology in IAS mains GS-3 exam.
Recent Developments
ISRO has bagged an order from the USA to launch small satellites on the SSLV's second developmental flight.
SSLV is reported to have its first developmental flight in April, 2022.
SSLV-D1 Micro SAT will be launched by this SSLV on its maiden developmental flight.
Start your IAS Exam preparation by understanding the UPSC Syllabus in depth and planning your approach accordingly.
Related Links: